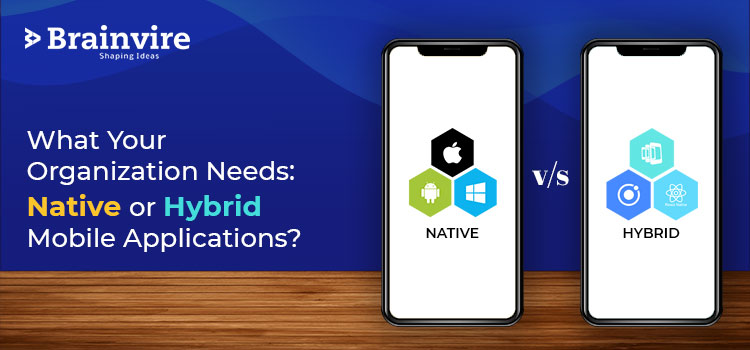 Digitalization has become the greatest strength of businesses and users nowadays. The smartphone has its way of advertising, displaying products, services, selling, and buying to users across the globe at one click. Studies say that out of 90% of smartphones are the best. Users are getting access to everything they desire. They can create a calendar, set up a skype call, send emails, surf on social networking sites, games, learning, and everything is at the fingertips.
Businesses now have understood the importance of the application, and they have tried to stay with the need for time. Okay now, what's the next thing that's in our minds? Native app or Hybrid App!
Mobile applications have become a boss of digitalization for a decade now. With an extending smartphone business sector, numerous organizations are embracing approaches to fuse mobile applications in their work process to reach out to their clients. 
A standardized analysis looked at by businesses on settling on the sort of application to be made is whether to model a native application or a hybrid mobile application, and the better one for the business depends on its specializations.
Hither, we would assist you with understanding the attributes of a native and hybrid application and the contrasts between them, alongside their upsides and downsides, to assist you with choosing the best way to deal with mobile application development.
Let us discover what is native and web applications are. 
Native Mobile Application
A Native Mobile application alludes to application programming that is created to run on a selective platform or gadget. Since it is built to work on a particular smartphone and its working framework, it can utilize gadget-specific tools and programming. 
Native applications give upgraded execution and influence the most recent innovation as opposed to mobile cloud applications or web applications, which are intended to be widespread across different frameworks. 
For the most part, two operating systems work better on mobile, Android and iOS. Local applications are planned in a code that is fundamentally utilized for the smartphone and its working framework. For example, Java has been used by developers to code.
The native mobile applications have fast execution and good efficiency. Aside from being agile, it likewise empowers the clients to gain admittance to all the native (UI) handles and designs. 
Nonetheless, an application designed for iOS employing Swift won't run on Android and the other way around. This suggests that you need to grow explicitly for both Android and iOS, which would require a bigger spending plan and a team size if you want to introduce your application on both the App Store and the Play Store. 
Want to convert your idea into a successful app or website? Schedule your free call with our expert now.
The attributes of a Native Application: 
They are profoundly dependable. 
They are straightforward, more responsive, and offer an excellent client experience. 
They are used both online and offline at work. 
Their attributes can be used in the most ideal manner. 
Points of interest (POI) 
It gives agile and active programming execution. 
It accompanies the pop-up message application. 
It offers OS-friendly UX/UI
Its nature can be guaranteed through the ratings. 
Hybrid Mobile Applications 
It's an application with the components of both Native and Web applications, which is coded on Hypertext Markup Language, Cascading Style Sheets, and JavaScript. Similarly, it works much the same as a web application and is introduced like a native application on a device.
Hybrid applications perform total admittance to the smartphone's highlights with the assistance of APIs. Native applications are downloadable and can work offline, yet cross-platform applications don't accompany this application. It normally has an application like a web application as it is essentially found on a web application. 
Hybrid applications are for the most part alluded to mobile registering, which is an innovation that empowers the transmission of information, voice, and video through a PC or some other remote-empowered gadget, without being associated with a substantial connection. It significantly includes portable correspondence, alongside versatile equipment and programming. 
The majority of the applications accessible can be delegated cross-platform applications. 
Attributes of a Hybrid Application: 
It can work offline 
It's integrated with an internet-based setting. 
It can coordinate with the device's document framework and use highlights of the OS. 
It can be created quickly 
The upkeep and development costs are lesser. 
It's conceivable and can be overseen easily. 
It has a cross-platform (UI). 
Hybrid vs Native App
Offerings of the Application
For organizations that wish to introduce free applications can be built as hybrid applications. Although, for a paid application on the App Store, native applications are suggested because of their great (UI) design.
Development Time & Cost
Native applications have numerous codebases since they are provided explicitly to every platform. However, hybrid applications are financially savvy, easy to maintain because of their solitary codebase. 
Platforms the application is apt for 
If a business wants, a great UI Native application would be the best, Although, it needs clear programming for every platform. By building up a web or hybrid application, a business needs to make the application only once since it has a solitary code base that is shareable to different platforms. 
User Experience
Native applications are exceptionally intended for a specific application store, therefore they give the best User Experience. The local applications consider equipment abilities and screen size. In correlation with hybrid applications, with only one code base for all platforms, henceforth, it is absurd to expect to give a decent client experience. 
Regardless of whether the necessary programmers are accessible
On the off chance that your business-type requests are presented on a few platforms, and you don't have a specific mobile application specialist to satisfy those needs, it is easier to make a hybrid, mobile application.
Regardless of whether any native device highlights will be utilized
On the off chance that you want to utilize the smartphone's highlights like the camera or the GPS, you can choose both Native and Hybrid applications.
Close Point:
As questioned before, both Native and Hybrid applications are useful as per the company's call. Settling on what sort of an application to choose relies generally upon the requests of the company. After investigating the determinations of the business, it is prescribed to talk about the equivalent with Mobile Application Specialists for better application.