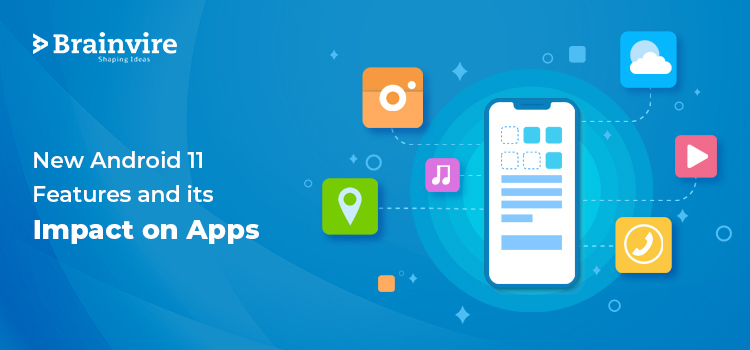 The new Android 11 release might take some people by surprise with its news line of features, while for others, it will be just about an upgrade. However, there is an element of novelty for both sections of the audience. New users will surely be left amazed at some of the features, especially the ones that make operating an Android smartphone extremely easy.
On the other hand, if you have used the beta version, and are expecting the final rollout to be the same, disappointment is heading your way. There are features from the beta version that didn't make it to the final version. Also, some features have been included with minor tweaks.
So we are here to talk about these new features as we move ahead. But first things first, the new Android 11 features are available on Oppo, Oneplus, Xiaomi, and Realme phones.
New Features to Look Out For and its Impact on Apps
1. Messages Get a Modern Touch
In the new Android 11, Google has embedded three crucial features to improve the messaging experience: Bubble chat, separate message section, and image files replying.
If you have used Messenger before, the bubble chat conversation might not come across as a new feature. But for others, it's a whole new and exciting way of interacting with messages. As some of you might know, there is a floating bubble element in Messenger, which can be moved anywhere on the home screen. When you tap on the bubble chat heads, you see the entire conversation instantly appear on the screen.
Now, here you can customize chat bubbles as per their priority, so that you don't get loads of notifications from people you don't want.
Want to convert your idea into a successful app or website? Schedule your free call with our expert now.
In the new Android 11, you have a dedicated messaging section displayed in the notification shade, which gives you updates on important messages. The message that you receive from third-party apps won't interfere with your primary messaging section in the notification.
Now, you can reply in an ongoing conversation image file through the notification sections without needing to open the messaging app. Elevated convenience.
2. New Notification History
Let's be honest, we all have been in situations where we are in a hurry and accidentally swipe the notification away. Later, you regret not stopping that extra second more to tap on the notification instead of swiping it away.
Android 11 is here to save the day for you. It has a new notification history section which captures notifications that pop into your device and keep them stored for 24 hours. However, you need to remember that keeping the backup for notification in the history section is default, you have to enable it. To enable it, you have to go to –
Settings > Apps & notifications > Notifications > Notification history
If you think of it; this new feature allows the user to monitor the app notifications that silently enter the system and aren't very important. Users can turn off the notification for such apps as there's no point in cluttering the panel with unnecessary ones.
3. Security-focused App Permissions
Let's be honest here; how many of you give access permission for common apps, like filter camera, location, and other stuff without thinking twice? At some point, we all do the same. However, we need to move attention to our privacy, since contemporary smartphones know more about us than we do about ourselves.
Google is in no mood to compromise with the privacy aspect, and the same is reflected in the permission setting changes that have been incorporated. Now, when you provide access to, say, a camera for a session while using an app, the permission is valid for that particular session. When you log in to the same app again, it will ask for permission again. This is a classic example of Android 11 impact on application.
There are situations when you rarely use an app but have provided permission to access it, which might not be a favorable situation. With Android 11, Google will now implement permission-reset for apps that are infrequently used.
4. Improved Media Controls
There would be various mobile users who constantly switch between music apps, and audiobooks, which is not a very convenient usage experience. So, with Android 11, the music section will be provided in the quick setting area.
There was a music section in the notification bar in the previous versions, though the flexibility of controls were limited. But now, as the media section has been shifted to quick settings, the controls have become all the more flexible.
However, one feature addition that stands out is the ease with which the users can switch the audio output from phone speakers to Bluetooth headphones or other audio devices. All of it happens in just one tap!
5. Built-in Screen Recorder
When we are given an option to download a third-party screen recording app, you don't think twice as there is no other alternative. People often miss out on the advantage of having a native built-in feature. Android 11 brings to the fore a new feature that will force you to appreciate the existence of a native alternative to third-party apps; an built-in screen recorder.
To access the built-in screen recorder, you need to first add it to the quick setting tiles, and only then you access it with just a tap. Having said that, when you tap into the screen recording feature, you get options of whether you want to record the audio or tap sounds when using the device.
So, you are finally free of buggy third-party apps for screen recording.
Conclusion
It is just about time now that other smartphone manufacturers start rolling out the Android 11 update. However, if you can't wait till then, just get a smartphone that already does. Meanwhile, there are few updates for the Google Pixel only, like live location sharing, and mobile app development suggestions.
So, if you have a Pixel smartphone, feel free to check the options out.  However, with AI capabilities being introduced into the new release, one can expect every new possibility of the Android application development.