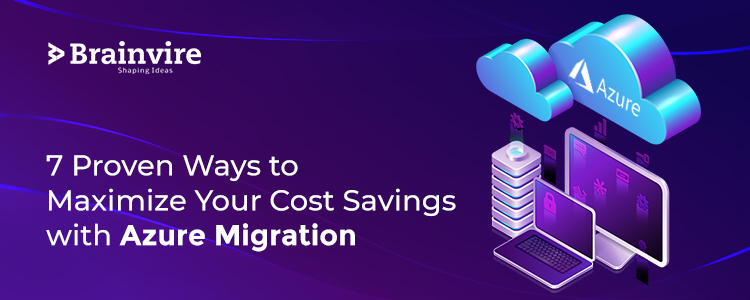 Before beginning their cloud journeys, most organizations seeking to move to the cloud usually do some online testing, so it's a little shocking that so much money is excessively spent on Azure Cloud Services. There has been a discussion about overspending in the Azure Cloud for years, and it resurfaces every time a report on cloud spending is released.
CIOs and CTOs can not have escaped recent news of companies paying for capacity they don't need, overshooting budgets, and receiving cloud bills two to three times what was anticipated. A typical response is to analyze whether their organizations are investing more than required, but this task is likely to be assigned to a system administrator or DevOps specialist.
Optimization in a logical order is the secret to optimizing Azure cost savings. In the blog, we'll be learning about a few options to save costs on Azure Migration and know about a few best practices to save costs on Cloud migration.
Cost Optimization Opportunities in Azure Migration
1. Azure Reservations
Azure Reservations lets you save money by agreeing to one-year or three-year contracts for virtual computers, Azure Blob Storage, or other Azure tools. Buying a reservation will dramatically minimize the cost of your services by up to 72%. You can pay monthly or upfront for a reservation.
You must have the subscription owner position in an organization or Pay-As-You-Go subscription to be able to buy a reservation. A reservation may be applied to a subscription or resource group.
Azure helps you to reserve instances and receive major discounts. Three reservation options are:
1-year reserved instance– requires paying upfront for one year. It grants a 40%-45% discount for most virtual machines.
3-year reserved instance– requires paying upfront for three years. It grants a 60%-65% discount for most virtual machines.
Spot pricing– allows you to bid for available capacity on the Azure marketplace and earn an 80%-90% discount on instances. However, the instances can be interrupted anytime without any prior notice.
Want to convert your idea into a successful app or website? Schedule your free call with our expert now.
2. Azure Hybrid Benefit
Azure Hybrid Benefit is a program that leverages the vast corporate installation base of Microsoft. If you already have Windows Server or SQL Server licenses, and you are using them on-premises, you can transfer the licenses to the cloud.
The expense of Azure VMs takes into account the cost of Microsoft software licenses, so you can receive discounts on VM prices if you already have a license, and you can still use current licenses to receive discounts on Windows Server VMs, SQL Server VMs, and SQL Database Controlled Service. It will result in savings of up to 80% when integrating reserved cases with the hybrid benefit package.
3. Azure Dev/Test Pricing
This functionality is available for Enterprise Arrangement customers. To support continuing growth and research, it offers discounted rates on Azure. Some of the advantages offered are:
Run Windows and SQL Server VMs with no charge for Microsoft software—although these VMs are typically more expensive than Linux VMs because of the cost of Microsoft software licenses, they are offered at the same price as Linux VMs for dev/test.
Up to 55% discount on Azure SQL Database
Up to 50% discount on Logic Apps
4. Customized Pricing For Enterprises Customers
The Enterprise Agreement provides pay-as-you-go subscription discounts. By locking in rates, it minimizes Azure upfront expenditures. If the price goes up or down, EA consumers will benefit. If Azure rates go up for a particular service, the prices of EA consumers will not change.
Microsoft will immediately pass on the correct pricing rate and changes to EA customers if Azure rates go down. Enterprise customers are also entitled to the potential release of complementary offers, such as Azure HUB, IoT suites, and other Azure plan SKUs.
5. Azure Cost Management
A free tool built into the Azure portal, Cost Management allows you to track, assign, and manage cloud costs with clarity, precision, and performance. It allows you to evaluate expenditures, produce, and maintain. 
In order to leverage the cloud capacity of your Azure implementation, you can create and manage budgets, export data, and review and execute recommendations for optimization to save money.
6. Price Matching
For comparable programs, Azure promises to match AWS prices. In line with AWS price drops, rates are changed once every three months. Price matching is available for:
Linux VMs – compared to AWS EC2
Azure Functions – compared to AWS Lambda
Block Blob Storage (ZRS HOT) – compared to Amazon S3 Standard
Block Blob Storage (ZRS COOL) – compared to Amazon S3 Standard-Infrequent Access
7. Azure Advisor
Azure Advisor is a customized cloud consultant that helps you to simplify your Azure implementations by following best practices. It analyses the configuration of your resource and telemetry use and then proposes solutions that can help you enhance your Azure resources' cost-effectiveness, efficiency, high availability, and security.
Best Practices for Azure Cost Optimization
Here are some proven best practices that you can use to make maximum use of your current Azure resources.
1. Right-Sizing VMs
Azure offers a wide variety of VMs with numerous capabilities for hardware and performance. To see which offers the highest throughput or output at the lowest cost, consider using different VMs for the same workload. 
To dynamically change the number of VMs to real workloads, stick with the VM that performs better, and use auto-scaling. Remember that when all VMs are used at 100 percent, you achieve optimal costs.
You can aim to get as close to this objective as possible by tracking the metrics using Azure Monitor. Using auto-scaling or other methods to connect and delete machines according to need can also help.  
2. Using B-series VMs
Azure includes virtual machines from the B-Series, designed for programs that are usually dormant and then have rapid consumption bursts. A B-Series VM typically works with a low CPU power baseline level, and you collect credits as long as this low level is acceptable for the workload. CPU power rises when there is a rapid burst of use, and you "pay" with the credits for the extra capacity. The computer goes back to baseline CPU capacity as credits are exhausted.
In contrast to comparable VMs, B-Series VMs grant discounts of between 15% – 55%. Identify if you have workloads that need to be available but require high performance or throughput only periodically, and switch them to B-Series VMs.
3. Transfer Workloads into Containers
The containers are lighter than VMs. On one physical host, you can run multiple containerized programs, in some cases up to hundreds of containers per host. Repackaging your software as containers will help decrease the usage of VMs and reduce the costs dramatically. Consider transitioning applications from standard Azure VMs to an Azure Kubernetes Service (AKS) container service.
4. Delete Unused Disks
Managing costs in Azure begins by tracking your usage. You need a reporting solution to check the cost of your Azure resources every month, whether it's a VM, storage, or an app service.
When you uninstall a virtual machine, Azure does not delete virtual discs. Disks continue to exist and accumulate expenses until they are found and removed by you. Both active managed virtual discs in the current storage account are reflected on the Azure Portal Disks screen.
Check at the owner for each disc. If this is empty, it indicates that the disc is not used by any VM, and can technically be erased. 
5. Shift to Elastic Pools
Elastic pools from the SQL Database are an easy, cost-effective method for handling and scaling multiple databases with differing and uncertain criteria for use. 
The price of an elastic database pool is based entirely on the cumulative resources allocated to the databases and is irrespective of the number of databases it holds.
6. Use Storage Tiering And Data Redundancy Options
In an Azure deployment, storage is usually a major part of the ongoing costs. Pricing for Azure Blob Storage offers premium, hot, cold, and archive storage levels (with declining cost per GB every month) and multiple redundancy options (less redundancy decreases the cost of storage).
By transferring less sensitive or less regularly used data to a lower-cost tier or to a lower redundancy alternative, you can save costs. Automate data tiering in your applications to ensure that information that is no longer necessary is automatically transferred to a lower-cost tier.
Its Time to Migrate to Azure Cloud Services
While we have discussed some methods to reduce costs on Azure services, these are only the tip of the iceberg. 
There are several more ways to save money on your monthly Azure budget, but the best way is to optimize usage to decrease costs. Brainvire can help you with this task.
Brainvire saves your company's money and time by helping you optimize Azure cost savings and monitoring the infrastructure around the clock.