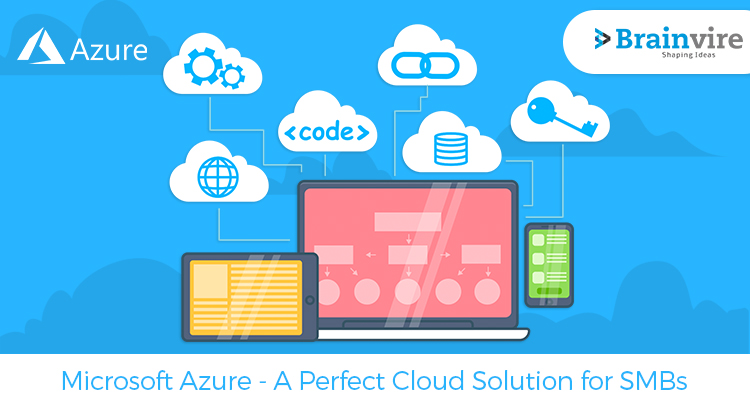 Microsoft Azure seems to be a winner in the eyes of SMBs. The reasons are many, cost being the major one. As an SMB owner, you can modernize your organization, enable innovation, and become competitive using Azure.

As far as Sharepoint development concerns, This cloud platform can help you run virtually any application with your existing operating system. However, you need technical guidance to get started and a strategic Microsoft Partner can help you in the cloud journey.

According to stats of SMB Cloud Journey, 64 percent of SMBs want to work with an IT consultant that offers Microsoft Azure development services. These service providers guide you from scratch and also assist you in the migration and upgradation process.

Thus, the high-end features of Azure can be easily leveraged by small businesses in a cost-efficient manner. We'll discuss some of the major advantages that this cloud leader offers to SMBs.

But, wait! Let's take a look at some facts and figures that will make things more clear for you.

(Source: Azure official site)

A recent study between 550 companies showed some interesting results: AWS is the most preferred vendor in SMBs; Microsoft the "most known" in enterprises; AWS has been reviewed the most among all companies but Azure is the most used.

Take a look at some of the snippets from this study:

Microsoft Azure is the most-used Public Cloud among the survey and the most likely to be purchased or renewed (28% of all respondents). This is something that confirms a trend in most companies: Microsoft is taking new and existing public cloud market share. AWS came in second in the preference for buying or renewing with 22%.
AWS is the vendor most SMBs are aware of, and Azure is the most used in enterprises. In SMBs, the second vendor is actually tied between Azure and Google Cloud. For enterprises, AWS is second and third is Google Cloud.
Brainvire recently migrated on On-premises to Microsoft Azure. The client had a major concerned about the cost and the data security, Brainvire consulted to the client with the benefits received from Microsoft Azure Cloud-based migration with absolute data security and required enhancements. 

The Brainvire team migrated and provisioned around 250 new virtual machines (VMs) every month, thus moving nearly 4,500 VMs to the cloud within 18 months. Ultimately, Azure fitted perfectly with the digital transformation landscape imagined by the client.
How Microsoft Azure is a Perfect Cloud Solution for SMBs
The reasons why SMBs are preferring Azure over other available solutions are as follows – 
Scalability
You can quickly scale your resources up or down in Microsoft Azure allows you to without investing in spare or additional resources. This makes it perfect for small businesses in growth mode. If your data needs are growing consistently, you can select what you need from Azure's menu, deploy it quickly and limit downtime.

The Azure App Service makes the process of scaling completely automated. A progressive web-based application built using the App Service can auto-scale to handle extra traffic during the heavier times of the year.
Want to convert your idea into a successful app or website? Schedule your free call with our expert now.
Redundancy
Besides scalability, businesses also want to ensure that their sites are running 24/7 with minimal downtime. This is where Azure excels with its redundancy options. Using multiple Azure Regions (36 data centers around the globe) and Azure Traffic Manager, cloud architects can build robust client hosting solutions in Azure's Cloud so that websites will have peak performance and continuous uptime.

SMBs can use Azure's scalability and redundancy options to capitalize on new opportunities and take their business to the next level.
Disaster Recovery
Dealing with disasters is not a big thing for well-established companies. But in the case of SMBs, they should be able to recover as quickly as possible when disaster strikes. Severe weather conditions such as hurricanes, floods, and fires can disrupt on-premise infrastructure severely. 

The Azure Site Recovery service (ASR) eliminates old-school disaster recovery techniques. Now, cloud consultants can easily ensure that unpredictable events don't disturb the on-premise servers and data.
Security & Compliance
Growing incidences of breaches and hacks have become a concern for SMBs. These firms have a lot at stake, which includes, but is not limited to customer's data and intellectual property.

The Azure Security Center can prevent, detect, and respond to threats with greater visibility and control over your critical resources. It verifies that the relevant security controls are set up and configured correctly. 

In addition to security, compliance plays an important role when businesses select a Cloud service. Azure holds more certifications than any other cloud service provider. On a side note, Azure has the most trusted cloud for US government agencies and their partners, like government contractors and other government-affiliated organizations. 
Summing it Up
Microsoft Azure is indeed "the place to be" for SMBs due to its exceptional agility and flexibility. If you are still confused about Azure's efficiency, feel free to schedule a discussion with our consultants. They will be happy to help you!