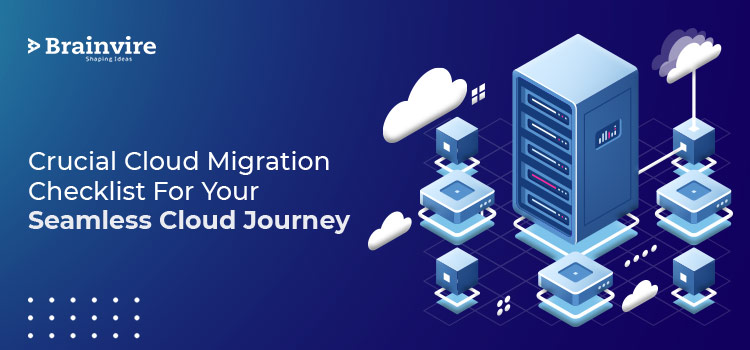 Over the past few years, widespread global cloud adoption has been observed in the IT industry. Companies are increasingly investing in cloud migration and why wouldn't they? Cloud migration provides businesses with enhanced security, more agility, risk reduction, and provide better customer experiences. 
Another reason why enterprises prioritize cloud migration is to accomplish successful digital transformation in order to escalate the efficiency and performance of their existing on-premise environments. As your organization decides to take migration to the cloud environment into consideration, you need to plan the complete process, so here is the plan and checklist for your cloud migration journey. 

To make sure things go right for your cloud migration, here is a step-by-step plan or checklist to assist you in your cloud migration journey.
Assign a cloud architect
First things first, you need to set up the cloud architect's role to take charge of the entire process before undergoing cloud migration. The cloud architect is basically a system architect who builds a roadmap including all aspects of the migration. The cloud architect is responsible to handle the following things :
Specify refactoring for successful cloud migration.
Determine data migration strategies,
Marks out all cloud-solution necessities and stores them in one place,
Establish major production switchover procedure and migration requirements
The migration architect is a responsible job involving important decision-making and building technical strategies to make sure that the project is a success.
Want to convert your idea into a successful app or website? Schedule your free call with our expert now.
Decide cloud Migration level
There are mainly two methods to migrate your application from an on-premise stack to the cloud stack:
Shallow Cloud Migration
Deep Cloud Migration
Shallow cloud migration- In this type of migration, the existing on-premise applications are transferred to the cloud, with very minimal or no changes to the applications excluding the ones that are important to run them successfully in the whole new environment. These changes are crucial as they enable the applications to run effortlessly in the new environment.
Deep cloud integration- the application is reshaped while the migration process is going on so that you can benefit from crucial cloud capabilities such as auto-scaling, serverless computing, and dynamic load balancing.
Choose a single cloud or multi-cloud:
Before you initialize the cloud migration process, you need to determine which cloud provider you need to include such as single cloud provider, multiple cloud providers, or hybrid cloud providers.
A single cloud approach is very smooth to implement but limits your service-level agreement terms and options. If your needs are simple and perfectly align with the vendor's services, single cloud integration may work just fine. 

Whereas, a multi-cloud approach is more complicated to integrate. It offers a great deal of flexibility and scalability to businesses and provides them with a suitable environment. A multi-cloud solution offers organizations an opportunity to select providers based on the unique strengths and advantages of the respective vendor. All you need is a provider that handles your data storage needs and another that serves applications when they are in production.

A hybrid cloud is a mixture of both private and public cloud infrastructures, allowing workloads to switch between the two interconnected environments. This portability among cloud environments provides higher flexibility and agility to organizations in their data deployment options.
Determine Cloud Migration KPI
KPI is an acronym of Key Performance Indicators. These key performance indicators are the metrics of an application or service that measures the overall performance and compares it with your expectations. The KPIs involved in a cloud operation process determine the overall progress of the migration process by highlighting noticeable or unnoticeable issues that may be sneaking inside your application.
Some of these notable KPIs include:
Loading time
UX
Response time
Duration of the session
Application's or service' execution
Frequency of errors
Available and lost Memory
Network bandwidth and throughout
Engagement generated
Explicate performance baseline
The baseline evaluates the latest performance of the application or service and estimates if its future performance will be adequate or not. Baselines inform when the migration mechanism is over and rectifies the improvements in performance after migration against your expectations. Baselines also illuminate and help you assess the problems that can occur during the cloud migration process. 

Establish a baseline metric for each KPI you want to monitor. Decide how long you'll collect data in order to define a baseline. You can move quicker by choosing a short baseline time, but you don't want to risk obtaining a representative output sample. If you choose a longer baseline duration, it will take longer but will give more illustrative results. 
Perform necessary refactoring
Refactoring is the idea of performing other tasks on your applications and services before you migrate them from your existing environment so that their working doesn't get jeopardized and they perform effectively and productively in the cloud. 
 Refactoring application/services to ensure:
Dynamic scaling, potentially saving money on costs by working efficiently with multiple running cases.
Utilization of resources can get better and benefit from dynamic-cloud capabilities, such as the ability to allocate and de-allocate resources whenever required.
Map a data migration plan
Migrating data to the cloud is a little bit of a problematic approach in the cloud migration process. The place where your data resides significantly affects the application's performance and results. Until the data-access methods are located in an on-premise climate, the data migration processes can most certainly impact the performance. The performance can still be impacted if the data is situated on-premise but the services that are accessing it are on the cloud.
Switch overproduction:
Overproduction can be switched based on your application's complexity and the architecture of your data and application.
There are two common approaches:
Do it all in one go. You can first migrate the entire application or service to the cloud and ensure that it is running there perfectly, and then switch the traffic from the on-premise environment to the cloud.
Do it one by one. Move the entire traffic, then test to confirm that things are still running fine, and then transfer the rest of the traffic to the cloud. Repeat this process until all your customers are shifted to the cloud-based application.
These steps in the checklist will help you achieve a successful cloud migration process and take your business, application and you to the next level.
In this blog, we have covered some of the major points, but if you find some other factors to consider, do not stop yourself. Building a secure cloud environment is a fundamental aspect of cloud migration services. Many cloud providers offer highly functional tools and 24/7 support to help you create and maintain a secure environment.