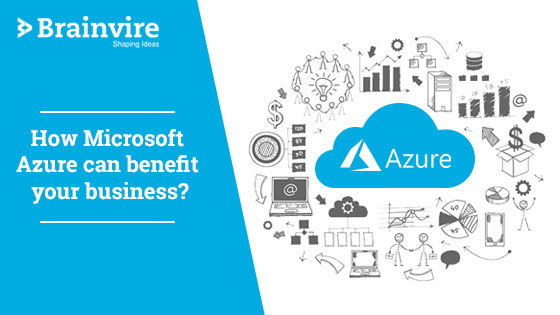 A large number of enterprises around the globe are adopting the cloud for their business and it is easy to understand why. It helps to reduce costs, be more efficient and save huge on hardware and software required for different operations. The technology allows the use of applications and other resources that are stored in high-end computers & networks that are managed by third-party companies.
When it comes to Microsoft Azure Development, there are many misconceptions such as that it is suitable only for the enterprise level businesses, or it may tough to implement it. In order to shun these myths, here are a number of benefits and features offered by Microsoft Azure to flourish your business.
Features:
Azure Portal: A centralized portal that acts as an admin panel and allows you to manage servers, monitor the processes, services and supervise software development process too.
Azure Search: Search is a very important feature of any website or portal. Azure offers various advanced search features that include faceting, suggestions, etc.
Azure Data Factory: It is an efficient way to manage on-premise structured as well as unstructured data with Azure SQL database and binary logic objects.
Azure Communication: Azure provides Azure Bot Services that allows you to provide the developers with a better programming interface with chatbots for their help.
Azure Machine Learning: Microsoft Azure offers all the benefits of machine learning email spam detection to the online recommendation and real-time advertising as well.
Want to convert your idea into a successful app or website? Schedule your free call with our expert now.
Benefits:

Cost-effective solution
What if you get a chance to try out a service before actually implement it in your platform? Well, this is what Microsoft Azure has to offer. Yes, you can get a free trial account before you actually buy the service. And that too you can pay as you use the service and no prior payments.
You can even keep a track of all your expenses and use an online calculator to get an estimate of various devices and software. If you are worried about migration, then that cost is also minimal. You can rest assured that you have to only pay for what you use.
Easily back-up your data
Data back-up is a big and tough issue in the current era. Without data back-up, you are prone to lose all your priced and important data in seconds. All the industries and enterprises are realizing the importance now and trying to work really hard on it. With Microsoft Azure, this task will become very easy as all your data is replicated in Microsoft's data center to provide you whenever you need it.
Mobilizes your business
Implementing your business in the cloud platform has its own benefits. One of the major benefits that can provide your extreme ease for managing all the tasks is that you get mobility. When you allow everyone to access the portals from their personal devices, it becomes a great security threat. Azure has got that covered for you with the Enterprise Mobility Suite.
Scale as per demand
It is quite evident that business demands change and your resources should resemble the same. Microsoft Azure allows you to adapt your resources with your business needs as they evolve. Imagine a situation where you can increase the capacity of your database in a click or set-up any desired services in a go. Sounds quite interesting and beneficial to add to your business right!
Recovery
It is a tough task to put together all the data once it is lost in case of in-house recovery models that fail in certain situations. With Microsoft Azure, you can recover any data at any time. Whether it is of yesterday or before a month, you get an option to recover the data. The reason being that this data is on the cloud server and that is managed by Microsoft.
Flexibility
When you take Microsoft Azure on your team, you can leave the tension of missing out of the technological advancements in the market. Seeing the continuous improvements in the IT industry, you need a flexible platform such as Azure.
You can access the versions centrally through the dashboard to adopt the latest technologies with lightning speed.
Free from server maintenance
When you embrace Microsoft Azure, you leave behind all the maintenance hassle. When you migrate to this cloud service provider, the maintenance task is managed by them and you have to just focus on your core business values. Imagine if you would be busy in maintaining that then your actual business would suffer.
Get all the services that you need
Microsoft Azure has an array of hundreds of services devised to help you through all the tasks. Just browse through the services offered by Azure and we are sure that you will find the perfect solution to integrate or migrate to your existing system.
Manage everything efficiently with remote access
Allow your employees to work on the go by providing them extensive remote access to all the necessary resources. Microsoft Azure allows you to create customized remote log-in options to assign only desired access to the employees for working remotely.
Wrap up
Thus, Microsoft Azure Development offers you services that you can scale up or down as your need for resources changes. We hope that this tour through the benefits of using Microsoft Azure for your business has given you enough reasons to embrace this latest technology quickly. To know more about the integration of Azure with your system and get a tailored solution, send in your requirements to Brainvire for Windows Azure Development Services