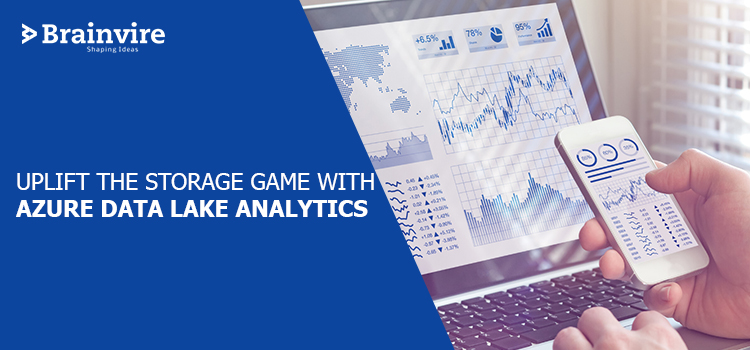 In the realm of Data Science, Azure development has appeared to be one of the most influential domains. This started in October 2008 privately with the name 'Project RedDog'. In 2010 Microsoft gave an identity to its cloud services and named it 'Windows Azure'.
Later, in March 2014, a different name was acquired and the cloud computing platform perpetually became 'Microsoft Azure'.
An ample portion of data is generated by companies in all sectors. Computer science has invented an innovative solution to store all the data in a smart and secure way through the file distribution system. 
In the year 2017, data adoption witnessed a sudden hike of 53%. However, earlier in 2015, only 17% of companies adopted big data analytics.
Azure Data Lake Analytics uses the Hadoop Distributed file system. This analytics is used with HDInsight and Azure Data Analytics services to increase productivity.
Know About Azure Data Lake
Azure Data Lake Analytics is a substantial stockroom in Azure Cloud. It works as the storehouse for unstructured, structured, and semi-structured data. There are numerous ways to upload this data to the store.
Some of the significant ways to use this are Azure UI, programming languages, such as C# or Java SDKs, and Azure Data Factory. When you are done uploading the data, use U-SQL scripts to process it.
Industries need ample data sets, space, and processing power. Azure Data Lake provides everything that a client requires for simplified processing and also helps in the development process.
Azure Development tackles the data efficiently through the Hadoop Distributed File System. HDFS is not only beneficial in data storing but also uplifts stability, counterpart, and scalability. This makes the Azure Data Lake a smart pick for your organization.
Microsoft Azure has significantly substantiated an enormous market for cloud services. The cloud is the new normal and is profitable in sustaining operations.
Want to convert your idea into a successful app or website? Schedule your free call with our expert now.
Azure Data lake consists of three basic components:
Azure Data Lake Analytics
Azure Data Lake Store
HDInsight
Azure Data Lake Analytics
Azure Data Lake Analytics is on-demand task assistance that is useful in streamlining big data. It runs effortlessly resembling data mutation and languages, such as Python, R, U-SQL, and more. There is no need for infrastructure as it processes your data on demand.
Azure Data Lake Store
Azure Data Lake Store is a hyper-scale warehouse for big data. It facilitates the storage of data irrespective of the type, size, and ingestion speed in one space for operating and exploring analytics.
Azure HDInsight
Azure HDInsight works as a cloud dispersion of Hadoop segments and makes the processing method budget-friendly, simple and fast. You can utilize open-source frameworks, such as Hadoop, YARN resource management, R, Storm, and more.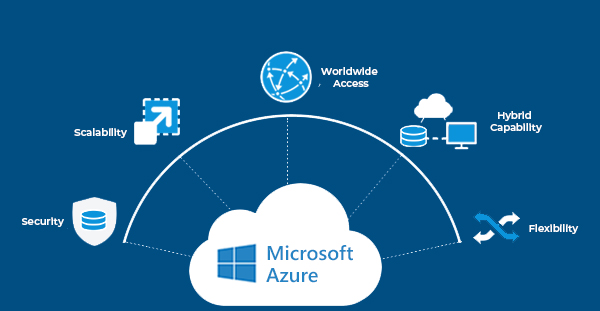 Usage of Azure Data Lake Analytics
Azure Data Lake Analytics is primarily used for allocating data processes for huge workloads. It includes ETL, ML, machine translation, analysis, querying, and more.
This data lake analytics is best in this business for dealing with terabytes of data and processing them in the form of clusters. It provides the best-distributing data processing service with an elevated inference of parallelism and disseminated programming.
Here is a few more usage of Azure Data Lake Analytics:
It enhances the development and debugs procedure
It efficiently develops similar programs seamlessly
It processes scrapped data for data science and analysis
It also processes amorphous image data by using image processing
It optimizes big data and debugs downfalls without a loop
It helps in setting up huge data for storing into a Data storehouse
Why choose Azure Data Lake for your industry
Azure Data Lake is very important for industries that need a huge amount of space for the storage and processing of data in a decluttered form.
We are sleepwalking towards the era of digitalization and Azure Data Lake services will lead the way as a torchbearer. It works keeping the future aspects in mind.
Ingestion of Big Data: Azure Data Lake comprises telemetry, equipment readings, simplifying data, and logs. It is a considerable solution for storing the IoT sort of data, which is traditionally difficult to store and analyze. You can also add data that is taken out from a relational data source to the data lake.
Empirical Analysis: Promptitude is an important aspect for all industries. So, Azure Data Lake Analytics can play a vital role in ' Proof of Value' sort of emergency due to its ELT approach.
Archival and Chronological Storage of Data:  Sometimes, data is frequently used but does not need to be analyzed. In this scenario, Microsoft Azure can be very effective to assist an active archive strategy.
Precocious Analytics Support: Microsoft Azure supports advanced analytics that is advantageous for analysts and data scientists to outlay and experiment with the data.
Augmentation of Data Storehouse: Azure offers federated queries for the data that is not easily stored and accessed in the data lake. Federated queries separate it from DW transparent to terminate users through a data virtualization layer.
Azure Migration: Azure Migration is a nonchargeable service. It is cost-efficient and only incurs charges for the tools one uses during migration process.
Here are some additional features that make Microsoft Azure best from the rest:
It is compatible with HDFS
It offers unlimited scalability
It is a budget-friendly approach and works on Pay-per-job costing prototype
It provides enormous processing capability.
It delivers low latency rewrite access.
It keeps the security issues as a top priority and provides Enterprise-grade security
It also offers dynamic scaling to keep up with your requirement
For Microsoft Azure, you just need one programming language, i.e., U-SQL.

Source: acom.azurecomcdn.net
Why is Azure Data Lake Analytics adoption on the rise
Between the years 2015 and 2020, 234,731 companies have started using Microsoft Azure. The majority of the companies are based in the United States but presently, 10 nations are adopting Azure Data Lake Analytics for their industries.
The main reason for Microsoft Azure's widespread adoption is the fact that it features storage to big data, dynamic scalable, cost-efficient, low maintenance, and on-demand scalability.  Enterprises are in need of this kind of digital platform for the flexibility and stability it offers.
Final  words
In the era of advanced technology, Microsoft Azure is the right platform with all its abilities to drive smart moves and well-coordinated operations. It does that while varying from real-time IoT cloud solutions to business decision support systems.
If your business requires big data processing and high scalability, Azure Data Lake Analytics is the best in the business.