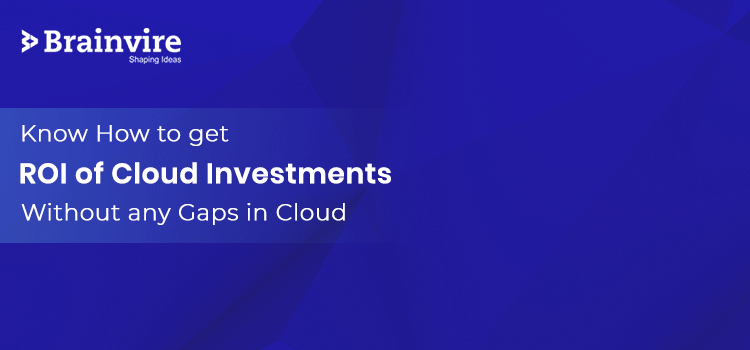 Ever since the dawn of the Cloud revolution sometime back, there has always been a debate around its successful adoption. Most companies say they have seen the tangible benefits of the cloud while others are lagging behind in the race. So why does this gap exist? 

Organizations expect business benefits such as agility, greater efficiency, and digital innovation within a short span of time. Then, once their migrations got underway, they came face-to-face with the ground reality. Similar to most disruptive technologies, it takes a considerable amount of time to realize the benefits of the cloud. The learning curve is steep, with many barriers and challenges along the way. 

Being a Senior Cloud Strategist, I consult Enterprises for Azure development solutions. Based on the experience I represent to you a detailed analysis of which factors are influencing the success or failure of organizations. Furthermore, you will come to know how you can overcome all problems gradually after commencing on the cloud migration journey. 

Let's begin to your Journey to Cloud!
Factors Influencing Your Cloud Strategy
There are three factors involved: Cloud Model, Cloud Adoption, and Company Size. According to a recent survey by Accenture, the success of companies adopting cloud can be determined using three criteria:

Level of Achievement of expected Cloud Outcomes
Level of Satisfaction with Cloud Outcomes
Barriers faced when fully achieving the promise of the Cloud
Want to convert your idea into a successful app or website? Schedule your free call with our expert now.
Now, we'll discuss each of these criteria and their associated factors in detail along with some real survey stats.
Level of Achievement of expected Cloud Outcomes
Only 35% of companies report having fully achieved their expected outcomes across the four categories of speed, cost, business enablement, and service levels.
Source: Twitter
We'll now elaborate on these findings based on the three factors mentioned earlier in this blog.
Cloud Adoption
The survey depicts that companies present most heavily "in the cloud" are more likely to achieve their expected cloud outcomes. But, less than 50% of these companies have reported full achievement.

For companies who have moderately adopted cloud or have started their cloud journey in the past year, there are fewer chances of realizing all the benefits of the cloud. Usually, only 30% or less have achieved the desired outcomes. For companies that have just started, only 18% accomplished their speed-to-market goals. 

Cloud Model
Companies using private clouds usually lag behind their counterparts employing public cloud or hybrid models when it comes to achieving the desired outcomes. (28% vs. 42% and 38% respectively) The biggest challenges for the private cloud are cost-saving and service level improvements. On the contrary, over half of public cloud users (54%) captured their cost-saving goals, but only 28% have experienced their anticipated speed-to-market benefits.

Companies that are not aware of the prevalent cloud models (especially startups) should consult with a good cloud consultancy firm. It will save them the trouble of failure later on. 

Company Size
In this extensive survey, the company size was broken down according to revenue in three categories: $1-$5 billion, $5-$10 billion, and those exceeding $10 billion. Company size did not have a major impact on the success of cloud strategy, with the full achievement of benefits being an average between 33-36%. Nearly 98% of these companies achieved their objectives partially.
Level of Satisfaction with Cloud Outcomes
The survey found something that will shock you.

While 96% report achieving some degree of their expected cloud outcomes, less than half are "very satisfied" with the results.
In general, respondents were satisfied with cloud results achieved, despite not fully realizing the anticipated benefits. On average, 93% of executives were satisfied (49%) or very satisfied (44%) with the outcomes. This indicates that cloud-driven improvements of any degree were sufficient to meet the minimum expectations of companies. Organizations were mostly dissatisfied with cost savings, with 11% saying that expectations have not been met. Dissatisfaction in the Business Enablement and Speed to Market categories were 8% and 7% respectively. 

Cloud Adoption
Companies in the early stages (88%) or intermediate (92%) lag those who have adopted cloud heavily (97%). This is more pronounced when considering those who are "very satisfied" with early adopters at 33%, moderate adopters at 40%, and heavy adopters at 54%. If we talk about speed to market satisfaction, only 21% indicated they were "very satisfied" and more than one in seven indicate dissatisfaction (15%). 

Interestingly, more than half of those companies moderately (52%) or heavily (56%) in cloud reported they were "very satisfied" with their speed-to-market
outcomes. The graph below will give you a better idea of what we are talking about.
Source: Accenture
Cloud Model
Companies employing private clouds reported 90% satisfaction whereas those in the public cloud indicated 92%. Satisfaction was the highest with hybrid model at 95%. 

Company Size
No company size reported less than 41% "very satisfied" ($5-$10B). Overall satisfaction across all outcome categories exceeded 89% for all sizes of company. But there was one exception related to large companies (>$10B) where 16% were dissatisfied with their cost savings goals.
Barriers faced when fully achieving the promise of the Cloud.
What do you think would be the most common barrier in unlocking the limitless potential of the cloud?

"Security and compliance risk" was found to be the highest-ranked barrier (65%) across all segments.
Brainvire has been instrumental in eliminating the first risk for a prominent name in the American healthcare industry. The HIPAA-compliant solution has successfully processed over 4 Million medical records on AWS servers.

Data Loss a Major Concern for Companies: Forbes Study57% of companies are still skeptical about the security of migration to cloud environments. The loss of "physical control" of data remains a major concern. Companies are still hesitant to switch from traditional computing to cloud computing environments.

As you can see, cloud security is a big issue for everyone who wants to embrace digital transformation through the cloud. So, we'll discuss the five ways to solve this problem before moving further in this article.
5 Ways to Manage Security Risks in Cloud Migration
Baseline Your Security Before Cloud Migration
Many organizations own security architecture encompassing isolated security devices, decentralized management and an inconsistent application of security policies.

If this is the scenario in your organization, start taking control of your security sprawl and impose a central security strategy. Once that is done, ask yourself the following questions:

Do you know your current security posture and its implications for your future business goals?
Do you have the proper policies and procedures in place for your current and future environments?
Have you performed a gap analysis for how the cloud will change your security paradigm?
What are the impacts of a distributed, cloud-based network on risk management?
Plan for Bandwidth Requirements
Modeling and understanding data flow and bandwidth requirements is crucial to meet performance requirements. This is mainly important for latency-sensitive services that will need to go over VPN tunnels.

Understanding Compliance Issues
Data comes with a lot of compliance issues. Your cloud apps should be able to meet all regulations and standards. Consult your legal team before adopting any sort of cloud integration solution.

Apply Right Security at the Right Place
Cloud security cannot be ensured just by placing a firewall at the perimeter of the cloud infrastructure. You have to use multiple security solutions depending on the applications running and services being used in the cloud. A next-generation firewall (NGFW) solution is the most commonly used security tool. Other solutions include a web application firewall (WAF), an intrusion protection and detection service (IPS/IDS) and a cloud access security broker (CASB).

Establish a Lifecycle Management Framework
It is important to ensure consistency between security solutions and policy enforcement, especially when they span multiple environments. Your chosen cloud security strategy must have the ability to interoperate seamlessly through the entire security policy life cycle with sister solutions deployed in other environments. This includes – 

Consistent security change policy. 
Dynamic provisioning and scaling. 
Single point of management. It includes integration with a central ITSM solution, central log collection, and correlation.
It was all about managing cloud security in a systematic manner. 

The second most commonly noted barrier turned out to be "complexity of business and organizational change" (55%), with "legacy infrastructure and/or application sprawl" (43%) taking the third spot in the list. This was followed by a "lack of cloud skills with the organization" (42%). 

Here are the graphical representations of these findings:
Source: Accenture
Now, I will correlate the rank of these barriers in cloud adoption with the three factors influencing cloud strategy. 
Cloud Adoption

| | | | |
| --- | --- | --- | --- |
| Rank | Just Started | Moderately  | Heavy |
| 1 | Security (63%)  | Security (65%)  | Security (66%) |
| 2 | Complexity (56%) | Complexity (58%)  | Complexity (53%) |
| 3 | Sprawl (44%) | Skills (52%)  | Misalignment  (47%) |
| 4 | Skills (41%) | Sprawl (45%) | Sprawl (42%) |
Cloud Model

| | | | |
| --- | --- | --- | --- |
| Rank | Private | Public | Hybrid |
| 1 | Security (65%)  | Security (72%)  | Security (63%) |
| 2 | Complexity (54%) | Complexity (52%)  | Complexity (57%) |
| 3 | Skills (49%) | Sprawl (44%)  | Infrastructure (51%) |
| 4 | Sprawl (46%) | Misalignment  (40%) | Skills (48%) |
Company Size

| | | | |
| --- | --- | --- | --- |
| Rank | $1-5B  | $5-10B  | $10B + |
| 1 | Security (61%)    | Security (74%) | Complexity (67%) |
| 2 | Skills (53%) | Complexity (48%) | Security (61%) |
| 3 | Complexity (53%) | Skills (43%) | Sprawl (47%) |
| 4 | Misalignment (48%) | Sprawl (43%) | Skills (37%) |
How can we tackle the barriers listed in these tables? What is the way out? Continue reading further to get all your answers.
Managed Cloud Services: Your Path to Realize Cloud Benefits
Most organizations feel that managed cloud services could be the path to benefits realization. In a survey, companies rated access to the right skills as the top benefit.

What is currently happening is that companies are taking a siloed to cloud adoption. For example, they want to move their enterprise apps to the cloud but keep their customer data in on-premise data-centers. This won't work in the long-term.

Instead, companies should hunt for an integrated, impactful 'cloud by design' strategy, commit themselves to bring all their apps, data, AI and security into the cloud. This approach will help them build a fully integrated cloud ecosystem that will:

Deliver more value at a higher speed. 
Enable the interoperability of apps across the cloud spectrum. 
Release substantial trapped value through analytics and data sharing.
Benefits of Managed Cloud Services
Source: Internet blog
The image shows the benefits of Managed Cloud Services (also known as Managed Analytics). Brainvire has already shown these benefits in action after partnering with EZlytix, a leader in data engineering. Let's take a quick look at one of its case studies below.
SaaS-based Power-BI Analytics Achieves Unprecedented Business Growth for a Leader in Embedded Computer Solutions
The client's legacy ERP system was based on Excel spreadsheets. They were facing a tough time in compiling and analyzing data coming from 600 different components. Thus, EZlytix pitched in its extensive library of 150 pre-built reports and helped the client adopt managed analytics in the most economical way possible. Now, they are able to make business-critical decisions in a short span of time and achieve growth never seen before.
On An Ending Note
Cloud migration will never be an easy journey. But its destination is worth the money and effort you are putting in. If you feel left out during the journey, feel free to consult us at Brainvire. We offer exclusive Microsoft Azure Development Services, and can also deploy your enterprise apps on AWS and Google Cloud. So take the first step towards cloud migration today and take your business to the next level!