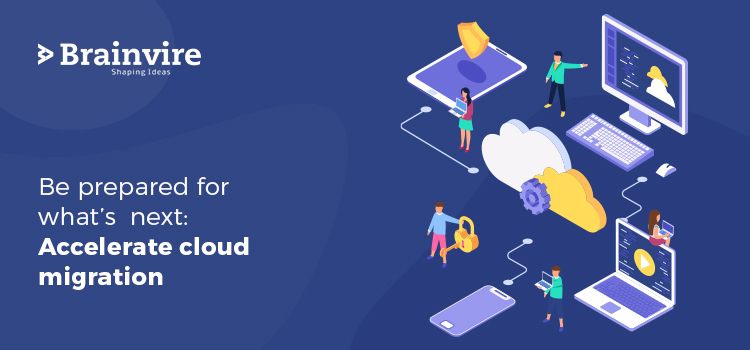 The Present Scenario
The present time is uncertain. There is hardly any knowledge about the various types of implications due to the health crisis, economic instability, and governance policy. In such a scenario, organizations are fast-changing how they operate their businesses while ensuring the employees' safety and information technology-enabled operations.
Most IT experts worldwide have been discussing and seriously considering various means available to cope with the fast-changing business scenarios. Also, efforts are underway to sustain the momentum of the pre-planned business strategy.
Industry experts have observed that cloud technology has been able to deliver many benefits that are clearly defined across various geographies and industries. Azure can deliver faster and innovative solutions that are fast becoming vital for information technology operations across almost all sectors. This new approach can help to understand what is most vital and extend a detailed understanding of the various challenges that customers across various industry sectors are commonly faced with. It is nothing new that users are increasingly becoming dependent on IT-enabled services, which will continue.
Want to convert your idea into a successful app or website? Schedule your free call with our expert now.
The Current State Of Business
The challenges of each customer segment are indeed different, and it varies depending on the industry sector. However, there are a lot of aspects that are more or less consistent and common among these.
As a result, it is possible for IT workers, developers, and professionals to work from anywhere. The reason for it happens to be remote collaboration and productivity activities done using cloud activities. Due to the growing need of the consumers, most businesses have been compelled to scale up remote working options to accommodate the customers' needs. Consequently, there is a strong need to scale up the networking capacity while ensuring that users have secured access to the resources they are using.
It has been found that Azure Cloud Migration is a critical solution for rapidly scaling the storage and computational infrastructure to cover essential business requirements. It has become possible due to how users have transformed internet technology operations through Azure. Azure can play a significant role in scaling up a range of business demands without much hassle.
Industry experts have warned already that the budget would be constrained in unimaginable ways in the coming days. Therefore, the top priority is to adequately optimize investments related to cloud technology and improve cash flow by migrating to Azure. Most businesses are looking to explore all possible ways to reduce IT spending to the maximum extent possible. It is becoming quite expensive to own and manage in-house data centers. It has led to an increase in the vulnerability of business continuity risk. Migration to Azure is increasingly accepted since it has proven to improve cash flow and bring down business risk.
The downtime has also proven to be a good opportunity for accelerating specific categories of projects. Many consider it an opportunity to explore innovative methods and deliver projects that have been planned already. Most are looking up to Azure since it is expected that it would help businesses to make a fast recovery as they slowly exit from the current crisis.
It has been observed that there is a genuine urgency to act fast, but there is also a lot of hesitation while starting. Of course, there is a learning curve involved, but it is not so complicated as many might think it to be. Many have successfully traversed it over the years now. All that is needed is well defined and well structured best practices and guidance knowledge so that there is a clear idea about where to start from, how to get along, and what pitfalls need to be avoided.
The Cloud Migration Journey
There are a few basic things that must be kept in mind when it comes to cloud migration. These are:
Prioritization of Assessments:
A comprehensive search must be conducted to thoroughly analyze the data centers using applications that do not cost anything like Azure. The first step is to develop an inventory of the existing infrastructure, application in use, and the various databases. It will help to come up with an actual cost projection for running the applications using Azure. After all, all crucial decisions are taken post considering aspects such as management tools, discovery mechanisms, active directories, and the present CMDB (configuration management database).
The focus should always be on covering everything as much as possible and then arrive at the critical decisions. While conducting the assessments, the applications that can lead to quick gains must be identified. These could include refreshing of hardware, software, and operating system end of support and resources that have capacity constraints should be considered first. Action bias and demonstration of urgency that can trigger immediate attention can go a long way to ensure that operational efficiencies are driven adequately and capital expenses are converted to operational ones.
It has enabled several business entities to discover their physical servers and virtual set-ups successfully. It was also possible for them to come up with a prioritized list of applications capable of migrating. After that, the assessment and discovery data can be interpreted to track the strategic migration progress.
Anticipation and Mitigation of Complications:
Naturally, there will be complications while the migration is in progress. Many of these will be linked to the architectural base, but at the same time, a lot will also depend on how an organization has been preparing itself to adopt the change. It is crucial for any business to adequately prepare processes, people, and the change's overall environment. It must be done based on an agreed plan. After all, every migration activity has its unique side. Consumers who move quickly have clarity of all the essential requirements starting from networking, security, and applications.
In terms of technicalities, probable complexities must be anticipated so that an adequate plan can be made related to critical aspects such as security, governance, compliance, and operations. In other words, everything should be in place for the cloud adoption process to be implemented throughout the IT portfolio. Additionally, applications must be appropriately managed so that the transition to Azure is smooth.
Iterative Execution Strategy:
Those who follow a workload based, wave-oriented, and iterative process are most successful in executing the migration strategy. The main thing for an effective execution is to target selected workloads followed by executions in various phases. Also, leveraging approaches like test migration and dependency mapping ensures that the transition cutovers can be predicted and have a high success rate. The lift – optimize – shift approach works best while dealing with cloud innovations, especially in a time like this. A world-renowned telecom operator has recently leveraged Azure Cloud Migration by exploiting the assessment and discovery feature to secure a series of applications and critical IT assets. Such an approach can help to understand the best way to work things out using the cloud facility. Cloud technology is continually evolving, and for a more detailed understanding, it will be necessary to dive deeper into this subject.