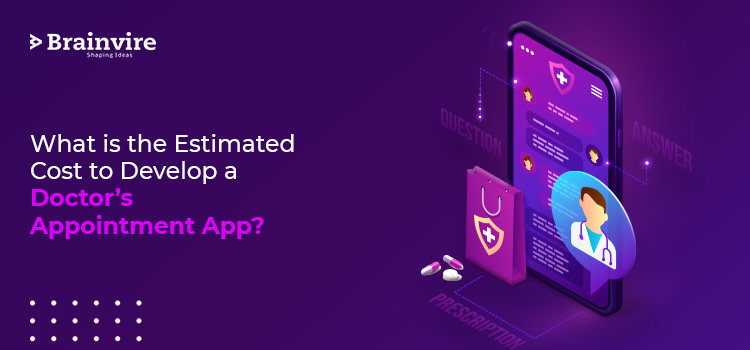 The blend of technology and healthcare has transformed the entire healthcare economy tremendously. There is a dire need for a healthcare app development company that can design useful healthcare apps.
Not every mobile app development company possesses the expertise to craft a functional healthcare app. Experts with a record-winning history in healthcare app development are the best choice to develop such apps.
The modern healthcare realm demands an advanced and real-time solution that can eliminate the gap between doctors and patients. With Android app development services healthcare has turned out to be more accessible and organized with as simple as placing a doctor's appointment.
With the existing digital healthcare solutions, it is convenient to introduce functionalities such as bookings, pre-bookings, cancellations, follow-ups, and reminders among others in mobile apps.
The pandemic has triggered and encouraged the use of healthcare mobile apps such as appointment apps.
In this extract, we have discussed key aspects related to doctor appointment app development:
Research and Rise in Request of Doctor on Demand App
Primary Features Required to Develop a Doctor Appointment App
Prepping Your Doctor Appointment App for Future
Estimated Cost of Developing Doctor Appointment App
Research and Rise in Request of Doctor on Demand App
Individuals have found the ultimate comfort in bookings through the doctor appointment app. An increased number of individuals prefer to book an appointment through mobile apps rather than personally calling at the clinic.
It has been observed that a majority of online appointments are placed during the closing hours. Individuals prefer to make appointments either on the same day or the next day preferably.
The popularity of doctor appointment booking app has accelerated the interest of investors in healthcare apps. It has been noticed that an iPhone app development company is also keen to share their expertise in this industry.
In May 2018, a healthcare giant raised $16.8 Million to enhance their static booking app with advanced features. Yet another healthcare institute initiated and raised $5 Million to improve their teleservices with an active doctor appointment app and reached a million users.
Alongside the contribution, it is equally essential to develop a feature-rich app. With an increased number of healthcare and appointment apps, there are certain features that your app must have.
Want to convert your idea into a successful app or website? Schedule your free call with our expert now.
Primary Features Required to Develop a Doctor Appointment App
Discussed here are some primary features needed for a doctor appointment app:
Quick Clinic and Doctor Search
The search option is a widely used feature for almost any app. The user is more likely to search for their required doctor and nearby clinics in the hour of the need.
An advanced search option provides them the access to run quick searches for their required information. For instance, a user can search for a pediatrician in their vicinity through the name of the doctor/clinic or simply using the keyword pediatrician.
Users can then garner information about the visiting hours, charges, waiting time, and other details. It is a wise move to implement a wide filter menu to offer uninterruptible services to users.
Profile Creation
Users and doctor profiles play a significant role in the doctor appointment app. Users have to include basic medical details in their profile such as:
Age
Gender
Weight
Height
Blood Group
Allergies
Hereditary disease, etc.
Simultaneously, doctors have to enlist the following details in their profiles:
Degree
Specialization
Doctor's photo
Clinic's photo, etc.
Appointment Booking
The primary feature of the app must be simple and easily accessible. Users would be less interested to skimp through pages to book an appointment. A simple appointment button right on top of the first page can trigger online appointments.
Allow users to make appointments for the same day, the next day, and a week. This way, users with an emergency medical need can reach out to you. Simultaneously, users can pre-book their appointments in advance.
Search via GeoLocation
This feature allows users to search for clinics and doctors around them. With the use of Google Maps and Apple maps, an experienced developer can introduce a smooth location search feature in the app.
Doctor's Review
The review and rating feature allows users to review doctors based on their services. An in-app review feature enables genuine rating from the user end.
The drawback with this feature is that users prefer doctors with A-class ratings and hence doctors without ratings are less approached. However, with the media and profile information, it becomes convenient to approach the doctor.
Prepping Your Doctor Appointment App for Future
The use of three smart technologies can help develop a futuristic doctor appointment app:
Blockchain
The use of this technology will result in a decentralized system that is accessible to only a few parties that have been granted access. This will eliminate all potential threats of the duplicity of patient's data.
There are several adoptions available in Blockchain that can be implemented in the healthcare industry.
AI and ML
A couple of popular appointment booking apps have used AI and Machine Learning as their core and benefited from advanced search capabilities.
Users are unaware of the medical names of diseases and doctor specializations. In such instances, they use generic names which are recognized only by smart technologies such as AI and ML.
For instance, users are unaware of what a cancer specialist or eye specialist is called as and hence they simply enter cancer specialists in the search option.
The presence of ML and AI in the app connects users to the right doctor in minutes and enhances the user experience. Users can then quickly book an appointment as per the doctor's availability and their convenience.
Cloud Computing
With an increased number of users, you are likely to increase the number of doctors on your list. Cloud computing helps store profiles and information of all doctors and users at one destination.
Doctors can quickly refer to the user data while examining reports or analyzing patient health through the app. This data is accessible through the app and hence doctors can diagnose and recommend treatments on time.
Estimated Cost of Developing Doctor Appointment App
The cost of developing a doctor appointment app ranges between $40,000-1,50,000. However, the cost varies from developer to developer. Besides, the features, functionalities, frameworks, architectures, and technologies used in the development process also influence the cost of the app.
It is recommended to select a skilled developer to craft the app as they can propose the right attributes for the app and share a reasonable quote for the same. A functional app with the right features can tap users and also retain them.
This makes it imperative to make fruitful decisions while approaching an app development company.
A reliable app development company can assist you with further maintenance and support to maintain the app. They can notify you about timely upgrades and introduce advanced features to withstand the evolving needs of users.
The company will add a niche brand value to your healthcare app and train your team to make optimal use of the app.
So far, we have explored all the essential touchpoints to improve your understanding of the doctor appointment app. For detailed analysis and knowledge about this app, you can get in touch with our experts.