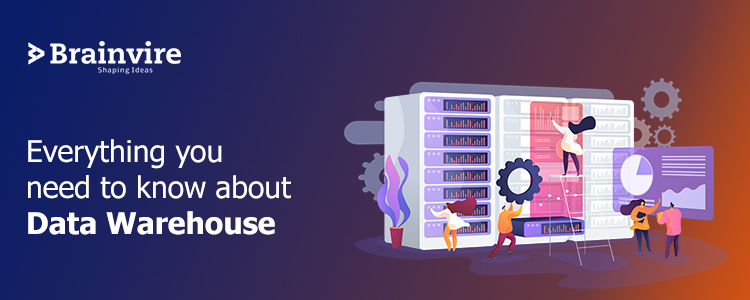 Do you yet make business decisions centered on spreadsheets or siloed databases with non-standardized systems and formats?
The corporate landscape has been revolutionized by cloud-based technologies, enabling enterprises to conveniently retrieve and archive useful data about their clients, goods, and employees. Such information is used to guide major business decisions.
In a rapidly changing global marketplace, it is critical for IT professionals to understand how data warehousing helps companies stay competitive.
In this blog, we get a background about what a data warehouse is, what you could miss if you don't have one when you make the call to invest in a data warehouse.
What Is A Data Warehouse?
The Data Warehouse (DWH) is a consolidated database made up of one or more data sources.  A key component of business intelligence is the data center, which allows for organized data collection, reporting, and analysis.
A data warehouse is a system that holds data from the operating systems of an organization as well as external sources. Since they preserve historical records, data storage systems are distinct from operational databases, making it possible for business leaders to evaluate data over a specific time period. Data warehouse platforms often sort data based on multiple topics, such as clients, goods, or market operations.
Want to convert your idea into a successful app or website? Schedule your free call with our expert now.
Various Of Data Warehouse
A data warehouse is a data archive that is extracted, transformed, and loaded from one or more running source structures and modeled to enable data collection and documentation. It is most widely referred to as an online analytical retrieval process (OLAP). There are many kinds of data warehouses, but the three most common are:
Enterprise data warehouse- Provides the whole enterprise with a central repository designed to facilitate decision-making.
Operational Data Store- In terms of scale, equivalent to the enterprise warehouse, but data is updated in real-time and can be used for operational monitoring.
Data Mart- This is a subset of a data warehouse that is used to serve a geographical location, business unit, or area of operation (i.e. sales).
Where Are Data Warehouses Stored?
As data volumes are increasing exponentially, a data warehouse becomes essential, and the hardware that collects, processes, and provides a means of data flow should be considered. On-premise, in the cloud, or a combination of the two worlds, data warehouses can be maintained in different models. Your decision can rely on criteria for retaining mission-critical organization applications on-premise.
If you are looking at cloud solutions, take into account industrial legislation, stability, visibility, usability, latency, and trustworthiness of the cloud providers. Amazon Web Services, Microsoft Azure,  Oracle Cloud, Google Cloud Platform, Rackspace, Verizon Cloud, and VMware are some of the top cloud providers.
Data Warehouse Implementation
Source: Addepto
Gather
The Gather layer consists of numerous data silos, including ERP systems, CRM, Excel spreadsheets, and also organizational or divisional data hosting access databases. Usually, the data subsystems used by these apps are not structured (if direct access is possible at all) for simple querying or navigation. In some of these systems, native reporting may be feasible, but flexibility is usually very restricted and only the data within the single device is limited to reporting.
Clean
The Clean layer adds company logic and other calculations to data that will eventually be made available in the data warehouse layer. Custom KPIs, business-specific formulas or rulesets, data hierarchies, or new derived columns that are otherwise not available from any source structure may be used in business logic. Usually, data only resides briefly in the Clean layer. This layer exists only to build these custom values and transfer on to the data warehouse. End-user querying or reporting is not permitted against the Clean layer.
Store
The store layer reflects the denormalized data warehouse.  Although there are many implementation models, the Kimball technique is a leading design in which data is arranged into tables of dimension and reality and joined for ease of use in star schemes.
The Sharing layer is not as much a formal layer as a reflection of all the different ways in which data can be accessed that exists in the data warehouse. These uses include: querying through Power BI Reports, dashboarding tool, direct SQL querying, unrelated programs, or even automatic extracts.
What Would Happen If You Don't Have A Data Warehouse?
Let's take a scenario. Business XYZ has three systems used to screen leads when they pass through the sales process to become consumers:
Application 1, a web-based device, is used to capture possible leads from website advertisements.
Application 2 is used to collect leads for direct calls and is also used for project management roles by client services.
Application 3 is used for business service and the continuing maintenance of current customers.
There is no specific set of rules that regulate what form of data is supposed to reside in any of the three applications and when data is supposed to migrate from application 1 to application 2. Business XYZ faces the following challenges due to the absence of continuity and rules:
Time and resources wasted on following marginal and unqualified leads;
Inability to assess when advertisement dollars can be better spent;
Inconsistencies in data about current customers;
Reporting from incomplete data feeds;
Overextended contact center and customer relations personnel who have to deal with poor data on a daily basis; and
Inefficient use of employee resources to resolve mistakes that should be better assigned to more lucrative responsibilities.
In order to collect, clean, store, and exchange information and reduce the pressure felt by the customer support team, a data warehouse should be introduced.
Importance Of Data Warehousing
Data warehousing is an increasingly valuable platform for business intelligence, which allows businesses to:
Improve accuracy
Data warehouses are programmed to apply a standardized format to all data gathered, making it easy for business decision-makers around the world to interpret and exchange data knowledge with their peers. The standardization of data from multiple sources also decreases the probability of representation errors and increases overall accuracy.
Make better decisions
Without consulting their business data, successful business owners seldom make decisions or create data-driven plans. Data storage increases the speed and reliability of accessing multiple data sets. It makes it easy for business decision-makers to obtain perspectives that drive the organization and marketing campaigns to distinguish them from their competitors.
Strengthening their bottom line
Data warehouse platforms enable corporate executives to easily view the historical operations of their company and analyze projects that have been fruitful or ineffective in the past. This helps executives to see where their strategies can be modified to minimize costs, improve productivity, and boost revenue to strengthen their bottom line.
Conclusion
Businesses have apps that handle and store thousands of transactions every day.
Managing gigantic volumes of data can be time-consuming, tedious, and stressful for IT teams. Data analytics make it easy to manage, control, and understand complex data churned every single day. Brainvire provides Power BI Development services to help you manage organizational data effectively.