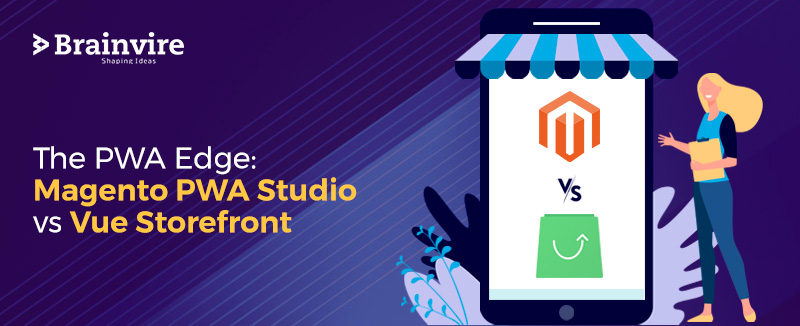 If you follow technology trends, you must know that mobile traffic has become as predominant as web traffic. Half of the internet traffic shops from their mobile phones, which is why businesses need to emphasize optimizing websites for mobile browsing or developing a native app.
But, considering popular usage of web and mobile apps, developing and maintaining a native app sounds like a cumbersome and expensive plan altogether. This is where PWA (Progressive Web Development) comes into the picture – A combination of native apps and technology that is used through the web. Surprisingly, it gained exponential recognition over time and might become the most commonly used platform that develops e-shops.
What exactly is PWA?
PWA per se is a website that gives a complete impression of a mobile app on a smartphone. It offers all app-like features such as notification, offline service, and there is no constraint of downloading it from any app store. 
These apps are built involving web technologies such as HTML, JavaScript, or PHP with the exact feel and functionality of a native app. PWA's are much quicker and less complex to build compared to a native app. There are so many sites that are PWA's such as uber.com, pinterest.com, startbucks.com, twitter.com, etc. 
Magento judged the potential of PWA and launched the Magento PWA lab, a collection of tools that can be used to develop online stores that function like apps. Similarly, for building online shops using PWA, Vue Storefront is increasingly becoming a popular choice of open source technology. But, to know which one of the two is for your business, you need to understand both of them carefully.
In this blog, we will compare the scope of Magento PWA Studio and Magento Store's other most promising PWA site, Vue Storefront.
Want to convert your idea into a successful app or website? Schedule your free call with our expert now.
About Magento PWA Studio and Vue Storefront PWA
Magento's in-house project, Magento PWA Studio is a set of tools that allows users to develop, deploy and maintain a PWA storefront on top of Magento 2. So, Instead of creating a separate website/app, PWA develops an app icon which is like a website's shortcut on a user's system. In a nutshell, it's a website that will give you the best of both worlds, it will perform like a native app with a mobile app user-like experience.
Pros of Magento PWA Studio
Free open-source tool 
Easy development, deployment, and maintenance
Works well in offline mode
Reliable Backend
Dedicated PWA team to solve customer's problems
Fast, Secure, and responsive
Cross-browser compatibility
Handle multiple users from different sources using GraphQL
Cons of Magento PWA Studio
Only available for Magento 2.3x
Not compatible with an older version
The release process is slow
Compatible only with Magento backend
Validation issues
Lacks comprehensive features 
IOS apps don't work in offline mode
Vue Storefront PWS
To fill the gaps of PWA in eCommerce, Divante group took the initiative of launching Vue Storefront. Vue Storefront is a stand-alone, open-source, platform-agnostic that has been developed to build an e-commerce storefront with a consistent user experience. Its main benefit is that it can connect to any e-commerce backend (Magento, Pimcore, etc).
Pros of Vue Storefront
Platform Independent
Offline Browser Storage
Provides server-side rendering
Open Source 
Built with the latest technology stack
Provides well equipped PWA solutions 
Compatible with both Magento 1 and Magento 2 
Multiple features
Cons Of Vue Storefront PWS
Many unresolved issues with existing eCommerce platforms
Built by an Independent Company
Bothersome Installation Process
Lack of proper documentation process
Does not involve Jquery or other dependencies
Feature incompatibilities with the iOS devices
Not feasible with all payment gateways
Detailed Comparison
Just in case, the pros and cons were not enough to make an informed decision. Here's a detailed comparison of the two popular eCommerce platforms. 
| | | |
| --- | --- | --- |
|                                   | General Comparison |   |
| Released | June 2018 | November 2017 |
| Based on | ReactJS | VueJS |
| Provider | Magento (Adobe) | Divante LTD |
| Latest Version | 5.0.1 | 1.11.2 |
| Release count | 57 | 120 |
| Contributors | 114 | 227 |
|   |   |   |
|   | Feature-Based Comparison |   |
| Account, Login | Not Yet | Yes |
| Tracking | No | Yes |
| Open-source | Yes | Yes |
| Wishlist | Not Yet | Yes |
| Checkout | No | Yes |
| Payment | PayPal, PayPal by Braintree, Payfort | PayPal, Stripe, Klarna, Mollie, Adyen |
| Offline Support | Yes | Yes |
| Search | Elastic Search | Elastic Search |
| CMS | CMS API / Page Builder | CMS API |
|   |   |   |
|   | Technical Comparison |   |
| Middleware | UPWARD-Concept | Vue Storefront API |
| Default Integrations | =< Magento 2.3 | Magento 1 + 2ShopwarePimcoreCoreShopWordPress EpiServerSpreeCommerceOdoo ERPBigCommerce |
| Server Side R. | Under Development | Yes |
| Unit-Test | ~78% Coverage | < 30% Coverage |
| E2E Tests | No | Yes |
| Additional Tech Stack | Redux, GraphQL, Webpack | NodeJs, Vuex, GraphQL, Webpack |
| Test tools | Jest | Cypress (E2E), Karma |
| i18n | Under Development | Yes |
| Strict Types | Not yet developed, Pure JS | Babel / ES2016 |
| Frontend Demo | Venia PWA | demo.vuestorefront.io |
| Multi-Websites | Yes | Yes |
| Additional Features | TBD | TBD |
|   |   |   |
It is clear through the general comparison that the Vue storefront is a better choice. But again the inspection can vary from company to company.
Looking at the feature-based comparison, we feel both the PWA platforms are equally good. Magento lacks few comprehensive features but over the years it has become impressively popular in the market. Being an older platform than Magento, Vue storefront has a better user base.
And, when it comes to technical both the PWA platforms are more or less similar. But the minor difference that is ReactJS, makes Magento better in terms of performance. If we compare ReactJS with VueJS, ReactJS gives a much better experience in terms of shopping, development, and maintenance.
Otherwise, both offer Server-side rendering that will enhance the store's performance and visibility. 
Vue Storefront has been on the eCommerce PWAs market for a very long time now. It's an ambitious, independent project that has a huge customer, and most importantly, it's production-ready to integrate anytime. Whereas, Adobe supports Magento. Therefore, for long-term investments, many users consider Magento a sure thing. Magento PWA Studio is exceptional because it is the e-commerce platform's first native PWA support. Magento promises complete integration with the PWA Studio for as long as Magento 2.x is around and funded.
User Experience
Magento PWA Studio
Customers who have adapted Magento PWA Studio have observed a rise in average order value as the tool provides flexible and easy product browsing. 
Big brands like Eleganza are built on Magento PWA Studio. They wanted a tool that helps them in reducing operational costs and increasing traction. And that's when Magento PWA Studio fell into their lap. The site also had to Migrate from Magento 1 to Magento 2. They trusted Magento Development Service and after using it for some time they witnessed outstanding results:
76 percent rise in pages per session, 23 percent faster average page load time
372 percent faster average response time for servers
Vue Storefront PWA
Having been launched before Magento, Vue Storefront holds more customers. Let's talk about its crucial client Kubota. Kubota approached Vue Storefront with the motive of gaining higher engagement through smartphones. Kubota received unrivaled outcomes:
192% growth of daily visitors
94% more keywords in Top 3 
30% improved loading time 
The decision to choose the Vue Storefront system worked well for Kubota. The brand has been a sensation among retro fashion lovers everywhere since then.
In a Nutshell
As far as e-commerce or Retail as an industry is concerned, it is an undoubted fact that soon PWA will become the norm of online shopping. Giants like Google, Microsoft, AliExpress, NASA, Wikipedia, and a host of other businesses are already using them.
When you decide between Vue Storefront or Magento, note that both are excellent PWA platforms and supremely successful in their way, considering all the pros and cons. 
Make sure it ticks all the boxes that today's tech-savvy shoppers are after for an entertaining, fast, and seamless experience.