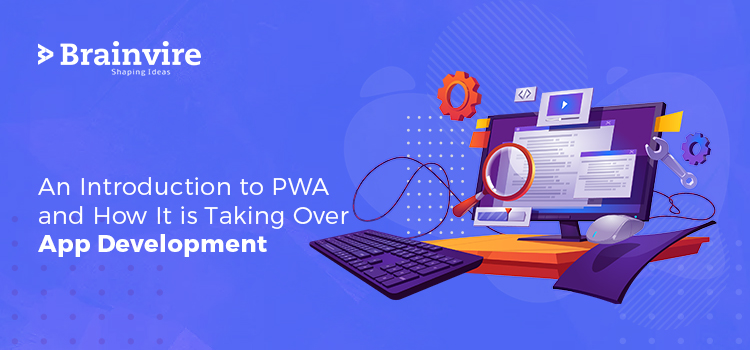 Speed is a major necessity when it comes to the internet. Today, every website that is listed over the internet functions with a certain speed. For once, you can say that your website's speed equals the speed of your business operations.
On the other front, website speed plays a strong role in determining the rate of operations over every eCommerce Website development there is, despite the fact whether it's old or has just begun. Users, primarily mobile phone consumers, are very impatient and don't want to wait for the website to load up. In fact, around 57% of visitors abandon a website, if it takes any longer than 3 seconds.
This is where the concept of PWA comes to light. Wonder what it is? Let's take a look.
What Is PWA?
PWA or 'Progressive Web App' isn't an established or an official name. The term PWA is just a short form of the term, used by Google to describe the concept of creating a website that would allow the creation of an adaptable, fast, and flexible app with the use of only web technologies.
PWAs are those web applications that are engineered with the help of specific technologies and different algorithm patterns to allow websites to take advantage of both web and native app features.
If you think that this is a brand new concept, 'No' would be the answer. PWA is an existing feature that adds to the web surfing experience of users'.
Want to convert your idea into a successful app or website? Schedule your free call with our expert now.
Why Use PWA?
Using PWA for your website caters to your growth in many ways. It allows you to tap into a field of opportunity over a minimal amount of effort. Listed below are some of the benefits of opting for PWA:
Reduced loading time to run the application after it has been installed successfully, its reliable service allows to save bandwidth and time.
PWAs have the ability to update their content, whenever an app update is available. However, when it comes to native apps, the same is not the case.
It provides users with a more reliable look and feel, besides running automatically in full-screen mode among others.
Easy re-engagement of users with the use of system notifications and push messages, adding to improved conversion rates.
What Makes PWA Different from Native & Cross-platform App?
PWAs are the latest happening thing in IT as they can be easily used in place of native and cross-platform or hybrid apps. Further, the fact that they are incredibly fast adds on to their functioning, based out of  a single code between platforms.
However, when you look at the native or cross-platform applications development, things get more complex with the projects, adding on to the cost of developments as well. On the other hand, PWAs are significantly less in their cost of development and the time to develop them is also shorter.
Benefits of PWA
1. Better Visibility
Improved visibility is one of the major advantages of using the PWA. Now, to understand the same, we need to understand the basics of website/application rankings. The faster an application or website loads, the higher conversions it can guarantee. This way, improved visibility is one of the many benefits of switching to PWA.
2. Easy Installation
A core part of the overall web app experience that PWA provides to its users is providing app icons on their home screen. This way, it allows easy access to running of the program, post a successful launch into their own native containers.
3. Fast and Highly Responsive
PWA reduces the overall loading speed of a website, keeping it confined to 30 seconds. This way, the load time is affected by a couple of folds, improving the responsiveness of the web pages. Further, the users also don't lose interest in opening that particular website.
4. Safety
Safety is one of the major concerns of the web users today. Thankfully, the likes of PWA platform allows a secure delivery mechanism to ensure complete safety and making sure that the files and folders have not been tampered with. Further, when we consider the aspects of HTTPs to develop the applications, the users can also ensure their safety while installing the application.
When compared to the likes of an app store, the experience is very different as such stores contain a number of similarly-named apps, some of which might even carry the name similar to your website. Thankfully, web applications eliminate that confusion, allowing users to get the best installment experience.
5. Easily Scalable
A number of applications that are developed today fail to perform when the network is unreliable, or even non-existent. This affects the functionality and performance of such apps.
However, with PWA coming to the picture, optimal performance becomes easy. Now you can easily revisit a website and access the available contents. Users can rely on the performance.
6. Adheres to Mobile-first Principle
PWAs operate around mobile-first principle, allowing businesses to develop applications that can cater to the use of mobile phone users. They prefer to use websites that can load at a much faster speed and eliminate the 'loading speed' issue that they come across.
The mobile-first principle set by PWA allows businesses to reach out to a wide number of people without investing in another mobile-friendly application.
7. Engaging
Engagement is another added advantage of developing applications with PWA. This platform allows accelerated loading time, keeping the visitors hooked up to the website for what they were looking for.
Conclusion
PWA applications are the perfect blend that provide developers with the chance to develop an application that is not limited to a platform but can run between both native and cross-platforms. Considering the fact that it enhances the loading speed of a website, it is one of the best modes to develop an application at a budget-friendly rate, when compared to the likes of native and cross-platform applications.