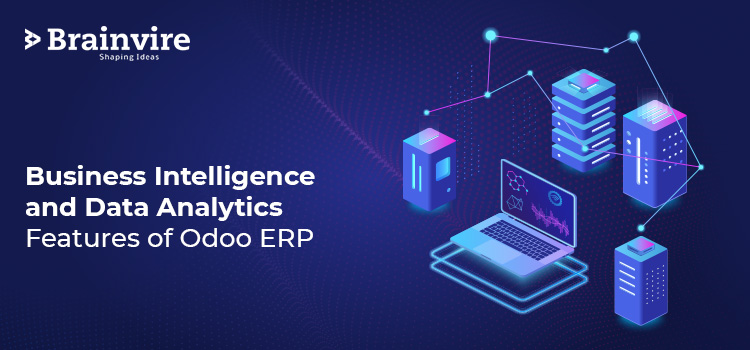 In the dominant market strategies embraced by all major industries, the emergence of the fourth industrial revolution brought many technological reforms. Today's enterprises are equipped with sophisticated technological systems and cutting-edge technology, from the Internet of Things to cloud computing.
Similarly, a growing number of organizations are implementing data-driven methods to enhance their products, services, and provide consumers with greater value. That being said, the introduction of methods of market intelligence and data analysis has become crucial for companies to retain cut-throat competition. BI tools and data analytics modules can unlock scores of benefits for enterprises, enabling them to grow, expand, and keep pace with the ever-evolving technology landscape.

[Also read: Two-Factor Authentication: Having a Password isn't Enough!]
Despite the advantages, implementing BI and data analytics features in your existing business model might be a hard nut to crack. Nonetheless, Odoo has come up with a set of instruments that make it increasingly easy to incorporate and use these features as well. To create an enterprise module using Odoo or incorporate BI features into your current enterprise framework, all you need is a team of developers.
We at Brainvire specialize in BI development and custom enterprise apps using Odoo to solve complex business challenges. With advanced problem-solving capabilities, our Odoo ERP development services allow cross-industry businesses to streamline their operations and boost productivity. Based on our experience with Odoo ERP, we highlight the main benefits of Odoo ERP with a focus on implementing BI features. 
Business Intelligence Features In Odoo
Odoo offers comprehensive data visualization and analysis software interface that helps companies to capitalize on their sources of data. Odoo offers an informative dashboard interface and sophisticated business intelligence capabilities for data mining and secret meaning extraction. For business intelligence and data processing, let's go ahead and dig through Odoo's key features.
Want to convert your idea into a successful app or website? Schedule your free call with our expert now.
Sales Analysis
To monitor sales data and keep sales records for future reference, Odoo offers an intuitive dashboard interface. To retrieve the relevant data in no time, you can apply different filters or divide it into various segments for easy access. In order to get an organized view of your sales data, you can use features such as line graph analysis, bar graphs, and pie charts.
Lead Nurturing
A descriptive graphical view for monitoring and evaluating your lead data is supported by the Odoo CRM module. It helps you to group your leads based on factors such as geographic location (country/state/city), gender, age group, business type, and many others into different segments. To easily retrieve the lead data, you can apply filters and set time ranges to compare it with the previous leads. It further augments your CRM efforts and lets you build healthy customer relationships.  
Employee Performance Tracking
With Odoo dashboards, as well as the success of your sales team, you can easily assess your CRM efforts. As a consequence, through efficient resource utilization and task scheduling, you will take effective steps to strengthen your sales strategy.
Inventory/Stock Level Analysis
To provide a holistic view of inventory, the Odoo inventory module is equipped with all the necessary BI tools and analytics features. You get straightforward reports and insights into inventory and warehouse data in real-time. In addition, you monitor your stock movements, average delivery time, stock receipts, turnover of inventory, and valuation.
Final Thoughts
The introduction of BI tools and analytics features in various business systems helps you to get ahead of your rivals and maintain the rising rivalry. Predictive analytics algorithms are successful in extrapolating a future business venture's success rate and improving decision making.
We, at Brainvire, provide end-to-end Odoo ERP development services for cross-industry use cases to solve complex business problems. Our development team carefully analyses your business requirements and formulates successful strategies through Odoo application development to achieve maximum benefits.
In order to incorporate innovative data analytics features that help deliver customized user experiences, we also include full-scale BI product development services. We have successfully completed many full-scale Odoo ERP development projects from around the globe for start-ups and small-to-medium businesses.