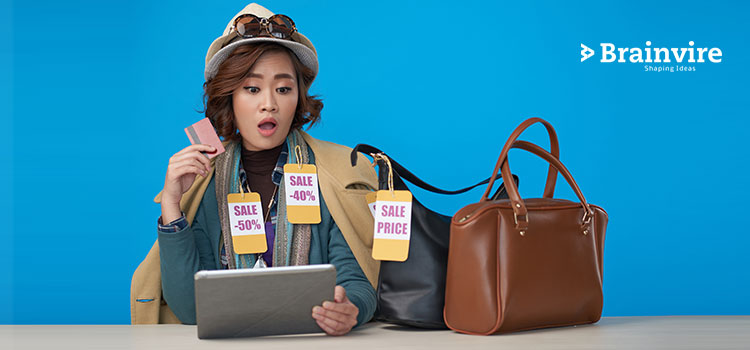 While there are numerous strategies to help drive consumers, there's nothing more striking than discount offers. Offering a nominal discount on the MRP can enhance user engagement.

Every company needs CRM e-commerce accounting to manage the basics of business, like finance, inventory management, raw materials, and other enterprise features. 
However, with Odoo software development, businesses can easily offer a percent rebate to end-users. The best part, Odoo discounts invoices, and bill modules enable allow business owners to incorporate various markdowns on invoices and sales billings.
[Also Read: Creating a Wizard to generate a Dynamic Field in Odoo]
Keeping profits in mind, Odoo allows organizations the flexibility of choosing between fixed and percent discount rates. This way, businesses can offer deals without risking their revenue or profit margin.
Discounts on Invoices and Bills in Odoo
This module in Odoo helps business owners to calculate and offer discount rates without compromising with profit margins.
Applications of this module:
As percentage
As amount
Set limit 
As percentage- In this, the discount can be calculated in percentage. First, go to the menu, tap on sales, quotation, and create. Change the discount type to percentage and then put in a discount rate. Now the percentage of the amount will be deducted automatically each time.  

Want to convert your idea into a successful app or website? Schedule your free call with our expert now.
A visual representation of the percentage method 
As amount- Here the discount is calculated in a particular amount. Go on to the main menu, then tap on accounting, customer invoice and create. Set the discount type as an amount and put in the discount amount. After this, we will see that the particular amount will be deduced in every sale order line.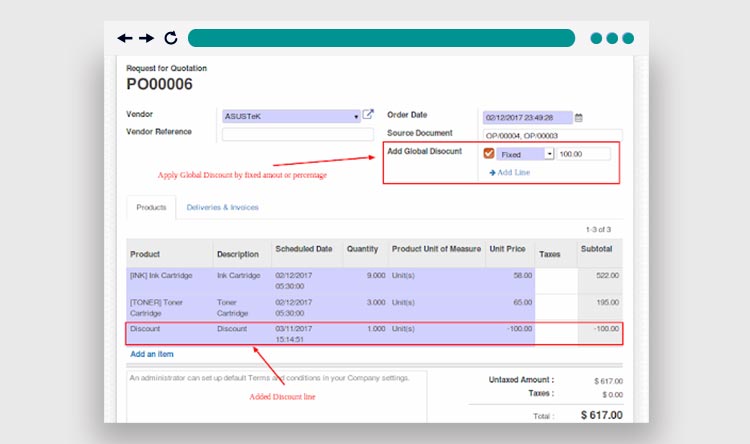 Visual Presentation of Fixed Amount method 
Set limit-  This module enables users to set limits for the discount. To set a specific amount as a discount, go to the setting, navigate on configuration and sales. Check on two boxes that say 'allow setting a discount on the sales order line and 'Force two levels of approvals'.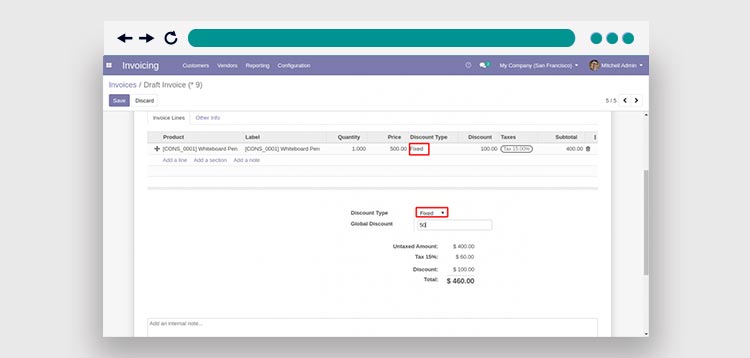 A visual presentation of the set limit method
Features of Odoo Discounts on Invoices and Bills Module
It enables businesses to fix different kinds of rebates while generating bills and invoices in Odoo.  
Set discount type at the in-line and universal level: Fixed and percent-based discount. 
Relate to percent-based or fixed global discounts while generating bills and invoices. 
Form fix discount types in the invoice line in invoices. 
Businesses can also set global discount rates on untaxed and taxed amounts in invoices and bills. 
For bill lines, you can either apply for percent or fixed discount types in bills. 
Businesses can easily share and showcase all the discount details in bills and invoices keeping the process transparent. 
The discounted price and details are also available in the printed bill or invoice. 
 Add global discounts in Odoo to set the fixed type of global discounts as per your business needs.

How to Install?
Step 1: Once the module is purchased from the service provider, you will get a link to download the zip file. 
Step 2: Take out the file on your system. After the download ends, you will see a folder named discount account invoice.
Step 3: Copy this folder and paste it on the Odoo add-on path.
Step 4: Then open the Odoo and tap on the settings menu. Here click on activate developer mode.
Step 5: Open the application menu and tap on the Update module list. 
Step 6: Now, go to the search bar, remove existing filters, and search discount account invoice.
Step 7: Here you will find the module in the search result. Hit the install tab for installing the module.
How does this work?  
This Odoo module enables discount management on individual purchases, total sale orders, and invoices given to the consumers. For a business owner, this module brings profit with customer satisfaction. Here is how it works.
Module configuration 
As soon as the installation is finished, go to the invoicing app on the Odoo backend
Go onto the configuration bar and click on settings
Below the customer invoice bar, set the global discount on the taxed or untaxed amount
Fix the bill discount account and invoice discount account and save the existing configuration. 
For Issuing invoice 
After the configuration is saved, come back to invoicing app for further procedure.
Here you will see all the invoices created by your company. Hit the create tab for a new invoice.
As the new invoice form opens, fill up the required details like customer name, date, reference, and more.
Add the product line for which you have created the invoice.
By setting the discount price, you will be able to choose between the percent-based or fixed discount type.
As per your module configuration, set the global discount either on the untaxed or taxed. amount. You can also choose the discount type between percent-based or fixed.
To create bills 
To create bills, once again go back to invoicing app of the Odoo backend
Click on to vendors tab and then tap on bills
You will see the list of all the bills created by your business. Tap on Create to set a new bill.
In the new bill form, add important details like vendor name, accounting date, bill date, etc
Add the product for which you want to create the bill and invoice
After giving the discount office, you will be able to choose between percent or a fixed type discount. 
set the global discount either on the untaxed or taxed amount. You can also choose the discount type between percent-based or fixed.
Fill up all the necessary fields and tap on the Save button. 
By following this procedure you will be able to provide a bill with discounted price to your consumers.
Benefits of discount on bills and invoices in Odoo
Forming a new consumer base- Discounts attract customers more than gifts. Providing exciting discounted deals can attract new customers and help in building a loyal base. 

Retaining old customers- The users who are aware of your brand and product quality can boost your sales in no time. Around 22% of consumers purchase items from their preferred brand only when they offer discounted prices or deals. Discounts can retain customers and encourage them to shop from the website. 
[Also Read: The Best Synchronization Ever: Canvas-Odoo Integration]
Convert hesitant shoppers into buyers- As people have developed a habit to scroll over e-commerce sites for timepass. By offering discounts it is easy to attract the window shoppers to be a consumer. 

Eliminating the former inventory- If your warehouse has outdated things, discounts can help you get rid of all those stuff. Offer a nominal discount and see how fast it goes out of stock.
Stronger client relationship-  Offering discounted deals and offers strengthens your relationship with your consumers and also helps in increasing your sales margin. 
Odoo for Improved Business Functionality 
Consumers always go by the store where they are valued. By providing exciting deals and discounts you can easily build a loyal consumer base and also helps in reactivating existing customers. However, your product quality plays a vital role in sales. 
But with the Odoo discount module, you can easily attract consumers by offering great deals and discounts on your product and showcasing it on your invoice and bill.