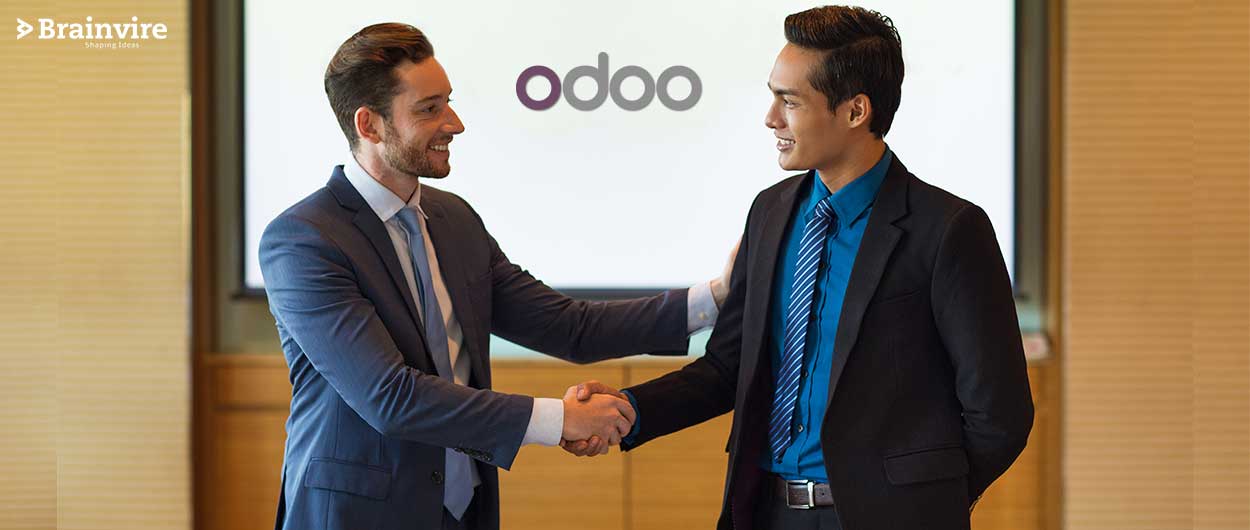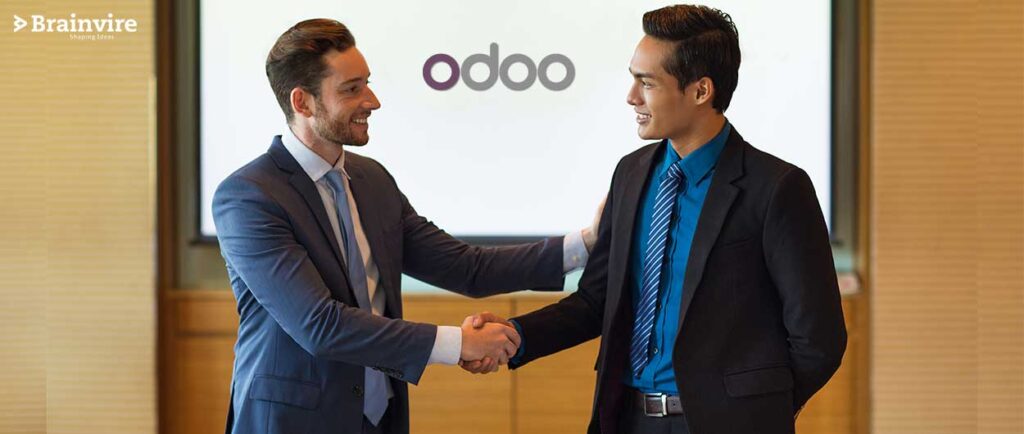 We all know what ERP has in common, and that's why we are here to know more about it. It is a software application suite that integrates different functional areas of an organization like finance, sales, marketing, logistics, etc., to enable faster strategic decision making.
It comprises enterprise-wide application modules with Modular Architecture that are integrated with each other through the common database. 
As all the information is stored in a shared database, it helps people from different organization departments make collaborative decisions as they have access to the same information.
Integrated ERP solution provides a company with an integrated platform to manage its resources, including human, financial, and material.
Businesses that don't have ERP will not be able to execute their business on a global scale. They will be focusing on managing their resources in-house to make small short-term gains.
[Also Read: Business Intelligence and Data Analytics Features of Odoo ERP]
As more companies venture into the global marketplace, choosing the right software solution and an implementation partner is crucial for attaining a competitive advantage.
When choosing a new partner to begin collaborating with, there are many factors that you must account for in order to avoid having pain later on.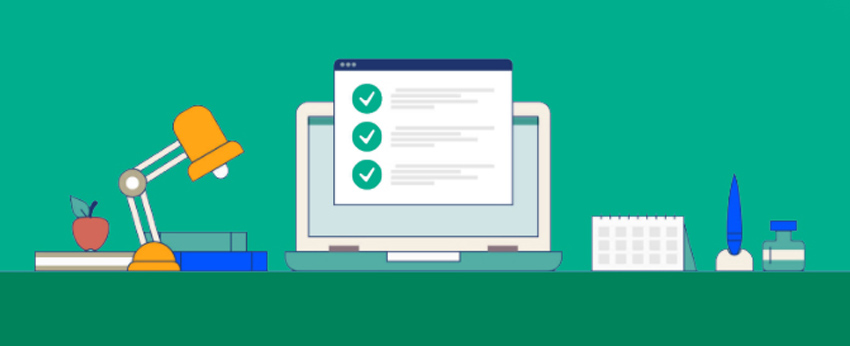 Why to Choose Odoo Gold Partner for Implementation?
Business Stakeholders need to look at more than just the cost when considering an Odoo partner. 
It's easy to find partners who offer firms a very standard set of business solutions, but to succeed, it's important that these partners also have Knowledge about business workflow and industry.
It is essential to know before choosing the right partner for the ERP implementation for your business. Even their integrity is important. A business might move quickly into the spotlight, but keeping that position can be difficult without trust, passion, and integrity. 
They should have things like industry experience, verified partner of Odoo, technology-specific Knowledge, testimonies,  upgradation specialists, support and maintenance, and last but not least, they should have the Knowledge of factors involved in the ERP implementations, its modules, and functionalities. 
The most critical aspects of a potential Odoo service provider: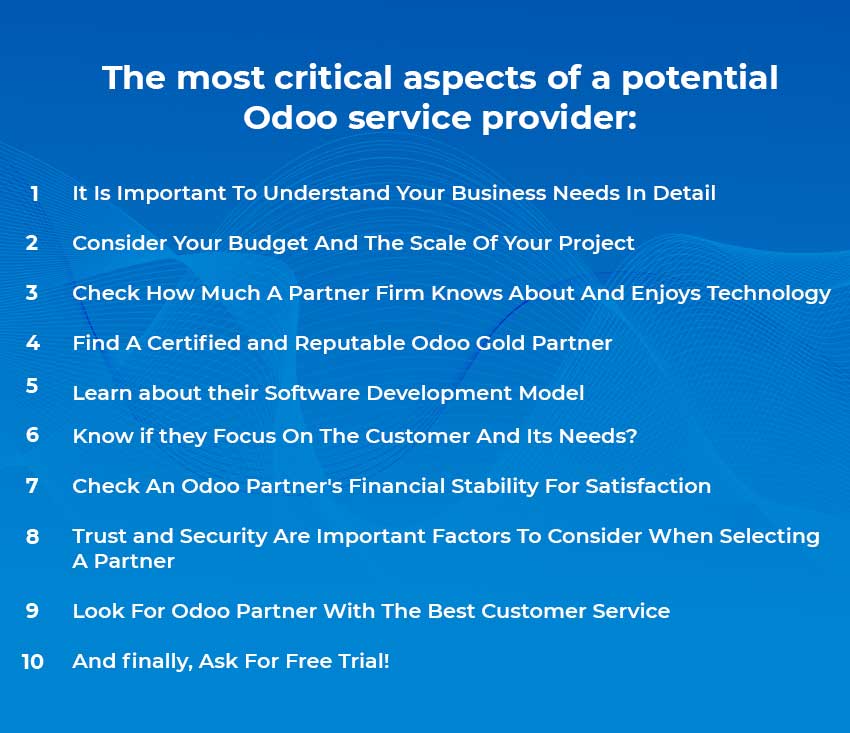 It Is Important To Understand Your Business Challenges In Detail
Choosing an Odoo partner is rarely straightforward, but you can help simplify the process by understanding what you need first. When you are conducting research as a business, the real challenge comes when you need to implement Odoo in your business. For this, you require a partner who can install Odoo apart from developing and customizing the required functionalities and features as per your requirements and also give technical support for any issues that may arise. Most of the people confuse themselves because there are so many service providers available around them who provide services related to Odoo. It is very important for you to find the right service provider who can implement your business processes by providing all the necessary features and functionalities.
Here are some of the things which you need to consider before choosing an Odoo Gold Partner?
Experience with Odoo
Technical Competency
The Track Record Of the Company
Up-To-Date Knowledge
Functional Expertise
Cost Management
Availability of required resources and domain knowledge.
Flexibility to make changes as per your requirement.
Managed Service Provider or Odoo Partner? You may have a look at their support service offerings and assess yourself.
Odoo Gold Partner or Managed Service Provider? Both of them are great benefits for your business, but you need to choose the best which suits your requirements.
References: Ask the company to provide references from satisfied clients. The best indication of whether a company is good enough for you will come from the words of their former clients.
Technology skills: Look at the technologies used by them and cross-check whether these technologies fit into your business ecosystem.
Portfolio: Any company worth its salt should have a portfolio to showcase some of its best work. In addition, you should have a look at their work process and see whether they provide you with the best services or not.
Check for certification: This may sound pretty simple, but still, many people miss it out. Make sure that your Odoo gold partner is certified, which makes them more reliable.
Look for a Specialization: Since there are so many service providers out there, it will be a better idea if you look for specialization.
Check for Odoo Gold Certification: You can check whether they have been certified or not from Odoo's certification website. This is very important as this will show their technical competence.
Ensure that your service provider has proper, responsible, and timely responses to your queries. Don't forget to check how much time it takes for their representatives to respond to your queries.
Make sure that they have a proper client management system as well as an issue management system for better client relationships and service delivery.
Last but not least, look at the brand image of the company and how long they have been in business.
Check How Much A Partner Firm Knows About And Enjoys Technology
Gather information about the Odoo Partner, including skills sets and resources expertise; exposure to current technologies; portfolio showcasing ERP implementation they've worked on; communication approach and business challenges adhered to using this approach; ability to handle complex ERP understanding effectively with adherence to timeliness.
One of the best ways to find a reliable Odoo partner is by combining your vision with theirs. It's important that you are both on the same page in terms of understanding your business, the problems you face, and solutions to them. There are many ways to bring this vision together, for example:
• Think about what you'd like to achieve with your e-commerce solution and how it could impact your business. Then ask yourself if you know someone or a company that could help you.
• Ask them to give you a proposal similar to the one they sent before and tell them all the doubts you have about it. They can use this opportunity as a way of getting information from you as well as giving information. Don't be afraid if it's not perfect; your partner will have the opportunity of learning from you as well.
• Send them some more information about your business, especially anything that would help them understand why you are making the changes that you are proposing to make. This will help you both focus on what is important for your evolving business demands.
Communication with an Odoo Partner is crucial when choosing to collaborate together. So, try to get a feel of their level of commitment and what technologies they have access to.
Do Odoo Partners Focus On The Customer And Its Needs?
Business always involves a wide range of human behaviors, not just contracts. Partner's expertise and innovative tech solutions are unparalleled, but great customer service is imperative. 
If a partner is not client-focused, the business relationship will suffer and slow down release schedules. Therefore, it is important for business owners to know how their ERP implementation partner would use an ERP solution to manage various business processes efficiently. 
The partner should have the understanding that CRM software cannot be used as a separate tool because it has to be combined with accounting and inventory management solutions, so they should know how to use the Odoo ERP system, which is complete business management software that will help you in automating your business operations effectively. 
Keep this in mind: If you do business with a partner that isn't interested in a long-term partnership, it can be catastrophic for your company.
Find A Reputable Odoo Partner
No one would like to work with a team that is not professional. Before signing the contract, one should know how scalable their solutions are and how flexible they are to face difficult business challenges. Before signing an agreement with a company, it is crucial to examine the market reputation of the Odoo partner.
Best Way: Search for client testimonials and portfolios on their website or social media channels. You can also reach out to one of their clients on social media and ask them about the experience.
You should consider hiring your Odoo partner as it has both pros and cons like any company. Some of the cons might not bother you if there are more benefits to working with them. 
Consider Your Budget And The Scale Of Your ERP
The size of your project is a very important factor to consider before hiring an Odoo partner. Long-term projects allow them to innovate continuously.
To understand what kind of return on investment (or ROI) you can expect from a new ERP system, it is important to define the main modules of your current solution and what kind of business processes you need to accomplish.
Aspects such as the number of employees, geographical dispersion, size, and market dynamics where you do business must all play a role in this estimation exercise.
It is important to understand the partner's approach and the agile way is the best. Some of the partners do not commit to a fixed price or timeframe. They work with you to define the most appropriate method for your company, then propose an estimation of the time and cost needed.
The partners should be conscious about customers' budgets and try to be as flexible as possible in this regard, always keeping in mind that it is better to have a smaller project done properly rather than a larger one badly executed.
[Also Read: Learn more about the Kanban, one of the smartest Odoo views]
You should determine how large the project is before contacting an Odoo partner. Odoo is a powerful, flexible, and cost-effective open-source platform that offers all the basic functionalities of an enterprise resource planning (ERP) system. This solution can easily be adapted to fit all types of business needs, small or large. It is suitable for any sector and company size. It is a scalable solution that grows with you, whether your company has one location or multiple sites in different countries.
There are several modules that can complement Odoo to meet the needs of almost any industry. Brainvire has extensive experience across all sectors and offers tailor-made solutions for each client, from fashion to transportation. During the initial study, the partner will analyze your current requirements and identify all the modules that will be needed to adapt Odoo to suit your needs.
To give you an idea of the possibilities offered by Odoo's suite of modules, Brainvire has selected this list of "typical applications":
Salesforce automation (CRM)
Warehouse management and manufacturing support
Billing & Accounting – Enterprise resource planning (ERP)
Human resources management (HRM)
For each of these areas, they have identified what kind of business processes are usually required. Then, considering the experience and skill-sets of their team, they will work with you to define an estimate that works best for your company's needs.
It is important for non-technical businesses to take cost into consideration when thinking of transformation. Even though many businesses wish they could depict exactly what ROI using Odoo's functionality, we should recognize that it comes at a price and decide if it would be worth the investment before approaching an Odoo partner.
Note: Although it may be tempting to choose a less expensive vendor, never compromise on quality. There are some partners who put hidden charges in their prices by taking on additional fees for everything. 
Learn about Odoo's Partner Software Development Model
To meet the challenging business environment, enterprises continue revising their approach. Companies are turning towards agile development methods to stay competitive in the market. Agile development models utilize collaboration, so work results are achieved quickly.
It is important to find an Odoo partner who follows the agile delivery model and can adapt to changing client requirements. Additionally, this type of software development model ensures that they will be able to deliver the ERP solution on time.
Check An Odoo Partner's Financial Stability For Satisfaction
Before committing to a contract, research the financial stability of any Odoo partners. A single factor can have a significant impact on your project and business terms with the partner in the future.
Consider this scenario: You sign a contract with a partner, but at some point, during your project, they go out of business. It is crucial for businesses to consider the consequences and costs they will face in a particular phase.
The stability of an implementation partner is an important factor to consider when considering whether or not they're the right fit for your company. Duration of time spent in business, as well as if they are a start-up and who their investors and assets are, can all be factored into this decision. 
Trust and Security Are Important Factors To Consider When Selecting A Partner
When partnering with an Odoo partner for your business needs, you need to provide sensitive company information about revenue. If handled by the wrong party, this could be misused toward a competitor's advantage.
Business stakeholders should ensure they select an Odoo partner who conducts security audits and adheres to data privacy policies. This is essential to protect private information before evaluating any vendor.
After checking the security features of the Odoo partner, if you are satisfied with their security measures, you can proceed. 
Look For Odoo Partner With The Best Customer Service
Despite the best software solutions and professional service providers, no one can promise that they will never experience a temporary outage. You must be prepared for future bugs no matter how big or small the software you are using.
Note: Look for an Odoo partner who offers proper after-sale service and direct access to the technical team so you can expect future support. Support should include maintenance, updates, and addressing any bugs that occur.
And finally, Ask For Free Trial!
Choosing an ERP service isn't easy. You should try a free consultation, sample, or trial to understand what each option offers. Speak with the Odoo partner during your free consultation to understand how their solution can benefit your business.
Why Choose Brainvire As Odoo Partner?
Brainvire is a leading Odoo Gold partner known to deliver high-quality business services. Hiring us to manage your business can give you increased productivity and reduce mistakes. Choosing the right partner for your technology requirements will yield real and measurable results.
Brainvire provides the following services: Enterprise and Community version support, Multi-channel real-time solution, Unified Analytical tool, Top-notch Odoo development in line with best practices, Developers that are certified, experienced, and professional, strictly adhered timeliness to after-sales service and a competitive pricing strategy.
When the outbreak struck in March 2020, it triggered a global economic catastrophe and panic. Tent and Table was severely affected since it operates on a B2B basis. They provide outdoor party furnishing to other firms that organize outdoor parties.
Tent and Table was driven to seek a technique that would help them cope with the market because of social distance restrictions that prohibited any gatherings of people.
Outdoor event furniture rental firms didn't know where to start or how to measure the margins (and potential) until Odoo provided visibility and data. Odoo advised them on their inventory and allowed them to prioritize which items to sell.
Also Read: Design engaging Commission Email Templates with Odoo
Without Odoo, it would have been impossible for Tents and Tables to identify these changing market trends, consumer behavior, and product demands.
Mr. Clor said that he used Odoo to quadruple conversion and triple ROI for his client by using the Cart-to-Quote facility, which Mr. Kevin Clor described as

Brainvire noticed that Odoo allowed TentandTable to connect with their consumers in new ways. They could aggregate data, which let them change their marketing campaigns and sell goods to customers who were distinct from prior purchases. Brainvire's Odoo implementation allowed Tent and Table to double their sales during the pandemic, and they have continued to grow since then!
Having worked with many unique business groups, we appreciate the custom nature of client needs. As a result, we provide flexible delivery models to accommodate our clients' individual objectives. If you're interested in learning more about this client story, visit the Odoo Blog.
Are you still looking for the Perfect Odoo Partner for Your Business?
Our Odoo experts are ever-ready to help you!