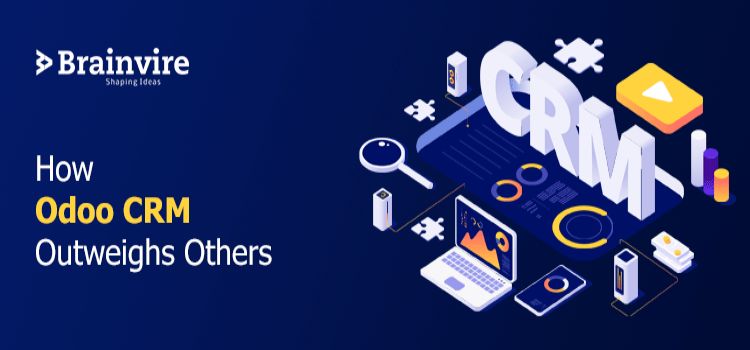 At a time when everything is fast-moving online and the business movements are fuelled with the power of automation, the good old way to manage the business in labor-intensive form seems obsolete. The time now is to automate every aspect of business operation, and this move is aided by a host of CRM tools that simplifies many of the business processes.
From the largest organization having 3,00,000 users to startups with just a single user, all of them benefit from Odoo CRM. Now, what makes Odoo CRM so utilitarian? Also, what makes it the best CRM among hundreds of others.
Odoo vs Other CRMs
First, the Odoo CRM suite has a collection of various applications that are apt for specific business purposes. For instance, if you need to manage the accounts, CRM has an accounting app. At the same time, if you want to build an online store, you can do that as well with a CRM. It is the versatility of Odoo CRM that pushes it beyond the competitors.
It is also important to understand that while Odoo CRM suite is a better pick, solutions, like Zoho and Salesforce have some unique characteristics. These CRM solutions cater to a specific business requirement.
Want to convert your idea into a successful app or website? Schedule your free call with our expert now.
Coming back to the point of comparison, Odoo provides specific features, like online payment, invoicing, multiple quotation templates, e-signature, and drop & drag functionality. These features might not be available in popular CRM solutions.
Factors that Make Odoo CRM a Winner
Ease of Use
One of the unique factors that increases the popularity of Odoo CRM among the user is its ease of usage. It stems from an intuitive UI that is designed in such a way that users get access to key modules within a few clicks. Also, the breadcrumb functionality gives an added advantage to the user to navigate between crucial pages.
[Also Read: Inbuilt Spreadsheet with Odoo-14: The Secret to Improve Business Functionality]
The functionality of the CRM suite which is governed by a single operation-single page and single database provide seamless operational efficiency. Lastly, Odoo provides the power to operate a business right at its fingertips using the mobile avatar of the Odoo CRM suite.
Personalization Customer Interaction
Interacting with customers goes beyond generating new leads. It is also about familiarizing the customers with business services, and any crucial piece of information that a consumer must know about. It is important to create an appropriate image of the business in the minds of the customers.
Now, it demands providing personal attention to the customers talking to the leads over call, mail, and messaging. Hearing out their queries is one other way to bolster customer relationships. Odoo CRM provides the infrastructure for such robust two-way communication which keeps the users engaged.
Database Management
Dedicated client databases are one of the key factors that allow Odoo users to access information about potential clients on the go. This information can be accessed through various devices. Also, archived information can be traced back to the CRM functionality frame to manage crucial marketing operations.
Also, it is important to note that with a single database methodology the chances of information leaks between clients are completely taken out of the question. There is also the security part of it which will be discussed later.
Lead-based Activity
There is a lot of emphasis put on retaining the customers lately, but in such cases, it is easy to overlook the aspect of gaining new customers. The Odoo CRM suite keeps you in the game of lead generation by providing a host of tools that can be used to fetch more than just the email contact of the users.
Odoo CRM suite brings you closer to the leads through various social media channels that provide you all the more information about a client. There is also the activity scheduling, which can be leveraged to talk to the prospective audience and then turn a substation portion of them into key leads and then into customers.
Third-party Integration
The role Odoo percolates beyond just CRM stuff, it deepens to assist in accounting and Odoo ERP solutions. Add to that the inventory management software integration. Practically, if you are using Odoo, you just add on to the solution stack by seamless third-party integration.
So, you need to invest in subscribing to other software, as cost-effective third party integration does that job for you. Also, switching between multiple application platforms is almost instantaneous.
A Small Discussion on the Security Sophistication of Odoo
A special mention of security technologies of Odoo becomes important, as it operates behind some of the secured servers, like SSL, and Nginx. The database that stores crucial client process information flow over a layer of sophisticated security funnel.
Only the owner of the business is privy to such information unless specified otherwise by the owner itself. All the sensitive information is behind a security wall that can be breached only through passwords that are provided to the owner through HTTP.
[Also Read: A Sneak Peek into Much-Awaited Odoo 13]
It is also important to note that none of the tech staff at Odoo handling your queries or other requests has the passwords or access to crucial information. Such a level of sophistication is hard to find in any other CRM solutions. Yes, you may have password protection in other solutions, which is a standard, but the use of secured servers as mentioned earlier provides Odoo an edge over the other competitors.
Conclusion
The power of Odoo in shaping business and is tapping into the hidden capabilities to scale. Over the years, Odoo has made several notable additions to bestow a comprehensive CRM solution tag. Currently, we are greeted with the latest version of Odoo v14, which does not disappoint in terms of balancing out feature additions and fixing bugs.
Some of its unique features are providing an option to enable and disable signature requirements for delivery options. Also providing a completely revamped dashboard for ease in handling tasks sums it up. The updates come in every year, and after the pandemic, the new updates seem to align with company goals to create a robust digital infrastructure to make things easy for you Brainvire will be the perfect Odoo Partner.