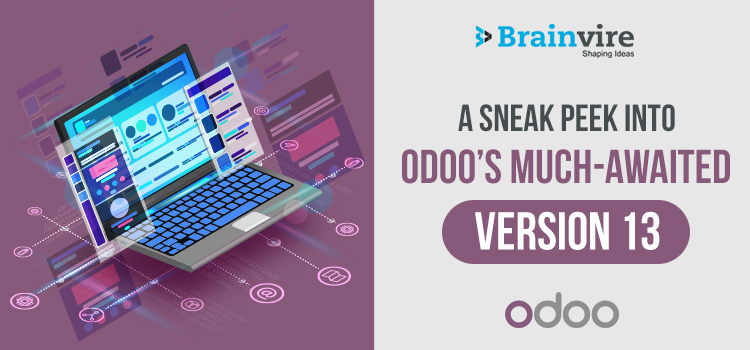 It was October 4th, 2019 when Odoo marked the launch of its much-awaited version 13. The latest version involves a plethora of both major and minor improvements along with a bunch of new features specifically built to improve the functionality and UI of the end-users.
Odoo, one of the world's leading open source ERP, goes by the motto of fast, simple, and effective business management. This exceptional motto is precisely what makes Odoo a favorite choice of business leaders in the development market. Ever since Odoo 13's release has hit the markets, this prominent open-source ERP has become a better and more robust fit that is able to meet the diverse needs of any business. Many Odoo developers would state that version 13 can greatly help businesses step up their game with regards to better designs and customization features. 
Here's everything this blog will cover:
A peek into Odoo 13's new features
Sales coupons and promotions module
MRP Subcontracting
Skill Management Module
Website Form Builder
Product Videos on the Website
Inventory Forecast
Ribbon Widget
Calculator Widget
The 'Buy Now' button on eCommerce
Restricting available product categories in POS
Other significant features introduced in Odoo 13
Wrapping up
Let's get started!
A peek into Odoo 13's new features
The Odoo 13 launch show, held not long ago, did not disappoint its gigantic participant base. The event came big and so did Odoo's latest upgrade. Hence, this blog is a clear roadmap that not only introduces the new set of features celebrated in Odoo 13 but also details about the improvements that Odoo has brought in its existing features.

[Also read: How to Master Your Digital Campaigns with Odoo 14?]
Want to convert your idea into a successful app or website? Schedule your free call with our expert now.
Here's all that you need to know.
Sales coupons and promotions module
The module called 'Sales Coupons and Promotions' that earlier existed with Odoo Enterprise is now available in the Odoo 13 version as well.
Promotions, discounts, or loyalty programs are those indispensable entities that you definitely need to have at your store. So if you want your customers to keep coming back to your store and stay loyal to your business, you need to implement such kind of tricks. Thanks to Odoo's latest version, creating such tempting valuables for your customers has now become a sure shot reality.
Taking a step further, the 'Odoo Website Daily Deals' module will allow you to hold discounted sales on your website. Additionally, the 'Odoo POS Coupons & Vouchers' module, as the name suggests, allows you to add vouchers and coupons to your store. Using this module, you can provide instant discounts, birthday discounts, anniversary discounts, and more, while taking orders in your offline store.
MRP Subcontracting
To assist you with the bill of materials, Odoo 13 has come up with a brand new subcontracting model called the MRP subcontracting.
More often than not, several companies choose to outsource the manufacturing of certain parts of their products to get the best possible results. By doing this, companies can get value-added material for their products. With the help of Odoo 13 version, businesses can now perfectly carry out this task using the new subcontracting feature.
Skill Management Module
An extended version of the existing 'Employee' module, Odoo 13's new 'Skill Management' module envisions to enhance the overall workflow of employee management in the company.
Simply put, in this highly competitive era, well-honed employee skills are what distinguishes an organization from its competitors. So to continue running and sustaining an organization, a precise skill management tool needs to be used to tailor employees as per company needs, which can ultimately make them perfect for their role in the organization.
Coming to the rescue, the Odoo 13 skill management module can help manage employee skills at the workplace. This module can take care of tasks related to managing employee resumes, conducting training sessions, among other things. So, if organizations wish to handle all this from a single place, then this module is their solution.
Using this feature's structured approach, you can make proper decisions with regard to both: a single employee or recruiting a full batch of people. One of the best advantages of Odoo 13's skill management module is that not only does it keep employee competence in check, but it also looks after how effectively the top management is handling the company.

[Also read: Benefits of Running Multiple Brands on One Odoo Solution]
Website Form Builder
Odoo 13 has taken a module called the Website Form Builder, which was earlier a part of the Enterprise Edition. Since the new module is pretty much deployed in the eCommerce business circle, it does not require much information. From what can be said, the 'Website Form Builder' module is renowned for its user-friendly interface and very easy management practices. Certain handy tasks that are carried out by this module include creating contact forms, website forms, as well as gathering useful customer information.
Product Videos on the Website
From a marketer's perspective, having creative visual representations of the products on the website can be very beneficial. This can help draw in customers and allure them to buy your products.
The latest version of Odoo offers its users an extensive feature of adding product videos directly onto the product pages of their Odoo website. This is an excellent feature that can help users present features in the best possible way. A visual representation is any time more attractive for a customer than scanning through the dull, wordy product description. For businesses, not only will this feature increase your conversion rate, but it will also prompt customers to spend more time on your site by digging around.
This feature is supported by Odoo Website Product Videos With Multi Images Module from Odoo version numbers 10, 11, and 12.
Inventory Forecast
The line chart in this module displays data about the quantity and the time taken for different products in the inventory. All you need to do is take a single look at the line chart to understand the number of products listed on a given date. Additionally, this chart can also display information regarding incoming and outgoing stock numbers.
Ribbon Widget
Now, viewing the status of the invoice as paid to the user is no hard task, all thanks to Odoo 13. With Ribbon Widget of Odoo 13, users can easily get the status of their invoice.  
Simply put, you can refer to this tool in order to see the status of the invoice as paid to the user.
Calculator Widget
The brand new calculator widget that comes with Odoo 13 helps users understand their order lines on the invoices, sales orders, purchase orders, and many more things. Furthermore, this tool also helps users perform arithmetic operations in both invoices as well as purchased orders. For instance, the 'Price' field represents the total cost by calculating the individual inputs of the users.
The long-overdue feature that companies have been desperately waiting for is finally here with Odoo's latest update. The most awaited feature in Odoo version 13 is the 'Buy Now' button. Using this option, users can immediately get redirected from the product page to the checkout page, by keeping the product in the cart. Additionally, the Odoo Website Buy Again Module displays a list of his/her previously bought items to the respective customer. 
Now that the 'Buy Now' option has finally been added to the Odoo website, there are several other features that can be added to improve the customer experience a level higher.
The Odoo Website Quick Order module can be used to place orders in bulk. The Odoo Website Advanced Wishlist module can be used to save products for later use as well.
Restricting available product categories in POS
You can use the Odoo POS Category Filter module to enable a similar kind of function in Odoo versions 9, 10, 11, and 12. You can hire Odoo developers to receive further enlightenment on the subject. Discover your true business potential with the help of Brainvire's dynamic Odoo Migration Company.

Other significant features introduced in Odoo 13
Here are the most notable features incorporated in Odoo's latest version:
1. You can now print return shipping labels with FedEx.
2. It allows you to generate and print return labels for all your carriers.
3. Lead Mining is a new feature in Odoo 13. Using this, you can generate new leads pipeline based on the country, technologies, and more.
4. Post the release of version 13, chatter is now available on both Journal and Journal Entry.
5. You can also send SMS from leads and opportunities in the form of SMS marketing.
6. The latest program offers a simplified sales team configuration.
7. Odoo 13 offers Belgian localization.
8. You can now import mass customer invoices in Odoo 13 accounting.
9. Managing assets through the account have become a lot easier, thanks to the upgrade.
10. Not only does the new version have New form builder in CE, but it also has a new approval app and a new appraisal app.
11. You can also use the Discuss module with a new warning icon on the Kanban and ListView.
12. The new version provides a smart button in the Users Form.
13. You can now find a mew Search panel-DEPARTMENT in the Employee module.
14. You can view the Search panel in the Kanban view. You can also find the attendance status in Kanban, along with viewing the contract status in it.
15. The new version also displays the serial number of the lot on the invoice print report.
16. You can partner the Map View.
17. Odoo 13 allows you to log into the POS UI as an employee instead of a user.
18. You can now manage refunds, returns, coupons, and repairs directly from helpdesk tickets on the new Odoo version.
19. On the latest Odoo version, users can now use PayU Latam, which is a popular payment acquirer in Latin America, for online payment.
20. You can easily link the warehouse to your eCommerce.
21. With the new Odoo release, the shipping method has become the new delivery method.
22. It allows you to log in just by scanning the employee badge, and it also has a signature widget.
23. Using Odoo 13, you can also set out office messages when you are on a leave. This leave can also be renamed to the time-off period.
24. The latest update shows several improvements in the calendar.
25. The request in this version leads as an In-App-Purchase service.
26. It offers Chart.js for building statistics and more advanced portals.
27. You can use many List View improvements, one such being you can now carry out mass editing in the list view.
28. You can easily create an invoice for the sales order, and you also have the option to deduct down payments.
29. From now on, you can conduct the payroll in the Enterprise Edition and not in Community.
30. Odoo 13 has an updated style for the Error Message.
31. There's a new UI for the Lunch module and a new UI for the main Forum in version 13.
32. There's also a rental app and Field Service Management in the new update.
33. In Odoo 13, there's a Product Configurator for you to use. Furthermore, you can also configure the document layout.
34. You can upload documents and also add a new activity type.
35. There are options for both sections and notes in the Purchase module.
36. Additional, there's a payroll planning along with an inventory valuation by the location.
37. The new version can detect an employee's presence based on his/her activity.
38. The new version opens gates toward e-learning. Not only this, but it also provides a new design and a better user experience.
39. Some survey improvements include online certification management, test deadline, multiple attempts, on-screen timer, passing score, among other things.
40. Along with date filter improvements, you can also secure email marketing.
41. The new version displays the accounting invoice being merged with the Account Move.
42. You can easily switch, add, or remove the company access.
43. There's now a dedicated timer on Work orders, along with a My Profile Option.
44. Now, to scan for quick product search and inventory operations processing, all you need to do is tap.
45. There's an HTML editor that supports Checklists. And lastly, the new version provides more flexibility for components' consumption.
Wrapping up
Odoo 13 surely opens doors for new opportunities.  Packed with appended functionalities and user-friendliness, Odoo 13 is all about better design and customization options for the users. So, if you are thinking of your eCommerce store to Odoo 13 or are looking to migrate from another version, make sure to get one of the best Odoo ERP Development Services onboard from Brainvire for your big project.