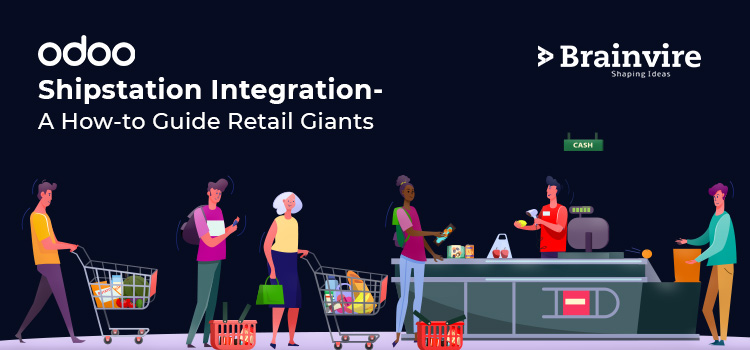 ShipStation is a commonly used platform for order management, fulfillment, and delivery through common markets and shopping carts, specifically developed for e-commerce distributors. It will help you consolidate all your shipping data into one framework by integrating this powerful tool with your ERP system. You can conveniently monitor your shipping and distribution operations directly with this Odoo ShipStation integration.
Brainvire's offers retail eCommerce solutions such as the Odoo ShipStation Connector to give you full advanced level integration with Odoo ERP apps. ShipStation is one of the leading tools designed exclusively for eCommerce stores and is web-based. 
With the help of all the top shipping carriers, ShipStation allows merchants to process and ship all orders from different marketplaces, including shopping carts.
The ShipStation Odoo Integration enables you to connect Odoo to the ERP software and synchronize complete shipping data. All your deliveries and shipping activities can be easily handled by Odoo software. Not only does this extension help you boost your business growth by providing different functions, which are as follows:
Manage your ShipStation from Odoo
Generating Shipping rates & Labels
Import of all market places
Import all ShipStation Delivery Packages.
Configure the number of ShipStation delivery methods in Odoo
Import All delivery Carriers such as FedEx, UPS, USPS
Import of all Stores
Import Shipping Services
Import of Shipping Carriers
Import of all Tracking Information
Fully Customizable
Generate Shipping Rates in Odoo
Create Labels in Odoo
Update Tracking information from Odoo to ShipStation.
Get visibility on Orders
tracking different market places performance
Showcase proper rates on the website
Multiple Package support within the single shipment
import Tracking Number and Cost from ShipStation to Odoo
Get Specific messages to flow wise
Perform Advance and many other Functions
Import shipment data from ShipStation to Odoo ERP
How does the Odoo ShipStation Connector Work?
First, sign into the Odoo ERP system. To start the connector process, you can add your username and password. You will see a menu has been developed in Odoo ERP software after installing the ship station extension, there are different menus such as Distribution, sales, ShipStation carrier, Services, Tags, market places, first you need to initiate with the ShipStation Configurations.

[Also read: Accelerate Your Product Delivery with Odoo PLM]
You will see that there are numerous smart buttons available once you open the ship station configuration, including importing your market places and stores in Odoo. You can start to add all the information to the list, such as name, URL, API, etc. If you want to export a real-time order, you can check the "Export Order at Creation button" button. Discover your true business potential with the help of Brainvire's dynamic Odoo Partner services.
A list of ShipStation market places can be seen from this menu.
Want to convert your idea into a successful app or website? Schedule your free call with our expert now.
ShipStation Marketplaces Configurations
You can manage your Marketplaces from here with configurations.
You can see all the list of your ShipStation stores that are configured in ShipStation.
[Also read: Importance of Synchronizing Odoo with Ecommerce statistics]
Get Carriers and Service in Odoo
In the below image you can get all your carrier information and ship station service information from these two buttons.
All the list of ShipStation Carriers that are imported into Odoo ERP software.
Import order 
You can import all the orders from ShipStation into Odoo ERP software. Click on the import orders button.
Get Tracking information from ShipStation into Odoo
You can get all the tracking information from ShipStation into Odoo – Select the date from where you would like to import the tracking information.
You can get the rates of a particular order by clicking on the additional information tab as shown in the below ShipStation connector.
[Also read: Odoo Shipstation Integration- A How-to Guide Retail Giants]
Benefits of Our Odoo and ShipStation Connector
Integrated shipping methods: You can handle several shipping carriers seamlessly with our Odoo and ShipStation connectors. As the connector in one position that carries all your shipping needs. Odoo serves as a central location for all the needs of your marketplace, removing the need to reach multiple channels for different shipments.
Importing seamless data from ShipStation to Odoo: This module allows you to import various shipping methods and their respective packaging details from different carriers into Odoo. This gives you the flexibility to review various delivery options for your customers when quoting them.
Customized prices: This connector also enables you to offer quotes for customer prices based on the delivery address, product measurements, or any other characteristics that you specify as the price criteria.
Comparison of prices: You gain the flexibility to compare prices and choose what's right for you with our Odoo and ShipStation connector.
Ability to create batch shipping labels: You can generate batch labels with the click of a few buttons with the Odoo ShipStation integration. This not only removes human mistakes but also saves time as your favorite delivery service automatically produces labels. You can apply these shipping labels to the delivery order easily as well.
Management of tracking information: You can easily link your tracking reference number into the delivery order with this connector. You can redirect this dynamic connection to the respective provider site and you can easily monitor the shipment and generate the status of your order.

If you are looking for the right Odoo ERP Migration Services to take your business to the next-level, contact Brainvire today.
Why Integrate ShipStation with Odoo?
By integrating ShipStation with ERP tools such as Odoo, you can save time by enabling you to have one integrated platform for your shipping needs. It can also significantly help reduce costs by removing delivery information and order information for manual data entry.
Organizationally, it can also help you reduce manual data errors in the company by automating these shipping cost processes and creating labels.
How can Brainvire Help?
Over the years, with strong retail eCommerce solutions, Brainvire has helped customers across industries simplify their processes. We pursue an agile way of operating and aim to provide all our customers with seamless services. Our Odoo ERP Development services including this connector for Odoo and ShipStation aims to simplify the organization's shipping processes. We will help you to incorporate this module and customize it according to your particular needs as well.