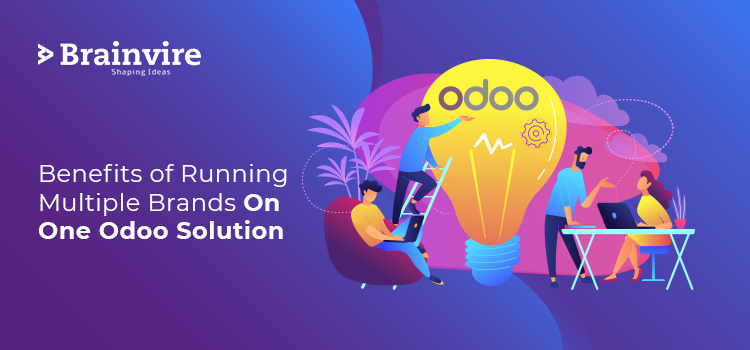 Many startup founders infer that at one point, they need new ventures. They start thinking of new business ideas. However, building different businesses under one roof is common these days. Take a look at the international beverage brand, Coca-Cola. They have dozens of small subsidiaries, all covered under one roof.
Startups can use the same structure to generate a higher ROI. To carry out such huge processes at more than one outlet is a bit tough. So, in order to manage it professionally, you need assistance from the experts.
Odoo is an excellent solution for small companies to grow their business. The multi-company management works to streamline operations from various companies with varied suppliers, warehouses, products, and customers.
Odoo Mission
The sole objective of Odoo is to provide quality-rich, easy-to-use business apps that shape a whole suite of tools to overcome every business needs. It provides software to millions of entrepreneurs who want to run multiple companies.
[Also Read: What does the Newest Version of Odoo 14 Offer]
As we strive for perfection, our service includes thirty central applications that are upgraded regularly. We have a workforce of 1500 active employees who have allotted 16000+ apps to cover a wide range of business requirements.
Odoo provides an on-premise proposal and is the most installed business software globally. Around 5,000,000 users rely on Odoo to fulfill their business requirements.
Want to convert your idea into a successful app or website? Schedule your free call with our expert now.
Why Choose Odoo?
Odoo offers a steady and friendly user experience. It is built to assure the user of a seamless adoption process. Wide integration and fluidity can cater to the needs of complex companies at ease.
Odoo offers the users a lot of flexibility on app integration as per your business needs. You can add one app at a time and expand uptight business arenas. Choose a business application that suits your current business infrastructure. For this, you need to analyze your market and business requirements. See the upcoming trends and add a business application that is perfect for your business.
It is an open-source community that is managed by a wide range of developers to satisfy client needs and deliver innovative solutions.
Benefits of Opting for Odoo
Odoo ERP services

enable companies to manage everything in one software. The ability to centralize everything, spend fewer on licenses, and seamless customizations are key features of Odoo. With these features, Odoo started partnership journeys with many companies.
A multi-product company needs a lot of assistance as they deal with clients from different industries. Odoo's partnership program extends support to every multi-company business requirement. From facing major bugs to migrating the client's database from one version to another, Odoo's team of developers handles everything on your behalf.
Odoo provides professional account managers who are regularly tasked with client's daily duties. This entity ensures that everything happens in time and all your requirements are fulfilled or not.
Odoo helps small businesses discover companies from various industries and sectors. As we are an open-sourced company, we push our limits as per the client's needs.
We work with the client and adapt to the changes in the projects, so they reflect your business infrastructure. Odoo has always maintained a trustworthy relationship with the partners. With constant updates and improvements, Odoo has managed to provide business solution software to companies.
Partner Stories for Odoo
1. Serpent CS
Serpent CS provides IT solutions to various businesses all across the globe. It is located in Gandhinagar India. The company became a proud partner of Odoo in 2013 to serve international markets. It has offices in Mauritius, USA, UAE, China, Belgium, Australia etc.
Serpent CS offers Odoo's implementation, customization, integration, migration, support, and training. It has attained 23 Odoo implementation and holds an outstanding consumer retention rate of 98%.
Post partnering with Odoo, Serpent CS got the opportunity to offer viable solutions with IT requirements to its clients. This huge transition helped Serpent CS feature on the list of 'Top 100 SME in India' and more.
Serpent CS has done it's a fair share of struggle. From project failure to tech bugs, it has faced various issues but with Odoo they have strived to reach the top.
2. Niboo
Niboo was founded in 2014 and has the vision of creating a workplace where employees feel respected and honesty towards work is on priority. However, they knew finding an ideal workplace was not so easy, so they wanted to do something out of the way for their colleagues and clients.
Odoo became an ideal choice for Nibbo because it offers a product in the ERP market that enables companies to manage operations under one roof. It offers centralized services, limited investment in licenses, seamless customization, and integration for managing their workload.
Niboo's field of expertise was Accounting and Manufacturing. Although the company has worked for clients in different sectors and industries, managing such a huge customer base required professional help and Odoo became the right choice for them. From facing major tech bugs to migrating client's databases from one version to another, Odoo did it all. Our experienced developers managed all tech bugs and other business requirements efficiently.
[Also Read: Inbuilt Spreadsheet with Odoo-14: The Secret to Improve Business Functionality]
Odoo helped Niboo to explore clients from every sector and industry. As we are an open-source community, our developers enjoy pushing the limit to make a project creative and quality-rich.
Niboo's Message to Future Odoo Partners
If you are thinking of a collaboration with Odoo, do it right away. Build your business and initiate it with small client's to create a customer base and always provide quality-rich services to the clients.
Conclusion
Odoo's implementation has turned out to be a huge success for many companies. The flexibility and customization features make it the best in business. Odoo's ERP system is efficient in handling complex business requirements at ease.
Employees can do their jobs faster with features, like customizing views and exporting data to Excel. Companies enjoy the benefits of centralized processes, the expense is curtailed up to 50% and the customer care team can now operate seamlessly.
If you want to expand your business, do it professionally with Odoo and an Odoo Partner just like us. It offers quality-rich, customized business applications to cater to your requirements.