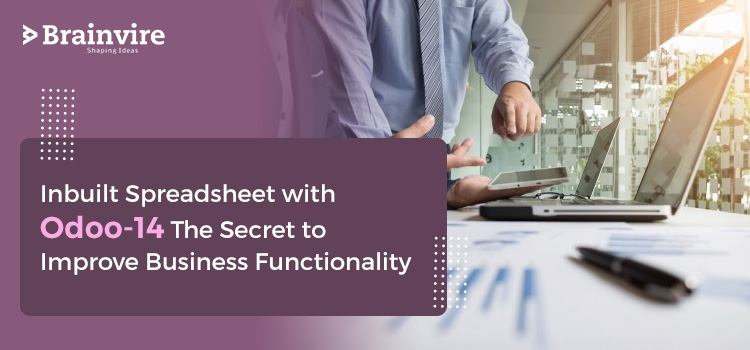 Odoo ERP is a blessing for modern-age companies as it improves business functionalities and activities. Digital businesses prefer automated internal and external processes that run on smart technologies.
With an increased number of developers' associations, Odoo has been evolving at a rapid speed. The Odoo community works round the clock to develop improved solutions that have outgrown the limitations of the previous version. 
[Also Read: A Sneak Peek into Much-Awaited Odoo 13]
Odoo ERP is an integrated suite of:
Business models
Project management
Inventory management
eCommerce
Accounting
Manufacturing
Billing
Purchasing
CRM, and many more.
Odoo consists of over 30 primary models and enables over 30,000 third-party integrations. This modular system is suitable for every business and you can opt for either on-premise or cloud implementation.
We have discussed the following Odoo activities revolving around inbuilt spreadsheets with Odoo-14-
What Led to the Inception of Odoo 14?
Odoo Sheets- Stepping Ahead of Traditional Spreadsheets
How Do Key Features of Odoo Sheets Help Your Business?
What Led to the Inception of Odoo 14 with best functionalities?
Odoo offers rapid, user-friendly, and efficient ERP assistance to budding businesses. With the increasing popularity of ERP software among businesses, Odoo has created its own niche in the market.
Odoo-14 has brought a new upsurge in different industry verticals with introduction of new solutions. Successfully implementing these solutions can lead to overall business growth.
An ultra-modern Odoo-14 is a go-to option to resolve business queries. The need for several improved features in this smart solution led to the birth of Odoo-14.
The program offers in-built spreadsheets, which are often compared to Excel sheets and also question their mere existence.
Some consultants believe that Excel spreadsheets and ERP are complementary. As per their vision, ERP is more complex in nature while Excel sheets are flexible and simple.
However, they've missed out on the fact that spreadsheets are an ideal option to carry out analysis.
Want to convert your idea into a successful app or website? Schedule your free call with our expert now.
Odoo Sheets – Stepping Ahead of Traditional Spreadsheets
Spreadsheets provide a better understanding that even bar graphs may fail to provide. This is why entrepreneurs prefer using an Excel spreadsheet to analyze numbers and important business data. 
Imagine the power of spreadsheets when coupled with Odoo ERP Development Services and its overall impact on your business data. You can expect multidimensional and positive effects on your business.
Odoo ERP can provide you a clear graphical representation. Simultaneously, the spreadsheet provides you all minute details that have provided your business with a particular conclusion.
All you have to do is download the spreadsheet and get a closer view of it. This has a significant impact on your decision-making abilities and you are bound to make the right decisions.
Odoo-14 allows you to stay ahead and make optimal use of spreadsheets by seamlessly integrating the data. You also gain access to the data for analyzing and evaluating it thoroughly.
Follow these steps to reap benefits of spreadsheets in Odoo-14:
Configuration: Go to general Settings, tick on get Authorization code, and link your Google account with Odoo. Select your Google account and enter the authentication code that you have received.
Create a spreadsheet: For instance, if you need CRM data, go to favorites, and create a fresh Google spreadsheet.
Connecting with Odoo: From this new document, you can configure your database and connect with Odoo data.
Retrieve data: There are 2 different formulas to obtain data on your spreadsheet in Odoo. The first one is to retrieve data and second is retrieve grouped sums. Formulas for both these formats are easily traceable in the sheet.
You don't need any programming skills and can easily design plans for-
Project forecasts
Budget
Sales commission, and many more.
This latest Odoo version provides you facilities such as data formatting, multi-tabs, and advanced formulas for VLOOKUP, average, etc. You can also combine sheets with the help of the Odoo Document module.
How will the four Key Features of Odoo Sheets really Help Your Business To grow?
There are several benefits of Odoo-14. However, in this article, we are likely to focus on some prominent features of inbuilt spreadsheets in Odoo-14.
Skip the Traditional Sheets
Odoo-14 provides you additional properties that the traditional spreadsheets lack. It offers you much more than simply data representation. It has the potential to enhance the way you obtain information on spreadsheets.
Odoo spreadsheets can provide you data within a few taps. All you have to do is master the preset formulas in Odoo-14 and you are likely to be a pro at Odoo spreadsheets. Formulas make it easier to insert data.
Odoo-14 also gives you the benefit to add additional time to complete specific tasks. Besides, this helps you to schedule tasks and get them completed on time. Your team saves time and can generate precise business reports within no time.
Remember, time is one of the prominent business resources.
Improved Report Management
It has been observed that the pivot table is almost 14 times faster than Odoo 13. When you integrate Odoo with spreadsheets, Odoo-14 allows you to import all the system data as well as reports. This process is performed in minimum clicks.
You have the ability to not only obtain the data but also customize it as per your business needs. Seamless access to all Odoo modules provides your business with quality analytics.
You no longer have to download multiple sheets to obtain updated data. Odoo spreadsheets offers you real-time data and improves business efficiency. Odoo-14 can help design personalized CRM dashboard with the updated data in the Odoo system.
Smooth Workflow
The presence of smart technologies makes  Odoo-14 a smarter solution.Your business can utilize updated data to organize business activities.
Odoo-14 spreadsheet data can highlight key business areas. It can notify you the significant reason why your sales are dropping, in which area you have more sales, factors that influence your internal workflow, and such other details.
These spreadsheets also help you to note suppliers and vendors that are lucrative for your business. Based on this information, you can build a long-lasting relationship with them.
Data Cleansing and Formatting
With inbuilt Odoo spreadsheets you can trace duplicate data and eliminate the unwanted information. The Enterprise version  allows you to integrate with different sources and then clean data at a rapid speed. 
This refined data can then be referred to make effective business decisions. 
Final Words
Odoo-14 also assists businesses to build a user-friendly website, ask for confirmation, send receipts through emails, review daily tasks with improved UI, and increase business productivity.
Consult our Odoo experts to take advantage of Odoo-14 for your business. 
FAQs
How do you import data from Excel to Odoo?
Odoo: How to Import an Excel File
 
Specify the Excel spreadsheet that will be imported. The graphic below serves as an illustration of this point.
In order to import the file into Odoo, a wizard must be created.
To run the python script, choose the Import client option.
Can pivots from different models coexist in the same spreadsheet Odoo?
Yes. Just choose an already-existing spreadsheet from the drop-down menu that appears when you click INSERT IN SPREADSHEET.
What are the new features in Odoo 15?
New in Odoo 15: These Other Cool Features
 
Upgraded HTML Editor
Compatibility
The Debug Menu
Modifiable Invoices and Reports
What are the core benefits of Odoo?
The Benefits of Odoo Implementation are as follows:
 
– Sharing of data between teams
– Better productivity in the workplace
– Complete transparency
– Extraordinary Progress in Documentation and Strategy Development
– Better Interaction with Users
– Budget Needs When Considering ERP Software
– The action of tailoring to specific needs
– The users took part completely