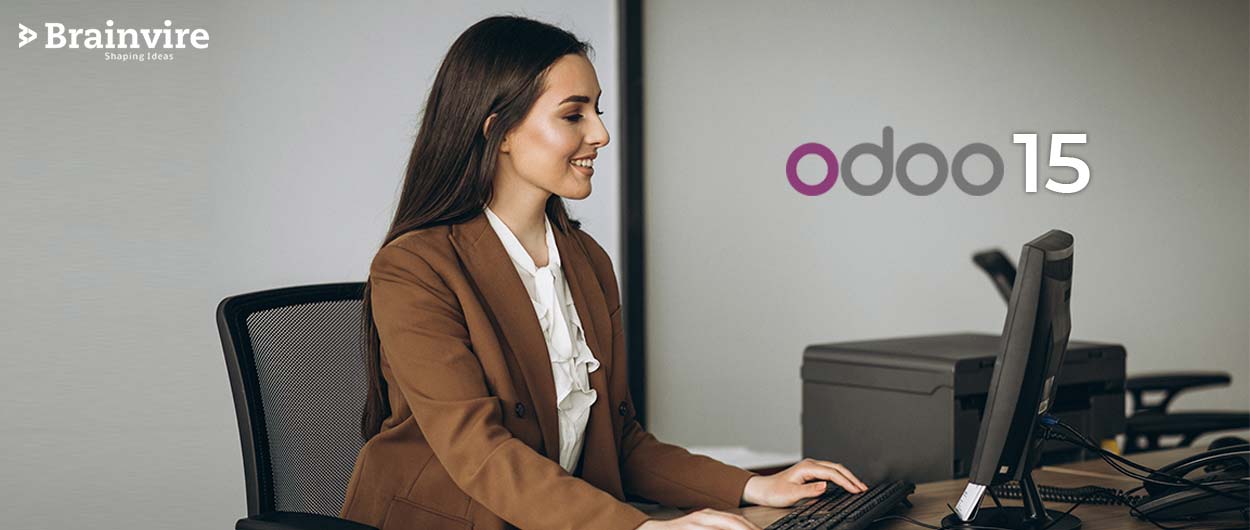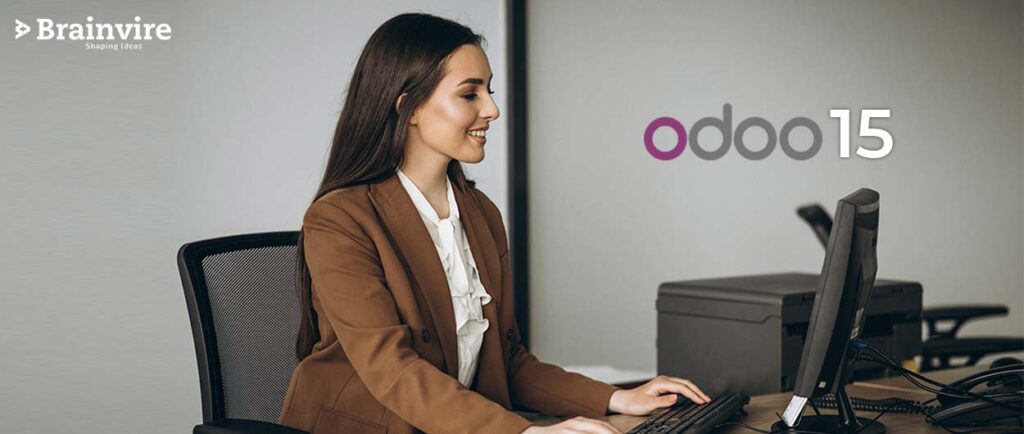 The creators of Odoo, a well-known open-source ERP solution and business software, have completely integrated them into a powerful and flexible management software that can handle a range of business needs..
Being a globally powerful ERP suite, it never fails to provide its users with an enhanced version each year. Last year, Odoo released version 14, which received praise as the best, fastest, most up-to-date, and technologically advanced version. Meanwhile, the upcoming Odoo 15 release will occur during the two-day online Odoo experience event, scheduled for October 6th and 7th. 
This latest Odoo version is a planned upgrade that includes various new modules and enhanced capabilities. Odoo 14.0 is more focused on saving time for employees and providing cross-application integration than Odoo 14.0. Odoo 15 will be more advanced and feature-rich, allowing businesses to run more efficiently and effectively.
A look at the new features and opportunities in Odoo 15 will help you see why Odoo 15 is better than Odoo 14. If you plan to upgrade from Odoo 14 to 15, it will also enable you to adjust to changes swiftly.
Comparison Between Odoo version 14 and 15 – 
Point Of Sale
Odoo 14
For PoS, Odoo 14 had two new user interfaces. That made it simple for the user to personalize the new product and its parent category. The email billing option is another new feature.
Odoo 14 included two new features to the product category: pricing lists and consumer loyalty programs, which were unavailable in previous versions of Odoo.
[Also Read: Have you developed your Ecommerce Platform with Odoo Integration? Learn From These Simple Tips!]
Odoo 14's newly designed PoS app module makes it simple to integrate up to six more payment methods. At the end of each session, the user can effortlessly update the inventory in the PoS with real-time updates.
Odoo 15
This version includes the main features from version 14 of the module as well as two new features: the Coupon program and the Promotion program, both of which will be introduced in the pricing section of the settings.
The coupon program function will assist you in creating and saving coupon data for later use. Later, at the point of sale, you may easily select the product and apply saved coupons.
It will appear on the product's invoice, which will be visible to the customer. Coupons and marketing programs for POS products can be applied here.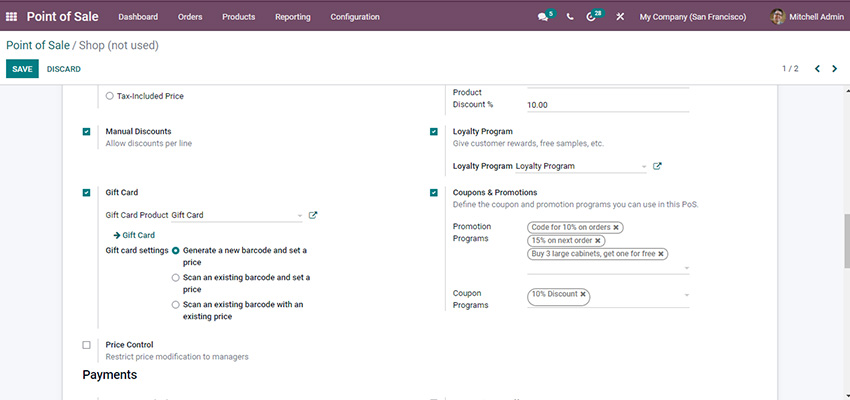 In the Point of Sale section of settings, new Ship Later features can also be added.
It will allow you to sell things in real-time in POS and then deliver them later using the facility of a ship later.
During the checkout, one can determine if the ship's later facility is required to complete the order or not. There is also a cash-in and cash-out feature that has been added to the POS.
CRM Module
Odoo 14
In the CRM module of Odoo 14, a new lead generation tab was introduced last year. This enables the user to generate leads that include information such as the state, country, industry size, and other factors.
Odoo 14 also has advanced features such as the ability to add a customer's email address and phone number.
Odoo 15
This version has an upgraded CRM feature that will improve lead handling activity. It assigns leads to specific teams using the domain mechanism. To do so, go to CRM ‣ Leads Management ‣ Team Assignation and apply a specific domain on each team.  
These domains are basically countries that include scores.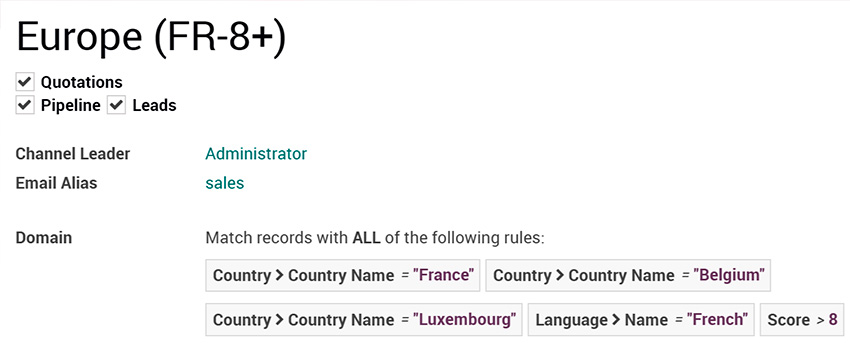 This will increase sales activity and participation of associated team members for lead generation. 
Inventory Management
Odoo 14 
Odoo 14 brought a well-organized inventory overview system, tabs for document collection, packaging, as well as documents for internal transfer.
The primary advantage of Odoo 14 over earlier versions is its replenishing feature – The replenishment option. The tab assists you in obtaining things in stock and predicting popular items. It also enables the creation of reordering rules to make the replenishing process more scientific.
Odoo 15
Now, let's see what Odoo 15 has other than Odoo 14 features. 
A website gift card can be sold on an eCommerce site.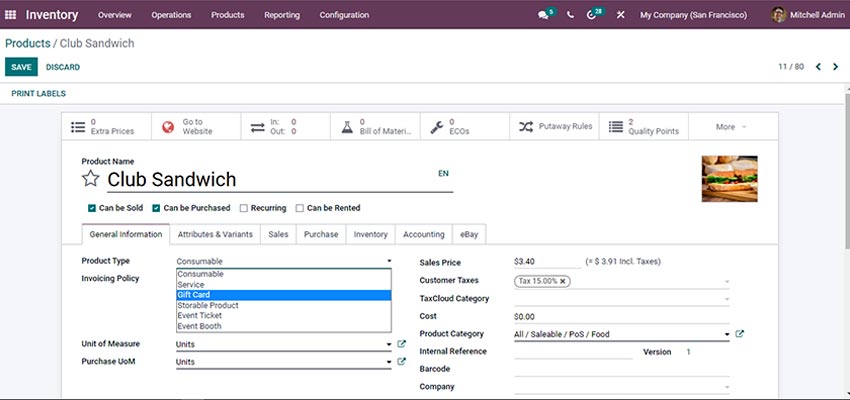 It generates one-of-a-kind codes when Gift Cards are purchased, and these one-of-a-kind codes are sent to customers through email or in person.
For numerous quantity purchases of a gift card, these Odoo apps/modules generate multiple unique codes. Odoo 15 has a number of new features.
Discuss Module
Odoo 14
Odoo Discuss is a powerful tool for boosting an organization's external communication. This solution enables the company to establish both public and private communication areas for its employees. Employees can use this application to share their thoughts and engage in chat discussions with their coworkers.
Odoo also provides message privacy and security, as well as the ability to lock communications. Odoo Discuss can be coupled with all other modules and used to manage activities efficiently.
Odoo 15
Discuss feature of Odoo 15 is the main highlight of this version.  Discuss allows you to bring all of your company's communication together through calls, Videos, Chats, etc., everything integrated into one app. It includes some features from Version 14 like inviting new people in the group using the link, document sharing, direct messages, public and private channels, sharing slides, editing and star messages sharing emojis, and so on.
Other features of this module are as follows-
Online, offline status checking
Available on phones also
Any external person can join meetings even if they are not an internal/database user. Similar to Google meet, Teams, Zoom
Integrated with all other Odoo apps
Available on community version also
40 people can join the call at a time
Cannot blur or hide the background.
Can invite anytime during the call from an external database
128MB maximum per attachment.
Can schedule future meeting links from the Calendar
Doesn't block a person on discuss from the call
The chat story remains until you keep the channel
Are you looking for an Odoo partner providing Odoo Migration Services?
We are Odoo Gold Partners who work to resolve the challenges of the modern day.
Purchase Management
Odoo 14 
Odoo 14 emphasizes organization and easy comprehension through a unified dashboard view.
In Odoo 14, a concise and visually appealing display is provided, which presents complete information about pending, late, and required requests. It also provides a precise estimate of the lead time.
These developments through Odoo Partner may be able to aid in the improvement of your company's performance. The confirmation prompt is another new feature in Odoo 14. This functionality is included in Odoo 14 to help small enterprises. 
Odoo 15 
Purchase Dashboard in Odoo 15 delivers an accurate and elegant view of the dashboard, which includes all purchase numbers and graphs. This dashboard provides sufficient data to calculate the taxed and untaxed total. On the Odoo 15 dashboard, go to the reporting tab.
Website Functions And Features
Odoo 14 
Working SEO features like Google Analytics and functioning search tools in the console can be run from the configured parameters in the Odoo 14 website module. For every company's digital marketing team, Odoo 14's new website module is a godsend.
[Also Read: Learn more about the Kanban, one of the smartest Odoo views]
Odoo 15 
The Ecommerce website platform's sharing capability can be used.
The product has share buttons that may be used to share it on various social media sites via the website portal.
These options make it simple to share details on a platform in order to complete the product.
Bottom Line 
There are numerous feature variations between Odoo 14 and 15 that can be readily adjusted once you begin using Odoo 15. It's understandable that firms utilize Odoo, and then, after a year, there's a completely new version, forcing the staff to change yet again. But that's the beauty of it, Odoo stays updated and keep its user updated. Odoo 15 will undoubtedly improve the experience of your employees and other users, regardless of the changes.
FAQs
What is new in Odoo v15?
Odoo 15 will revamp the Point of Sale interface and update e-commerce page templates. In addition, it will enhance gift card functionality on Odoo Website and Odoo Sales.
Is Odoo 15 free?
The open-source Odoo Community edition is free to download and use without paying a licensing fee, although it offers fewer features than the paid Odoo Enterprise edition.
Is Odoo better than SAP?
Odoo ERP is cost-effective and adaptable to a wide range of corporate needs. Although SAP is one of the most well-known ERP software brands and is robust enough to handle complex situations, the program lacks the adaptability to accommodate user-specific workflow modifications.
How to Upgrade my odoo apps from odoo 14 to odoo 15?
When upgrading from v14 to v15, the first step is to upgrade any custom applications stored in your database; for help with this process, you may refer to the instructions on the official Odoo website.
How to migrate Odoo 14 DB to Odoo 15 DB?
Enter the script into your server's console to run the migration script. If successful, your server will build the transferred database. If the script has difficulties, you will get an error report and need to create a ticket with Odoo to fix and enhance the migration script. Custom modules in your database mainly cause these issues.
 
Post your database dump to Odoo. Upload a database dump to Odoo if the first method is too technical. Odoo will run the migrating script, debug, and deliver you an upgraded database for testing.