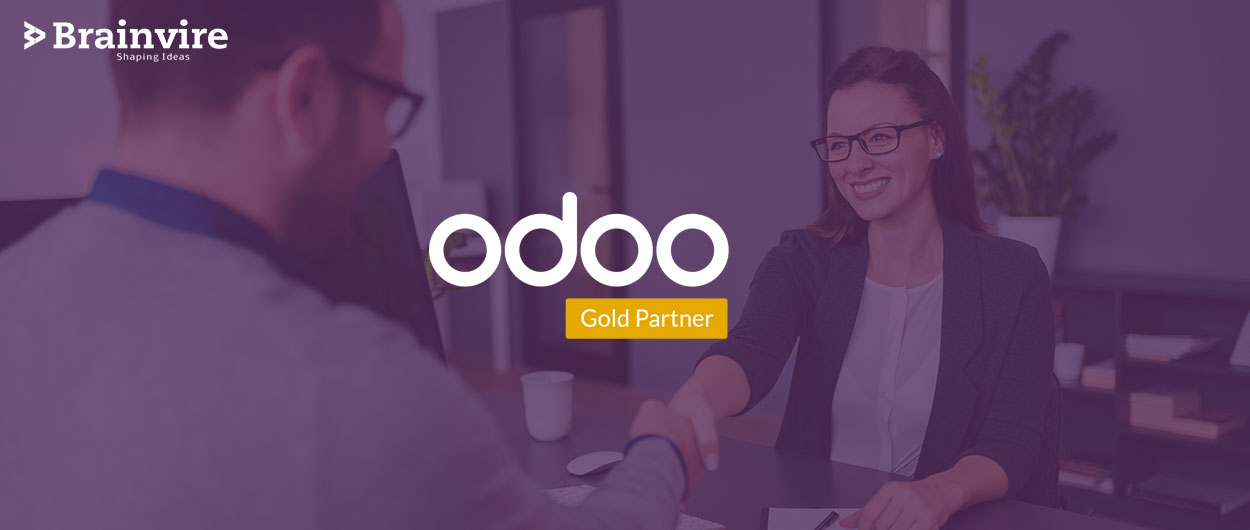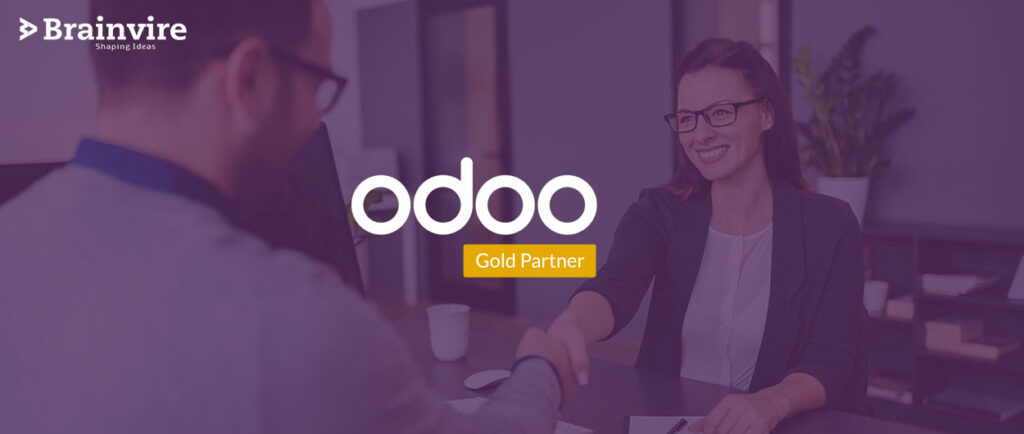 In today's rapidly evolving business environment, companies often find themselves in need of customizing the way they do business to stay ahead of their competitors.
This can mean several things, from improving existing sales and marketing efforts through e-commerce capabilities to implementing more efficient back-end business processes.
For example, some companies may find that adding a robust accounting system or improved inventory management capabilities can streamline their company and be better equipped to grow and succeed in the future.
One of the most critical factors in any successful business is, without a doubt, how well it can manage its business data.
"No matter what industry you are in, whether it is retail, healthcare, or even technology companies, a sound accounting system and a solid CRM program should be at the top of your priority list when looking to improve your business's operational efficiency." – Chintan Shah, CEO of Brainvire Infotech INC.
However, while these systems have been traditionally available only from large enterprise software providers, they have come a long way and can now be found as a part of the Odoo ERP system.
First of all, it is important to know that ODOO PARTNERS are not just another outsourced agency. These are the people who have the expertise in Odoo and can help you do your business more intelligently by using Odoo's features and functionalities.
So, suppose you want to simplify your Odoo implementation, upgrade the functionality of Odoo or wish to explore any new capabilities. In that case, a qualified ODOO Partner can help you achieve those targets with their specialized knowledge.
In short, an expert partner will guide you and understand your requirements and accordingly suggest/recommend which functionalities or modules can help you grow your business.
When it comes to Odoo partners, the kind of expertise is an important criterion that differentiates one ODOO Partner from another.
Here is a list of advantages why you should consider hiring an ODOO PARTNER: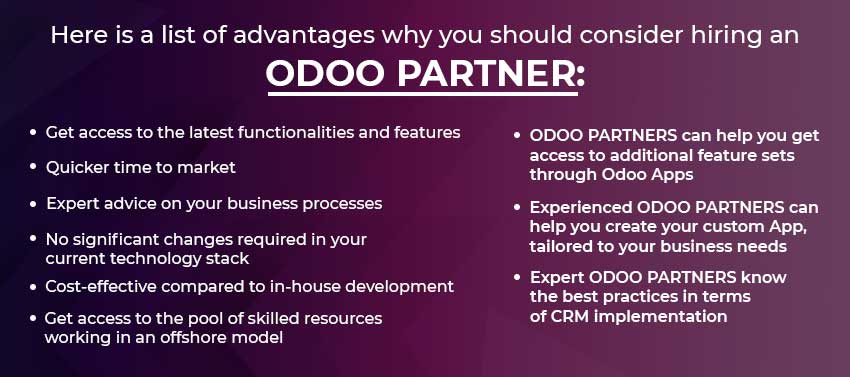 Few things that ODOO recommends for SMEs to get done before hiring them :
Language and cultural barriers:
Hire a partner who is available in the same time zone where your business operates. It helps in quick handovers and meetings.
Make sure they have experience with Odoo implementation 
Check whether the ODOO Partner has done at least 2 to 3 Odoo implementations within the industry that you belong to.
Ask for references from their existing Odoo Partners. It helps in understanding their level of involvement and commitment towards a project.
Always discuss the cost, schedule, and deliverables before getting on board with a partner:
Check whether they have enough resources to support your business requirements
You must ask them about their methodology of project implementation. Ask for their past experiences with schedules and deliverables.
Last but not least, it's always better to get recommendations from someone you know.
Now that you know the kind of benefits an ODOO PARTNER can offer your business, choosing one should be reasonably easy for you!You might have a few questions in mind, like how it will benefit me? What is the role of an Odoo partner? Or what are the advantages of hiring one for my business? Even with all these questions, many entrepreneurs still go on ahead and hire agencies or outsource their work to Odoo partners.
There are a few common questions that most entrepreneurs have in mind, and here we shall answer them all!
How does hiring an agency help your business grow?
For most entrepreneurs out there, this is probably the burning question on their minds. The best way to understand this would be by using an analogy- let's take a look at what happens when you go for a haircut.
At a barbershop, the stylist will understand your requirements and recommend a few hairstyles that might suit you. This is his area of expertise, after all! He will also help you take care of your hair using their products at home to achieve the desired look. In short, he has both- knowledge as well as experience.
Any questions regarding Brainvire's ERP development services?
We're on your assistance!
What is the role of an ODOO PARTNER?
In simple words, you can think of it as a barber who has been working in the industry for several years and understands your requirements perfectly. An Odoo Partner should understand and be capable of suggesting what exactly will suit your business requirements.
Partners should also support you by providing the necessary guidance to implement it for your business.
How will this help me?
As mentioned previously, Hiring an ODOO PARTNER will help you get access to the pool of skilled resources working in an offshore model. You can avail of their services on demand and that too at cost-effective prices!
What are the benefits of hiring an ODOO PARTNER?
There are various benefits associated with hiring an Odoo partner. Here are a few important ones!
Once you understand what exactly is required to be done by your business and hand it over to them, you can sit back and relax as they take care of everything for you.
You will not have to make frequent trips to fix issues, as they work by collaborating with you throughout the project.
Hiring an ODOO partner allows your business to focus on what it does best- building a solid client base and creating new avenues for revenue streams!
How can I find Odoo Partner who maps my Challenges?
One such company among the list of approved partners is Brainvire Infotech, an Odoo Gold Partner specializing in developing custom Odoo solutions for organizations across a broad range of industries.Always make sure to do your research before choosing someone, as it will benefit you in the long run! 
Visit Odoo customer story of Brainvire on Odoo Blog section – https://www.odoo.com/blog/customer-reviews-6/how-tent-and-table-found-shelter-with-odoo-734.
Why Choose Brainvire for Odoo?
Brainvire is an IT consulting and software solution company located in the United States. The company focuses on providing clients with innovative, cost-effective, and comprehensive business solutions through its experience in Open Source technologies.
What will Brainvire as an Odoo Partner has?
Solid Team of Experts
Brainvire takes pride in having a solid core team of developers with vast experience implementing industry-specific enterprise solutions backed by a global network of experienced project managers, designers, and business consultants.
Certification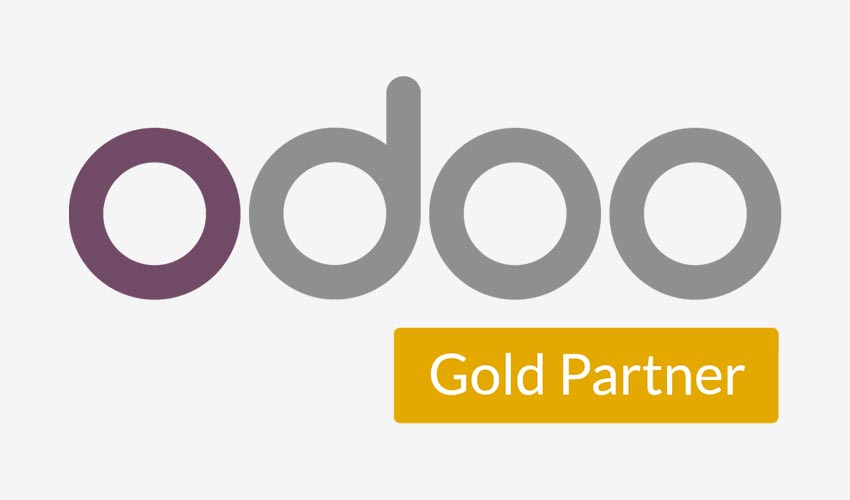 As an Odoo Gold Partner, Brainvire is certified to implement critical Odoo components, including installation, migration, configuration, customization, integration, and training services. This ensures that the solution they deliver will be built with the most up-to-date technology and best practices.
Timely Deliverance 
Having an expert team of developers who are also skilled project managers allows Brainvire to develop custom Odoo solutions that bring added value to our organization and implement them in the shortest period possible. This ensures client satisfaction from both a quality and timeliness standpoint.
Cost-Effective Solution
Brainvire Infotech works hard to ensure their clients' success by offering high-quality professional services along with technical expertise at a reasonable cost. 
In fact, by partnering with Brainvire, many companies have developed a feature that they provide at no cost to their customers and were previously prohibitively expensive for clients or Odoo.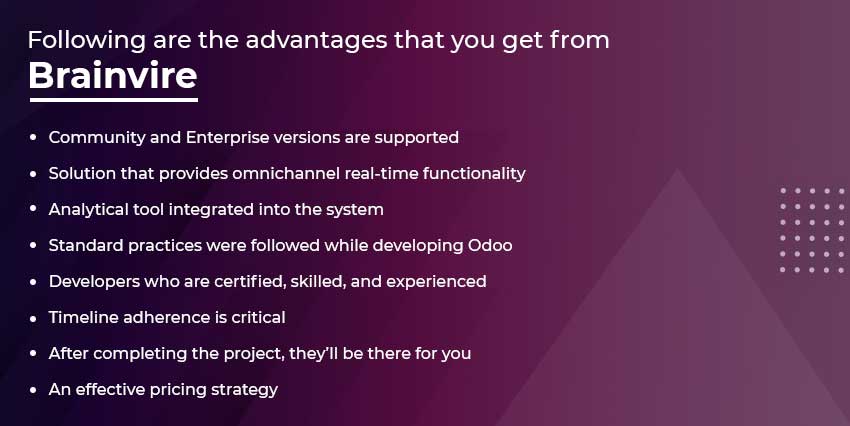 As Odoo's lead developer, Brands have personally witnessed Brainvire Infotech's expertise first-hand throughout implementing multiple complex ERP projects within their organization.
Since becoming an Odoo Gold Partner, they have delivered value through their high-quality work on numerous complex projects that required customizations and integrations with Odoo.
Their expertise allowed them to deliver a user interface that is clean and intuitive, as well as the ability to implement data synchronization across multiple databases and platforms, which required detailed knowledge of MySQL database schemas.
Conclusion
If you're looking for an Odoo Partner, be sure to connect with Brainvire Infotech – The Global Odoo Gold Partner.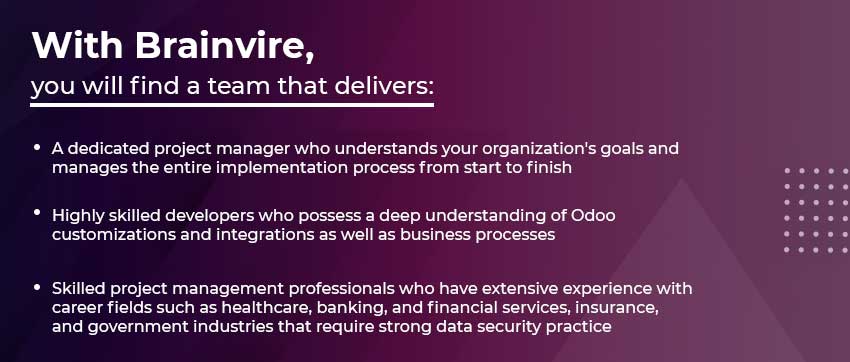 So what are you waiting for? Hire an ODOO Partner today and see your business flourish with increased revenue!