Talking About Which .NET E-commerce Platform is Best for Your Business? At Brainvire we keep on getting requests to put forth our suggestions on the best E-commerce solution using .Net Development platform for companies. We always try our best to respond to the queries of our clients with the most optimum solution that can help your business grow. After analyzing the current online store development scenario, we believe that nopCommerce has become the most preferred E-commerce website developing a solution in the market today. It is an open-source E-commerce solution based on ASP.NET MVC 4.0 and MS SQL Server 2008 backend database or higher version. It is a customizable, stable and feature-rich platform for developing highly interactive E-commerce websites. And when we say interactive we mean providing exquisite experience through appropriate and relevant website features, functionalities, layout, design and the theme.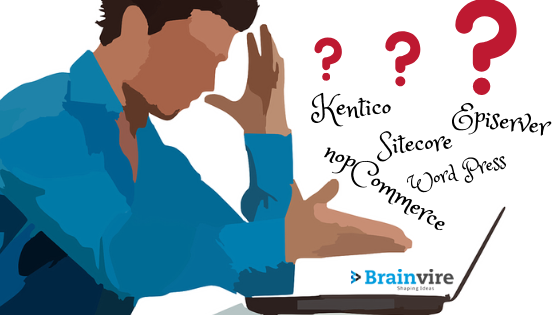 We are going to discuss some of the outstanding features of nopCommerce which makes it a perfect choice for your e-commerce platform and also how it is helping businesses to outperform the competition.
Peculiarities of Sitefinity-
 Developing Projects Without Any High Cost
nopCommerce has successfully outperformed Shopify and Bigcommerce in terms of price, app development, and design interface. It is freely available for downloading and can be easily installed within a few minutes. It comes with features that support E-commerce and are an add-on for your online store such as customizable shopping cart, catalog-based front-end, a versatile administration tool, etc.  It also contains a large number of plugins and themes to give your E-commerce project a unique and customized look. And you can get all these features in the budget expected.
 

Impeccable Multi-Store Support
A number of stores that run on a single back-end system can be created and managed through a single admin window using nopCommerce. Another advantage of this feature is that catalog data, promotional information and product attributes can be shared between the stores because they have a common backend database. This allows users to log in to all your e-commerce store using the same credentials. As a matter of fact, the facility of setting separate configurations for each store is also available with this platform. B2B marketers can benefit the most from this multi-store support feature as they can set micro-sites for promotional purposes and link them to the main store.
  

Multiple Payment and Shipping Advantages
Talking About Which .NET development E-commerce Platform is Best for Your Business?  nopCommerce's lets you offer your B2B clients more than 50 payment gateways for ease of transaction. Hence it can be integrated with almost all the top payment gateways such as PayPal, EBS, Pay U, etc. and also accepts all credit and debit cards. Also, you can configure the preferences of the same as per your business's requirement. This gives the users of nopCommerce access to exclusive marketing offers.
 

Easily Integrate with other Systems
The nopCommerce platform can be integrated with various systems like Salesforce to improve overall productivity and operations for large-scale E-commerce websites. This platform is the best suit for those store owners who want to leverage the advantage of using the latest marketing tool and concepts to seek growth for their online E-commerce business.
How are Businesses Benefiting through NopCommerce?
This eCommerce web development platform is available for all types of users from online traders to demanding e-commerce experts. Let us see how this platform is helping businesses in their growth process-
Because nopCommerce is an open-source software it is freely available for use and can easily be modified as per the business or individual requirements such as non-standard functionality or specific integrations. You do not have to pay any licensing fees which is a countable advantage while considering the final cost of deploying software.
Easy and flexible tax calculations lead to customer satisfaction. With nopCommerce, you can easily manage all the details and features of the administration panel. The tax calculations can be configured by country code, state code, individual marking products, tax classes for different products, prices displaying tax automation, etc.
Excellent Customer Service
This NopCommerce tool can be useful in providing high-class customer service in your e-store. You can apply some of the features such as external authentication, wishlist, RTL support, EU cookie law, customer attributes, security, and permissions. If your customers are satisfied with the kind of customer service you provide, your business is sure to prosper and attain great heights.
You can use the unbeatable features of nopCommerce to make the marketing of your e-commerce store global and more effective. Some of the features that can help you attain exposure are a reward points system, gift cards, product reviews and ratings, product comparison sites, affiliate programs, and additional extensions. The content can be updated dynamically with the help of news, blog, forums, polls and custom pages.
Talking About Which .NET E-commerce Platform is Best for Your Business? If you are willing to get an E-commerce platform developed for your business, then wait no more. nopCommerce comes with a more attractive feature other than the ones explained above and high affordability. Brainvire develops E-commerce stores for its clients using this platform integrated with fascinating themes, intuitive layouts, and a user-friendly interface to ensure positive user experience.
Get in touch with us at info@brainvire.com  for Asp.net web application development  project.