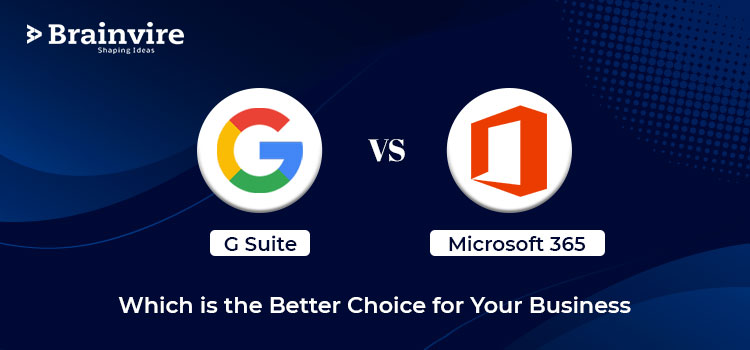 Google Vs Microsoft – Which business-related products should you choose? G Suite and Office 365 are the two most popular products from these companies. It is not easy to choose between the two as both of these softwares provide customization options and increase your business productivity.
As a business, you need some basic business tools such as email, communication portals, documents, sheets, etc. for smooth operations. G-Suite and Office 365 offer a range of such tools at different prices. They are scalable, so when you engage with new employees, you can upgrade your account to manage growing business activities. With both coming from big giants in technology, confusion while picking one is natural. But, we have got you covered. 
Read the detailed comparison of two- G Suite vs Microsoft 365 – based on various factors to help you make the best decision for your business.
File Sharing and Storage in the Cloud
File storage is one of the most important factors while making a choice. A Cloud productivity suite enables you to store and access your files anytime and from any place. The files can also be shared easily with others. Now, let's compare file storage options provided by the two companies.
G Suite
G Suite provides Cloud storage space of about 30 GB as part of the basic package (for every user). You can get 1 TB of storage space (per user) by paying some fee.
G Suite offers Google Drive for easy file storage and management. It includes downloadable apps that work smoothly on any platform. Moreover, Google Drive simplifies the task of sharing files with your colleagues. You can share files over email and enable others to edit the content.
Office 365
1 TB of Cloud file storage is available with all the packages. However, every user can use email storage of about 50GB.
As an MS Office user, you can rely on OneDrive for file storage and management. You can use OneDrive for synchronizing the files and sharing them with others.
Want to convert your idea into a successful app or website? Schedule your free call with our expert now.
Business Email
Both Office 365 and G Suite give you an opportunity of creating business email accounts with a chosen domain name. This way your email will have a professional look.
G Suite
When you have no domain name, you can register a new one for the email account creation. You have an option for creating 30 email accounts per user.
The technology used for G Suite is similar to what you can find in Gmail. If any client prefers their company's email extension, then you also have options to use emails with Thunderbird and other such clients.
Office 365
Office 365 services help in the creation of 400 email addresses per user. Its mailing software, MS Outlook, provides you with the web version. Email addresses created by Office 365 are sharable with any email client.
Day to Day Business Work Tools
Both the companies provide a collection of tools intended for professional presentations, document sharing, and data management.
● Google Docs and MS Word
The feature-rich MS Word of Office 365 is free from bugs. The latest MS Word version has collaborative capacities. You will also find security layers for data protection.
Google Docs is a part of G Suite that has attracted attention with minimalistic and collaborative design. However, you will find its interface much different from Word. Docs do not have any native version. So, your data is prone to some amount of risk.
● Sheets and Excel
When you need to develop smart business spreadsheets, you can rely on MS Excel with several formatting options. You will also find scripting opportunities for the analysis of macros. 
These features are not available with Google's Sheets, which otherwise provide the same functionality.
● Slides and PowerPoint–
The presentation software, MS PowerPoint, is highly useful for business purposes. You can choose from various templates to create presentations of different styles. MS PowerPoint also lets you integrate Twitter, YouTube, and Facebook. The presentation can be displayed in offline mode.
Google Slides and PowerPoint are similar i `a some ways. However, you will find differences in features and templates. For instance, Google Slides might not provide you with an opportunity to show your creativity. You will also need a network connection to use the slides.
Tools for Collaboration
You may think of collaborating with your employees to make every task easier. Thus, choosing the right office suite is important for your purpose.
G Suite
In the early days of introducing the G Suite, there were only Cloud-based apps. The major focus of Google was better interactions between team members and easier sharing.  Later, Google released tools for instant messages and video conferencing. The integration of Google Voice with Hangouts enables you to send SMS and make local calls. Users from Canada and America can send messages for free.
With G Suite, more than one user can deal with a file at a time. You can review your edits, leave comments, save notes, and do several other things. You can also use Google Keep and Google Calendar to create to-do lists, tasks, timelines, and events, and share them with relevant team members.
Office 365
Similar to G Suite, Microsoft Office Suite for Business provides you with some collaboration tools. For instance, they can make comments and leave important notes in word documents, excels and presentations. However, users may not always find it easy to identify them and access them. 
Microsoft Business Suite offers Skype for video conferencing and messaging. You can make an audio or a video call to another Skype user free of cost. However, you have to pay for calls from Skype to phones. You will find an option for both international and local calls with the purchased Skype number.
You need to purchase the Office 365 Business Premium package to get the advantage of these features.
Cost and Pricing of Products
As a first-time user, you may be concerned about pricing. To know which fits your budget better, we have listed down the latest rates of different packages of G Suite and Office 365.
G Suite
Presently, G Suite offers 4 pricing schemes including:
Business Starter– $6/user/month (Google Drive storage space- 30GB)
Business Standard– $12/user/month (Better security and unlimited storage)
Business Plus– $18/user/month (Cloud storage- 5 TB, higher security)
Enterprise– Know the price from representatives (advanced controls and unlimited storage)
Office 365
Here is the cost list for different business packages offered by Microsoft Office 365:
Microsoft 365 Business Basic– $5 per user per month
Microsoft 365 Apps for business- $8.25 per user per month
Microsoft 365 Business Standard– $12.50 per user per month
You might want to note that these Microsoft packages come with some common features:
Regular data backups
Automatic updates
Migration assistance
Live chat and email
Business email service
Knowledge base
Based on your needs, you can invest in the right package. You must also focus on your business size to decide on the best suitable package.
Verdict
Every company has unique needs, and thus, they have to consider some factors to find the best suite of applications. The comprehensive review will easily help you make the right choice between Microsoft 365 vs G Suite. Make sure to consider your business size, budget, requirements along with the analysis to look for a feature-rich software that provides a great return on investment.