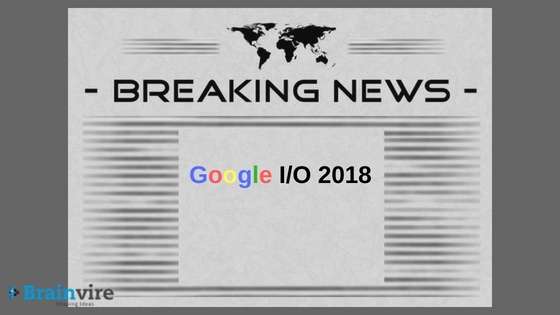 2018 is perfect show time for Google. At Google I/O 2018, Gigantic Tech unwrapped amazing things that will surely put users in awestruck mode. Below are some exclusive announcements which were made at Google I/O 2018,
 
Android P:  It is shaped using intelligence, simplicity and digital well being.  Google is making "Battery usage" as a core part of Android P. It collaborated with Deep Mind and built a new feature called Adaptive Battery.  This feature comprises of machine learning aspects that actually monitors users app utilizing habits. An exclusive separate dashboard is designed that will display "How users are spending time on the device". Apart from this, it will also consist of how many times users unlocked their phone, time spent on varied apps and number of notifications received.  To cut down phone usage users can fix app usage time limits. Android P will be made available during late summer but its public beta version is available in smartphones from Google, Sony, Nokia, etc.
 
Google Assistant: Over the course of 12 months Google made enhancing strides with Google Assistance. At I/O 2018 it introduced a new set of virtual assistant features. Users will be provided with additional natural voices in addition to the original one. Apart from that assistance will display full-screen cards responses and individuals will be able to manage smart home appliances. Using assistant users will be able to place their orders directly at Starbucks or Dunkin Donuts, etc.
 
Gmail:  Users no need to type more. Google's smart compose is here to write down all your texts. This feature has incorporated machine learning concepts that will predict entire sentence based on minimal keywords or letters.
 
Google Maps: Google maps are getting geared up with socializing features. Users will receive personalized recommendations like suggestions related to trending locations based on their search histories and interests. In coming days individuals be able to send their friends a short list of restaurant options, by voting on place user will be able to place order as well as will be able to make a reservation with just one tap.
Another impressive coming feature of Google maps is, it will get integrated with user's camera and it will overlay vital navigations & direction details. It will also highlight your points of interests related to restaurants and other businesses. The visual positioning system of Google is like Genie. With Google' Street view data it will provide the user with precise results. Individuals just need to position their camera at a shop front and all details related to that business like its working hours & phone numbers, etc. will float on their phone screens.
 
Google News: It is now using AI as its core ingredient. With AI it analysis all published content and arranges all articles, videos, and other content formats and turns all of them into exclusive storylines. It identifies user's area of interests and displays brief related to those topics. There is also the incorporation of new visual format called Newscasts that broadcasts supplementary details like trailers, tweets, headlines. So, based on special visual preview user can explore more on a specific topic.
 
At Google I/O, the Pandora box overflowed other astonishing features like Google Duplex, that can make a phone call on behalf of you and will set your salon appointment or will get your hotel reservations done right way by actually talking with another human. Another is Google Photos that uses machine learning concepts to identify people in photos and based on that it offers to share photos with that identified person. It will also suggest editing options like auto brightness enhancements, colorizing, etc.  Google Lens, is about to get set with phone's camera app. On pointing the camera at any object Google lens will details related to what it sees. Lens is getting enhanced with smart text selection. From phone's camera app it fetches text and it will copy & paste it as regular text.
 
Google's software update and application revamp will surely get paparazzi. These announcements will not only cover tech tabloids but it will increase the rate of users.