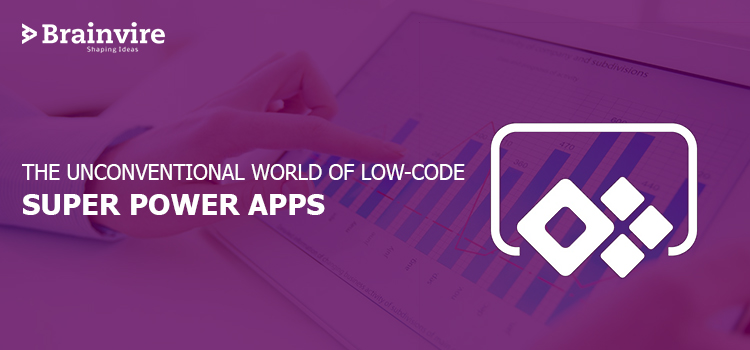 Microsoft are the pioneers of digital transformation and concentrate to enhance business capabilities. They guide businesses to reinvent the journey to bring together data, people, and processes and redefine customer experience.
They also have a steady cutting-edge to be the firsts in several aspects of digital transformation.
Microsoft has a series of innovative tools and applications that make it the market leader. Their stream of groundbreaking applications comprises standard Office 365 productivity tools, back-end systems for enterprises in Dynamics 365, and other hundreds of cloud services under the Azure family.
Today, we are going to explore a different realm of Microsoft which is not mentioned above. These applications add a new functionality wing. These new sets of wings can improve your association with business data.
This business data can be acquired through data insights, mobile applications, or workflow. This type of application is referred to as Microsoft Power Platform.
To begin with, the Power BI platform comprises three fundamental applications-
Power BI-This application showcases business data on real-time dashboards and reports. They provide interactive data and deep insights.
Power Apps-Create personalized, no-code mobile, and desktop applications running off your data.
Power Automate- This is a multi-layered workflow that links hundreds of apps and services. These applications can manage data with the help of Microsoft's Common Data Service (CDS). 
Combined Effect of the Power Platform- This will help you to know-how the unified effect of the Power Platform.
This cloud-based Common Data Service is hosted on Azure and allows you to manage and store business data securely. The CDS stores data in the form of entities. There are preset standard entities but you can always create tailored entities for your convenience and requirements.
Want to convert your idea into a successful app or website? Schedule your free call with our expert now.
Power BI
Power BI is a popular BI and analytics tool that offers updated insights. The tool converts available data in different forms of interactive visualizations that can be found on the dashboards and reports.
It is easy to link Power BI with CDS or any other data sources such as SQL database or Excel. It also enables third-party sources such as Google analytics.
Power BI also gives you the liberty to create customized reports and dashboards for different key business areas such as customer services, marketing, sales, etc. Apart from these, you can also create reports and dashboards for other business functions.
Power BI provides you key insights from your data with several options such as filter, slice, and drill-down. Mere presence of Natural Language (NL) querying in the application enables you to ask varied questions just like how you do on a search engine.
This way, you get quick answers to your queries through your dashboards and visual graphics. A Dynamics 365 Business Central user is well-aware about the embedded Power BI reports. These reports provide you insights for your business rapidly.
The best part about this application is that you can share dashboards and reports within a few clicks with your team members. This makes it convenient for teams to determine flaws and work on them.
You can also publish them on your websites, mobile app, and in SharePoint. This way you can share your achievements with your clients and customers.
Power Apps
This is a platform that encourages users to design and deploy customized applications that are compatible for mobile devices and desktops. You don't have to be an experienced developer to build them, non-developers too can create apps in Power Apps.
The main reason for this is that PowerApps run on a no-code environment. Experienced developers from technical backgrounds can utilize their knowledge and Azure functions to integrate solutions and build connectors.
Power Apps have the potential to organize your business processes. They have customized user interfaces that allow users to access the app while on-the-move.
There are different purposes to create apps such as-
Mobile survey app
Concise contact list app
Expense processing app
Today, there are different apps that carry out multiple tasks along with the main purpose of the app. With PowerApps it is convenient to link countless number of connectors, data sources and ensure that you obtain the much-needed data.
Power Automate
If your business is in search of a solution that can automate and provide multi-stage workflow to different apps and services, then Microsoft Power Automate is your go-to-option.
Structured workflows have the capability to activate productivity in different business lines and functions. Automated repetitive processes can carry-out activities swiftly. They can also update you about errors in the flow.
A single trigger point can enable a smooth workflow and connect to several touch-points that lead to successful completion of the task. If you look at the picture as a whole, then there are several perks of automated workflow.
For instance, create an automated workflow that can send regular reminders for review and approval in Dynamics 365. You can also save an Outlook email attachment in your SharePoint document library.
Power Automate gives users the leverage to develop explicit processes based on your business requirement. You can also utilize the preset templates to save time.
Now that you have understood primary functionalities of all three applications, it is time to learn the effectiveness when they are blended together.
Combined Effect of the Power Platform
All three applications have immense potential to enhance business efficiency individually. We have discussed here an example that can highlight the efficacy of the Power Platform when all three applications are unified.
A particular business enterprise has developed PowerApps specifically for its sales team. This app allows their sales team to create and recognize sales orders from anywhere and at any time.
This means that your sales team can process orders while on the move and even from home.
They don't necessarily have to be present in the office to enter the required information in the app. Instead, they can make optimal use of data saved in the CDS and you already have a custom-designed workflow.
Once you enter the order, it will get filled with all the necessary details, and then your manager will receive an email notification for the same. The manager can review details and send approval to process the order.
Power BI can create a separate dashboard to track all the progress on the project. It will update you about sales data, sales locations, increased sales, and several other activities.
Unlike several applications, there is no licensing bundle for this platform. Instead, you can weigh varied plans and ways to license these applications. The size of your organization and business goals play a vital role in this process.
A Microsoft PowerApps Development Company is the way-to-go to determine Power Platform prowess for your enterprise.
Begin your Power Platform journey today!