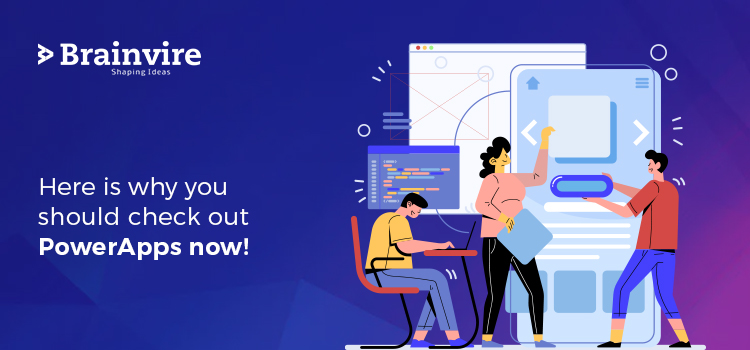 PowerApps by Microsoft is a developmental platform intended for anyone who would want to put together mobile and web applications. Although PowerApps was launched back in 2017, it deserves more attention until now because of plenty of reasons.
What does PowerApps do?
PowerApps offer you a drop and drag interface and enable you a range of customization options to create a mobile application. You can add as many images, icons, and forms as you want in the app development process. After the platform is developing your app, you choose to store the data inside the platform or connect it with a data source. Once you are satisfied with your handiwork, you can choose to share it with your organization and launch it directly from the platform.
Want to convert your idea into a successful app or website? Schedule your free call with our expert now.
What is the opinion of developers regarding PowerApps?
Before we get any further and elaborate on the features of Power Apps, here is a review of PowerApps shared by a ClinkIT Solutions' developer and trainer.
"In this article, I would like to describe the reasons that made me switch over to Microsoft PowerApps platform. I have an experience of more than 10years in SharePoint Development, and after considering numerous factors and having a ton of experiences, I have made the transition to PowerApps.
During my university years, an expert developer's primary responsibility was to write endless lines of code to fulfill the requirements of a specific project. Laugh as much as you want to, but code development was thought to be the only effective way to create web applications during our college days. Things have changed for good, and the focus has shifted towards low code development for various reasons. You might wonder why low code development is considered one of the top inventions of the software industry; refer to the following points.
Low code apps require less bandwidth to download and run the apps.
As the apps consist of fewer codes, developers would not have to worry regarding bugs and errors.
Low code apps are also lighter on the pockets.
When I started exploring PowerApps, I needed to drag and drop to add a new form. Setting styling features of the apps and integrating connections to diverse data sources has become super easy. With assistance from PowerApps, creating effective business solutions only takes a few seconds now. I also noticed that I could code C# functions on the PowerApp platforms almost instantly, and thus a lot of work can be conducted within a period.
If you are still not convinced, then come with me, and I will show you how all of your tasks will now take less time with PowerApps:
If earlier, creating customized applications would take a few months, now it would take only a few hours.
PowerApps will aid in various software integration, including ERP, WMS, etc.
All your routine tasks can now be automated, and this will promote the productivity of various departments.
All these have resulted in less stress, tasks completed within the deadline, and satisfied clients. Although PowerApps has proved to be quite agile for my business processes, there are certain limitations. I felt that in terms of data retrieval and speed, JavaScript and C# score more marks than PowerApps.
However, if you are willing to build customer solutions effectively and effortlessly, PowerApps is a must-have for you. I have a strong feeling that the industry focus is gradually shifting towards PowerApps, and in the upcoming years, Microsoft will further update this product.
Now that you have a few insights about the firsthand experience from a PowerApps user let's discuss further.
Why should you use PowerApps?
If you understand technology, you should know that the foundation of PowerApps is a Platform as a Service. With its help, you can create mobile apps that can run on iOS, Android, and Windows. Earlier developers had to create different apps for different operating systems because Android's app version would not be compatible with Windows or iOS. This led to the multiplication of efforts and resources, which eventually resulted in the skyrocketing of app development costs. However, if you decide to develop all your apps on the platform of PowerApps, those will run through PowerApps only. The platform will enable you to load your apps through it, and it will take care of all the differences between various operating systems. You can find both a mobile version and a web version of PowerApp, and they work similarly, so you would not have any difficulties in switching to and from the versions.
How to develop an application in the PowerApps platform?
Creating an application is relatively simple because PowerApps will be your side the entire time:
Go to the menu section and select 'create an app.'
You will find a canvas for app creation displayed on the screen, and it is the PowerApps studio.
Choose the environment type, PowerApps admin center, or PowerApps mobile.
Choose storage and application types.
The app would need to connect to a data source, and you have the option to choose among Filesystem, Oracle, SQL Server, etc.
How to customize applications in PowerApps?
Now that you have started the app development process, you would get to implement various customization options. For customization, you can use the features of the right-side panel as well as the toolbar. Microsoft lets you implement necessary customization by adding in images and videos and allows you advanced customization capabilities like adding special search categories.
It is not a great idea to launch your app before launching it, no matter how confident you are! So in the platform, you will come across the option of sharing your app development with a trusted group before launching it into the market.
What are the business benefits of using Powerapps?
If you are intrigued to know in what ways can PowerApps flourish your business, check out this list of advantages:
Speeding up software development
App development corporations can now generate and launch numerous apps just within a few days with the help of PowerApps. Even individuals lacking technical expertise can also get their hands on the platform and seamlessly build apps that are compatible across diverse Operating systems. You would not require coding skills to develop apps via the platform as PowerApps follows a low-code development ideology.
Reduction of app development costs
If you decide to generate your apps with the assistance of PowerApps, you would be able to save about 70% of your development costs. It will not need vast maintenance costs, debugging, and neither will you have to hire big-budget developers.
Reinvestment of savings
During the initial few years of starting a business, most organizations need to amplify their savings to invest them in other business processes. PowerApps gives you the chance to do so by helping you to cut costs by eliminating 3rd party applications with enormous maintenance costs and also by streamlining your existing business processes.
Once you have made your mind regarding the type of apps you want to build, start your journey with PowerApps. If you are unsure about anything, don't hesitate to contact Brainvire for assistance.