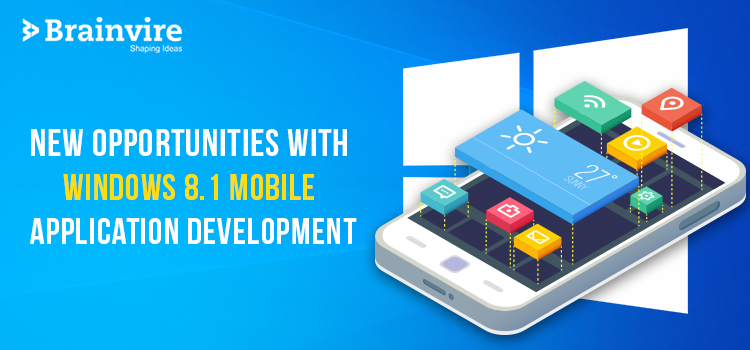 Windows 8.1, released last month is already shipping with some of Nokia's Lumia series of smartphones and is already catching on. The operating system comes with a host of new and improved features and Microsoft seems to have primed it to make it more appealing and a more intriguing option for smartphones. Not only that, it's got some awesome changes that Windows 8 Mobile Application development can benefit from! Windows mobile developers are already excited.
Cortana – Just Like Siri and Google Now
Similar to Apple's Siri and Android's Google Now, Cortana is Microsoft's personal virtual assistant. It is included in Windows Phone 8.1 and can recognize voice commands from users. Cortana fetches information from Bing and answers simple queries such as current weather or sports scores etc. Cortana also maintains a notebook where it log information based on user's interests and usage history. Users can input additional information and even delete information that they do not want Cortana to know. A completely new feature for Windows 8 Application development enthusiasts and professionals to take advantage of.
Keyboard With Swipe To Type Features
Keyboard becomes smarter with a swipe to type features. Users can swipe through the letters that they want to type and the keyboard automatically generates spaces and makes space for the next word. The keyboard senses where the user slowed down and cross checks the word with the built in dictionary to display the final word on the screen. This Word Flow keyword in Windows 8.1 is an awesome addition to fast typing.
Internet Explorer 11
Windows Phone 8.1 comes with the mobile version of Internet Explorer 11. IE 11 is the default browser and includes features for WebGL, normal mapping, InPrivate mode, Reading mode and also includes a special feature for navigating to a previous web page and back by just swiping on the screen. This enhanced browser contains features for YouTube web player and features for inline videos along with support for HTML5. Users can also pin websites as live tiles. The previous limitation for 6 tabs is now overcome and users can now open the unlimited number of tabs. IE 11 also contains features for syncing the tab information from two Windows 8.1 devices if logged in with the same account. Windows 8 Application development can definitely benefit from this.
App Store Redesign
Windows Phone 8.1 comes with a complete redesign of the app store and has made it more information dense. Apps can now capture videos for themselves and are limited for copyright purposes. Apps and games data can be stored on SD card. The Windows 8.1 App Store now contains a "My Apps" section which allows users to easily re-install any of the apps they have previously purchased.
Live Tiles Made More Attractive
Live tiles in Windows 8.1 are now placed in three rows. Previously this was possible only on Windows Phones with 1080p screens. This will now be enabled regardless the screen size. Also, users can now add a background image for live tiles making the UI more attractive than ever.
Revamped Apps
There have been many subtle changes to apps such as Battery saver that tracks battery usage and also analyses profiles that could lower the consumption. Users can now also stop unused "background tasks". Users can even prevent certain tasks from running if the battery is detected to be running low. Storage sense is another app with changes. Users can now move apps between SD card and Phone and also "delete Temporary files" to free up space. Wi-Fi sense enables Windows Phone 8.1 devices to automatically sign in to trusted and available hotspots. Calendar and Maps has been revamped too. 3D support and a dynamic compass have been added to Maps.
Multitasking Feature Upgrade
With the third update in its processor, Windows Phone 8.1 now supports apps that can be swiped and placed in the multitasking mode instead of closing them. This could again be an important feature for Windows 8 Application development and Windows mobile developers can take advantage of this to provide users with important tweaks to their apps.
File System Changes
SkyDrive now is OneDrive and Microsoft also plan to release a native file manager for Windows Phone 8.1.
Action Center Is The New Notification Center
Action Center is the new notification center. Users can easily change wireless networks, turn Bluetooth on or off, Turn airplane mode on or off, or access driving mode. Apps also send users with location specific notifications here.
Windows 8.1 is here and Windows mobile developers are already working towards providing their customers with innovative apps making use of its awesome features. Contact Brainvire to Hire Windows Mobile Developers for Windows Mobile Application Development.