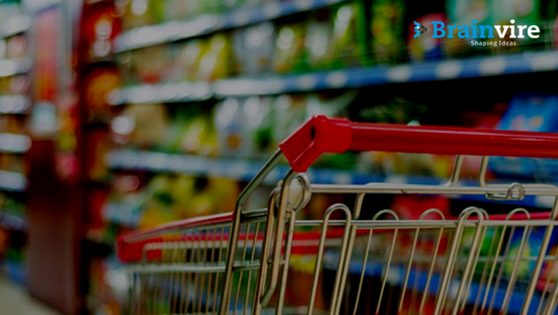 Retail is thriving. Thanks to the retail IT solutions, the sector has become conventional amongst individuals, which in turn, has led to a high rise in digitization of shopping habits. Online retail has transformed the way individual shops and sells. Products and services have become handier and easier to access like never before. A majority of people, regardless of the age, geographical location, and businesses prefer shopping online.
Here are a few fascinating stats for you to look at.
According to a report offered by Statista, the total revenue influx in the 'e-commerce' market amounts to the whopping US $1,713, 971 million as witnessed in the year 2018, and it's just the beginning. Moreover, the number of users are expected to grow 2,521.9 million by the year 2022 in the e-commerce market.
Moving forward, another similar report by Statista suggests that e-commerce revenue is expected to show an annual growth rate of 9.6% resulting in a market volume of US$2,472,788 million in 2022 the credit of which goes to the IT revolution that has pushed the use of retail software solutions offering a smoother process for retail operations. On the other hand, eMarketer states that retail e-commerce sales will increase up to $4.058 trillion in 2020.
As we're quite aware, Innovation and Speed defines the success of eCommerce ventures these days. In such circumstances, retailers are seeking innovative products and concepts that can lift them up. This is where the emergence of integrated retail e-commerce solutions comes into play. Keeping that in regard, we have compiled a quick list of solutions that can help retailers prosper.
IoT: Faster, Efficient, and Smooth Supply Chain and Logistic
IoT can be one of the significant players in driving growth to the retail industry.
Here's how:
With the introduction of sensors and other embedded software set, IoT is all set to disrupt the retail industry. The opportunities to enhance the connectivity and operations along with personalized touch are showing the bigger picture of the upcoming highly-connected retail world. Integrated software solutions have taken a new route to enable better transactions across the supply chain. There are several retailers who have embraced IoT to deliver an all-in-one user experience.
For example,
London based start-up, The Dandy Lab, is using NFC (Near field communication) terminal, sensors, Wi-Fi routers, and analytical software to provide a highly-connected customer experience.
IoT offers a unique set up which allows users to communicate directly with product manufacturers for designs and changes. Can it be any more personalized?
To know more about such IoT experiences, click here.
Voice Commerce: The Newest Trend to Boost Ecommerce Sales
Voice commerce is here to set up its dominant foothold in the future of retail. The process of shopping via voice recognition technology is voice commerce. You might have used Amazon Echo. If you haven't used it till yet, here's something you need to pay attention to. Any size of retail business can take advantage of this modern trend.
Individuals have started using Alexa, Siri, and Google Assistant to find and search for products instead of visually browsing. Envisaging this trend, eCommerce experts have predicted that it could go far beyond in the future.
To enhance the user experience, a British multinational alcoholic beverages company launched the Bar.com which embraced voice technology to encourage customers to create cocktails at home.
Take a look at how voice commerce is being used to give the finest user example through this video.
"Click and Collect" Strategy: Omnichannel Presence To Set New Records
Effective and modern retail industry software solutions can do wonders for any retail business.
Every retailer is trying to provide delightful journey by using modern technology concepts and the latest tools. Brands have opted for the omnichannel presence of their retail business in the form of offline, online, or every possible sales channel.
Cloud PoS (Point of Sale) systems, automated operations, customer analytics, up-to-date inventory, and standardized workflow can help retailers to achieve new milestones in the retail business.
Wrapping Up:
A sure shot of way to enhance the customer journey and boost the sales is to use modern retail industry software solutions. Identify, analyze, and bring the smartest solutions that can cater to all your requirements. In short, the retail e-commerce segment is booming like never before and it will continue to grow in the upcoming days. It has transformed completely and is paving the way for the most lucrative and fast-paced industry segment across the globe.