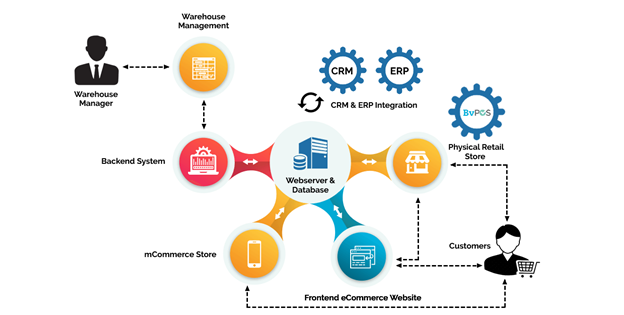 Talking About Retail Omnichannel ERP, Smart Way to Strengthen Business Backbone, This is exactly how the Retail Omnichannel ERP at Brainvire works. The image here shows that the customers are open to the three channels of commerce that are the m-Commerce store, Frontend e-commerce Website and Physical Retail Store.
 
Let's part the topic and understand the terms separately.
 
Omnichannel: This is a multichannel approach towards marketing and attending customers. In this channel, an integrated and interconnected customer experience is prepared nonetheless where a customer reaches out.
 
ERP: Enterprise Resource Planning is an application that is designed to be used by the bigger businesses to integrate important parts of a business. More or less it can be defined as the nervous system of a business.
Now you must be getting a vague idea about the things we are going to talk about.
Nowadays, the trend of purchasing has massively changed then it was ten years back. Researching and shopping have been the most affected part here. The main reason behind this is the number of accessibility options for the customers for researching. This phenomenon has bent the businesses in offering the full product catalogue, services and retail channels to the customers.
Talking About Retail Omnichannel ERP, Smart Way to Strengthen Business Backbone, Heave a look at some of the reasons what a retailer would require.
 
E-commerce store and apps: A store and app to let the customers see the product and know more about its products are of the most priority for a retailer. A place where the customers can understand the product and analyze them can be offered only through a store or an app.
 
POS: A place where customers can complete their transactions. A retailer has a wide variety of POSs to choose.
 
Dependable CRM solutions: Interacting or communicating with the customers is very much required for a business to proliferate.
Cross-selling: A proper technique to cross-sell the products to the existing customer which means to sell the similar or complementary product with the primary product.
Fulfilling all these requirements can be a tricky task but you don't need to worry about all these things because Retail Omnichannel ERP can provide you with these things in just one system. So here are the things that you need to understand about retail omnichannel ERP.
 
E-commerce Store: An E-commerce store is the best way to promote business and most of the flourished businesses have used this technique.
 
POS: A point of sale from where you can easily attract customers and let them offer your services and products.
 
Management of Warehouse: The whole supply chain is managed in a perfect manner to enhance the efficiency.
 
Integration of Marketplace: It helps in connecting all of your sales channels so that the whole process doesn't get chaotic.
 
CRM: This product provides a customer-centric approach so that you can solely focus on what the customer needs.
 
Store Wise Inventory: The inventories are maintained in an unspoiled so that they can be easily allocated to the required area when needed.
Talking About Retail Omnichannel ERP, Smart Way to Strengthen Business Backbone, With a lot of big brands like Timberland, Neiman Marcus, Glade and many more using this product it is very hard to not choose this. Enhance your B2B and B2C experience with Retail Omnichannel ERP. Don't watch other businesses to create history. Check out our product page to know more about this product.