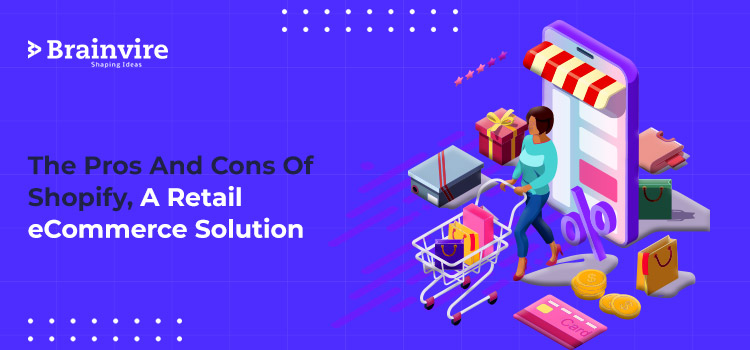 Shopify is one of the market leaders when it comes to retail and eCommerce platforms. It is the simplest resource for building your new online store. Its user-friendly features and overall usability, built-in search engine optimization features, marketing tools, and the fact that no technical ability is required for using it make it more demanding than any other platform.
From a high level, Shopify's strategy and improvement are equally useful to marketers and designers. On the other hand, Shopify's pros and cons help us in completely understanding the platform before using it. 
In this blog, we'll go over the Shopify pros and cons, so you can see if it could work as the best retail ecommerce solution for your business.
Shopify's Pros and Cons
Pros
Built-in Tools
For startups, Shopify offers the best built-in tools for finding products to sell, creating a reliable website, marketing the products with built-in marketing tools, and more. New businesses can keep their expenses down by using the free tools and help them in developing a Shopify POS for a more profitable business.
Shopify offers tools for various reasons and using them will reduce your expense and help you stand out with some interesting features.
It has a tool known as 'Exchange' that helps in buying and selling the online store within the 
Shopify app store. Then there is a tool called 'Burst' which has quality images for your website, especially if you have a product to display, they have quality photographs for your website. There is also a platform called 'KIT,' which is a marketing automation tool that aids in marketing strategies such as sending emails, creating ads, sharing to social media, sending reminders, and more. As a result, more Shopify features will be hidden away in the backend of your store, so feel free to try what Shopify supports.
Want to convert your idea into a successful app or website? Schedule your free call with our expert now.
Customizable 
They have hundreds of free and paid Shopify themes available in the Shopify Theme Store, most of which are mobile-friendly, as well as hundreds of other platforms like, MOJO Marketplace and ThemeForest. Each theme can also be completely customized by modifying the code. So it's easy to create a stunning and one-of-a-kind online store that suits your business. Depending on the theme you've chosen, you will have many places available to add or change content if required. These Shopify themes can include custom formats for different collections, objects, and pages.
Easy to Configure and Setup 
Shopify provides a convenient way to easily open an online store without the hassle of extra costs. Since all of the functions are logically organized, the user interface is tidy, user-friendly, and quite understandable. Within a 14 day free trial, you can learn the features as it doesn't require any coding experience. Indeed, on the Shopify website, you can also find detailed documents and video tutorials. If this is not within your range of skills, you can also seek assistance from an eCommerce development service or any Magento development services with Shopify expertise.
Easy to Integrate 
The Shopify app store is a fantastic resource with different features and tools to open online stores. You can integrate Shopify review, Shopify Payments, customer loyalty programs, wish lists, and sync with accounting software, point of sale, delivery programs, shipping rates, transaction fees, payment gateway, and social media profiles, not to mention all of the available marketing tools. Also, it is very easy to integrate third-party apps for furthermore features while customizing online stores.
Cons
Not for a Long Run
If you ever wish to switch your Shopify store to a new site, consider this a prior warning: it will not be easy. This makes selecting a scalable online marketplace difficult and you must make the right choices rather than just considering expenses.
No doubt, you can use Shopify,  it's a great opportunity for growth. However, for a growing business that wishes to manage everything, switching to a self-hosted platform is a must.
Furthermore, if you ever try to expand, basic Shopify offers few datasets for users, while other services offer more features such as product details, pricing, transaction fee. The same is true with every other eCommerce platform. While searching for an online marketplace platform, this is an important factor to remember.
Less Intuitive
It is your right to have complete control of your data. Never let anyone, including Shopify, spoil it. Every data in Shopify must be transferred via Shopify, so when you plan to migrate your basic Shopify store to self-hosted sites, you are allowed to access the dashboard of your store with complete control.
Shopify is less efficient and the company's average growth decreases dramatically with age. Also, when it comes to third-party payment and saving the credit card details, it's not quite as adaptable as most eCommerce sites, so you can miss out on prospective customers and may see the abandoned cart of your regular customers. You will certainly appreciate your early stages while using Shopify, however, if you want to take your company to new heights, it is strongly recommended that you use a self-hosted eCommerce website builder platform.
Shopify Pricing isn't Cost-Effective 
Shopify's store owners depend primarily on the add-on features that advanced Shopify plans and offers. For advanced Shopify plans and built-in tools, customers need to pay a high Shopify pricing because the free version only gives the basic features. Shopify Plan, like all hosted sites, will eventually become more costly than a self-hosted store. Furthermore, self-hosted stores have lower development costs on the instance.
Final Thought
In general, Shopify is still an outstanding eCommerce platform, but the decision eventually falls to the unique needs of the company. When it comes to weighing the pros and cons of Shopify, we all accept that the drawbacks outweigh any benefits. If you're trying to create an eCommerce store or running an online store and want to improve your existing setup, feel free to contact Brainvire Infotech, as it is the best-in-class provider of eCommerce solutions.