We always look for smarter and advanced way of making our work easy, and technology has made human work so easy that everything is available at the tap of fingers. The shopping experience is becoming easier. In today's world, people are more depended on online market for products than real stores. So make sure that your e-commerce store has all the flexible and advanced features.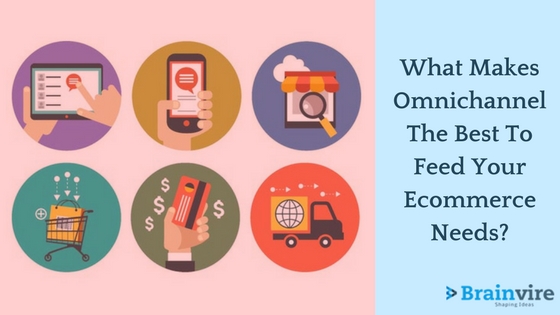 If you are in an eCommerce, then probably you might have heard the word Omnichannel. Omnichannel is a model or interface that allows you to improve the relationship between customers. This channel makes it easy for the retail e-commerce store to get in contact with their customers more easily and give them proper support. One of the features of omnichannel is the ability to offer integrated experience across all platforms like the website, mobile application, digital platforms, phone apps, email marketing, and social media platforms. Simply, Omnichannel makes your customer shopping experience better and improves on every shop.
For any business, customers are the most important thing and a good e-store always looks forward to satisfying their clients fully. Online store achieves this goal by offering them high-end solutions to their problems and always remains in touch with the online shoppers. This is important for all e-commerce store and it is advisable for all the retail owners to improve their website, store with advanced features, and take advantage of integration. This can attract more, reliable, genuine, and trusted customers.
According to a research,98% consumers buy their desired products from the retailer that offers the proper customer support service.
As a continued growth in the development of online stores, people or buyers will look for trusted and reliable stores. So, as many services, you will give and the same will attract more customers.
Here, the question fore-business owners are that do you want to a development company. They may help you to manage your store with simple steps for all the platforms.
Easy To Offer Full Customer Support
You will be able to give customers' the support for all the users from different platforms from omnichannel. One stop to attend all of them. With the help of omnichannel, you can connect your customers through
Telephone
Email;
Live Chat
Online Support Portal
Social Media
Mobile App
Online Community
Inventory Management
You can update and manage inventory of all platforms from one channel, so it makes it easier for you to manage your ecommerce website development. Here, you don't have to update your store from going to different stores.
Tracking product details
Promotion on different stores
Shipping details
Purchase order management
Reports generation
Promotion On All The Platforms
With the help of omnichannel, you can promote your offers and target specific audience from one platform. You don't have to edit on every store or make changes. Once you make a change on Omnichannel, everything becomes easy.
Understand Your Customers
You can track your online shoppers. This may help you understand them better and make appealing offers for them. This will cut down your marketing costs and you will able to target a specific audience.
These are a few common benefits that Omnichannel offers your commerce store.
The omnichannel solution can increase your profit and bring down your burden of managing stores. You can also opt for ecommerce SEO services from a reputed company.
Contact Brainvire
If you are looking forward to hiring an e-commerce website development company then you've come to the right place. Brainvire offers a wide range of service that includes omnichannel development, social media marketing, e-commerce web development, mobile application development, and all sorts of the other IT services.
Brainvire is one of the leading company in offering complete solutions for e-commerce and website development. Here, we take care of everything, from start to end.
Contact Brainvire a leading Ecommerce development company to hire ecommerce developers.