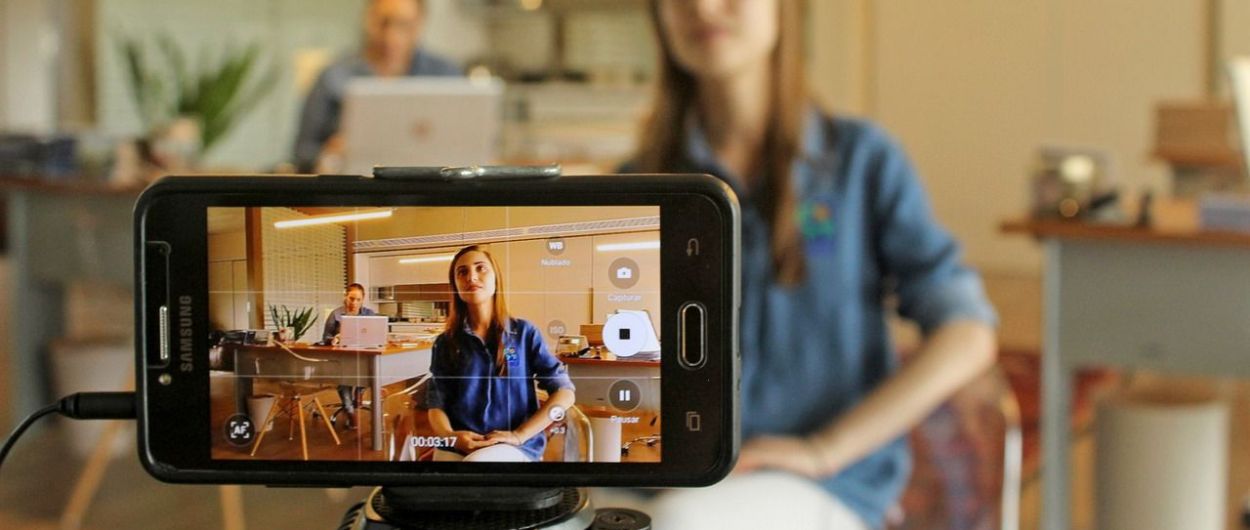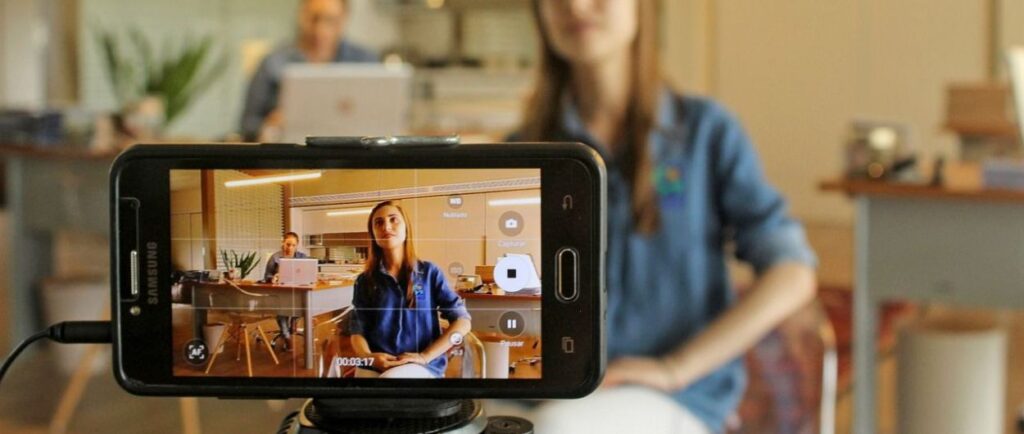 Do you remember when people first used to worry about digital interruption? 
Well, currently, the concern has shifted from digital interruption to just not enough time. However, the time saved can be tremendous from social media to video marketing.
This is why businesses and brands need to market their next campaign or product. Video marketing is their best choice because it connects on an emotional level with people. In addition, this provides a more credible brand presence for the company that marketers often don't have the time or budget to invest in.
The video stems from the short attention span of modern-day consumers, with WideoTech and AR camera technology, in particular, being widespread in not just business, but personal lives of individuals too. This transformation makes sense as logically, it is easier to capture shareable moments than anything else.
Every marketer should be brainstorming innovative ways to include video into their marketing strategies to sell a product or service, educate customers, and increase digital and social interaction.
What is Video Marketing?
Videos are an effective way to add entertainment, visual captivation, and emotions over a short period of time. However, not everything can be done with written content, and we need more creative insights to speak directly to our target audience.
"Video marketing" practice of creating or uploading videos on a website, app, or social media will serve as a commercial advertisement. You can use this kind of marketing to communicate with your target audience in interesting, engaging, and creative ways.
Video marketing is mainly based on video watching over the internet ad videos for a specific need or end goal. These include in-stream ads, out-stream ads, or promotional ads that shoot new viewers to your website, which also spread, ultimately leading up monetization from your business.
According to recent reports, 90% of marketing executives are taking advantage of video marketing today. In addition, more than 60% of marketers say that video marketing will supplant traditional print as their number 1 performing medium.
Regardless of the size or scale of your business, you can get a professional edge in today's competitive marketplace. It can take your brand to the next level through advertising effects, engagement, customer development, and more.
So, if you haven't made video marketing a priority, now is the time. 
Types of Videos in Marketing
Videos are an excellent approach to getting your brand noticed in today's fast-paced environment. However, each marketing video serves a distinct objective. 
| | | |
| --- | --- | --- |
| Educational Videos | Company Culture Videos | Product Videos |
| Tutorial Videos | Event Videos  | Product Demo Videos |
| Industry Update Videos | Brand Videos | Product Launch Videos |
| Explainer Videos |   |   |
25 Best Video Marketing Tools
Companies know they need to use more giant screens and videos than ever to attract and engage their audience. Yet, consider video marketing one of the most time-consuming and expensive tasks.
Leveraging third-party tools can help you save time, money and create engaging videos.
From platforms like Facebook Live and Instagram Stories to old-school solutions such as YouTube videos and websites. Or on deadline for a project that needs video production. 
Just use these tools to reduce your workload. 
Social media companies use video marketing extensively, and with these tools in hand, you can pull off videos pretty fast.
Below I have compiled our selection of the 25 best video tools available online today so that you can master the ever-evolving marketing climate.
Let's Get Started

1. StoryXpress

Despite its modest launch, Story Express has commercial potential for businesses looking to get a leg up on video marketing. Since 2014, they've been boosting multinational businesses, media companies, merchants, and a variety of service-based businesses. The product suite has a 400k+ user base and allows you to add movies to your website that loads faster than you blink.
StoryXpress achieves this through inventing technologies that provide outstanding services such as enterprise-grade security features, no-excuses customer support, and leveraging global infrastructure expertise and resources.
StoryXpress is used by some of the world's greatest brands, including Target, Johnson & Johnson, Revlon, Hanes, and Unilever, to help them expand and enhance efficiency across diverse departments.
StoryXpress allows you to accomplish everything from sending out video sales pitches to making product demo films to filming videos for customer assistance and internal communication.
StoryXpress allows you to take videos with you everywhere you go, thanks to its powerful (and diverse) integrations. It's a versatile tool that integrates and fits effortlessly into your software stack. However, if you become stuck, our customer support team is here 24 hours a day, seven days a week, to help you.
Most Valued Features
APIAccess
Controls/Permissions
Audio Capture
Brand Overlay
Closed Captions
Collaboration Tools
Customizable Branding
Drag & Drop
Labeling
Media Library
Mobile Screen Support
Privacy Options
Rapid Creation
Reporting/Analytics
Search/Filter
Social Promotion
Social Sharing
Split / Merge
Supports HD ResolutionTemplates
Text Overlay
Third Party Integrations
Video Capture
Video Creation
Video Editing
Video Management
Video Streaming
Video Support
Price – $10/month for 1 user
Who can use StoryXpress?
Freelancers
Small businesses
Mid size businesses
Large enterprises
2. Renderforest
Renderforest Video is a video editor that may be used to produce intro films for slideshows, commercials, and infographics. In addition, it's a cloud-based platform for online video editing.
The program includes tools for creating quality YouTube videos, animations, slideshows, mobile app videos, music visualizations, and commercials without requiring in-depth technical knowledge.
It offers a large video template library and a color palette to assist users in getting started with video creation. It also has an upload tool for images and movies to assist in personalizing video content. For example, the photos and videos you post can be used to make a personal or wedding slideshow, a birthday movie, or a business presentation.
Most Valued Features
Templates
Personalization
SEO
Landing Page
Dashboard
Data Import
Data Export
Email Support
Phone Support
Chat Support
AI Powered
Price – 0. / month. free forever. 300 MB storage
$. 12.99. / month. billed annually. 10 GB storage
Who can use Renderforest?
Bloggers and small businesses are great examples of who can use renderforest. Renderforest is a video marketing platform that allows you to create high-quality videos with its AI video writer tool.
Renderforest has been successfully used by businesses who need simple and fast content for their customers like bloggers, hoteliers, manufacturers outlets, etc., to expand their brand reach efficiently.
3. Covideo

Covideo was formed in 2004 and was one of the first video email providers. They are the market leader in video messaging, with thousands of businesses and salespeople using it throughout the world.
Covideo enables you to create, send, and measure customized videos that enhance response rates, sales chances, and deal closures. Send films via your preferred CRM or social networking platform, or embed them directly into your email or SMS message.
Custom video landing pages, CTAs, and website overlays can all be used to create videos. You can track every open and click on the analytics dashboard to get insights into your email campaigns and top performers.
Most Valued Features
Content Import
Content Creation
Templates
Advanced Search
Content Storage
Reporting
Alerts
Account-Based Engagement
Content Utilization
Screenshare
Video player
Video management
Distribution
Engagement tools
Analytics
Price – $69 user/month 
When can you use Covideo?
When you need to stand out from the crowd of other email messages
If you wish to make the first impression,
When it's time to boost response rates,
When you need to establish credibility
4. Animoto
Animoto is a video-making program that was non-profits and corporations that is available online. On a centralized platform, users from the photography, education, real estate, fitness, and eCommerce industries may produce and share customizable video content utilizing a music library, templates, fonts, and more.
Users can crop, trim, edit, and reposition photographs and videos before sharing them on company websites, blogs, and social media sites like YouTube, Twitter, and Facebook.
Administrators can use Animoto to add brand logos, watermarks, captions, or color schemes to videos and alter their runtime and aspect ratio to meet their needs. In addition, users can use a drag-and-drop interface to edit, upload, and organize media files, as well as use the search functionality to filter and obtain songs based on genres.
Animoto comes with built-in templates that enable self-introductions, greetings, product launches, testimonials, tutorials, narratives, brand promotions, slideshows, graduation messages, portfolios, and more.
Groups that have Animoto can add their music to the platform and adjust the loudness of soundtracks in videos using the slider. 
They help content creators upload their favorite image to Instagram stories, write or improve the text, and make advertising videos for various uses, including ads, real estate, fashion, lifestyle, and fitness. 
The software also has an Embed API that allows businesses to integrate developed content into their corporate websites.
Most Valued Features
API
Content Library
Customizable Branding
Customizable Templates
Drag & Drop
Image Library
Media Library
Social Media Integration
Social Sharing
Template Management
Templates
Text Editing
Text Overlay
Third Party Integrations
Video Creation
Video Editing
Video Management
Video Support
Voice-Over / Audio
Price – Starts from $ 65/month
Who can use Animoto
Small businesses
Mid size businesses
Large enterprises
5. Filmora
Filmora allows you to produce and distribute white-labeled marketing videos. Its simple drag-and-drop interface makes importing and arranging media elements as well as creating a magnetic timeline a breeze.
When necessary, the editing features in Filmora allow you to delete particular segments, crop videos, modify playback speed, add watermarks, and rotate photos.
Marketers may use the advanced editing feature to color-correct still photos, reverse movies, and modify the brightness, color, exposure, contrast, vibrance, and saturation of videos.
Texts, stickers, filters, overlays, transitions, sound effects, and colorful borders can be animated across video footage and still photographs.
Filmora allows you to effortlessly export your films in a variety of file formats, including mp4, Wmv, hevc, avi, gif, and mp3.
Users can share generated videos directly from the platform across social media channels. Users can also add custom text and change the orientation, fonts, border, opacity, blurriness, and size of the text.
Most valued Features 
Content Management
Customizable Branding
Data Import/Export
Drag & Drop
Filtering
Image Editing
Labeling
Multi-Channel Marketing
Multimedia Support
Preview Functionality
Social Advertising
Social Media Integration
Social Promotion
Text Editing
User Management
Video Editing
Video Management
Price – It offers free trial and the basic plans Price starts from $7.99/month
Who can use Filmora?
Small businesses
Mid size businesses
Large enterprises
Android and iPhone users
6. Vyond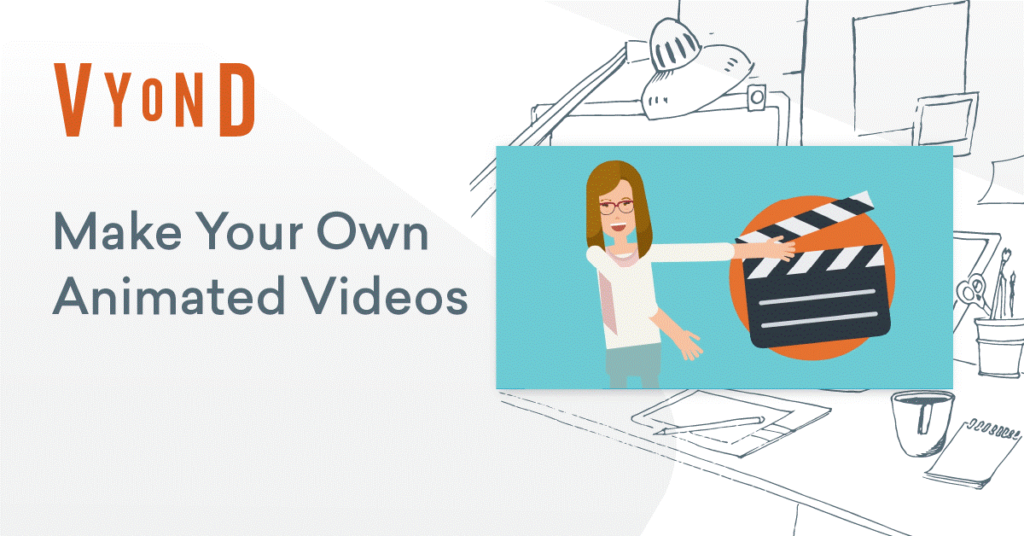 Vyond is one of the oldest platforms for making videos and live streaming videos that's a leading video experience for business. It is packed with amazing features and capabilities in a very easy-to-use interface.
Now you can make great animated videos for marketing, training, and eLearning in any industry. One video at a time, Vyond is altering the way the world communicates.
It's a cloud-based animation tool that's designed to assist businesses to generate professional animated videos.
Team communication, asset management, data visualization, remote access, data import, and a whiteboard tool are important features.
Businesses may use a library of themes, soundtracks, and props to create brand-specific, customizable movies, which they can then share on social media networks.
Marketers can utilize Vyond to create promotional video commercials or messages, as well as product explainers and animated GIFs for specific audiences.
It features a variety of styles/characters and allows designers to create dynamic content by adding animation through realistic movements, actions, and automated lip-synchronization.
Vyond gives administrators the ability to assign role-based access to users, log off inactive sessions automatically, whitelist IP addresses, and regulate video cache expiration dates. 
By developing short films and communicating brand culture, the HR department can onboard new hires and engage staff.
Most Valued Features 
2D Drawing
Animation
Animations & Transitions
Collaboration Tools
Communication Management
Content Library
Content Management
Custom Development
Customizable Branding
Customizable Templates
Data Import/Export
Digital Asset Management
Drag & Drop
Lead Capture
Media Import
Media Library
Multi-Channel Distribution
Multi-Channel Marketing
Pre-built Templates
Privacy Options
ROI TrackingSingle Sign On
Template Management
Templates
Text Overlay
Video Content
Video Creation
Video Editing
Video Management
Price – $299 per year – $999 per year
Who can use Vyond?
Administration department
HR department
Designers
Marketers
7. Picovico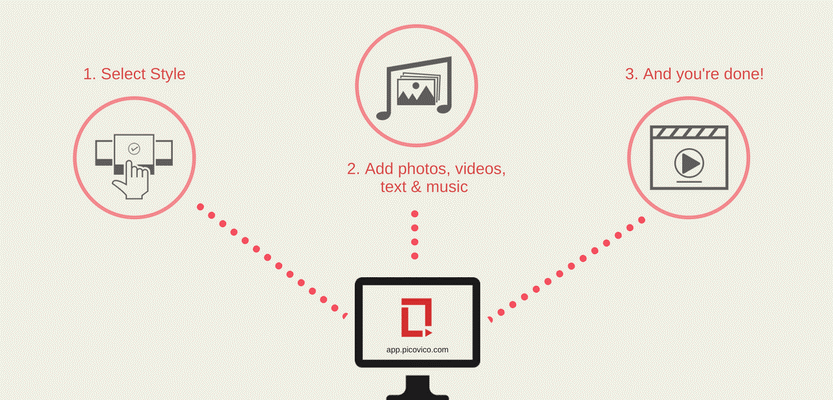 Picovico is a video marketing platform designed to appeal to businesses who want human interaction in their advertisements. Captive audiences watch up to two minutes at a time in an engaging 360 environment for content that portrays positive emotions and entertainment.
Picovico is a small app that can help you create standalone videos, webinars, or live events. Its interface is user-friendly, easy to use, and modern. You do not need any special skillset or specifications to use the app, making it attractive and accessible to everyone.
Picovico also provides various tips and tricks for creating your videos efficiently. It will also provide analytics information about views for you. It is famous as a Birthday video maker.
It offers three types of services: a SaaS online portal, an Android app, and an API. 
Picovico allows you to turn your images into beautiful slideshow videos that you can watch online. You can upload photographs from Facebook, Flickr, or your computer, as well as music and writing. It's simple to use and completely free. You can save videos to your computer or share them on social media sites like YouTube and Facebook.
You may customize it with your own music and make and share Picovico films at any moment. You can also download your videos so that you have more control over where and how you share them.
Most Valued Features 
White-labeled
Video Maker
Slideshow Maker
REST API
Video Editing
Price- $9.49 per month
Who can use Picovico?
Photographers
Marketers
Youtubers
Anyone who wants an easy slideshow maker
8. Clipchamp
Clipchamp is a video marketing tool that comes with a predefined script and uses AI to write compelling transcripts.
ClipChhamp automatically searches for keywords in the video, then mines searchable text from the transcript and attaches it to the relevant video. 
It lets you blend films, photos, and audio files, as well as add text and effects, before saving the finished product to your computer.
Clipchamp is a free online video editor that allows anyone to create compelling video stories. Clipchamp is used by over 14 million individuals worldwide to edit films for corporate, educational, and creative applications.
From easy cutting and cropping to quick online screen recording and exotic effects like Green Screen, our editor provides users with professional tools and features. For popular sharing platforms, you may publish your videos in a variety of formats and dimensions.
Most Valued Features 
Collaboration Tools
Customizable Branding
Drag & Drop
Media Library
Privacy Options
Social Sharing
Templates
Text Overlay
Text to Video
Video Capture
Video Creation
Video Editing
Voice-Over / Audio
Price- Its Basic plan is free and limited to personal usage, with unlimited video exports and 480p exports available (SD). And creator plan is $72/year.
Who can use Clipchamp?
Clipchamp has got you covered whether you're making films for yourself, your team, or your business, including digital agencies, production firms, marketers, SMBs, and enterprises.
9. Veed.IO
VEED video editor is a simple yet powerful video-editing program that lets you make amazing videos. With this program, you may edit, enhance, and add a lot of creativity to business presentations, sales videos, review videos, and vlogs. And the best part is that you don't need to be an expert in video editing to do it.
If you don't have the time or the know-how to cut, filter, rotate, crop, add text, or draw on your films, VEED is the tool for you.
It's aimed at content and meme-makers, social publishers, and anyone interested in getting into video production.
It's quite user-friendly. Its dashboard is simple, yet it has a lot of options for you to experiment with. For example, a button for the Brand kit, Setting, and Billing is available. This clean, easy-to-navigate dashboard is a hit. 
It includes a variety of editing options. For example, you can modify the background color, choose the video's runtime, and turn off the audio.
Another feature we liked about Veed is that you can either use a.srt file or manually add subtitles. In addition, there is an Auto-Transcribe feature.
Most Valued Features
Collaboration Social Sharing
Audio Tools
Brand Overlay
Media Library
Video Speed Controller
Split Video
Merge video
Supports HD Resolution
Text Overlay
Video Stabilization
Price- It has a free plan and the basic plan starts from $12/month
Who can use Veed?
Marketers for small to medium-sized businesses.

10. Vidyard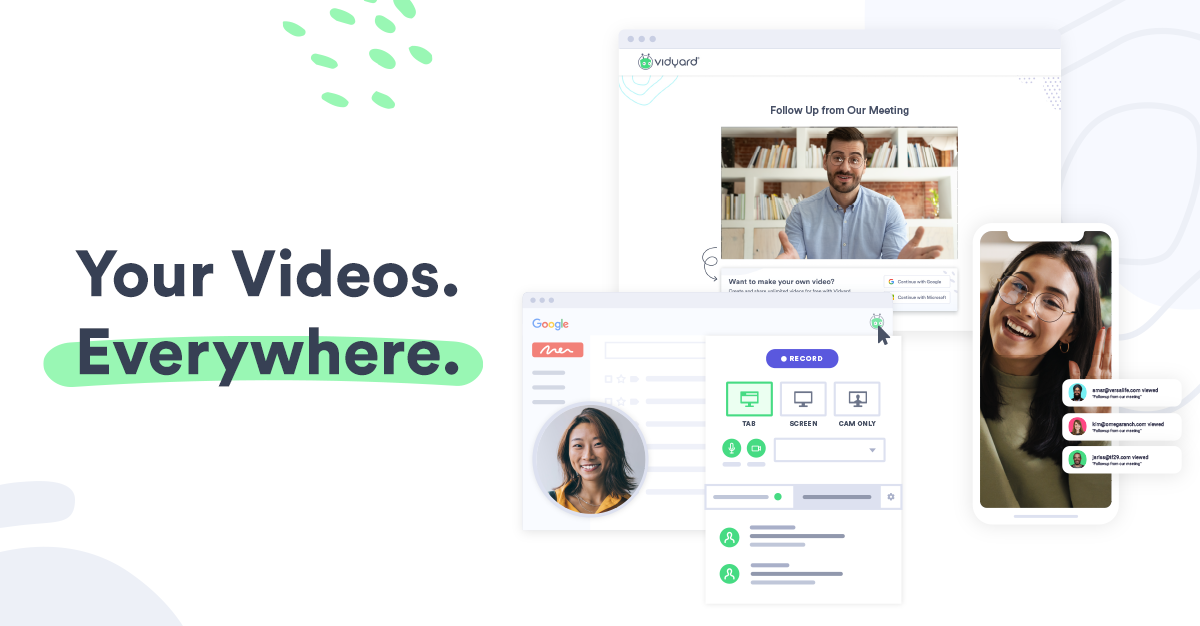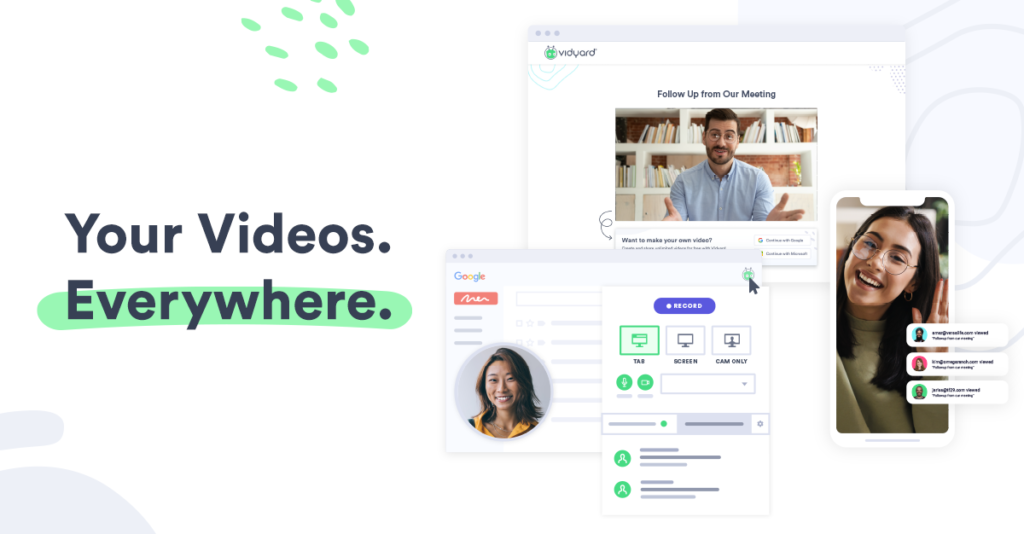 Vidyard is a video marketing platform that helps marketers build and share videos. It has over 4,000 channels for you to start marketing your own brand.
Vidyard is a video tool designed specifically for virtual selling. It allows you to easily shoot and transmit films that give a human touch to every level of the sales process, from prospecting to proposals.
Vidyard is trusted by thousands of virtual sales and marketing teams around the world to help them create more leads and complete more transactions using video, thanks to its strong video analytics and integrations.
It offers all of the tools and analytics you'll need to increase audience engagement, drive prospects through the sales funnel, and assess the true effect and return on investment of your video.
To create leads, add lead collection forms and calls-to-action directly to your video assets.
Use video data in your marketing automation and CRM platforms to target just the most interested prospects.
Track your video's performance and report on how it affects your bottom line.
 Track who is watching your material and how long they are watching it.
Most valued features
API
Brand Overlay
Bulk Uploading
CRM
Closed Captions
Content Library
Customizable Branding
Email Management
Labeling
Lead Capture
Mobile Screen Support
Multi-Channel Distribution
Privacy Options
ROI Tracking
Rapid Creation
Reporting/Analytics
Search/Filter
Social Sharing
Video Editing
Video Streaming
Video Support
Visual Analytics
Price – Pricing is tailored to your specific requirements. The cost starts at $ 8/0 month.
Who can use it ?
Freelancers
Small businesses
Mid size businesses
Large enterprises
11. ViralStat
ViralStat enables you to better understand the performance of your videos on social media platforms such as YouTube, Facebook, and Instagram.
You can conduct the analysis using various video metrics such as views, likes and dislikes, changes in subscriber numbers, and overall viewer engagement.
All of these metrics are accumulated and saved in a single location. You can also create folders with lists of your competitors, influencers, and businesses in your industry. After that, you can compare your performance to theirs.
This allows you to identify videos that perform well and poorly, allowing you to improve your video strategy in the future. You can also make folders of videos that you like and that inspire you so that you can get ideas for improving your own video content.
Most valued Features
Content Management
Analytics (Social Media)
Brand Tracking
Customer Engagement
Multi-Account Management
Multi-User Collaboration
Posts Scheduling
Social Media Monitoring
Price – Basic plan starts from $12/month
Who can use Viralstat?
Freelancers
Large Enterprises
Medium Business
Small Business
12. Vidalytics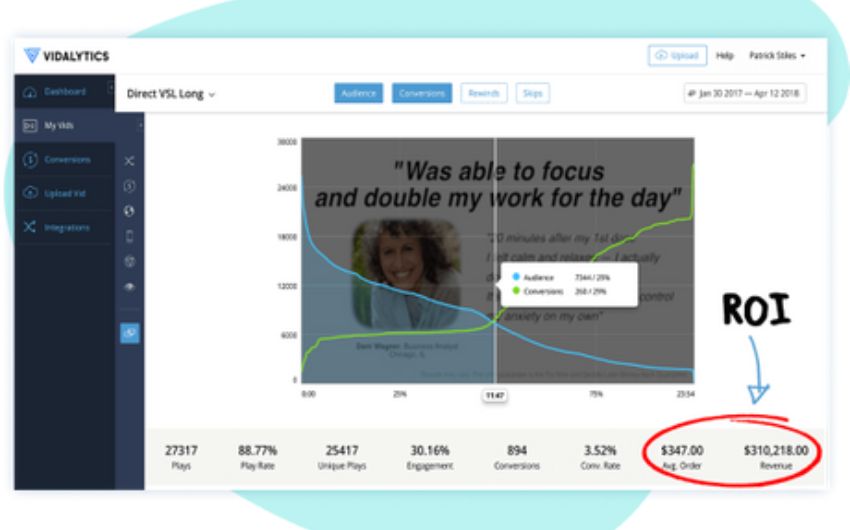 Vidalytics is a video hosting and marketing platform for entrepreneurs and marketers who use video on their websites to increase conversion rates.
It has unique features and hosts, streams, and plays videos on your website while engaging the audience.
Vidalytics' unique tools and strategies "borrow" the proven tactics that all successful marketers use throughout their funnels and allow you to use these with your videos, such as
• Smart autoplay 
• Countdown Timers
• Converting CTAs
• Opt-ins for email and SMS (lead gen)
• Resumption of play (entertainment / avoid boredom)
• It allows conversion tracking 
• It allows conversion tracking 
Most valued Features
Analytics
Engagement tools
Video management
Monetization
Integrations
Distribution 
Price – Basic Plan $25/month 
Who can use Vidyanalytics?
Marketing and Advertising
Health, Wellness and Fitness
E-Learning
Online Media
Alternative Medicine
13. Wistia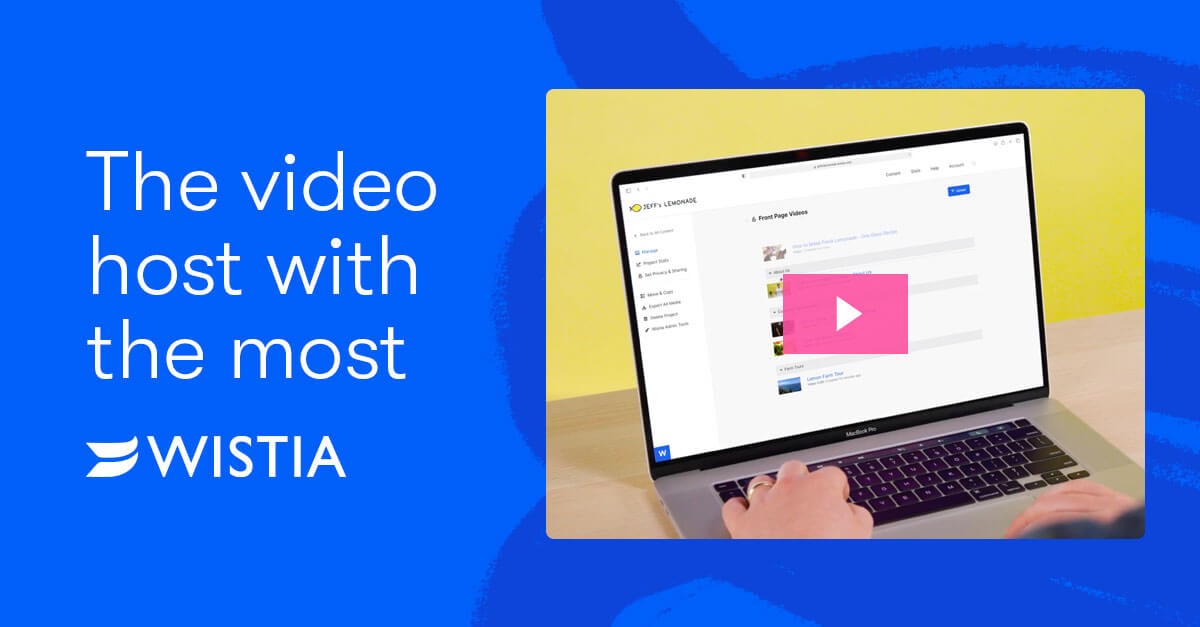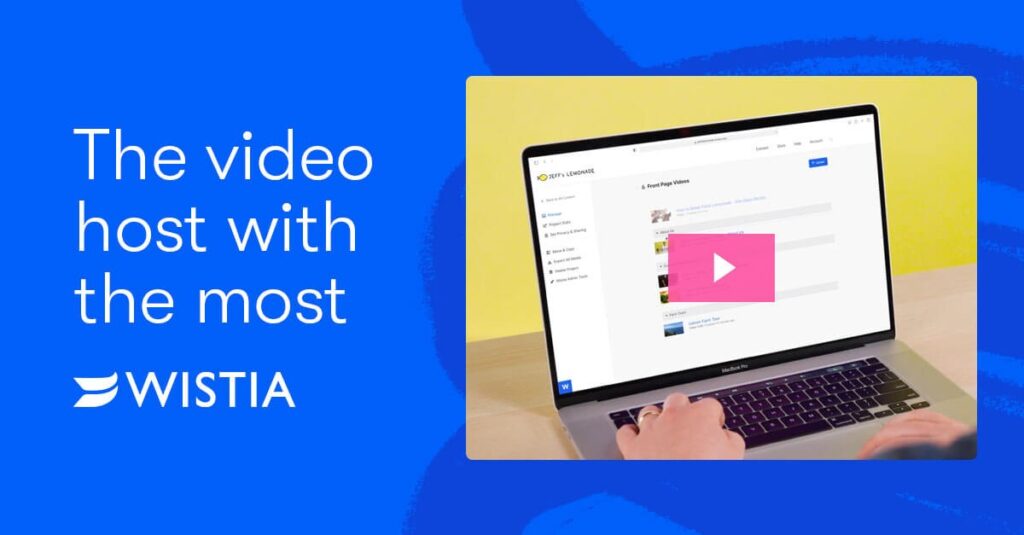 Founded in 2006, Wistia is a marketing software, video series, and educational content founded on the idea that anyone can use video to grow their business and brand.
It is solely intended to assist businesses that use video on their websites for marketing, support, and sales. Essentially, Wistia is best suited for "on-site" videos, whereas YouTube is a social video platform that necessitates a distinct strategy.
The average engagement for your video's playback indicates how much interested your viewers are in your content. Engagement is calculated by taking the total number of plays and multiplying it by the length of the media.
It enables you to personalize and share a series of video and audio episodes with a single embed code. A Channel tag will appear on your All Content page for any Channel in your Wistia account. You can also limit the view of your All Content page to only your Channels.
Most Valued Features 
Video hosting with no advertisements
Personalization of video players
Chapters in Video
Email collector on a turntable
Calls to action and video links
Video analytics at its best
A/B split testing
Reach and Retargeting help you grow your audience
Price – It has a free plan and the basic plan starts from $99/month. 
Who can use Wistia?
Wistia is reportedly used in the tech stacks of 48 companies, including Accenture, Mailchimp, and Livestorm. Wistia is the tool to use if you want to create an engaging video for your website.
14. VidIQ
Creating excellent YouTube content isn't enough to boost your views and subscribers. If you want your videos to rank well and be discovered or recommended to other viewers, you must find the best keywords for your YouTube descriptive content and include them in titles, descriptions, tags, and Playlists, as well as understand what your competitors are doing to win.
And VidIQ can help you do that. Its audit tool gives you a 360-degree view of what is working with your content and what isn't and what you need to do to get your Channel more viewers. It's one of the most effective video marketing tools on the market, providing every creator with the knowledge they need to grow and succeed on YouTube.
It provides a 'Compare Views' tool that allows you to track the velocity of ANY video on YouTube and then compare it to ANY video or ANY channel to get the most up-to-date real-time feedback on how your content is performing.
VidIQ enables you to discover what is REALLY trending and driving massive views. This Most Viewed tool provides amazing insights into the most popular themes on YouTube.
Its productivity tools make your existing YouTube channel efficient and easy to create content.
Most Valued Features 
Get Youtube Stats
Social Engagement
SEO Feedback
Video Optimization Checklist
Avoid Controversial Keywords
Channel Analytics
Video Tags
Channel Tags
Historical Tweets
Trending 
Price – Basic Plan is $7.5/month
Who can use VidIQ?
Content Creators
Marketers
Youtubers
15. SproutVideo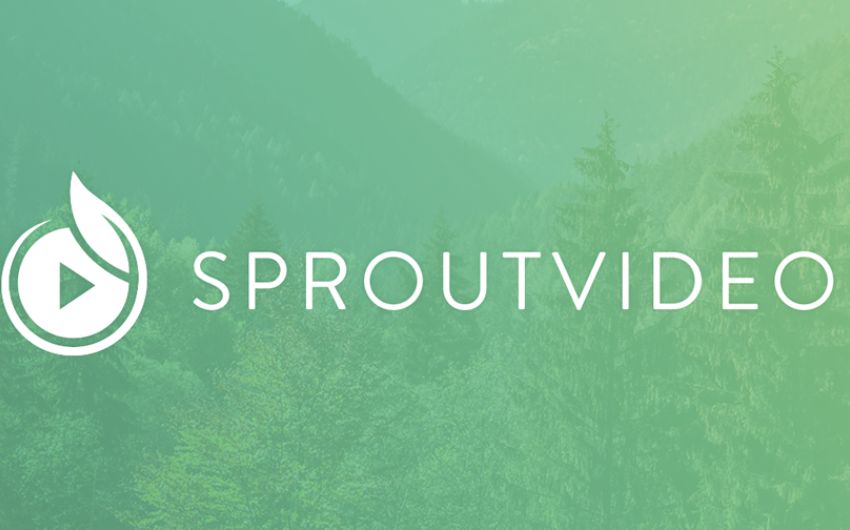 SproutVideo is a robust, user-friendly video-on-demand and live streams hosting platform for businesses.
They make it simple to publish, customize, and track your videos online by providing all of the necessary security, marketing, and analytical tools.
With our extensive security features, you can keep your videos safe and private.
Intuitive analytics tools for evaluating the performance of your videos.
Grow your YouTube views with our video marketing practices.
Talk to our marketing experts to unlock 10x growth

In just a few minutes, you can build a beautiful website around your video content.
Increase your search rankings by converting your videos into a lead generation tool.
On every modern device and browser, we support crisp HD playback up to 4K and 8K.
Change the behavior of the player, show or hide controls, autoplay, loop, and match your branding.
Calls-to-Action after the video has finished playing: engage your viewers after the video has finished playing.
Tracking video engagement allows you to see who is watching your videos.
Search engines can find your videos and direct visitors to your website.
Your videos are accessible from any location, and landing pages and video websites are responsive by default.
Most Valued Features 
Analytics & engagement data 
Email / live chat support
Login protection
Account audit log
Full video website
Advanced video site options
Signed embed codes
Exportable data 
Single sign-on
Ip address restriction
Price – It provides a free trial and the basic programs starts with $59/month.
Who can use SproutVideos?
Computer Software
Professional Training & Coaching
Entertainment
Health, Wellness and Fitness
Marketing and Advertising
16. Spotlightr

Spotlightr is a fully – featured video hosting solution that includes advanced analytics and a suite of video marketing tools to help you grow your video presence.
It was previously known as vooPlayer before being renamed Spotlightr. It is optimized for better and faster playback and is jam-packed with interactive features that maximize video marketing and education.
Most valued Features 
Brand Overlay
Bulk Uploading
Closed Captions
Content Library
Customizable Branding
Mobile Screen Support
Privacy Options
Reporting/Analytics
Search/Filter
Social Sharing
Video Looping
Video Streaming
Price – Pricing for Spotlightr begins at $29.00 per month. There is a free version available. Spotlightr provides a free trial period.
Who can use Spotlightr?
Small to medium-sized businesses in need of video hosting, fast streaming, a personalized video player, video security, and optional marketing features.
17. Dacast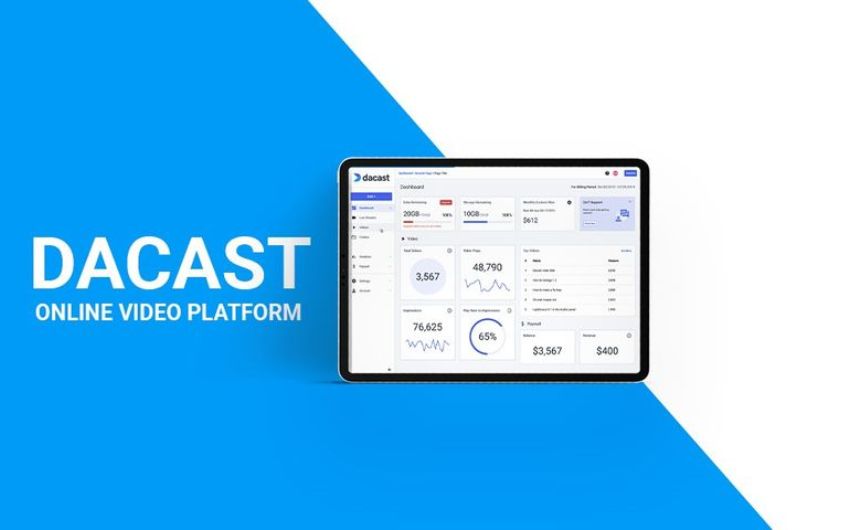 Dacast provides a fully integrated, self-service video platform for live and on-demand (VOD) streaming. With our simple full-service platform or our Broadcaster API, we've assisted over 300,000 organizations in streaming live video, lowering bandwidth costs, and improving broadcast quality. The Dacast OVP enables broadcasters to host video content and begin streaming in minutes. In addition, its white-label solution gives users control over their live streams and on-demand content.
Teams can use the platform to gain insights into audience engagement, top-performing content, analytics, sales growth, and position metrics. Administrators can use the video management solution to transcode, post, track, and share streaming live videos in the library, allowing viewers to watch them multiple times.
Most Valued Features
Access Controls/Permissions
Audience Analytics
Audience Engagement
Brand Overlay
Bulk Uploading
Closed Captions
Customizable Branding
Event Scheduling
Live Streaming Production
Mobile Screen Support
Multistreaming
Performance Monitoring
Privacy Options
Reporting/Analytics
Session Recording
Price – Basic Plan starts from $39/month
Who can use Dacast?
The Dacast platform is ideal for a wide range of activities and industries, including faith, sports, business, education, organizations, manufacturing, entertainment, media, govt, and more.
18.Kaltura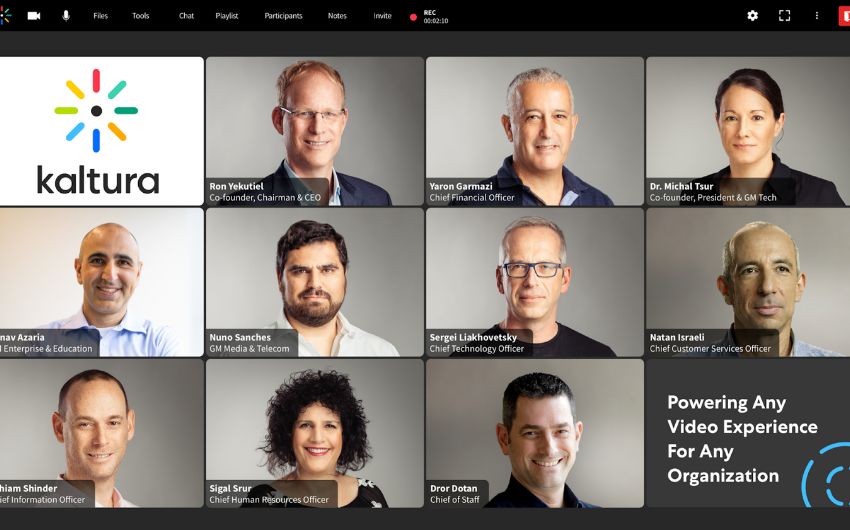 Kaltura provides an Open Source Online Video Platform that includes advanced video management, publishing, and monetization tools. You can broaden your reach and optimize your videos while streamlining your video operations. Businesses use Kaltura's video tools to improve knowledge sharing, training, collaboration, and more effective marketing.
It contributes to a better customer experience by providing engaging video tools for sales, marketing, and customer retention. They provide video SaaS solutions tailored to the media and telecommunications industries, as well as educational institutions. Furthermore, Kaltura offers its powerful and adaptable video platform as a service to developers, allowing them to create their own custom video products and workflows.
Most Valued Features 
Video Upload and Ingestion
Video Transcoding and Processing
Lecture Capture
Video Management Video Player
Video Editing Tools Webcasting
Video Monetization
Video Analytics
Live Streaming
Video Security
Price- Video Platform pricing starts at $19.00 
Who can use Kaltura?
Broadcast Media
Education 
Technology
Marketing
19. BombBomb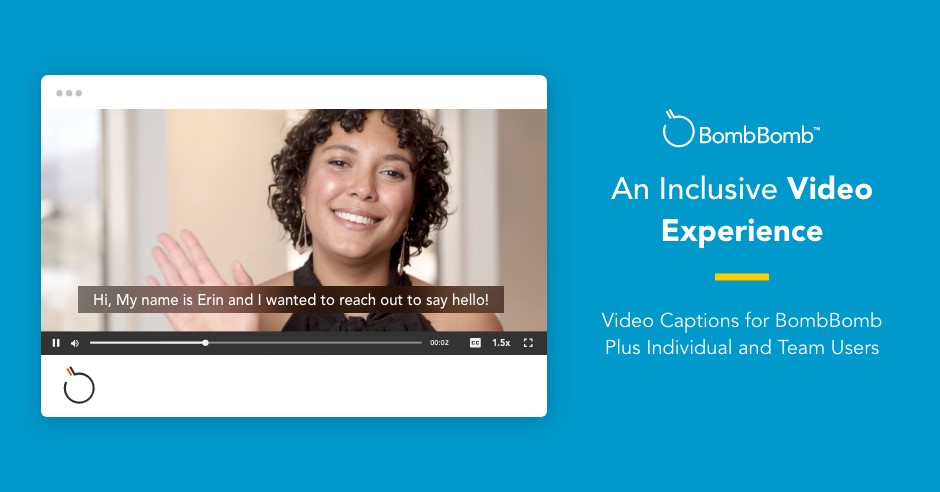 BombBomb is a video email and online marketing platform hosted in the cloud. It has functions such as social media sharing, video email, and video texting. It also supports tracking analytics and screen recording, allowing users to easily communicate with clients or prospects and gain insight into their responses. This application also serves as a full-fledged sales platform, providing users with tools like automation, lead capture forms, and bulk emails.
Utilizing SMS, email, and social media networks, sales teams can easily connect with clients and prospects, convert leads, and get referrals.
BombBomb is now available for both Android and iOS devices. It is simple to manage and track videos while on the go at any time. It also improves user productivity by allowing app integration with a variety of platforms such as Outlook, Salesforce, and others.
Most valued Features 
Activity/News Feed
Alerts/Notifications
Auto-Responders
Batch Communications
Brand Overlay
CAN SPAM Compliance
Campaign Management
Chat/Messaging
Communication Management
Contact Management
Content Library
Content Management
Customizable Branding
Customizable CTAs
Customizable Fields
Drip Campaigns
Dynamic Content
Email Campaign Management
Email Distribution
Event Triggered Actions
Feedback Management
File Sharing
Image Library
Landing Pages/Web Forms
Video Creation
Video Editing
Video Management
Video Streaming
Video Support
WYSIWYG Editor
Lead Capture
List Management
Media Library
Mobile Access
Mobile Optimized Emails
Mobile Screen Support
Multi-Channel Communication
Multi-Channel Distribution
Multimedia Support
Performance Management
Personalization
Prioritization
ROI Tracking
Rapid Creation
Real Time Notifications
Reporting/Analytics
Sales Onboarding & Training
Screen Recording
Screen Sharing
Social Sharing
Spam Blocker
Template Management
Templates
Third-Party Integrations
Price – Basic Price starts from $29/month 
Who can use BoomBoom?
Freelancers
Small businesses
Mid-size businesses
Large enterprises
20. Loom
Loom is a video messaging app that allows you to convey your message instantly shareable videos.
Loom allows you to record your camera, microphone, and desktop all at the same time. It's patent technology; your video is then instantly available for sharing.
Loom is compatible with Mac, Windows, Chromebooks, and iOS devices (iPad/iPhone).
Loom allows you to record audio and video from your camera and screen.
You can then save your video, embed it on your blog, or share it with a URL.
Most Valued Features
Access Controls/Permissions
Activity Dashboard
Activity Tracking
Activity/News Feed
Alerts/Notifications
Annotations
Audio Calls
Audio Capture
Brainstorming
Collaboration Tools
Commenting/Notes
Communication Management
Content Library
Content Management
Customizable Branding
Discussions / Forums
Engagement Tracking
File Sharing
File Transfer
Preview Functionality
Privacy Options
Real-Time EditingReal-Time Notifications
Real-Time Chat
Reporting & Statistics
Reporting/Analytics
RoScreen Capture
Screen Recording
Screen Sharing
Search/Filter
Single Sign-On
Social Sharing
Speech-to-Text Analysis
Third Party Integrationsle-Based Permissions
Video Call Recording
Video Capture
Video Creation
Video Editing
Video Management
Workflow Management
YouTube Uploading
Price– Basic plan starts from $8/month. 
Who can use Loom?
Freelancers
Small businesses
Mid size businesses
Large enterprises
21. Brightcove
Brightcove marketing suite is a video content management solution that uses a variety of tools to improve the engagement and conversion rates of your videos, as well as the ROI of your video campaigns. A video library, on-demand publishing, SEO-optimized video portals, live video streaming, social media sharing, lead capture analytics, and results tracking and reporting are all included in the solution.
Video Cloud, for video hosting and publishing, is one of the company's other products. This solution allows you to deliver engaging videos to any device and easily manage your online videos. Brightcove allows you to embed advertisements in your videos. You can insert per-user targeted pre-, mid-, and post-roll advertisements. 
Brightcove Gallery enables you to create video portals with built-in lead capture tools and analytics, SEO-optimized pages, and user-friendly layouts with social sharing. Choose from over 100-page templates that can be customized to fit your brand. In addition, it allows you to import videos and playlists directly from Brightcove Video Cloud.
Most valued Features 
Audience Engagement
Audio Capture
Brand Overlay
Closed Captions
Collaboration Tools
Customizable Branding
Engagement Tracking
Inside the Video Search
Lead Capture
Live Streaming Production
Media Library
Mobile Screen Support
Monitoring
Multi-Channel Distribution
Multistreaming
Performance Metrics
Performance Monitoring
Privacy Options
ROI Tracking
Rapid Creation
Real Time Analytics
Real Time Monitoring
Real-time Broadcasting
Reporting/Analytics
Search/Filter
Social Media StreamingSocial Sharing
Split / Merge
Split/Multi-Screen
Supports HD Resolution
Text Overlay
Video Editing
Video Looping
Video Monetization Tools
Video Streaming
Video Support
Price – N.A
Who can use Brightcove?
Small businesses
Midsize businesses
Large enterprises
22. WeVideo
WeVideo is a simple yet powerful, cloud-based interactive video creation platform. WeVideo has 30 million accounts and is the first choice of businesses, consumers, educators, and students, as well as the video backbone for many third-party media solutions. WeVideo is accessible from any computer or device, whether at school, home, work, or on the go. Users can easily capture, edit, view, and share videos, and their content is securely stored in the cloud.
Most Valued features
720p video resolution.
Motion titles.
Screencasting.
WeVideo JumpStart.
Cloud storage.
Music library.
Slow motion.
Voiceover.
Price – $4.99/month 
Who can use WeVideo?
WeVideo is an excellent choice for both experienced and inexperienced video editors because it is simple to use and produces professional-looking results for your business, brand, school, or personal use.
23. Awesome Screenshot
With over 2 million users, Awesome Screenshot is the most popular screen capture and screen recorder tool. The app is compatible with Chrome 36 and later. To annotate a picture, drag and drop it into the app. Annotate and edit 1. Draw rectangles, circles, arrows, lines, and text on it. 2. With unique shareable links, you can instantly share your videos and images.
The popup menu makes it simple to use screen recording and screen capture.
Want to share your screen for situations such as reporting technical issues, creating product demos, or creating how-to tutorials? Begin recording whenever it is required.
Most Valued Features 
Screen Capture
Video Capture
Image Editor
Scrolling Capture
Text Extraction
Screen Record
File Sharing
Platform Search
Price – The basic plan starts from $6/month
Who can use Awesome Screenshot?
Photography
Information Technology and Services
Restaurants
Marketing and Advertising
Financial Services
24. Dubb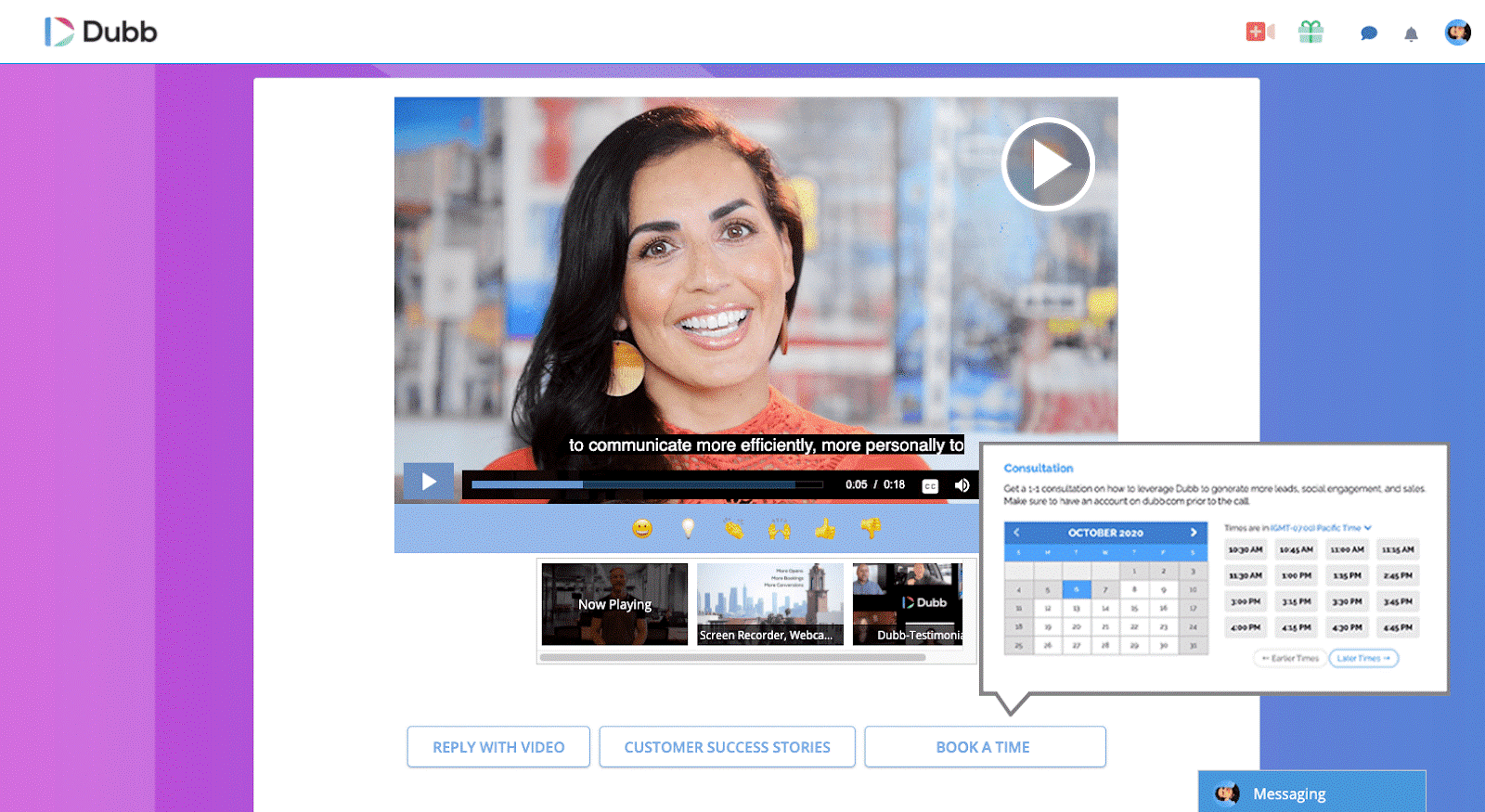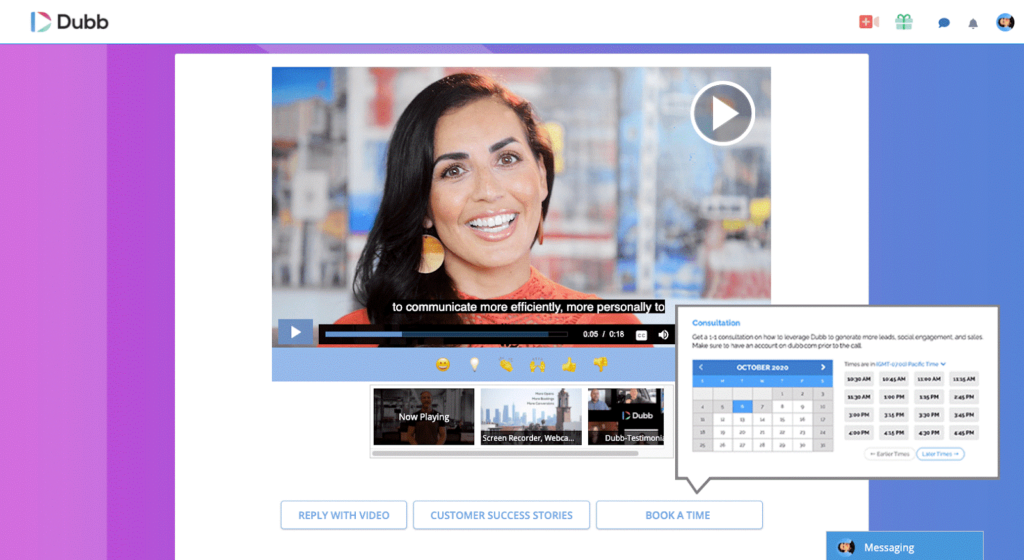 Dubb, founded in 2018, is a video communication platform that allows business users to send personalized, trackable videos.
The company was founded in Los Angeles by deep technologists with specialties in marketing automation, artificial intelligence, and machine learning. Dubb's platform includes a mobile app, an Outlook Add-In, a website, a Slack app, and a Chrome Extension.
The company was founded on the idea that everyone should be able to share intelligent, visually engaging content with others without the need for specialized tools or technical knowledge. The organization's goal is straightforward: to use video to change the way people communicate in business.
Most Valued Features 
Video player
Profile Channel
Video management
Distribution
Engagement tools
Analytics Integrations
Screen Recording
Video Upload
Unlimited Video Storage
Video Player Customization
Software Delivery
Mobile Application
Browser Extension
Analytics
Recipient Tracking
Campaign Performance Tracking
Price – Basic plan $40/month
Who can use Dubb?
Dubb is intended for sales teams across both small and large businesses. The program is designed for teams (enterprise or SMB), but it can also be used by solopreneurs
There is no denying that video has proven to be a consistent content piece that can bring scalability into the marketing mix. It is more popular compared to many other channels because it speaks directly to the consumer and most customers prefer buying from a person instead of an automated service.
Though video remains king, brands reap the rewards when they switch over to rely on videos for their content. The few simple changes their site needs can positively impact how their audience receives them. Customer conversion jumps as well as customer retention in spite of seasonal movements. In some cases, viewers may end up at the brand's own website instead of moving away because of the lower ad spend required for higher rate engagement on site.
Final Words
Video marketing practices have been turned into investment decisions for organizations. Video marketing and video content have advanced to the point that almost anyone with a smartphone can generate them. So, if you want to stand out from the throng in 2023, make video marketing a priority for your business.
Yes, creating content is a time-consuming process with hefty production costs. Nobody expects you to shoot and edit video in one sitting. Begin with the video editing and marketing software and watch the magic unfold.