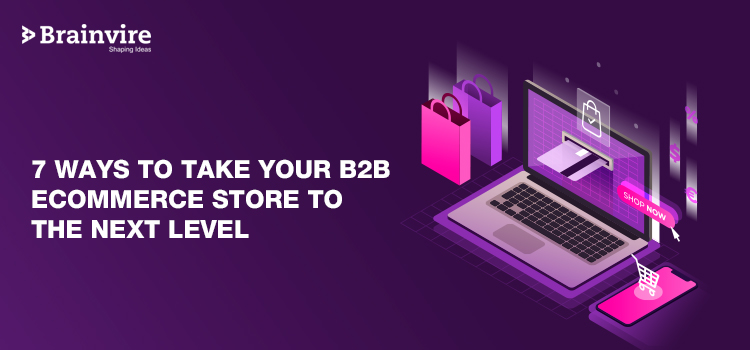 In today's extremely competitive and fast-paced market, most business-to-business customers have started approaching the online eCommerce stores.
With this becoming the norm, even though a B2B company is gaining exponential value through customer satisfaction, the consumers are waiting for stores to up its game and surpass their expectations!
Here, the term 'consumers' doesn't simply refer to B2B customers. B2B buyers are also considered as consumer buyers. Though the customer experience has been refined for B2B customers, there hasn't been any change in the buying journey of B2B buyers.
The business-to-business buyers have started expecting a business-to-customer-like experience when purchasing from the vendor.
Now, if you're a B2B eCommerce store then you must customize your eCommerce website to meet the demands of your B2B buyer. Failing to do this will only put a huge dent on your business.
Here is a stat showing the B2B customer engagement:
Source: AEC Business
With only 13% of B2B customers completely engaged with a business, it shows that the remaining 87% are keen on switching over following a poor customer experience.
To avoid the negative side of the equation and retain more customers, you need to optimize and streamline the buying experience.
[Also Read: The Ultimate Clash of eCommerce Giants: WooCommerce vs Magento vs Shopify]
But how can you help your B2B eCommerce store to bring out its 'A' game?
In this article, we will share the top 7 strategies that will not only help you come out all guns blazing but also take your website up a notch!
Here is a list of what we'll cover:
Establish An Organic And Paid Media Tactic
Map Out An Omnichannel Commerce Strategy
Mobile-Optimize Your eCommerce Website
Add A Chatbot Feature
Create A Personalized Customer Experience
Come Up With An Excellent SEO Tactic
Make Content Marketing A Part Of Your Campaign
Without further ado, let's get started!
Strategy #1 – Establish An Organic And Paid Media Tactic
Have you created an incredible website with the best customer experience and are assuming that consumers will start to show up?
Well, to tell you the truth – this is not how things work in the digital realm. You have to actively lookout for people and ways to urge them to visit the website.
The best way to do that is by establishing an organic and paid media tactic even before you create your eCommerce website from a leading eCommerce website development company.
Source: Legalmorning
As a business, you have to be prepared and keen on spending both your resources and money to entice the customers towards your eCommerce site. You can use various media channels like email marketing, social media, search marketing, and display advertising for it.
Want to convert your idea into a successful app or website? Schedule your free call with our expert now.
Strategy #2 – Map Out An Omnichannel Commerce Strategy
A customer can purchase whenever and from wherever they wish to; through any device or any specific channel.
This is why it is best to have an omnichannel commerce tactic in place. With this strategy, you can easily offer the customers smoother navigation throughout the buying and checkout process.
An omnichannel commerce strategy will also help you grab the attention of tech-savvy consumers who are on a lookout for different delivery options.
Your customers would probably start looking for products on their smartphones but end up making a purchase through their laptops. In other words, your omnichannel strategy will offer them the liberty and stability to complete their buying process from any of your touchpoints.
The omnichannel approach, furthermore, lets you collect data from the customers and gives you a complete understanding of their buying behavior.
With this data at your disposal, you can create a stronger customer experience tactic. You can also recognize and use the available opportunities to customize the customer experience.
Strategy #3 – Mobile-Optimize Your eCommerce Website
As per research conducted in 2019, the average adults spend around two hours and fifty-five minutes on their mobile device – a 9-minute rise as compared to the 2018 research.
With such an increase in time spent on surfing the internet via smartphone, you have to offer a mobile platform with seamless navigation.
Here's a stat showing the time spent by US adults on their smartphone:
Based on another research, it has been revealed that around 57% of smartphone users avoid recommending a company with a poor mobile interface. And while 40% of users have switched over to a competitor, 23% of them cursed their device when it took too long for a site to open.
Here's a stat for the same:
Source: Fluent(Cambridge)
Due to this, your website must have all the required information that the customer is likely to search for. But also ensure the same is being translated across all platforms.
If the same experience isn't being shared on all the devices, it's highly likely for your customers to head towards your competitors.
Mobile-optimize your website with relevant information to make it user-friendly. Also, add an impeccable chatbot or mobile payment feature to it.
Strategy #4 – Add A Chatbot Feature
A customer is likely to switch to your competitor if they're unable to find relevant information on the site or come across issues while making a payment.
A chatbot feature on your eCommerce website can work wonders for your business. It can cross-promote or upsell all the products and services offered by you. But more importantly, it can answer the customers' concerns and product-related queries 24×7.
Source: Tidio
And as per various studies, with an excellent chatbot feature, you can reduce up to 50% of cart abandonment while increasing the customer retention numbers. There many ready-to-use chatbots are available in the WordPress services to integrate with your website.
Strategy #5 – Create A Personalized Customer Experience
It is imperative for you to create a personalized selling and buying experience. This is not just for the B2C customers, but for the entire B2B eCommerce buyers community.
If you want to stay ahead of the curve while being relevant to the industry, you must provide your customers with a customized online experience – similar to the one that's offered offline.
A stat on how customer experience plays a huge role:
When it comes to personalized customer experience, it should include everything from a bespoke consumer dashboard to specific product discounts.
This is because an exceptionally personalized website will make your customers feel that they're still human and not some online transaction.
Strategy #6 – Come Up With An Excellent SEO Tactic
Having an SEO strategy in place is extremely important for every eCommerce business, regardless of the industry you're a part of.
The majority of customers use non-brand words rather than the branded ones when looking for a product. So if you fail to execute a perfect SEO tactic, your business might not show up in the SERP. This could lead to you losing your potential customers.
[Also Read: The Ultimate Clash of eCommerce Giants: WooCommerce vs Magento vs Shopify]
Around 50% of searchers visit a specific website when it appears several times in the results. You have to optimize your content and website with a smart SEO tactic.
Due to this, you can move your ranking up the search engine ladder and make it visible to more number of customers.
Strategy #7 – Make Content Marketing A Part Of Your Campaign
When combined with your website's SEO strategy, content marketing can help you reinforce the bond with your customers.
As per studies, nearly 89% of eCommerce websites make content marketing a part of their campaign. Out of this 89%, an estimated 53% have experienced moderate success, 19% have been successful and only 3% have enjoyed a higher success rate.
If you want to join the club, consistently keep adding dynamic content to your website.
This will differentiate your business from the competitors and help you position your company at the top. With this type of interaction, you can also entice customers to visit your site and develop a bond with them.
Conclusion
Revamp your existing eCommerce website to meet or surpass your customer's needs is more than upgrading it.
Your customers are on the lookout for alternative options to purchase your products (meaning a manifold of buying mediums), answers to their product-related queries, and tailor-made customer experience. But more importantly, they're searching for a firm that can assist them in taking their business to the next level.
When executed properly, all these strategies will help you enhance the website and meet the expectations of your customers.
If you're still facing issues with your website or looking for a digital enabler, get in touch with us today!