The eCommerce world has become more fierce than ever! Retailers face fierce competition to attract and retain customers in the current scenario. Every eCommerce owner tends to do something unique to ensure their brand stands out. 
To stay ahead of the competition, retailers always search for a flexible, scalable, and robust eCommerce platform. Business owners are striving to develop a platform with the features and security needed to ensure a smooth shopping experience for their customers.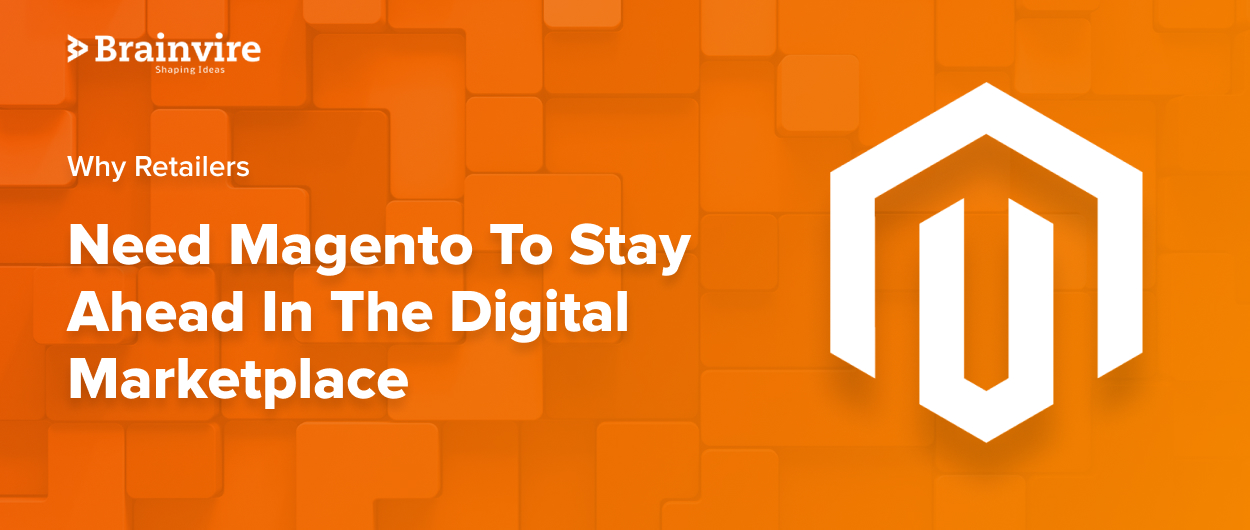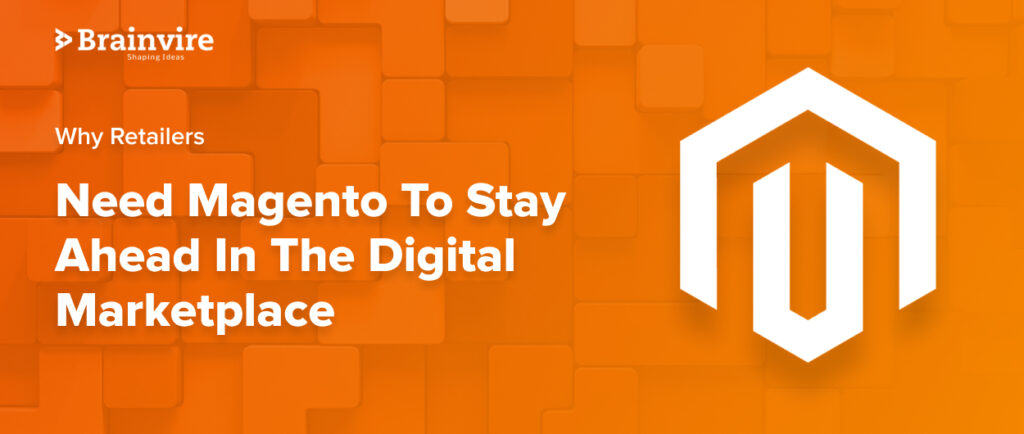 Interestingly, this is where Magento enters as one of the premier platforms for everything eCommerce. Owners are rushing towards Magento eCommerce development as the platform has established itself as one of the most popular options. 
This article explores the different aspects of Magento as a potent eCommerce platform. Why retailers need the platform to stay competitive in the digital marketplace, as well as explore Magento's security features.
Magento Features For Retailers
Online stores always look for ways to serve customers better and increase their revenue. This is where Magento comes into play, offering a range of features tailored specifically for retailers. 
Here we will explore the top Magento features for retailers, comparing them with other e-commerce platforms.
Customizable Storefront Design: 

Magento's adaptable storefront design is one of the main features that sets it apart from competing e-commerce platforms. The platform offers various configuration settings, letting stores deliver a one-of-a-kind shopper experience. 
Magento offers a wide range of themes, templates, widgets, and extensions to help merchants create a web storefront tailored to their specific brand identity and business requirements.
Thanks to the platform's adaptable storefront design, online stores can win customer loyalty and increase sales with Magento's help.
Mobile Responsiveness For Seamless Shopping Experiences: 
Today's consumers expect a consistent shopping experience regardless of the device they use, especially given the prevalence of mobile devices. 

With Magento's responsive layout, your store's front end will look great on any device, from desktop computers to mobile phones and tablets. The ability to adapt to mobile devices not only improves the shopping experience for customers but also allows stores to attract more shoppers.
It has the best mobile responsiveness of any e-commerce platform. This is due to the platform's mobile-first design and the platform's support for various features that make shopping and payments easier on a mobile device. With Magento, businesses can provide a streamlined purchasing experience, increasing satisfaction and revenue.
Robust Product Catalog Management:

Effective product catalog management is essential to any online store's smooth operation. Magento's powerful tools for managing product catalogs make it simple for stores to arrange their inventory in a way that attracts and converts as many shoppers as possible. 
Magento offers a variety of features for managing a store's product catalog, including configurable products, custom attributes, and product bundles. Moreover, thanks to its flexible product catalog management features, merchants can easily cater to their specific demographic's tastes. 
Magento's product catalog management tools give retailers the freedom and control to create a compelling shopping experience, whether displaying products in a specific order or recommending products based on previous purchases.
Efficient Order And Inventory Management: 

Magento's effective order and stock management is another critical feature differentiating it from competing eCommerce platforms. With Magento, merchants can centrally manage orders from all their available sales channels, speeding up processing and minimizing human error.
Additionally, Magento's inventory management features make it simple for merchants to monitor stock levels and maintain adequate supplies of hot items. The risk of overselling or running out of stock is mitigated via the platform's real-time inventory updates and automatic stock notifications.
Multiple Payment And Shipping Options:

Stores that care about customers' shopping experiences should provide several shipping and payment methods. Popular payment gateways like PayPal, Stripe, and Authorize.net, as well as integrated shipping solutions like USPS, FedEx, and UPS, are just some of the payment and shipping options available in Magento.
The platform's flexible checkout lets stores cater to shoppers' preferences regarding payment and shipping methods, improving the overall shopping experience and decreasing abandoned cart rates. With Magento, stores can provide customers with flexible shipping and payment methods, easing the buying process and boosting the possibility of repeat purchases.
Analytics And Reporting For Data-Driven Decision-Making: 

Magento optimization is essential for retailers who want to stay ahead of the competition. By using Magento's robust reporting and analytics tools, merchants can track store performance, identify trends, and make informed decisions that will help them improve their online businesses.
It provides retailers with a plethora of data that can be used for optimization and growth, including sales reports, customer behavior analysis, and website traffic statistics. Magento has better reporting and analytics tools than any other eCommerce platform. 
The platform makes it simple for retailers to monitor their store's performance and make data-driven decisions by providing various in-built reports and integrations with popular analytics tools like Google Analytics and Adobe Analytics.
Benefits Of Magento For Retailers
If you're in search of an eCommerce platform, consider Magento. It is highly favored by merchants due to its comprehensive set of tools for building and managing online stores. It has become well-liked because of its scalability, adaptability, security, user-friendliness, and robust community backing. 
Scalability For Business Growth:

Magento's scalability is one of the platform's most appealing features for merchants. There won't be any slowdowns or glitches due to increased traffic or sales volume for a company's online store. Magento's ability to process thousands of products and orders makes it an excellent choice for businesses of all sizes.
Magento performance optimization simplifies the process of managing product catalogs, tracking inventory levels, and fulfilling orders in real time for stores. Customer management tools like wish lists, loyalty programs, and targeted promotions are also available on the platform. 
With these additions, stores can provide customers with a more streamlined and tailored shopping experience, increasing the likelihood that customers will shop there again.
Moreover, Magento facilitates seamless integration with various third-party applications and services, such as payment processors, shipping companies, and marketing automation programs. This integration can help retailers save time and money by facilitating greater efficiency.
Flexibility For Customizations & Extensions: 
The Magento platform's adaptability is a major perk for business owners. The platform's flexible design lets companies make online stores that are unique and perfect for their business. 
Several pre-made themes and templates are available to merchants, and the Magento platform also includes tools for creating one's own. Furthermore, Magento offers a substantial collection of add-ons and modules, empowering merchants to enhance the functionality of their web stores. These add-ons enable features like advanced search, social media integration, and curated product suggestions, among others.
By leveraging Magento's comprehensive application programming interface (API) and development tools, merchants have the ability to craft custom extensions tailored.
In addition, Magento's adaptable design facilitates the incorporation of new features as a store's needs change. This allows companies to remain on the platform even if they initially launch a basic online store and later discover the need for more advanced features and capabilities.
Security For Protection Against Cyber Threats:

Retailers in the modern digital age place a premium on cyber security. Magento is a safe platform that provides numerous safeguards to protect online shops from hackers. The platform is built with safety in mind and uses the most up-to-date security protocols.
Two-factor authentication, CAPTCHA, and encryption are just some of the built-in security features in Magento. Firewalls, malware scanners, and intrusion detection systems are just a few examples of third-party security tools and services available to retailers who want to beef up the security of their online stores.
Magento also provides frequent security updates and patches to fix bugs and protect against potential dangers. Having confidence that their online shop is safe from the latest cyber threats can help retailers win the trust and loyalty of their clientele.
User-Friendly Interface For Easy Management: 
The intuitive design of Magento is also a big plus for shopping centers. The platform is made to be user-friendly and straightforward, even for those with little computer experience. This saves money and time by eliminating stores needing to employ a specialized technical team or outsource their website management.
The platform's drag-and-drop interface allows for effortless modification of the online shop's look and feel, eliminating the requirement for coding. In addition, the platform facilitates the administration of products, orders, customers, and discounts via a unified interface.
 Magento has a mobile-friendly layout so that store owners can handle business from their phones or tablets. Those in the retail industry who are frequently on the move or must run their business from a location other than their office will find this function invaluable.
In addition, Magento's intuitive interface facilitates simple metrics collection and analysis for online shops. The platform's built-in analytics and reporting tools can aid merchants in monitoring trends, keeping tabs on sales, and fine-tuning their web store for maximum efficiency.
Community Support And Resources For Continuous Improvement: 

Numerous Magento programmers, designers, and end-users regularly collaborate to disseminate and discuss useful information and techniques. Online stores can greatly benefit from the support of this community, as it provides them with access to a wealth of knowledge and expertise that can be leveraged to enhance their current offerings.
Retailers can network with other users and experts in the Magento community through various channels, such as online forums, user groups, and blogs. In addition, Magento provides in-depth documentation and guides to assist merchants in getting up and running on the platform.
Additionally, the community provides a wide array of extensions, plugins, and themes that can be utilized to enhance the usability and visual appeal of an online store's presence.The tools and features available to retailers through these sources are continually evolving and improving.
Case Studies Of Successful Retailers On The Magento Platform
Many successful online stores credit Magento for their meteoric rise to prominence. Here are a few case studies of successful retailers who have achieved their goals on the Magento platform.
Examples of retailers who have seen significant business growth with Magento:
Rebecca Minkoff: Rebecca Minkoff is a high-end clothing line that has flourished since migrating to the Magento e-commerce platform. The Magento-powered online store for this brand has been instrumental in the company's rapid expansion. Online sales now account for more than 40% of total revenue.
Magento's individualized suggestions for purchases have been integral to Rebecca Minkoff's success. The platform learns from customer actions and preferences to make specific recommendations for each shopper, boosting the chances of a successful sale.
Rebecca Minkoff has also adopted a mobile-first strategy, which has expanded the brand's reach and enhanced the shopping experience for mobile users. Magento's mobile-responsive design has facilitated sales by allowing customers to browse and purchase from their mobile devices.
Kurt Geiger: The British footwear and accessories company Kurt Geiger has expanded dramatically since migrating to the Magento platform. Online sales for the brand have increased by 30% thanks to the accessibility of its Magento-powered online store, with mobile sales accounting for more than 50% of all online sales.
Kurt Geiger credits Magento's powerful search functionality as a significant factor in the company's rapid expansion. The platform's use of cutting-edge algorithms and machine learning means that shoppers receive search results that are specifically relevant to them, increasing the likelihood of a purchase being made.
Kurt Geiger has also implemented a comprehensive loyalty program, contributing to increased repeat purchases and customer retention rates. 
The Magento-based loyalty program has successfully cultivated brand advocates because it rewards customers for repeat purchases and active brand engagement with special discounts and other perks.
Specific features and strategies implemented by these retailers: 
Personalized product recommendations: Successful online stores widely use the Magento platform because of its personalized product recommendations. The platform can provide customized product suggestions for each shopper by analyzing their past actions and preferences.
This function is invaluable for stores with a wide variety of products, as it streamlines the process by which customers locate the items that best meet their needs. Customers are more likely to purchase if it relates to their interests and preferences, so personalized product recommendations can help boost conversion rates.
Several extensions and plugins in the Magento Marketplace can help merchants add personalized product recommendations to the Magento platform. These programs utilize complex algorithms and machine learning to examine user actions and preferences and make specific suggestions.
Mobile-first strategy: Many successful merchants' expansion onto the Magento platform can be attributed, in part, to the platform's emphasis on a mobile-first strategy. Stores need a mobile-responsive design that makes shopping from smartphones and tablets easy and intuitive because more and more customers are doing so.
The Magento platform provides retailers with several tools and features that can be used to implement a mobile-first strategy. For instance, Magento offers a mobile-responsive layout that modifies itself based on the customer's device type and screen size.
Advanced search capabilities: One more important feature of the Magento platform that can help retailers boost the customer experience and expand their business is its advanced search capabilities. Magento's use of complex algorithms and machine learning allows it to generate search results that are highly relevant to each shopper.
This is an excellent tool for online stores with a wide variety of products, as it allows customers to quickly and easily narrow down their search results. Customers are more likely to purchase if they can find the products they are looking for quickly and easily, so advanced search capabilities can help increase the likelihood of conversion.
Loyalty programs: Magento makes setting up a loyalty program simple and begins immediately by encouraging repeat purchases and customer loyalty. Retailers can create a dedicated customer base that is more likely to return to the store in the future by providing rewards and incentives for making purchases and interacting with the brand.
The Magento Marketplace offers many loyalty extensions and plugins, simplifying the process of setting up a loyalty program on the Magento platform. Merchants can create customized programs that reward customers for shopping, referring others, and engaging with the company.
Choosing Magento For Your Retail Business
Any modern retail enterprise that needs to pick the right eCommerce platform will struggle to compete. There is a dizzying array of eCommerce solutions out there, and it can take time to narrow down your options. To the one that will help your business succeed.
However, due to its scalability, adaptability, security, and user-friendly interface, Magento has emerged as a leading retail e-commerce platform.
If you're considering Magento for your retail business, here are some important factors to consider:
Evaluating Business Needs And Goals:

You should take stock of your company's requirements and objectives before settling on an e-commerce platform. Think about the scope of your company, the intricacy of your product catalog. The extent to which you need the platform to be tailored to your specific needs. And the resources you have at your disposal.
Magento's high customization and flexibility make it an excellent choice. For businesses of all sizes, especially those with extensive product catalogs. It's a good fit for enterprises planning rapid expansion, as it scales well to meet future demand.
Identifying Challenges And Pain Points In Current eCommerce Solutions: 
Find the problems and frustrations you're experiencing as you use an online storefront. Consider switching platforms if you need help with page load times, catalog management, or lack of flexibility and customization.
Magento is designed to alleviate many problems by providing quick page loads, an intuitive interface for managing products and content, and extensive customization and flexibility.
Comparing Magento With Other eCommerce Platforms: 

Key features like scalability, customization options, security, and user-friendliness should be compared when assessing e-commerce platforms.
Magento's scalability, adaptability, and personalization options are superior to those of competing e-commerce platforms like Shopify, WooCommerce, and BigCommerce. Its other notable qualities include top-notch security and an intuitive interface for managing both products and content.
Finding A Reliable Magento Developer Or Agency: 
Finding a trustworthy Magento developer or agency is critical to the success of your e-commerce platform, as the implementation of Magento for your retail business requires technical expertise.
When making your choice, look for a developer or agency with proven experience in Magento development and a history of delivering successful projects for other retail businesses. They should also provide ongoing support and maintenance services to keep your e-commerce platform running smoothly and safely.
To Sum Up
To succeed in today's competitive digital market, businesses must provide customers with a superior online shopping experience. Magento's versatility and robust features make it ideal for merchants seeking to create an efficient and user-friendly online store.
Merchants can boost efficiency, expand customer base, and reach shoppers across channels with Magento as their e-commerce platform. By adopting Magento's features, retailers can gain an edge in the dynamic e-commerce landscape.
FAQs
What Is Magento, And Why Do Retailers Need It?
The Magento platform allows merchants to create and manage their online shops easily. Magento is essential for online stores because it has powerful tools for handling stock, orders, and customer service.
What Are Some Of The Benefits Of Using Magento For E-Commerce?
Magento's e-commerce advantages include its adaptability to brand identity, pricing rules, third-party integrations, currency support, and language support.
How Does Magento Help Retailers Improve Their Customer Experience?
Magento provides retailers with features like personalized recommendations, advanced search tools, customer segmentation, and mobile-friendly layouts to improve their shopping experiences.
Can Magento Be Customized To Meet The Unique Needs Of Different Retailers?
Depending on the store's needs, Magento can be modified. It's highly modifiable, with support for user-created modules, extensions, and skins, among other things
What Are Some Examples Of Retailers Successfully Using Magento To Stay Ahead In The Digital Marketplace?
Brands like Coca-Cola, Nike, and Samsung are just some retailers who have used Magento to stay competitive in online retail.