The $5.2 trillion eCommerce market has altered the retail industry, providing consumers with flexibility in shopping. E-commerce development is not without its challenges, and customers can experience pain points such as website usability issues, problems with delivery, and issues with product quality. Addressing these challenges is crucial for enhancing customer satisfaction and driving sales.
Pain Points Of eCommerce Customers can have a negative impact on operations. Website glitches and checkout complications can result in lost sales and dissatisfied customers. Addressing these challenges through effective ecommerce development is crucial to prevent abandoned carts and enhance customer experience.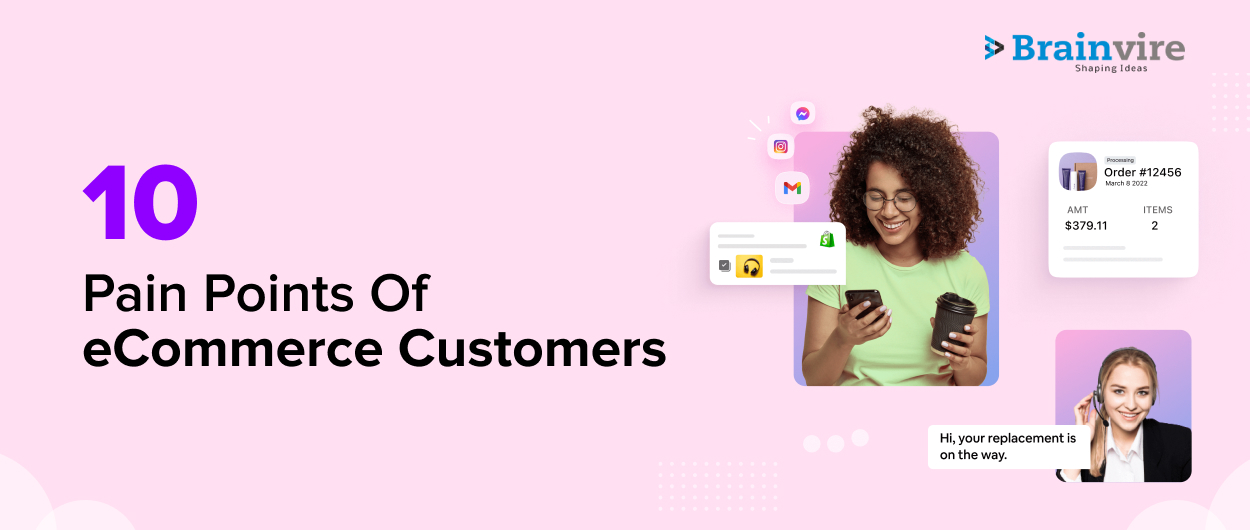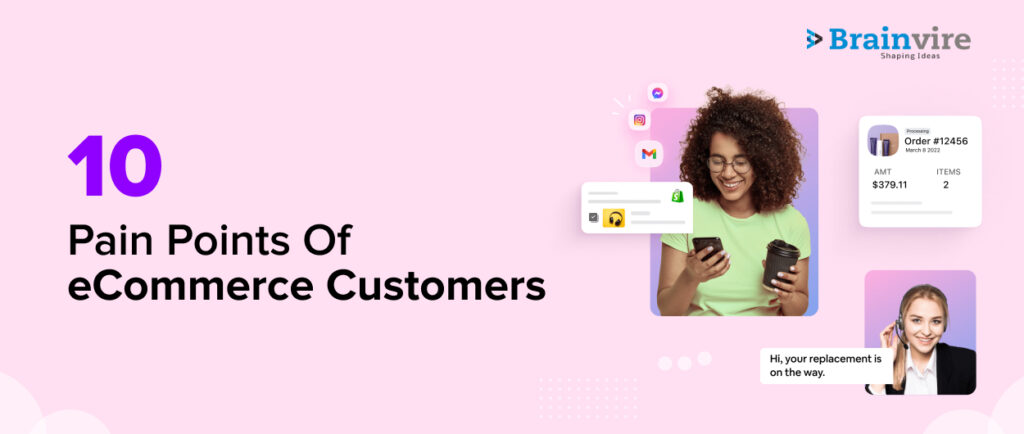 In this blog, we have a look at the top contributing factors that add obstacles to your sale. Therefore, let's continue reading as we explore the ten most common eCommerce website issues and alleviate those customer pain points in the following sections.
Pain Points Of eCommerce Customers & Their Solutions
1) Slow Loading Speed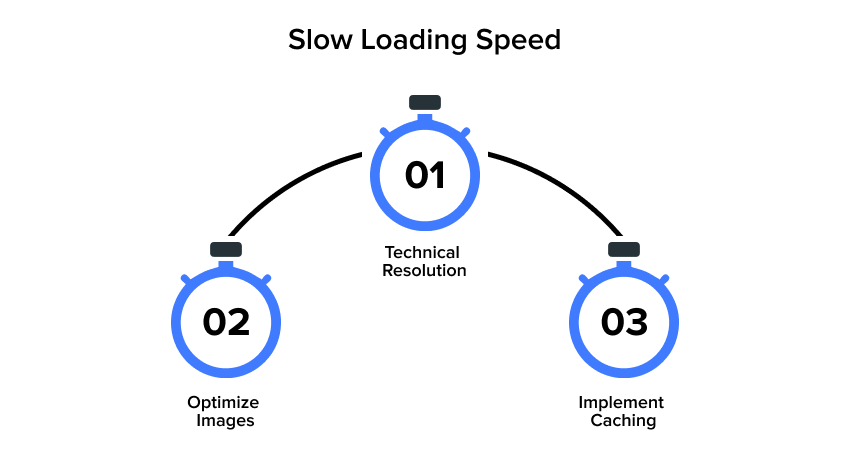 Slow loading can be one of the most common eCommerce website problems that customers face while shopping online. Research suggest that customers are more likely to click away from a website if it takes over 2 seconds to load. As a result, revenues may drop, and visitors may leave for a competitor's site that loads more quickly.
Fortunately, there are a variety of options available for owners to enhance their website speed and reduce consumer frustration. In the following section, we've listed some tips and tricks to enhance the speed of your eCommerce store. 
Technical Resolution To The Problem
Use A Content Delivery Network (CDN)
A CDN or Content Delivery Network is a system of interconnected servers that serves and stores data from a central place. A website can send its data to users from a server that is physically located closer to them by using a content delivery network (CDN). This way, your ecommerce store takes reduced loading time and has a better appeal to your customers. 

Optimize Images For Faster Loading
Pictures are typically the most resource-intensive parts of a website and can drastically increase load times if they aren't optimized for speed. However, Image optimization, including compression and resizing, can decrease file size without diminishing image quality, reducing load times.
Implement Caching
Cache is one of the most effective measures to improve load time. Having cache on your website can help reduce the time taken by browser to load a specific page. Also, As the user's device already has the content downloaded, loading the page on subsequent visits will be much quicker.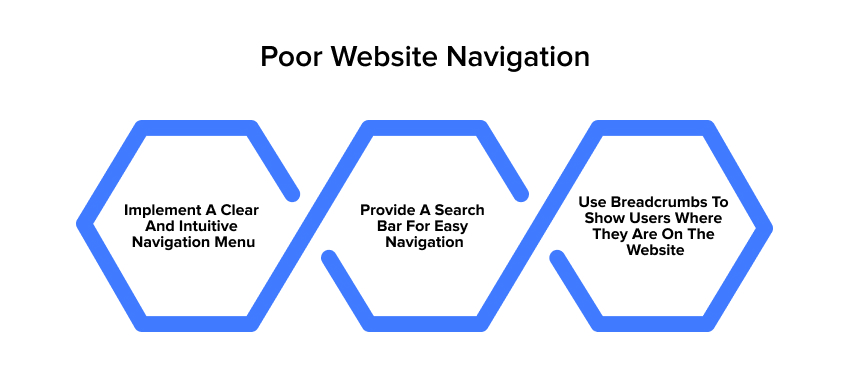 The ease of using a website is crucial for any online store. No customers likes to visit to a store that is a maze to operate. Customers tend to abandon their shopping carts if they are unable to find their desired products in a given time. 
eCommerce entrepreneurs can avoid this by making their site's navigation simple, straightforward, and easy to understand. Besides, today we have numerous ways to address this issue and make websites easier to navigate. In the following section, we've discussed some effective methods to tackle a poor website navigation. 
Technical Resolution To The Problem
The best way to assist clients in discovering what they need is to implement a navigation menu that is both easy to use and intuitive. The website's navigation menu should be easily accessible, with labels that briefly and accurately convey the pages' contents. As a bonus, the menu's structure should make sense, with items clustered together.
This feature is useful for customers who have a specific query but cannot locate it using the site's menu structure. Placing the search box prominently on the website can help customers easily find what they're looking for.
Use Breadcrumbs To Show Users Where They Are On The Website 
Breadcrumbs (No, not the ones in your kitchen!) are a great way to let visitors know exactly where they are and how they got there on your website. Also, these navigational element are of great help to new users on your website. Their primary role is to reveal the path to different pages and elements. .
3) Lack Of Product Information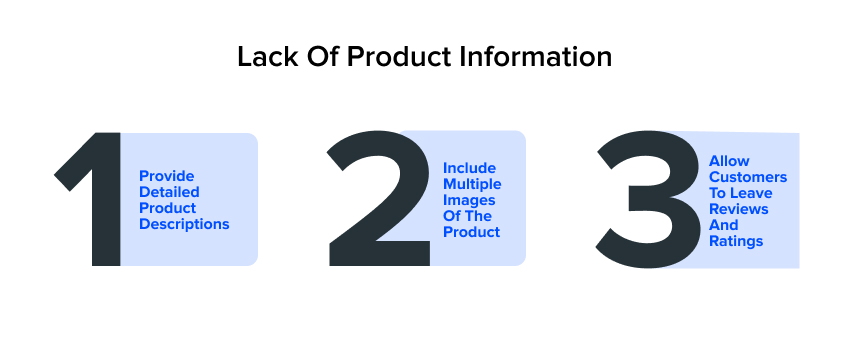 The absence of product details is a major source of frustration for online shoppers. To make educated purchases, customers require complete and accurate product descriptions. Customers' hesitance to buy from an online store because of a lack of this data could be disastrous for those companies. 
Several technological options exist to assist eCommerce organizations in delivering the product details their clients require. Likewise continue reading as we check out some tips to add an edge to your product information. 
Technical Resolution To The Problem
Provide Detailed Product Descriptions 
Provide specifics on the product's features, benefits, and technical specifications so that customers may make an informed purchase decision. Moreover, the product's size, materials, and maintenance recommendations should all be included in an easily readable description.
Include Multiple Images Of The Product
The product's appearance and features can be better understood by customers if many photos are shown. The images you use to market your product must be of the highest quality and showcase it in various settings. Images of the product in action or close-up can also be included.

Allow Customers To Leave Reviews And Ratings 
Consumer feedback on the quality and performance of a product can be gleaned via ratings and reviews if you allow it. It can benefit both the customer's ability to make an educated purchasing decision and the eCommerce company's ability to refine its offerings in response to consumer feedback.
4) Difficulty Finding Products
Customers who shop online often encounter issues while trying to track certain items. Customers are more likely to give up and go elsewhere if they have to dig around for the information they need. This can result in dissatisfied customers and a drop in sales.
Fortunately, eCommerce businesses may take advantage of various technological options to streamline the search process for their clients. Here are some unique factors that could help you remodel your search efforts in finding different products. 
Technical Resolution To The Problem
Implement A Search Function
Including a search bar can greatly assist clients in locating the goods they are looking for. The search bar, which should be prominently displayed, must enable customers to easily locate products on the site.
Use Filters To Narrow Down Search Results
Filters are an effective tool to refine search results. Once you integrate the filter option on your page, you provide your customers with the facility to refine their search results and locate products precisely. Having filters on your website gives it a product-specific approach to your clients. 
Use Categories And Subcategories For Easy Browsing 
Make it simple for customers to browse your products by using categories and subcategories. Dedicated categories on your website should accurately reflect the products available. Businesses can further subdivide products into groups based on characteristics such as size, color, and material.
5) Payment Issues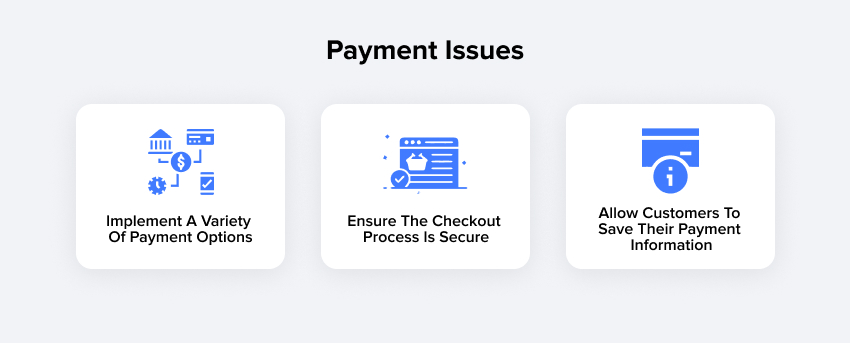 Customer's inability to resolve payment concerns is a major source of frustration when shopping online. The payment gateway may be having technical difficulties, or the customer may be worried about their personal and financial data being compromised. Customers' frustration and subsequent cart abandonment over payment troubles are major sources of lost revenue for online stores.
Although, Many technological solutions exist today that online retailers can use to safeguard their customers' financial information and streamline the purchasing process. In the following section, we've listed some unique approaches to streamline the payment issues:
Technical Resolution To The Problem
Implement A Variety Of Payment Options
Employ several various payment methods: Consumers have varying tastes when it comes to making purchases, so it's crucial to provide them with several alternative possibilities. 
Payment methods can range from cash to e-wallets like PayPal, Apple Pay, and Google Wallet. Online retailers may ease customer frustration and improve conversion rates by accepting various payment methods.
Ensure The Checkout Process Is Secure
Customers are concerned about their personal and financial information being compromised if it is not protected. Online retailers can alleviate these worries by instituting a fool proof checkout system. SSL certificates, two-factor authentication, and PCI DSS compliance may all be part of this process.
Allow Customers To Save Their Payment Information 
Without a doubt, make it possible for clients to save their payment details for future purchases to reduce the possibility of payment difficulties.
Ecommerce enterprises can safely and securely replace sensitive payment data with a unique identifier by using a tokenization method. By storing customers' payment information for future use, businesses can ease consumers' minds and reduce the likelihood of payment troubles.
6) Shipping Problems
Furthermore, having shipping issues can be very frustrating for online shoppers. Negative customer experiences, lost sales, and poor reviews can result from delivery issues, including delays, miscommunication, or hidden fees. 
Consequently, it is imperative for eCommerce companies to prioritize shipping, ensuring customers have a hassle-free and transparent shipping experience. However, if your business is encountering shipping issues, there's no need to worry. Thanks to the development of eCommerce, today we have many technological solutions that online retailers can use to minimize delivery problems and improve their customers' shopping experiences. 
Technical Resolution To The Problem
Provide Clear Shipping Information 
Clear and transparent shipping information is crucial to having a good client experience, so make sure to provide it. That means being up-front about everything, from shipping delays and charges to any special needs or restrictions imposed by the destination country. 
Online stores can aid clients in their understanding of shipping prices and options by providing them with shipping calculators or estimators.
Allow Customers To Track Their Orders 
Customer satisfaction increases when you provide them the option to monitor the progress of their orders. Customers can monitor the status of their cargo and make preparations in advance if a tracking number or link is provided. 
This can make clients feel more at ease about potential shipping delays and help keep them in the loop about any problems that may develop.
Implement A Variety Of Shipping Options 
Many customers have varied shipping requirements, therefore it's important to provide them with a range of options. Online stores can better serve their customers' wants and preferences if they provide several shipping choices.
Standard shipping, rapid shipping, same-day or next-day delivery, and in-store pickup are all frequent shipping alternatives. Customers are more likely to have a good delivery experience if given several shipping options.
7) Lack of Personalization
The need for customized products is rising as a major factor in the success of online retailers. The modern consumer has come to anticipate a buying experience that is unique to their wants, needs, and habits. 
To boost consumer engagement, sales, and loyalty, eCommerce firms can benefit from using personalization. Many online stores, however, have trouble providing customers with a tailored purchasing experience. However, when done right, you can add to your sale via proper personalization. 
Technical Resolution To The Problem
Use Customer Data To Personalize Recommendations 
Online retailers can gather data on customer actions such as purchases, searches, and page views, which can be used to tailor product recommendations to each consumer. By utilizing this information, recommendations of products can be customized to the specific tastes of customers based on their previous purchases.
In the case of a skincare-obsessed consumer, for instance, the eCommerce store could suggest additional skincare products that are either similar or complementary to the customer's current regimen. Consequently, shoppers will find it easier to browse and purchase items that truly resonate with them.
Implement A Loyalty Program
To individualize the purchasing experience further, you might start a loyalty program. Businesses operating in the e-commerce space can demonstrate their appreciation to their patrons and solidify their connections with them by providing special discounts and other perks to their most loyal clients. 
Certain groups of customers will benefit more from loyalty programs that are designed specifically for them, such as those that provide members-only discounts or early access to new offerings. With the information gleaned from the loyalty program, online merchants may better tailor their services to each consumer, increasing sales and reducing churn.

[Get the full story: 9 Proven Strategies To Build eCommerce Customer Loyalty]
Use Targeted Marketing Campaigns
Using customized marketing efforts is another great method to tailor your buying experience to your specific needs. Marketers in the e-commerce space can use consumer data to better engage their specific audiences by tailoring their messages to their specific interests and habits. 
Emails offering relevant products to a customer's previous purchases or search history are one type of targeted marketing that online retailers might use. The efficiency of advertising efforts and the possibility of a buyer making a purchase could benefit from this.
8) Limited Mobile Responsiveness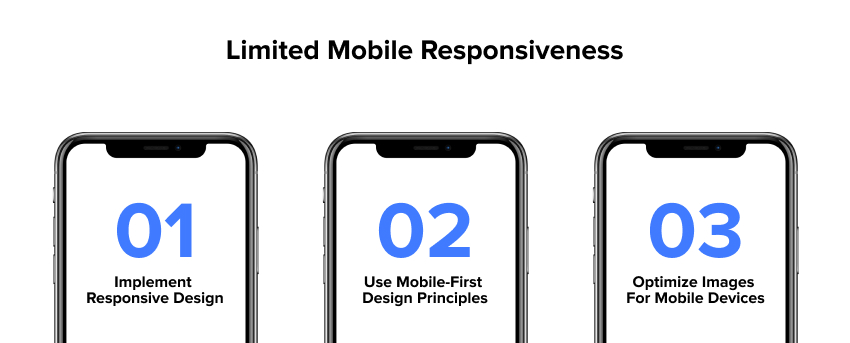 Customers now have a growing expectation that eCommerce websites are mobile-friendly, given the ubiquity of smartphones and tablets in daily life. A significant and growing percentage of online shoppers and purchases originate from mobile devices.
However, many online stores continue to struggle with adapting to mobile devices, resulting in an unsatisfactory shopping experience and decreased sales. Nonetheless, if you're a business owner struggling with mobile responsiveness issues, incorporating a few adjustments could enhance your operations.
Technical Resolution To The Problem
Implement Responsive Design
Use a mobile-friendly layout that takes responsive design into account. It makes sure that customers have a pleasant shopping experience on eCommerce websites regardless of the device they're using. 
With fluid fonts, scalable pictures, and adaptable layouts, eCommerce businesses may apply responsive design. This can assist in making shopping websites more user-friendly and universally accessible.
Use Mobile-First Design Principles
One efficient strategy for enhancing mobile responsiveness is adopting a mobile-first design strategy. It entails making e-commerce sites mobile-friendly initially and then adapting them for use on larger screens. 
Ecommerce companies can ensure optimization of their most important content and features for mobile devices by implementing this strategy. Increased user engagement and mobile purchases are two positive outcomes that could result from this.

[Read, it might help you: How To Design A Mobile Friendly WordPress Website]
Optimize Images For Mobile Devices
Optimizing images for mobile viewing is crucial for eCommerce websites since large images can cause mobile responsiveness issues, frustrating customers who access the site through mobile devices.
Images on eCommerce site optimized for mobile devices by using lazy loading techniques, compressing the photos, and lowering the overall quantity of images on a page. This can aid in reducing the time it takes for a page to load, making e-commerce sites more accessible and user-friendly.
9) Lack of Customer Support
One of the most common reasons customers become frustrated with online retailers and stop making purchases is a lack of help. When customers have concerns or inquiries, they should be able to get in touch with customer care quickly and easily. 
Technical Resolution To The Problem
Provide Multiple Contact Options
eCommerce businesses owe it to their customers to offer them a variety of ways to get in touch with them, including email, phone, and live chat. This can help ensure clients can contact support whenever it's most convenient. 
Giving consumers various contact with you meets their varying needs for speedy responses and in-depth discussions.
Implement Chatbots For Instant Support
Chatbots are a fantastic tool for providing prompt assistance to customers, so don't hesitate to put them to use. They're well-versed in assisting shoppers with general inquiries, making product suggestions, and finding their way around the online store. 
Supporting clients in a variety of time zones, chatbots can operate around the clock. Chatbots can help online stores provide better customer service and a more individualized buying experience.
Use Artificial Intelligence To Assist With Customer Support
There are many ways in which AI can be used to improve customer service. Using client data, AI-powered chatbots can make tailored suggestions and answer specific questions. 
By utilizing a content delivery network (CDN), a website can send its data to users from a server that is physically located closer to them.
10) Cart Abandonment
Cart abandonment continues to be a nightmare for eCommerce entrepreneurs. Stats suggest that abandoned shopping carts affect revenues by almost 70%. There are a few potential causes for this: high shipping charges, a complicated checkout process, or a lack of confidence in the site's security. 
Looking at such stats, it's evident that you'd want to ensure your customers complete their shopping. Interestingly, when done right, there are several factors that can reduce the cart abandonment ratio and enhance conversions for your business.
Technical Resolution To The Problem
Send Abandoned Cart Emails To Remind Customers Of Their Items
Customers who have abandoned their shopping carts will receive an email reminding them to finish their transaction. These emails aim to get the buyer back to the website to finish the purchase they started. 
A business can entice customers who have abandoned their carts to finish their purchase by sending them a tailored email that contains recommendations and special offers.
Provide A Simple And Straightforward Payment System
Reduce shopping cart abandonment with a simple and straightforward checkout procedure. There should be a few steps and straightforward instructions during the checkout procedure. 
In addition, it needs to give buyers several delivery and shipping choices. Customers are more likely to complete their purchases if the checkout procedure is easy and streamlined.
To Prevent Customers From Abandoning Their Carts, Use Exit Intent Pop-Ups
When a customer leaves a website without completing a purchase, an exit intent popup is displayed. These pop-ups can provide customers with a coupon or other incentive to purchase. Customers' browsing history and shopping cart contents can be used to tailor exit intent pop-ups to each visitor.
Takeaway
As e-commerce continues to gain traction, it has become increasingly crucial for companies to alleviate customer frustrations during online shopping. To provide customers with a seamless shopping experience, businesses can leverage various technological solutions, including content delivery networks (CDNs), user-friendly menus, and robust customer service, among other similar methods.
However, while you're at it, ensure that every effort of your eCommerce store is dedicated towards your customers. Lastly, remember, your eCommerce store will only be able to create a win-win situation for the customers and your revenue is when happier customers will return for more. All the best!
FAQs
Why is mobile responsiveness important for e-commerce websites?
E-commerce sites must be mobile-friendly since customers demand a seamless purchasing experience on their mobile devices.
Why is it frustrating when the product images are not clear or detailed enough?
Customers require accurate depictions of products to make educated purchases; therefore, it's frustrating when they aren't provided.
How can I avoid shipping delays and keep track of orders?
Businesses may minimize delivery delays and keep orders in check if they provide detailed shipment information, make it easy for customers to track their orders, and provide several shipping options.
Why is it hard to find users what they are looking for on an e-commerce website?
When an online store's navigation, search capabilities, and classification are muddled, customers have a hard time locating the products they need.
How can users be sure that the products they purchase online are authentic?
Consumers can verify the legitimacy of online purchases by looking for verification marks or labels, shopping from trusted retailers, and reading customer reviews.
How to ensure that personal and financial information is safe when shopping online?
While making purchases online, it is important to use secure payment gateways, verify SSL certificates, and avoid utilizing public Wi-Fi to prevent the exposure of sensitive personal and financial information.
How to plan or build a quick response from customer service?
Businesses can design or construct a rapid response from customer utilizing chatbots, AI-assisted customer assistance, and various consumer contact alternatives.