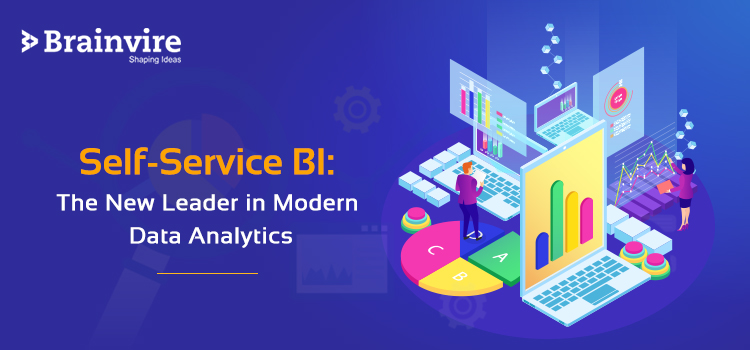 Traditionally, only a few departments within the company were using BI tools. But with a new emphasis on self-service BI, we can expect considerable growth in the applicability and adoption of BI.
"A survey conducted by Clutch points to the fact that multiple departments are adopting self-service data analysis tools and finding innovative ways to create insights and value from their data."
IT consultants that offer Business Intelligence Managed Services have started offering self-service capabilities along with the traditional analytics architecture. In fact, they are retooling their skill sets to meet the use cases of such innovative BI philosophies.
The purpose of my article is to check out what self-service BI offers enterprises of all sizes. Let's begin.
Self-Service BI is Transforming the Data Workflow of Enterprises
Most big companies and even the smaller ones to some extent have started investing in BI solutions that can be self-serviced. Forcing people to depend on the IT team to access crucial data can create hurdles in the workflow of modern workplaces. On the other hand, accessing data readily when needed can redefine the workflow of enterprises for the better.
Hassle about Data Warehousing and Data Cleansing is just a one-time effort, and in later stages with an increase in data pools or data lakes, it can be efficiently managed with minimal IT and infrastructure team efforts.
Want to convert your idea into a successful app or website? Schedule your free call with our expert now.
We will explore four ways in which self-service BI tools can transform the workflow completely.
Extract the Single Version of Truth
Decision-makers can access a consistent and updated version of the data, round the clock. The spreadsheets usually lead to unnecessary complexities and delays in the form of incompatible versions across a variety of machines. Thus, much of this data from different systems are presented in an unorganized manner to end-users. Self-service tools can come to your rescue in such situations.
Self-service BI systems can pull and compile data from disparate systems like accounting, ERP, CRM, HR, and others. On the contrary, the conventional process involves manually pulling data together and then trying to make sense of the structured predefined reports from each system. So decision-makers can use the 'single version of the truth' to focus on collaborating and analyzing the insights to make meaningful decisions that impact business outcomes.
Cut Costs Extensively
With the increase in adoption rate, self-service BI platforms can scale with ease and support the addition of more servers without causing any major access issues. Thus, it will save significant amounts of time and money in the long run.
Reduced Dependency on IT Teams
Traditional BI systems can be large, clunky and expensive. Thus, IT departments end up spending most of their resources maintaining those systems.
Comparatively, self-service BI solutions can free up the IT department as it does with other non-technical users. The IT team can now focus on data governance, ensuring that users are accessing clean, consistent sources of data.
Also, the IT department can use self-service BI to get valuable insights into the different aspects of IT system usage, forecasting needs, and planning budgets and implementations.
Increased Flexibility
Users can experience incredible flexibility in data analysis once they start using self-service tools. When utilized properly, decision-makers can easily create specific reports and data-driven dashboards that they need to address key business challenges quickly and effectively.
Effortless Decision-Making
Self-service BI brings about a vital element of effortlessness in the decision-making process. Its dashboards, reports, and visualizations help users transform data into meaningful insights immediately and effectively. As the response times are reduced considerably, users are more likely to spend time on the analysis phase, rather than waste time trying to analyze multiple spreadsheets manually only to arrive at substandard analysis.
Summing it Up

Needless to say, this domain of analytics is growing at a rapid pace. Gradually, it will find its applications in a variety of industrial and business processes apart from the day-to-day data analysis.
Come 2020 and we can expect every employee to start making key decisions in real-time. You and I can also use them to expedite our company's growth instantly!