There is a tremendous growth in the amount of data in the recent years. This growth has the power to transform businesses and organizations. Performing analytics over the data gives us the power to innovate and make important business decisions. Explosion of data presents challenges, but since, "There is an opportunity in every difficulty", tremendous amounts of data gives us a lot of opportunities to carry out efficient analysis to gain a competitive edge in the market.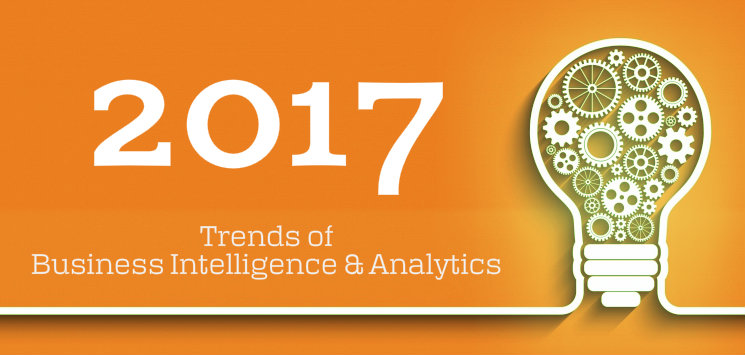 As data becomes enormous day by day, the need for Business Intelligence and Analytics have become significant like never before. The strategies that can define the future of Business Intelligence and Analytics are enumerated as follows:
1. Visual Effect
What can be better than having to comprehend complex and sophisticated data! If you can devise your analytics and business intelligence such that data visualization is achieved, that is, from a simple look you can make a valuable decision, your business can make quick and efficient progress. Developing tools and technologies that provide a visual information efficiently and effectively will be of value in the coming days.
2. Any Place, Any Time
There has been a new trend on the rise. Earlier, data were stored in-house. With the rise of advanced analytics such as the cloud-based analytics, the need to access data anywhere, at any time is becoming more and more important. Also, the tendency of BYOD (Bring Your Own Device) has compelled the organizations to provide access to information at any time or place. In the coming years, this is likely to become indispensable.
3. Collective Analysis
Collective intelligence means analysis carried out when many experts interact with each other with their individual insights. Collaborating with different experts of the organization ensures leveraging individual intellect for better results. In future, this associative nature of analytics will be at the focal point.
4. Artificial Intelligence
One of the most important trends even now, artificial intelligence will become more desirable in future analytical operations. We have already moved on from the static reports to real-time dashboards that gives momentary information in the form of alerts especially when something goes wrong. The demand for real time analysis tools has got the pace and will be one of the most popular trends in the upcoming year and ahead.
5. Clouds Ahead
Cloud computing has been expanding considerably and so has been the several cloud-based analytical tools. The upcoming year would witness its proliferation due to the ease that it provides with a service-based model and the compulsion due to the widespread use of this technology among the enterprises, harnessing its benefits for sure success.
6. Security First
The importance of data has already been enumerated. When such an important aspect that drives business intelligence and analytics is lost or mishandled or secretly transformed, the losses can be devastating. With instances of data theft, data loss and data breaches across organizations, the importance of security of the data repositories will be among the top trends of business intelligence and analytics.
7. Prediction Matters
Future always inspires us, and also entices us. In case of Business intelligence and analytics, the same fact holds true. The extraction of present data to make future forecasts is nothing new. The reliability of such probabilities remain a question of debate, however. But, if achievable, they can provide us with ample opportunities for growth. Several aspects, those related to risk management, alternative scenarios, etc. must be borne in mind and used in the predictive analysis tools. The future of these future-measures have always been bright and the upcoming year will see the tremendous growth of such prediction tools of business intelligence and analytics.
An important point to consider is that, business intelligence and analytics may have different perspectives based on different departments in an organization. For example, an IT team's view will be different from that of the marketing team's take. It is the collaboration of these several departments, however, that can result in building an immaculate analytics model based upon shared insights.
There can be more trends that may seem to be important for the overall growth of the organization based on the decisions made from the business intelligence and analytics tools and techniques. But one thing is for sure, that the data that is being produced in such large chunks across organizations will play the most vital role in the upcoming years and ahead.