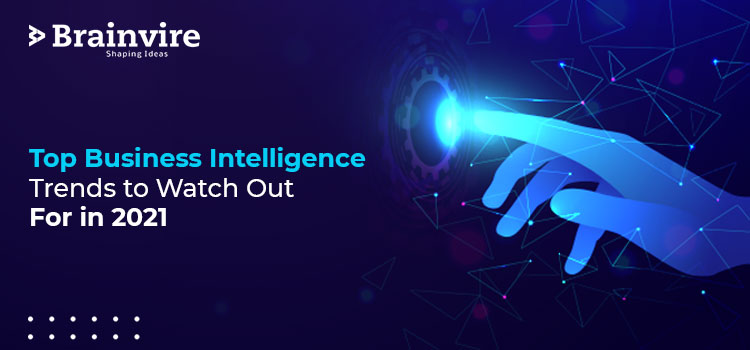 Undoubtedly, Business Intelligence (BI) has grown into a vital asset for organizations. Today, all businesses aim to gather and leverage every ounce of information to make swift and wiser decisions that enhance revenue, productivity, and growth. However, with the internet flooded with multiple sources of information regarding business intelligence, it has left people confused about BI trends.  
Moreover, survival for businesses is becoming challenging due to the complications of the COVID-19 pandemic. It is imperative that you stay up-to-date about the latest industry developments for the success of your businesses. On a brighter note, we have got you covered. 
With multiple trends around the corner, BI is all ready to witness a significant makeover.  This article discusses the same. Using this information, you can profit from the latest BI approaches and endure the disruptive forces of Business Intelligence digitization.
Here are the top 14 emerging trends in Business Intelligence for 2021:
Natural Language Processing Turns Highly Resourceful 
Natural Language Processing (NLP) is one of the hottest Business Intelligence trends. Wondering what Natural Language Processing is? 
This AI technique trains computer software to process language precisely and model it similarly to how humans read. It is also recognized as conversational analytics. Here are a few types of NLP that you will find regularly:
Speech Recognition: Transforming verbal words into data that a computer can read.  Every time you ask Siri, Cortana, Echo, or Google Voice a question, this type of NLP technology is at play.
Natural Language Generation: This is about outputting data as a human language. This comes into use every time Google voice or Siri answers your question.
Semantic Search: It is almost equivalent to speech recognition. This enables you to ask natural questions to an app like Siri instead of expressing your query in a detailed, unnatural way.
NLP has evolved over the past few years in terms of how marketers are using data. This resulted in remodeling the collection and extraction methods predominantly. Major Business Intelligence platforms such as Microsoft Power BI and Tableau have leveraged features like semantic search. With developments in NLP, data extraction is no more tedious and time-consuming. These advances have led some experts to claim that NLP is a strong foundation of BI
Want to convert your idea into a successful app or website? Schedule your free call with our expert now.
Augmented Analytics to Impact BI Significantly
Augmented Analytics plays a vital role in Business Intelligence. According to reports by Gartner, Augmented Analytics is one of the top data analytics trends in 2021. However, with data analytics intrinsically associated with BI, we can anticipate an extension in augmented analytics to impact BI platforms. 
For the uninformed, augmented analytics comprises AI techniques and ML-based automation to augment human intelligence and render contextual awareness. Using augmented analytics in your business enables employees in the organization to utilize the analytics program, even if they don't possess high-level mathematics or computer science background.
Another impressive application of augmented analytics is in the digital assistant field, where production workers could apply voice commands to execute analytics functions or maintain their business intelligence dashboard. With augmented analytics on the ascent, various BI platforms might become more user-friendly in 2021.
Collaborative Business Intelligence to Reach New Heights
Collaborative BI is not a completely new trend. But, the disruptive business landscape, embodied by high management officials and employees who notice the demand to communicate uniquely, has proceeded to give this trend a new purpose. Having said this, experts believe that Collaborative Business Intelligence will reach new heights in 2021. 
Collaborative BI is an aggregate of BI tools and the best collaboration software involving web 2.0 and social technologies to streamline data-driven decision-making. It helps in sharing insights via simplified reports, facilitating effective decision-making. We await to see how the Collaborative BI trend comes out in the near future amid the COVID-19 outbreak. 
Self Service BI To Gain Traction
Self Service BI is predicted to be one of the top Business Intelligence Trends to watch out for in 2021. It allows users to handle BI tasks independently without the interference of data scientists. It permits users to filter, sort, and analyze corporate data without significantly having technical data analytic skills. Experts anticipate that in the future, Self-service BI will generate more analytics than data scientists. 
This implies the growing prominence of Self Service BI. With more and more businesses intending to leverage BI to support data-driven culture, the Self Service Business Intelligence trend will only gain more traction.
SaaS BI to Enhance in 2021
SaaS BI gained popularity in 2020. It witnessed prominent adoption in the last year and it will grow further in 2021. SaaS BI is a cloud-hosted application that employs recurring or subscription-based pricing to deliver BI tools. SaaS stands for Software-as-a-Service. 
Businesses have been adopting the tool to attain more flexibility and access to data from any device. The technology has grown to become the first preference for remote and diverse teams, which demand solutions to optimize their business processes and assure that there aren't any problems by working remotely. SaaS BI will prove to be one of the most popular BI trends in 2021.
Businesses to Adopt Actionable Analytics
Actionable analytics is one of the top analytics and business intelligence trends to watch in 2021. Conventionally, businesses did not integrate intelligence data and insights. Nevertheless, in an attempt to grab the top position in the business world, organizations no longer analyze data in one part and take action in another.
Undeniably, modern BI tools have revolutionized to place corporate data where users aspire to take action. The platforms consolidate with business processes and workflow via embedded analytics, dashboard extensions, and APIs. Additionally, modern BI tools highlight mobile analytics to remit unique capabilities where the user is. Although this is one of the emerging trends in business intelligence, its prevalence is already comprehensive.
Mobile BI to Rule 2021
We all know how mobile has become an inseparable part of our lives. Mobile business intelligence implies accessing BI-based data like business metrics, KPIs, and dashboards in mobile devices. Mobile BI is anticipated to dominate 2021 as new vendors and solutions enter the market. According to a study, 92% of senior executives own a smartphone employed for business. 
Here are some of the vital benefits of the Mobile BI platform: 
You can access your data via one-click, irrespective of time and place.
You own a lightweight analytics platform that accommodates the modern, remote workforce.
Mobile BI facilitates quicker reaction speeds, smaller workflow, and efficient communication.
Thus, Mobile BI may witness an upward trajectory in 2021.
Data Governance Tops the List of Priority
Data Governance is expected to dominate the list of priorities of businesses. Are you confused about how Data Governance is one of the top BI trends for 2021? Well, Data Governance is the management framework incorporating all the technologies, processes, and employees involved in the storage and security of corporate information.   
In 2021, Data Governance will gain significance as people are concentrating on securing their data from exploits. People worry about how companies manage their data. Earlier this year, Security Magazine stated that consumers reject brands after data violations. In 2021, companies will have to get serious regarding data governance or lose potential and trusted clients.
Development of Predictive Business Analytics
Today modern marketing and metrics play a role collectively. So, if you are not investing in robust analytics, you will have difficulty generating the outcomes you wish to drive. We live in an omnichannel age where the consumer selects a brand on various factors. 
This is where Predictive Analytics comes to the rescue. Predictive analytics uses AI-powered algorithms to improve data analysts' forecast of future business results. If you require any proof of its potential, Amazon is the best example. Amazon uses business intelligence to investigate consumer behaviors and foretell its acquisitions ahead of time. 
Business Operation Uses Embedded Analytics
Embedded analytics provides more power to end-users. For instance, if they notice a data dashboard, they want to operate with the data. Businesses look forward to placing this power into the hands of their customers and employees to help them make excellent choices. 
Embedded BI decreases the workload on analytics teams, providing end-users with a quicker way to achieve the insights they require while conceding analytics teams to concentrate on new products that help develop and distinguish the business. 
We await to see how business operations leverage Embedded Analytics in 2021 to develop their businesses.
2021 To Bring Out Best in Artificial Intelligence in Business Intelligence
Undoubtedly, AI has taken every business aspect to a whole new level, whereas BI is no less. This technology's outsized potential guarantees to expand human intelligence by revolutionizing the way we communicate with business data and analytics. Consequently, have we witnessed the best of AI in BI yet?
According to experts, AI can process massive quantities of information faster than humans. It offers a unique prospect in BI and makes it easy to excavate insights that are overlooked. Various organizations plan to embrace the convergence of AI and BI in business. AI in BI can prove to be one of the magnificent BI trends in 2021.
Data Quality Management to Play a Pivotal Role in Businesses
Currently, data is critical to businesses. It allows a company to analyze customer behavior and expectations, evaluate competitors, and make informed top-down decisions. Moreover, big data has an enormous impact on the trajectory of any business.
Data quality management is a necessary process that fuses technology, process, and the right people to produce accurate and useful data. Today, every business intends to execute data quality processes to heighten its capacity to employ BI. As it continues to garner importance, this trend is set to cause ripples in 2021.
Vital Adoption of Connected Cloud
Today, we witness that virtually every business tool is shifting to the cloud. Cloud BI is becoming a leading force in big data and analytics. These latest developments indicate that the future of businesses is in the cloud. Furthermore, all the BI elements, comprising data models, computing power, data sources, data storage, and analytics models, are all designed for the cloud. 
A Connected Cloud strategy is an exceptional opportunity that delivers compliance and decreases the risks involved in analytics. Connected Cloud can be one of the hottest BI trends in 2021. 
Accelerated Hyperautomation and Robotic Process Automation
Hyperautomation is the comprehensive application of technologies over an enterprise to automate choices. Typically, it combines robotic process automation (RPA), recognized by Gartner as one of the most quickly developing categories. This is because it provides business specialists as well as front-line workers to business experts and front-line with little to no coding knowledge to automate certain digital work tasks. It is one of the top trends that intends to catch the attention of leading businesses.
Conclusion
This is the collection of the top 14 business intelligence trends that will bring innovation across industries in 2021. Harness these trends to let your business grow flawlessly in the future. The best way to do this is to connect with a Business Intelligence Managed Services provider.