The latest cloud computing studies suggest that nearly 81% of businesses leverage at least one cloud-based application. This means that you may have already come across a lot of articles talking about shifting Business Intelligence (BI) to the cloud infrastructure.
Now, if you are trying to understand why the cloud environment is all the rage and whether you should be migrating your Power BI Developmentsolution on it, then you've come to the right place. In this article, we'll be focusing on the concept of Cloud-based Business Intelligence and sharing some of our thoughts on why it's worth leveraging the cloud BI tools.
Here's a gist of what we will be covering:
Cloud Business Analytics & Its Benefits
3 Types of Cloud Deployment Models
Cloud Business Intelligence Software – Capabilities to Watch Out for
Top 3 Cloud-based BI Solutions and Its Pricing
Without further ado, let's get started!
Cloud Business Analytics & Its Benefits
Cloud business intelligence is basically a process of converting your data into meaningful and detailed insights by leveraging technology, and this is carried out either fully or partially on the cloud infrastructure.
Here are some of the benefits you can reap by using cloud business intelligence:
Get rid of hardware-related expenses.
Launch a business intelligence solution as quickly as possible while scaling it up or down in terms of storage and other essential resources like cost and time-effectivity.
Get access to any and every data through any mobile device or web browser.
Make sure your BI solution's fault-tolerance and high availability.
Share actionable and detailed insights with employees in a secure manner.
Want to convert your idea into a successful app or website? Schedule your free call with our expert now.
3 Types of Cloud Deployment Models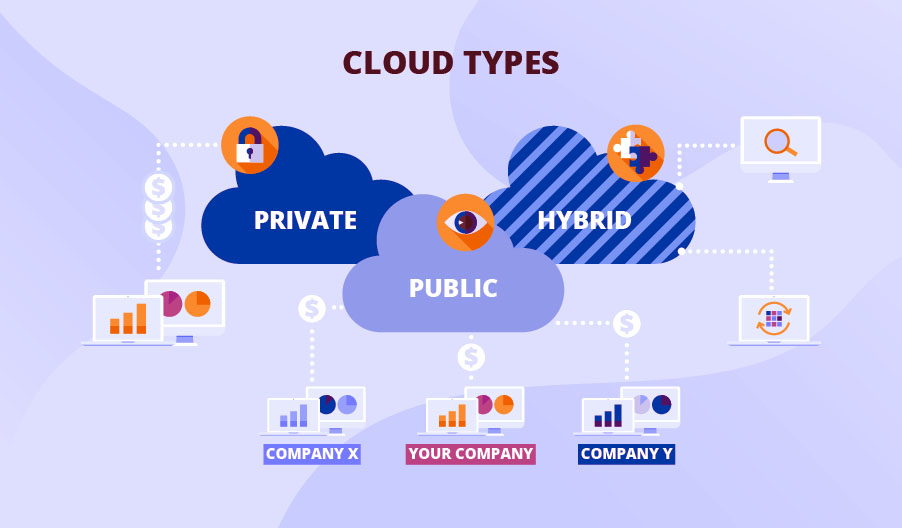 A website-based business intelligence solution or its specific sections, data storage, for example, have the potential to operate on 3 types of cloud deployment models. This what they include:
1. Public Cloud
When it comes to public cloud, the infrastructure expenses are divided between the cloud tenants, making it one of the most inexpensive options for cloud business intelligence.
It's an amazing choice particularly for SMEs with budget constraints or for businesses handling bigger workloads.
2. Private Cloud
If you are worried about data security or regulatory compliance, we would recommend you to deploy your business intelligence solution on the private cloud.
Since it is one of the most high-priced options, the private cloud offers you dedicated compute resources along with sufficient storage, exclusively at your organization's disposal.
3. Hybrid Cloud
If your business is unable to deploy its business intelligence solution on the private cloud, but wants to adhere to the set regulations (GDPR, HIPAA, GLBA, etc.), then the hybrid cloud is your best bet!
This cloud-based infrastructure comprises the features of both private as well as public clouds.
By leveraging this cloud model, you can easily store and evaluate your confidential data on the private cloud while testing big data on the public cloud.
Cloud Business Intelligence Software – Capabilities to Watch Out for
When planning to deploy their BI solution on the cloud, several businesses face the challenge of selecting the right software that's in line with their solution.
Most of the modern business intelligence software provides you with an array of features and, being a Power BI Consulting firm, we recommend you to look for the following capabilities:
In-build Data Management – This enables you to extract information from several sources and change it into the most suitable format for data analysis. It also helps you cleanse your data to maintain its quality.
Advanced-Data Analytics – With this feature, accelerate the process of predictive analysis and data mining in order to help you conduct precise data forecasting and root-cause evaluation.
Cloud Reporting & Visualization – With this capability, you can easily attain all the necessary data analytics insights that too in an easy-to-understand format.
Collaboration – Share the data analytics reports with other employees in real-time for faster data democratization and decision-making process.
If you feel overwhelmed because of an extensive range of cloud-based BI software, make sure you seek assistance from an experienced consultancy. You can even go for Data Analytics as a Service to fix any issues related to your BI software.
Top 3 Cloud-based BI Solutions and Its Pricing
With the help of the above-mentioned capabilities and our years of experience in handling cloud business intelligence solutions, Brainvire has put together a list of the top 3 cloud-based BI tools along with its pricing.
1. Power BI
Known as a prominent leader in business intelligence and analytics, Power BI is the most affordable platform. It not only has a seamless interface, but also the potential to tackle analytical obstacles of varying complexity. This is why Power BI is the first in our list.
The services offered by it include Power BI Premium, Power BI Embedded, Power BI Pro, Power BI Report Server, and Power BI Mobile.
As far as the pricing is concerned, Power BI Mobile is for free. But for Power BI Pro, you need to pay $9.99 per month whereas for Power BI Premium, the price range starts from 4,995 per month (based on dedicated resources).
2. Qlik Sense
This BI tool is popular because of its special associative data analytics engine, which comes equipped with a storytelling feature and drag and drop visualization.
The price for Qlik Sense Business version is $30 per month, whereas for Qlik Sense Enterprise it's $70 (Professional User) and $40 (analyzer User) per month.
3. Tableau
Equipped with a seamless interface, Tableau provides various capabilities like augmented data preparation, rich visualization, vast data integration, secure collaboration, advanced data analysis, and more.
The services offered include Tableau Online, Tableau Prep, Tableau Server, Tableau Mobile, Tableau Data Management, Embedded Analytics, and Tableau Server Management.
When it comes to pricing, Tableau Explorer is for $35 to $42 per month (based on the selected model), Tableau Viewer is for $15 per month and Tableau Creator is for $70 per month.
Benefit from the Combination of the Cloud and Business Intelligence
Cloud computing is no longer an option for businesses. It has rather become a necessity for all of them, thanks to its high service availability, scalability, and cost-effectiveness.
If you also want to take advantage of all that the cloud-based business intelligence solution has to offer, then you need to first select a reliable provider who can assist you develop a solid BI execution strategy while guiding you throughout the journey.
So if you're looking for a professional company, then feel free to get in touch with Brainvire today!