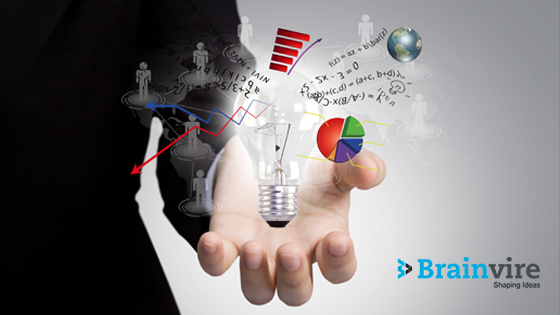 The world today is demanding smarter processing and use of technologies that can possibly automate or ease out every possible task. And many companies have started adopting business intelligence in their businesses to achieve the same. Business intelligence, although it is a part of a number of rapidly growing businesses, there are still many people who are not aware of it completely. So, let's start by peeping in the actual concept of business intelligence to dive deeper into this vast pool of this latest technology.
Business Intelligence
A process that is made of a number of tools, methodologies, and applications that help the business owners, managers or end-users to take accurate business decisions by analyzing information and presenting it in the form of results, reports or aid for decision making.
The thing is that if you leverage Business intelligence in taking your business to another level then it can act as a boon for growing your business. But this can happen only if you are aware of the prominence that business intelligence holds in the success of any business. Well, you don't have to browse through the web to get this answer. Brainvire has made a detailed study to provide you with the top 8 reasons that will explain the importance of BI.
Acts as a booster for productivity
Allows you to know your customer better
Revamps your decision making
Improves compliance and accuracy
Increases ROI of marketing strategies
Improves efficiency
Personalize strategies for sales and objections
Develops a business model that helps your business strive in the fragile market
Acts as a booster for productivity – Business intelligence plays a major role in boosting productivity as it enhances all the factors that are countable for productivity increase. BI is dormant in eliminating all the bottlenecks that are hindering the new business processes and providing a better customer service that keeps time and resource management in focus. These all factors and many more can take productivity to the next level.
Allows you to know your customer better – In order to lead your business on the road to success, it is necessary that customer experience is your first priority. Business intelligence has a key that allows you to understand the customers better by getting all the information about the customer at a single place that will help you to take a more accurate decision. With all the data in one place, each customer can be provided with an enhanced experience.
Revamps your decision making – Decision making has got a 360-degree flip with the introduction of business intelligence. The main task of BI is to gather and transform all the information of your business into structured and interpretable insights. BI provides a single repository that has business data along with customer information that helps in taking accurate and fast decisions.
Improves compliance and accuracy – The three major things that business intelligence delivers to improve accuracy and compliance are the place where data resides, authority or access rights and filter them on the basis of their importance. When these things are channelized, the business owners can take comparatively faster and accurate decisions in a go.

Increases ROI of marketing strategies – When all the tasks are managed successfully and everything is working according to the digital marketing strategy devised, the return on investment is obviously going to soar high. With the technological features such as tracking of customer experience, measuring the level of retention and engagement, etc. will lead to a robust marketing strategy that will be responsible to notch the ROI higher.
Improves efficiency – It is quite evident that if everything is suitable and going smoothly in business then the efficiency of the employees, as well as the software, will get a positive impact. The technological advancement in the data analytics field under business intelligence has made it very lucid for the system to interpret data and deliver results.
Personalize strategies for sales and objections – Sales team of every business can leverage the most benefits of business intelligence tools to devise effective sales strategies that are personalized to every business need and situations of the market. This includes the study of the market that you are a part of, prepare accurate reports that include in-depth business intelligence tools to predict the objections as well.
Develops a business model that helps your business strive in the fragile market – The world today is filled with tons of options for every single thing, whether it is clothing, food or any other thing. With a robust business model powered by business intelligence, you can achieve a unique spot in this growing but a very fragile market. The tools used by business intelligence can provide you with strategies that are well analyzed and tested to thrive the competition.



Apart from these 8 reasons, there are a number of other reasons too that proves how business intelligence is best for aiding your business to succeed such as deriving knowledge from the huge pool of data with analytics and contributing in data literacy.
By now you have received all the necessary information. So what are you waiting for now? Quickly ping us with your business details the techies at Brainvire will get back to you in no time to help you in striving in this complex retail environment.