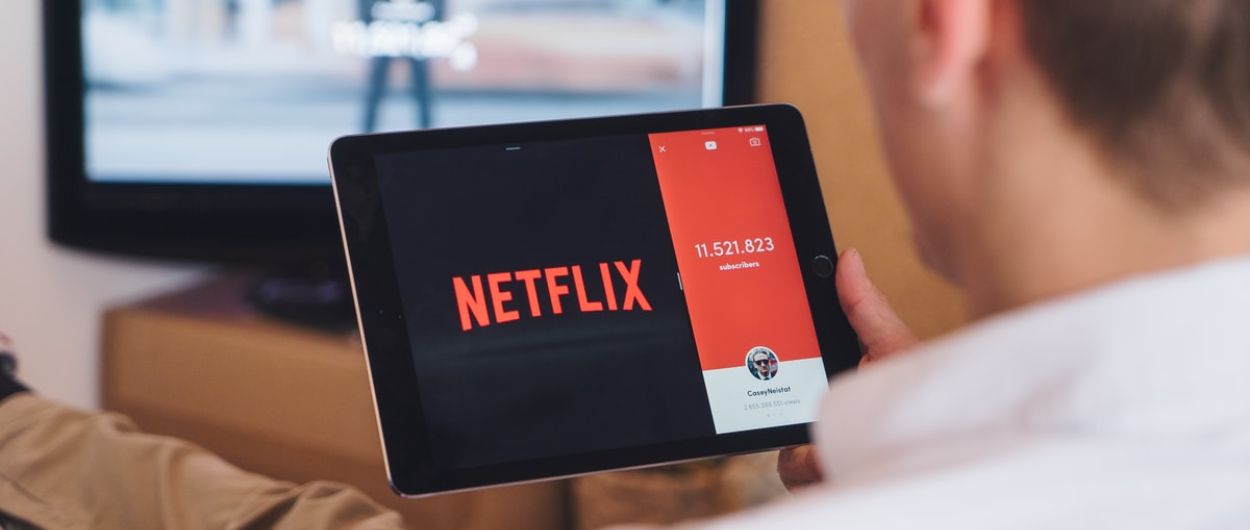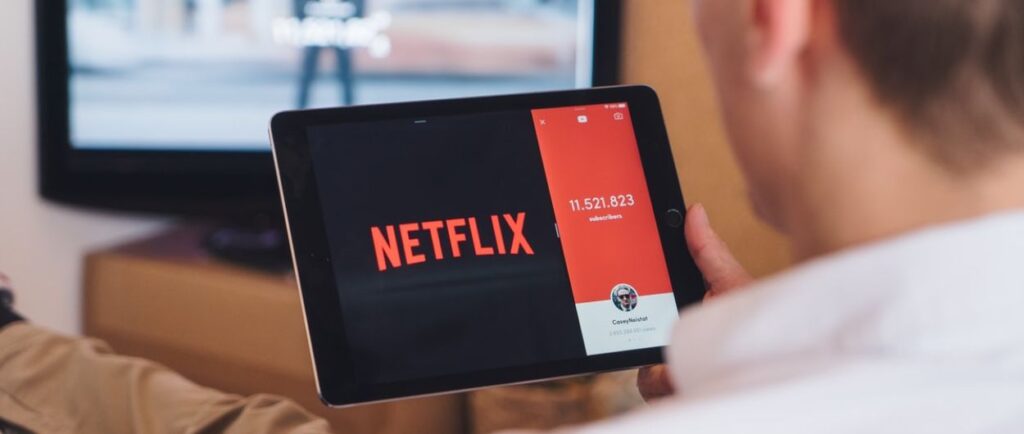 Most Americans have memories of having Netflix meant a DVD sent to them. There are few things more satisfying than sending a friend out, knowing his upcoming trip could occur within a few hours. Indeed, it may sound silly. However, it felt instantaneous in the era before digitalization. However, when Netflix started streaming in 2007, the streaming service became almost a necessity – an easy way to access hundreds of movies and television programs. Netflix has become a popular entertainment site in just over 20 years – which you can understand why. The list is enormous, the original materials are new and interesting, and most importantly, a lack of ads!
Netflix dominates streaming video markets. Netflix currently boasts 213 million paid customers globally. So the service has added 18 million subscribers over the past year—a remarkable figure considering that 37 million people have already signed up in the first quarter of 2020.
Netflix Facts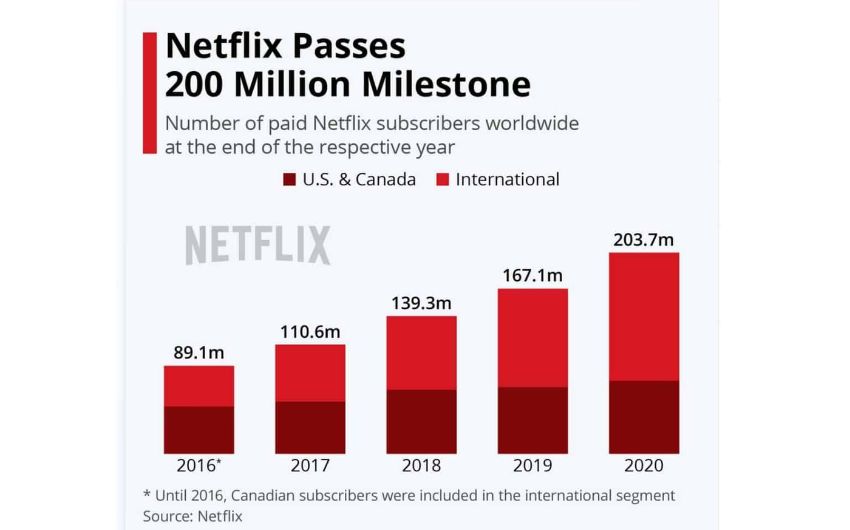 #1 Despite the competition, Netflix still had the largest subscriber count in 2021.
Netflix ranks as one of the most popular streaming services in the USA, Canada, Australia, and now Europe. In the third quarter of 2021, Netflix revealed that it had about 74 million paying streaming subscribers.
#2 Netflix has dominated the market despite periods of struggle in its early years.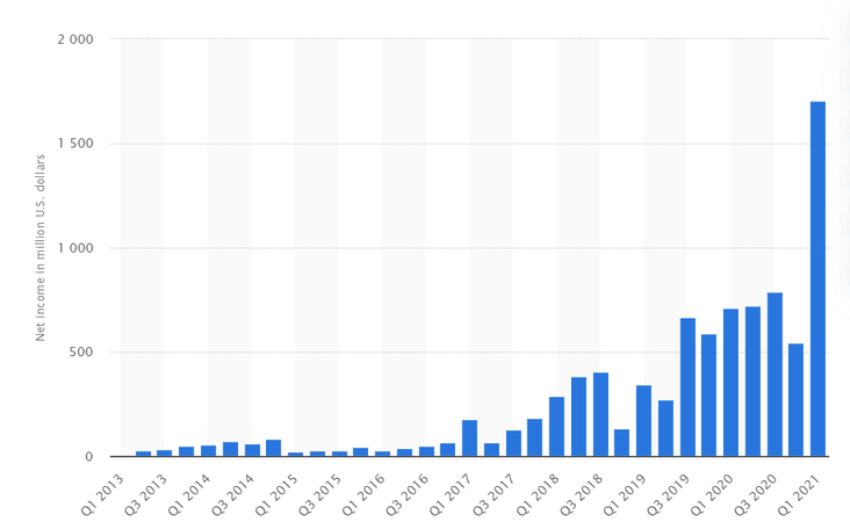 Initially, Netflix only received $2 million in venture funding from Reed Hastings. As a result, it only raised $50 million in just three years with just three backers.
It's interesting to learn that the company has raked in total net revenue of over $24.9 billion per year (2020) and estimated operating profits of $4.5 billion (2020).
Despite the incredible success of Netflix, its expansion was slowing in 2021. With 48% fewer new subscribers when compared to 2020.
#3. Forty-one percent of Netflix users watch without paying thanks to password and account sharing.
According to KillTheCableBill, most Netflix users have shared their account details with people. Friends have accounted for almost 18 percent of all, and families make up most. That supports MoffetNathonson's research that revealed 42 percent of Netflix customers don't have a separate Netflix account at all. The study shows that 27 percent of respondents watched their videos on their smartphones or computer via their paid version, 14 percent of whom used password sharing with their friends. The amount of time we have spent at home during the last ten years is not very shocking.
#4. Original content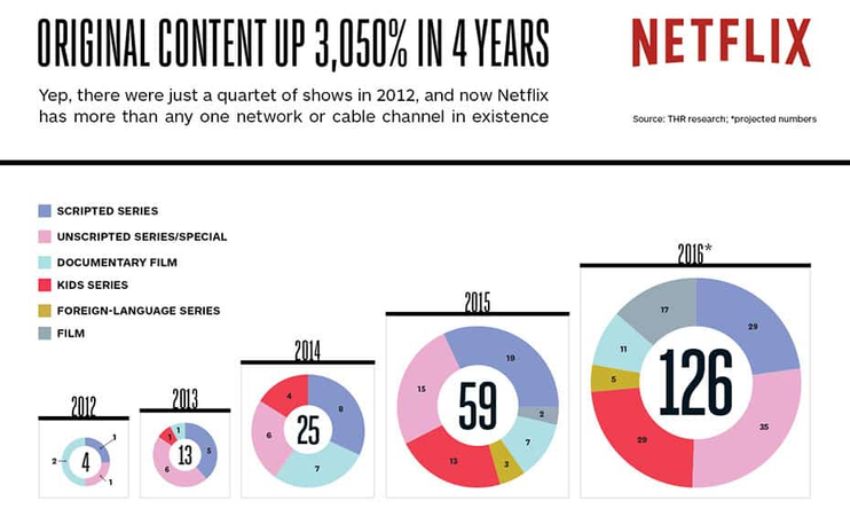 Netflix invested $12 billion in producing original content throughout 2018 mainly because the company invested in quality original content regularly. The company knows that viewers pay to watch new movies, and now Netflix feels that they release new shows and programs every week. This figure could grow to $15 billion by 2019. In addition, the market is likely to expand with increasing competition, and the different streaming platforms compete for subscribers or eyeballs.
#5. Netflix was the first true international streaming service of its kind.
Netflix launched its global streaming service on the Canadian market in 2010. Netflix stepped into international markets and launched its first Netflix service to Latin and Caribbean markets in 2011. Netflix moved to Europe in 2012 and became available in Britain, Ireland, and Scandinavia. Netflix continued its global tour in 2015 and finally launched its service in Australia, Japan, and other regions in Australia. From 2021 Netflix will be available in almost any country, with some exceptions.
#6. Netflix set the stage for an aggressive fight against region-hopping through VPNs and other proxies.
Netflix has a long history of crackdowns in regions where it is not regulated. A new update was issued on February 28, 2016, revealing that the streaming service blocked a host of proxy servers, including VPNs. In 2019, however, the situation was different. When Netflix detects an internet connection, it displays only the content they would usually watch in their native countries. It is clear that Netflix does not have the best VPN monitoring software, so it is an arms race.
#7. Netflix has a secret menu.
When using the service on a computer, your normal user will be able to find the secret menu via pressing Shift + Alt together with a pressed mouse button. This will show you an issue resolution menu that can be adjusted by changing the bitrate for the movie you watch so that it is not buffered. Despite the possibility that this will also decrease video quality, some users like this feature more than seeing a buffering icon every time they watch the video.
#8. Netflix executives once had to make house calls.
From their launch, the firm focused on the customer experience of its products and services. Netflix collects the information to determine if any titles can be added to the library. During the late 1990s, users living in California received house calls to perform surveys from their service providers. In addition, the staff would request that they meet and examine their use of the site, a request they overwhelmingly agreed to.
#9. Netflix dominates despite struggling in its early years.
Netflix originally received only $2m from the Reed Hastings Series A Series B funding. It raised just $50m from three investors in a Series E three years later. The company currently has a net profit of over $24.9bn in 2021 and operating profits of approximately 4.5bn by 2020. However, it is impressive that Netflix's growth has now slowed, and it is expected to gain a 58 percent reduction in subscribers by 2021 compared to 2020.
#10. The 2020 Coronavirus pandemic caused an unprecedented amount of Netflix streaming
Netflix said it had gained more than 16.77 million new users worldwide during the first quarter of 2020 despite the influx of refugees. As a result, Netflix was forced to reduce its streaming performance to reduce overtaxed bandwidth. In March 2020, the number of people in quarantines rose by nearly half. The search results for Netflix rose 5% from February 2017 to April 2017 as Google searches rose.
#11. Netflix Financials
The average number of monthly subscribers on a single streaming service, Netflix, is just 139 million. The fact that Netflix was popular was a good indicator of the rapid growth of its business over the past few years. The network has a subscriber base of 35 million. Netflix shares are trading for roughly $300 /share, although Netflix has not quite reached the levels of Apple and Google.
#12. Netflix was one of the first streaming services available as an app on different devices.
Netflix moved beyond web browsing in 2008, working in partnership with other streaming services like Xbox 360 Blu-Ray disc players or television sets. Netflix was released for PlayStation 3 and Smart TV in 2009. Netflix has expanded to streaming devices by offering streaming apps to iOS phones, iPod touch, iPod Touch, and other devices in 2010.
#13. The company is older than most users realize.
In recent months Netflix has been getting a lot of media attention, and the streaming services have long been under the radar. The following statistics show how the business grew from a small DVD service into an online streaming company. Netflix was started in 1997. The website was launched ten years later.
#14. In Netflix's Witcher series Henry Cavill performs all his stunts.
It was pitched as part to portray the real Geralt from Rivia. He had asked Netflix for his agreement, though he preferred using his stunt double. On stage, he performed a lot of combat to preserve character integrity. This is dedication. Read also: 121 Spotify facts about World Music Streamer.
#15. Netflix paid Disney $300 million to stream its content on the platform before the release of Disney+.
A key advantage for acquiring Disney movies before Disney+ was Netflix's exclusive access to its material. Netflix holds pending rights to streaming Disney films in its possession for at least another year. Additionally, subscribers to Netflix can no longer purchase Disney+ subscriptions.
#16. Netflix houses massive amounts of server space to feed our streaming habits.
The streaming service has been criticized for requiring huge amounts of bandwidth to run the streaming. The server has around 150 gigabytes and will probably grow by now. According to the Reuters report, Netflix has watched more than 40 billion movies and videos every day through its service.
#17. The average Netflix user has watched 49 days' worth of TV shows and movies.
We found that Netflix users spent almost a month consuming only one hour a day on Netflix after logging onto the site. Approximately 82 percent were watching television. Who are your favorite binge-watchers? The Peruvians, with more than 80 days of watching compared with the normal.
#18. Netflix was incorporating more technology than its competitors much earlier on.
Since 1999 DVDs emailed to subscribers have been available. In 2000, Netflix started using data to recommend videos that can be borrowed from other companies. After reaching 4M subscribers in 2004, Netflix began online video streaming in 2007. Along with its dominant DVD-by-mail program in 2007.
#19. Ireland had the most extensive Netflix library in 2020. 
While the Netflix library usually updates twice / week, some countries have bigger titles than others. Despite rumors that US Netflix libraries are huge, they're nothing less true. In the first half of the century, Ireland has accumulated nearly five thousand books in the library.
#20. Around 62 million Americans have a Netflix subscription.
Netflix combines the US and Canada to create regional subscriber numbers. According to Q3 2021 statistics, the two regions have around 76m users. The average American population is over a million (209 million), so the figures suggest a 35 percent subscription rate at Netflix today.
#21. Originally Netflix was called Kibble
The management team found it difficult to identify an effective brand during the early years. Co-founder Marc Randolph recommended a short title Kibble until they could develop another. Finally, after a series of brainstorming, they decided on Netflix as their company name.
#22. Netflix users spent 164 million hours per day watching content in 2019
Netflix users watched around 164 million hours on average on the streaming service, translating to more than 1 million hours. Netflix has not released similar figures since 2016 but has begun releasing total views stats of selected original material.
#23. Netflix users watch and use a lot of streaming data.
Netflix users will watch 6 billion daily hours of videos on the site. If we assume that the streaming hour uses 3GB each, then we use about 289GB each monthly, Netflix only. This assumes you watch HD video, but you may need more data in the 4K format.
#24. Netflix still offers DVD rental services.
Netflix provides DVD rentals with separate subscriptions. Usually, DVD rental costs around $9.99 or $2 for Blu-ray. The option is also suitable if people do not need much entertainment from the Internet. However, Netflix doesn't offer any DVD movies.
#25. According to a 2015 case study, Netflix has been associated with depression.
A new study found people who binge-watch Netflix shows were more likely to feel depressed and have low self-respect. This study surveyed 316 participants. Nevertheless, university officials defined binge-watching as less than two episodes at once.
#26. Netflix once mistakenly rented Chinese pornography.
Netflix used to largely rent DVDs and send them out for free via email. The wrong DVD was mailed rather than renting Clinton & Levisky's scandal to its customers. The only surprise was that he was given a piece of pornography from China.
#27. Its popularity caused major ISPs to throttle Netflix streaming.
After many customers complained about a throttling issue, Netflix and its streaming services agreed on an agreement that helped to reduce the problem. According to Reuters, a Netflix payment to Comcast has been made pending a settlement.
#28. Despite more competition, Netflix still had the largest subscriber count in 2021.
Although Amazon's Prime service boasts a similarly large subscribers base, it's unclear if most Prime subscribers use it for video. Netflix reported on Oct. 21 that there are 212 million subscribers Netflix worldwide.
#29. 80% of Netflix subscribers use the service on their smart TVs.
The Leichtman Research Group explains that most people who subscribe to Netflix use online video-streamers like Roku and Amazon Fire TV. Some people use smart TVs to watch television directly in their bedrooms.
#30. Netflix once generated more internet traffic than Google itself
Netflix represented 1.29% of all downstream traffic volume globally in 2019. Netflix generated about 1.4% more visitors than Google. Find out the facts about Pokemon that you need to catch:
#31. Over 66% of Netflix users share an account.
Netflix does not intend to regulate account sharing. The account can have five different accounts. A maximum of four-channel streaming is allowed in an individual account in a single package.
#32. The company's Academy Awards (Oscars) showing is also top-level.
Netflix won its first Oscar this year. The original content, The White Helmets, was awarded Best documentary short content. Netflix will receive 36 Oscars in 2021. Ten were for Mank.
If you are looking for a software development company to develop your OTT platform, look no further.
We're the best in the business, and we can help you with your project. 
#33. Netflix is worth $162 billion as of April 2020.
Netflix is currently on the rise as it announced a new streaming service in July 2007 and is now making $162bn in revenues. It also boosted Hastings' net income.
#34. Nearly two-thirds of Americans have a Netflix account.
The survey found the number of Netflix subscribers in the household grew substantially from 2011. Over the last decade, fewer people have owned Netflix accounts.
#35. Netflix's first film is called Example Show.
The video has been made to compare video and frame rates in their servers. The movie features bizarre, random moments created by management.
#36. Netflix continues to outspend its competitors in terms of original content.
Netflix invests billions every year in creating original material. In addition, Netflix is spending nearly $14 billion to improve its streaming business as a competitor.
#37. 'Clueless' is the most popular Netflix movie in 2021, and '13 Reasons Why' is the most popular TV series.
Clueless has been rated among Netflix's most-watched films since its release on Netflix. Most people opted for 13 Reasons Why to make TV shows.
#38. Netflix Timeline
Let me start with Netflix. What do you think of its history? Below is a short timeline ranging from the early days onwards.
#39. The first Netflix original was abstract test footage.
This short film tested their website for its varying frame rate. The video test is 11min and was produced in 2011.
#40. Netflix allows the customization of subtitles.
These customizations are available for mobile and desktop Netflix. Click on your account's Settings > Subtitle Appearance button for more information. This menu makes it possible to change the transparency fonts and colors in which subtitles are shown.
#41. Netflix shattered HBO's Emmy nomination streak.
Netflix won an Oscar in 2017. The White Helmets won the category Best Documentary Short Subject. It subsequently won a second-best documentary award in 2019 (American Factory). Laura Dern was also awarded Best Actress in supporting roles in her Netflix Original Marriage Story film. As a result, Netflix is now officially competing against HBO on the Emmy nominations list. In 2018, Netflix received 164 Emmys. This is a huge increase in 2017 – 90 nominations a year earlier. Netflix had received 43 Emmys in 2022, with 243 nominations for television.
#42. The company is responsible for the ongoing streaming wars.
A major rise in streaming across the globe triggered what analysts call a streamer war. Netflix has played a strong role in the US market for several years and can compete with many other online streaming services. This dominance comes partly from Netflix's extensive investments in original movies that they purchase rights in or produce themselves to distribute in all global regions worldwide. Netflix has released three big-budget original series House of Cards and Hemlock Grove.
#43 Netflix spends astronomical amounts of money on marketing its content.
Netflix's 2020 target market strategy expenses amounted to 2.23 billion U.S. dollars, less than previous years, with spending at 2.65 billion in 2019
Here are some cool Netflix facts about the Netflix app that you might not have known.
70% of Netflix users have been binge-watching shows more and more.
Netflix has 76,000 TV shows and movies that you may not have known about on the popular streaming site.
As of 2020, Netflix had about 9,400 full-time workers
According to Netflix's own data, the total number of hours spent by every subscriber watching Netflix adds up to 125 million hours streamed daily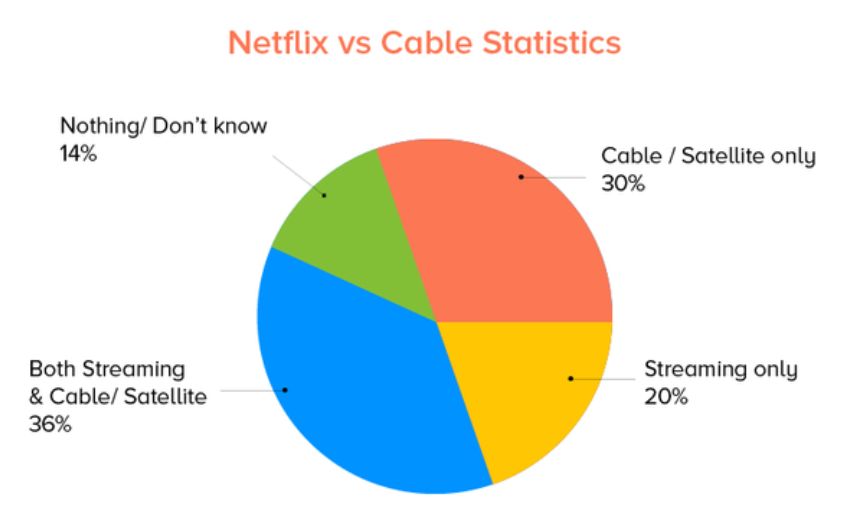 Netflix vs. Cable Statistics
A YouGov study of 2,000 Netflix and 1,000 Amazon Prime subscribers showed significant differences between the demographics.
Target market demographics for Netflix show that its users are much younger, with over 50% of them being between 25 and 34 years old. However, only a third of Amazon Prime subscribers have made it to this category.
In the graph, 36% of users said they use both cable and streaming services, whereas 20% use only streaming services. So there is still a lot of scopes for Netflix to gain viewership.
Why Invest in Entertainment App Development?
People love streaming movies and TV shows nowadays. There are many reasons to opt for a streaming service rather than buying DVDs or going to the cinema. One is saving money; another is convenience. So if you have an entertaining app idea, it might be a good solution for your future business!
Apart from that, more and more people worldwide are using their phones to watch content. According to research, video content accounts for more than 60 percent of mobile data traffic. By 2021 forecasts say it will be closer to 80 percent. So if you had an entertaining app idea, this is your chance to make yourself heard!
1. Increases Brand Visibility
Having an entertaining app helps your brand become visible on the market. More users mean more customers, which in turn means more visibility. You can't go wrong with that! And you know what's even better? This kind of apps usually has a loyal userbase that tends to be very positive about them and spread great word of mouth reviews! 
2. More User Engagement
What's even more important than having your brand visible on the market? Making it unforgettable! This is where entertaining apps come in handy. They keep users engaged with various features, achievements, and rewards. Having an engagement app can be very beneficial for both sides – fun for users and profit for you!
3. Keeping up with the future
Although it's hard to predict the future, entertainment apps seem here to stay. They are a great way of keeping up with various services and platforms that tend to change rapidly. So it might be a good idea to use this opportunity and create an app that will be on top of all those changes!
4. Eliminates Piracy of the content
Many people prefer to use unlicensed content rather than official. This is where entertaining apps come in handy! First, they provide you with a legal option of consuming your favorite movies and TV shows.
5. Gives more control over advertising
Having an entertaining app means having direct access to customers. It's the best way of marketing your brand and engaging with customers on a deeper level. You can get them involved in something that interests you or find out what they really want!
Conclusion
With Netflix's usage statistics for 2021, we took a tour into the world of Netflix and saw why it's so successful.
Netflix has a wide variety of competitors internationally, but its market share in the country should remain unchanged for a few years at least. Netflix has a unique and distinct perspective on what is typical content, often creating shows and movies that are novel and outside the norm. As such, Netflix can't serve as a replacement for any other kind of content. Hiring a software development company specializing in creating apps is a good idea. 
You will be getting effective, quick & cost-efficient services that help complete your project on time. A media & entertainment app development firm will answer all your questions and guide you through the entire process of media software development.