Talking About 'Sitefinity' a Powerful CMS: Reasons to Make it Your First Choice! Choosing a CMS that has all the features integrated in it and proves to be advantageous for your business growth has become a crucial task today. With a plethora of content management systems available today such as WordPress,Drupal, etc. you might wonder why opt for a paid content management system for your website. The experts at Brainvire would like to enlighten you on the reason for increasing popularity of Sitefinity CMS development and worthiness of the price it asks.
Developed by Telerik, Sitefinity is available for both companies (be it small or large) and personal users. No special skills or knowledge is required to work on Sitefinity until and unless you want a highly customized version of it, which demands one to be well acknowledged with languages like C#, ASP.NET, XML, JavaScript, CSS, etc. It also includes a lot of SEO optimization such as URLs without extensions, managing page titles and descriptions, allow page indexing by a search engine and include sitemaps.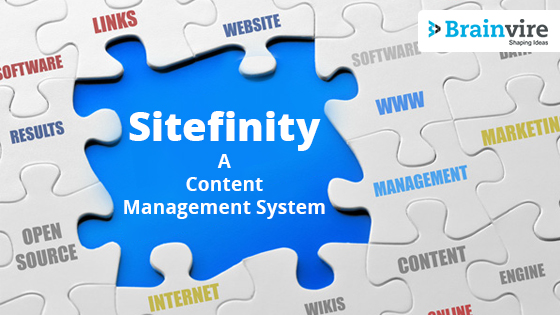 Switching on to a new CMS suddenly can be dubious when platforms like WordPress , Tumblr, Drupal, Magento development etc are present on the internet.  To remove the doubt and explain to you the importance of Sitefinity and how it outperforms its peer platforms, we are going to discuss the below points in the blog-
Building blocks of Sitefinity
Reasons to choose Sitefinity
Building Blocks of Sitefinity
Before going through the distinctive features of Sitefinity, let us first discuss the essential
Components which makes it a robust and safe CMS for use.
Pages in Sitefinity acts as a canvas on which you structure your website's layout. These pages contain administrative and content authoring tools that are used to manage the website. The managing task can include creating and editing templates, browsing and organizing the structure and managing the appearance of the website. You can easily define the functionality of your web page by adding widgets such as login and navigation.
Built-in and Dynamic Modules
Sitefinity allows you to create content using both built-in content module and dynamic modules created by the user. A module is a back-end component through which you can create, delete, modify or update the content of certain types. Also, the content created using content modules are reusable and can be viewed and used by other users for editing and publishing purposes.
Widgets define the content and functionality of Sitefinity CMS pages, i.e. whatever modification is required on the page must be made using widgets. Because widgets allow configuration and displaying of your content according to your plan. Widgets can be customized, and modified using the built-in editors.
Content in Sitefinity is easy to be created and can be reused. After creating the content, it is stored in Sitefinity CMS project and can be used by others. Images, videos, and other files can be uploaded from the libraries and content created with the help of modules can be displayed using widgets.
Reasons to Choose Sitefinity
We are glad to share with you some of the features that have made Sitefinity a great fit for all the businesses including the big giants of the industry such as like Sony, Reuters, Amazon, etc. Some of them are-
One Interface Many Websites
Talking About 'Sitefinity' a Powerful CMS: Reasons to Make it Your First Choice! Sitefinity elegantly proffers the facility of single interface management which means that customers can manage different websites at one place. Regardless of the reason, if you are managing multiple websites that unite under one single brand, then Sitefinity can help you manage all the content simultaneously while reducing your overall costs and lessening down your work.
Impeccable Content Management
Another well-known feature of Sitefinity is its drag and drop option for page layouts and content editing which makes the developer's task a lot easier. Other than developers it can also be managed by content creators and people involved in marketing and sales. This feature has decreased the burden of producing, managing and pushing high volume content live by providing 'easy-to-use' drag-and-drop interface.
When your business rises up exponentially on its growth trajectory, you tend to add more pages to your website in order to make everything available to your customers easily.  During this stage, it becomes very essential to manage all the rich media files properly and efficiently. To help you out with the management of these files, Sitefinity offers a unique feature of Digital Asset Management that helps you organize the file hierarchy, tag the files, use metadata to make the file searchable, etc. It is most useful and helpful when you have to find a few specific images or PDFs among thousands of files.
From social media to email to events to blogs, Sitefinity offers content management for all these platforms. It permits you to publish your Facebook and Twitter pages within the CMS thereby helping you to connect with the variegated content streams like news, blogs, events, to social media directly. Its built-in email campaign management allows you to create and send custom emails for promotional purposes and track the success rate of the same through it. Also, it allows you to schedule and promote events relevant to your business.
Inline Editing and Content Personalization
Being a content author and marketer you may want to change or edit the content dynamically whenever required. With the help of Sitefinity's inline editing feature, you can create and edit the content on the page itself. Everything such as a header, body content, images, metadata, tags can easily be changed.  Sitefinity lets you present the right content to the right audience by permitting you to 'define your audience', 'transforming your content', and 'testing the results of the same'. Hence, it offers a rich toolset for connecting with the visitors using personalized content which is a benefit to your business.
What are you Waiting For?
Talking About 'Sitefinity' a Powerful CMS: Reasons to Make it Your First Choice! Apart from the above discussed, Sitefinity carries with it an extended list of features which makes it an all-rounder for businesses. Sitefinity is a key to your business's rapid and cost-effective growth and to provide outstanding user experience with increased customer engagement. With Sitefinity's high productivity approach, get ready to outpace the competition in the market.
Do not wait for the right time to come, instead leverage the right opportunity provided now and see your business reach heights with its aid. Contact Brainvire at info@brainvire.com  to hire CMS Developers for customize Drupal CMS development or any website development.