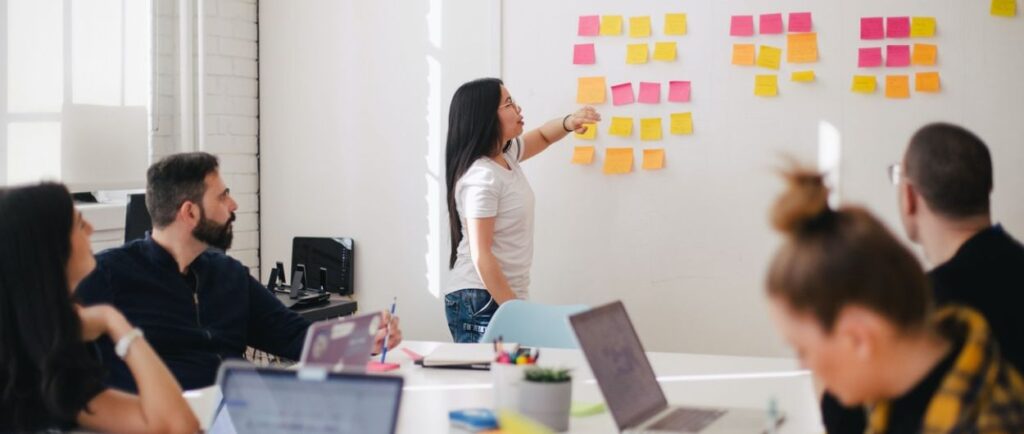 You have likely played a sprint retrospective once or twice, which is not uncommon. Ideally, these agile meetings will highlight potential changes, creating meaningful process improvements that ultimately move the team forward.
Most users take around 30 to 90 minutes in a retrospective, but scrum teams that collect feedback asynchronously usually take 2 to 5 days to drive their retrospectives. 
If the sprint retrospective isn't done correctly, it may start the blame games. The way this is going will be different than what we thought. 
Read the blog and get all your answers to know more about sprint retrospectives. 
Scrum is an ongoing improvement process, and retrospective Scrum is an opportunity to achieve the goals. 
In this image, we can depict how Sprint retrospective is an essential aspect of scrum master; it is a way to enhance the quality and effectiveness of your project. 
The sprint retrospective is a recurring meeting where you can discuss a complete workflow improvement while returning to the finish line of the sprint and planning for the next. 
Retrospective sprints are recurring meetings held after sprinting to discuss what was good during the previous sprint and what can be improved for the next sprint cycle.
Although sprint retrospective work is new to your team, chances are the production workers you work with have previously participated in them as a team member. 
As with all rituals, the emotions can vary according to a person's previous experiences and previous experiences. What will affect your retrospective experience?
Sprint retrospective has always been regarded as an important meeting for Scrum. An agile retrospective provides many advantages. Here you will find what is sprint retrospective is, the essential elements of the sprint, and why it is crucial.
What Is A Sprint Retrospective?
In essence, retrospectives allow you to revisit the past events in your life. According to Scrum guides, the sprint retrospective provides an opportunity for Scrum Teams to evaluate themselves to develop an improved version of a process that could occur in the next Sprint.
This has been very helpful, mainly since agile development focuses primarily on constant improvement. A man needs to understand which blade he wants sharpening. 
The thumb rule regarding sprint retrospectives is that the meeting typically takes about 60 minutes a week. The retrospective should be safe for people to give honest and unbiased feedback on how the process goes smoothly and what is possible to improve. 
What Is Sprint Retrospective Meeting In Scrum?
Sprint Retrospective meetings will take place before Sprint Review and before Sprint Plans. Scrum team meetings usually last 3 hours at a Sprint for a year. 
The retrospective session has been designed to identify and find new ways to eliminate pitfalls and past mistakes and will also include the product owners, scrum masters, development team members, and optional developers.
The Value Of A Sprint Retrospective
Everything that impacts the process of building a product, including tools and practices, is open for review. A retrospective is attended by the product developer, scrum master, and development team.
Based on the conversation conducted in retrospect, the group executes changes and proceeds with incremental improvements into the coming Sprint. 
Retrospection has its benefits because they happen the last time the sprint ends. The entire team discusses the given chance to develop the ideas for this Sprint.
Sprint Cycle And Ceremonies
Each Sprint starts with an additional planning session describing the content of the Sprint: What – Part 1 – Sprint Planning Meeting. Combining them are sometimes dubbed Sprint Planning Meetings.
The Sprint Review meeting is held during its final phases and allows Scrum Product Owners to review all commitment items completed and properly implemented before deploying the system. An annual Sprint review meeting is held to review and improve project execution processes. 
Why Do You Need To Run A Sprint Retrospective?
If you use agile methodologies, it's possible you already practice sprint retrospectives on your daily schedule. Ironically, the routine could cause a problem in productions. 
Sometimes may lose team rhythm, or critical ceremonies such as sprint retrospectives are often so typical teams don't use them to any extent for their benefit.
The Difference Between A Sprint Review And A Sprint Retrospective
The sprint review and sprint retrospective are widely acclaimed scrum retrospective meetings. Although identical – because both take place at the finish of the sprint – it's a specific exercise and should always be considered such.
The sprint review gives teams a chance to show their progress on the latest sprint. This can be more formal with an informal demo presentation to internal team members. It could enact a formal meeting or invite stakeholders outside the team to the exhibition.
Everyone should feel comfortable sharing their thoughts during the session.
Connect with Brainvire to gain insight and learn more about Scrum meetings and all the connective aspects from the experts. 
The idea behind working on sprints is to produce possible ship ability increments of products. Sprint reviews are meetings in which projects are reviewed to demonstrate the progress that they have achieved. The Scrum Team presented the delivered products for the currently running Sprint during the Sprint Reviews meeting. 
The product owners review the increment in the product against acceptance requirements and accept or reject user reviews.
What Does Team Think In Regards Of Sprint Retrospective Meetings?
As we started writing this article, we talked to a couple of organization team members and asked them what they had experienced during the sprint retrospective. We were curious to learn how different positions like developer design manager felt about the event.
For people wanting to learn to do a retrospective and have their thoughts and ideas changed, talking to your teammates can be a great place to start. Let's get into a bit more mix-ups later on. I think it's worth running future sprints retrospectively, and here are some excellent benefits for a retrospective approach.
Keep It Simple
The team has given me great feedback, but you can easily do a quick retrospective on the last sprint to find a way to keep your team focused. For example, the team might begin writing test cases when the user stories are created.
It is possible that people will not go over their maximum 20 minute standup time and may choose to experiment with a tool that has not yet become a customary practice. Whatever decision is made, be sure that the vote is accompanied by evidence describing the suggestions made.
Bring In Outside Perspective
If there is a need for backup, hiring agile sprint retrospective coaching would help facilitate your retrospective process. Many experts have the skills and knowledge to understand the finer details of conversations. A different perspective may turn your life around.
This might require more money than needed or may not be necessary when the problems arise, and a better alternative is to invite a colleague into the discussion. Those unrelated to the project may provide a little light to the essential comments.
Incorporate Novelty
Another technique can be incorporating game-based tactics in the sprint retrospective. Many examples have emerged from this. Make a selection that fits best with the team or project. Always do a thorough test before going through it, familiar.
These activities are fun, practical, and effective – only if the facilitators have prepared! I enjoy LEGO Retro. The team will have to use LEGO blocks to build the final sprint structure. The next sprint needs improvement in some form.
Make It Action-Oriented
Make it very simple, but probably most importantly, that everyone is assigned a task that will help them. All of these projects should be handled by an individual or team member. But not necessarily.
The discussions are likely constructive in all aspects, but ripples are unlikely to exist when implemented across teams. Ensure that all the details on your list are precise and that the deadline is clear.
Stay Focused
The Lean CoffeeTM approach allows retrospective agenda creation by generating kanban boards. These would be useful for groups that can no longer focus on the topic or spend too long on the subject matter. Make sure to use various colored sticky papers.
The Importance Of Sprint Retrospective Meetings
In Agile projects, Retrospectives are the celebrations held at the end of each iteration. The program's purpose was to assess the team's previous work cycles effectively. It's an excellent opportunity for feedback on how everything went smoothly.
It ends with a brass tack. If there is any good way to increase the speed of the sprints over a shorter period, please read on. Tell me some examples of agile sprint projects that you could use for your business.
Scrum Sprint retrospectives can be held within time limits during a sprint review or before sprint planning. This project explores how this just finished sprint went about human relationships, processes, and equipment. Find out which was a good day in this case.
The best way to write a retrospective report is to set an ideal setting: Set a perfect plan of action when preparing a retrospective. Collecting data: creates an archive of the memories. Gain insights and find the connections between them.
Conclusion
It's important to review our sprint agile methodology. We can follow Agile "inspect and apply" principles in running retrospectives. The retrospective provides an excellent opportunity to encourage a team to talk to their colleagues, share thoughts, and get heard. 
Our retrospective sprint meetings aim to improve a development program sprint for the sprint in general. Not only does this improve the quality of our products.