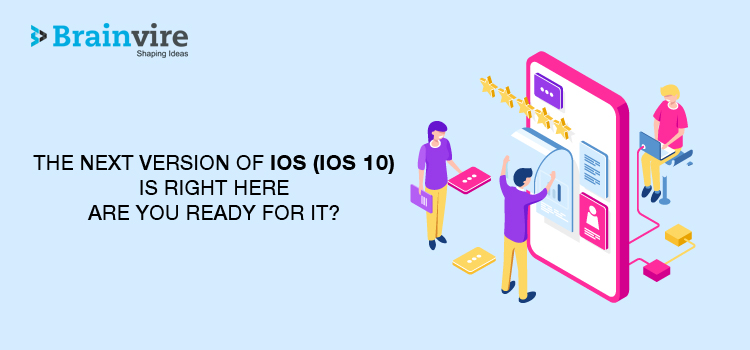 It's raining iOS 10 news everywhere after Apple unveils the update at Big Developer's Conference.
Open the internet and you will find lots of articles and posts on what news iOS 10 can offer to its users. Every iPhone, iPad and iPod Touch user is excited to catch up with all the astounding features this next generation operating system is said to bring in for creating out-of-the-box user experiences. Why not? After all, the biggest update of iOS is about to be here with a lot of improvements desired by the users for a long time.
According to Apple's CEO, Mr.Tim Cook, this is the biggest release ever for iOS users. iOS 10, the successor of version 9, is expected to make a debut this autumn with following updates to look out for.
The Next Version of iOS (iOS 10) is Right Here – Are You Ready for It
– SIRI SDK for developers
– The drastic changes in the messages app
– Redefined Apple music app
– Interactive lock screen
– Deletable stock apps
– Upgraded Photos app
1. Wow! SIRI in Apps!!!
SIRI is redefined in this latest iOS version. SIRI gets an SDK that allows developers to integrate SIRI support in their apps. Hence, developers can use SIRI SDK during iPhone app development and make their apps really interesting. For example, one can send a message in Whatsapp through SIRI. Siri intelligence is expanded to the keyboard for contextual predictions to bring up suggestions in apps like messages and sending emails based on location, date and other factors.
2. Messages get more interesting…
Messages get more personalized, expressive and fun to get on with, in this latest iOS version. It is now possible to send messages with background animations, bubble effects, three times larger emojis, photos that can be directly taken from within the messages app itself, rich links, photos, and videos annotated with digital touch or sketching feature and much more. The messages app now has an exclusive messages app store where developers will now be able to build apps specifically for the iMessages. Hence, it would now be possible to almost anything with message apps in iOS 10 right from sending pictures to making payments for restaurant orders. Hidden invisible ink messages and quick tap back replies that allow users to instantly respond to messages like symbols should definitely amuse you.
3. Lock Screen with 3D notifications
Lock screen with 3D touch-enabled notifications….sounds interesting, right? One can now interact with their notifications via the lock screen with 3D touch. The new rise to wake feature lights up the iPhone screen when it lifted up. One can now easily access the camera and the control center by swiping up and in from the right of the screen when locked. Moreover, swiping your screen in from the left will open up the gadget's screen to enable access to various gadgets instantly from the lock screen.
4. Redesigned Maps and Apple Music
The iOS maps are redefined for a street view which gives you an easy way to look up for your destination as you arrive. There's an interesting navigation feature which fetches up traffic on the route and gives the users alternative routes suggestions based on the traffic conditions. Maps will be open to third-party developers just like messages and come with hooked-in app extensions. Apple music is now reorganized for simplicity and better functioning. There are expected more focus on content discovery, lyrics, and notifications in this app.
5. Clean Up the Stock Apps
You might have long waited to delete those pre-installed apps that come with your device. There would be many apps that would have come already installed in your iOS device, but, would not be useful for you. The previous iOS versions did not enable deletion of these pre-installed apps which somehow were blocking some of the device's memory. But, now it's possible in iOS 10. Basically, these are not technically deleted. The underlying binaries still remain and hence, we can say that they are just hidden. However, you would free up a total of 150 MB of storage by deleting all of the 23 pre-installed apps approximately from your home screen.
So, the new update iOS 10 is certainly getting up a lot of exciting stuff for the iOS users. Hence, as a result, there's a lot of talk about it already in the market even before it's release. Hence, if you are planning for iOS development for your business in recent times, maybe, you should wait up a little bit in order to get on with this trend of iOS 10.
If you are planning for iOS app development past the release of iOS 10, then contact us for quick and quality services that can get your app ready for the market at the earliest, thereby, giving you an edge over the competition.