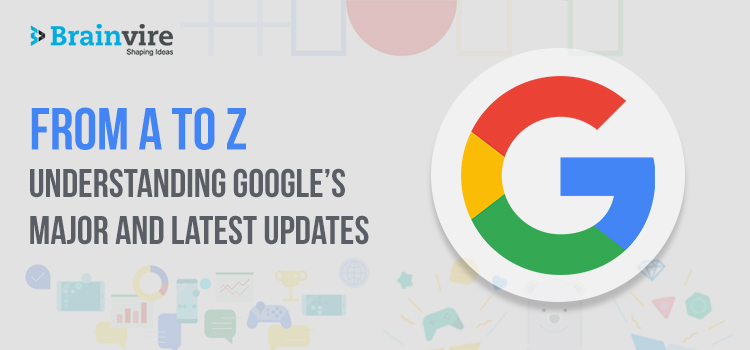 The latest Google update has created quite some buzz in the digital marketing landscape. Amidst all the hullabaloo, we are here to get you acquainted with some valuable insights about the major game-changing Google updates. 

Here's what you can glance through in this blog:

• Getting started
• A quick recap on Google updates
• An overview of 2019 Google updates
• Google's September 2019 update
• What should digital marketers do now?
• September 2019 Google update in effect
• Final words

Getting started

It took Google years to become the world's largest search engine. And after decades of rigorous and consistent improvements, Google has now come to a point where it receives over 63,000 searches every second. 
Source: Forbes
To maintain this unbeatable record and enhance the user experience, Google frequently rolls out algorithm updates. In fact, in 2018, Google released over 3,000 different algorithm updates. The majority of these updates were minute and some of them weren't even openly confirmed by the giant company. And most of the time, such minute updates have no significant impact on rankings.

However, some updates called broad core search algorithm updates are humongous and have solid implications on digital marketing agency, especially SEO. Such updates are difficult to affirm because Google rarely notifies or informs about their purpose.

Want to convert your idea into a successful app or website? Schedule your free call with our expert now.
A quick recap on Google updates

Since 2009, experts have found over 40 significant updates in Google's algorithm. Enlisted below are the top 5 Google updates that have had a major impact on digital marketers and ppc agency.
Source: Mediaskyscraper
1. 2011 Panda update

Panda update was first dished out in February 2011 and was originally designed to be a basic update. However, with time, this update became a fixed component of Google Core Algorithm. Although not active in real-time, the Panda update ensures steady quality assurance of search results.

2. 2012 Penguin update

Often referred to as the webspam update, the primary objective of Google's Penguin update was to remove the number of spam sites in search results. Penguin was employed to pick unnatural sites and contain any forceful manipulation. 

Because Google views webspam as an unclean practice deliberately used to falsely improve the search engine ranking, this update was rolled out to improve the relevance and quality of the search results. 

Thus, as per Google, a website that's only optimized for a search engine and not for the user should not appear among the top search results. 

3. 2013 Hummingbird update

Google, on its 15th birth anniversary, decided to release the Hummingbird update in August 2013. As per many experts, this update was the most cumbersome edit of Google's search algorithm since the year 2000. Along with the ranking update, the Hummingbird update led to the changes in the entire search algorithm. This update was called Hummingbird because Google search wished to draw inspiration from the characteristics of the bird, in terms of speed and precision.

4. 2014 Pigeon Update

2014's Pigeon update turned out to be the biggest change in the Google world. With this update, Google wanted local search mechanisms to be more closely tied to its broad-spectrum algorithm for delivering more relevant and useful search results. Thus, the user's location became a crucial part of the search. Consequently, the significance of Google+ and Google My Business profiles also improved. It was through Pigeon update that local and small businesses could begin roping in new customers through localized SEO.

5. 2015 Mobilegeddon update

Google's 2015 update only affected mobile searches because, until the year 2015, mobile sites were carbon copies of their desktop version. Consequently, in April 2015, Google officially announced the release of its Mobile-Friendly update, taking into account the usability of mobile websites and apps.

Google's not-so-well-known updates

Google's algorithms are both a blessing and a curse. Blessing for users because they are rolled out for better user experience and curse for SEO companies because they might get penalized and may take months to bounce back.

Google's algorithms are both a blessing and a curse. Blessing for users because they are rolled out for better user experience and curse for SEO companies because they might get penalized and may take months to bounce back.

These updates are a big challenge for any SEO company because most of them are unknown. Google often changes its algorithms without providing concrete details on the updates. All these unknown updates are termed as Phantom Updates.  Such updates are not going anywhere because Google won't stop altering its algorithm for the best user experience.

An overview of 2019 Google updates

2019 has already seen the birth of many such Google updates. Let's go forward with a quick overview of the 3 major 2019 updates that have been confirmed by Google.

1. March 2019 Broad Core Algorithm update
Also known as Florida 2, on March 12, Google released its first broad core update in 2019. The update was rolled out a few weeks after a surge in Googlebot's activity. 
Source: d1avok0lzls2w.cloudfront
After some serious speculations by experts, the following instances came to light:

Experts believe that March 2019 update gave authoritative sites an edge by allowing popular sites to outrank others for search queries, notwithstanding the content.

The update might have been a rollback for previous updates

Google always uses a trial-and-error-approach, meaning it does reverse previous, obsolete updates with new ones. Consequently, despite Google's affirmation, experts deduced that March 2019 update was the exact rollback of some previous updates.
What can marketers do?

After this core update, marketers should follow a consistent publishing schedule and keep the content updated by saying no to stale and low-quality content.

2. June 2019 Core update

Google rolled out this update in early June. This was a large-scale update, which took about 5 days to roll out, affecting several popular websites. 

The update was so massive that a site like Daily Mail, with such high authority domains, was negatively affected by a 50% decline in the daily traffic. 

Considering the magnitude of this update, a pre-announcement was made by official Google SearchLiason Twitter account on June 2: 

Source: d1avok0lzls2w.cloudfront
Although there's no such concrete evidence, the June 2019 core update looks like it revolves around the following entities:

Bad-word-of-mouth can be harmful

This update shook everybody's faith in the expertise, authority, and trust method. The world indeed came to stand still when the UK's largest publication, Daily Mail, lost almost half of its organic traffic. Experts are sensing the main perpetrator here is the bad word-of-mouth affecting high authority websites.

Severe impact on YMYL and health-based websites

The August 2018 Google Core update affected several health-based and YMYL (your money or your life) types sites. Their ranking and organic traffic dropped considerably. Although the ranking and traffic of these websites slightly did improve in the March 2019 update, they were radically hit yet again with the June 2019 core update. 

3. June 6, 2019 Site Delivery update

As the name suggests, this update aimed at displaying more diverse results to the users. Since two major updates dished out in June itself, things got a lot more complicated for digital marketers. After this update, Google would no longer display more than two results from the same domain on SERPs. The update aimed at encouraging unique content and solely promoting the division of organic traffic. 

Here's what Google had to say about this update:

Source: d1avok0lzls2w.cloudfront
Considering Google's spontaneous updates, it is time for you to hire an SEO expert, who can stay on his/her toes with such game-changing core updates. 

Google's September 2019 update

Although unconfirmed, Google's latest update can now be spotted by SEO experts. And from the looks of it, with this update, Google is changing the nofollow link attribute. The search engine has also introduced additional attributes to help its bots understand the context of the links better. 

The two new link attributes that will be joining Google's trel="nofollow" are mentioned here: 

rel="sponsored"

This attribute is aimed at identifying all the links on a site that were created for the sake of advertising, sponsorships, or other similar purposes.

rel="ugc"

This attribute can identify links that specifically appear within user-generated content, such as comments, forum posts, etc.

Source: sistrix
After this update, these attributes will be treated as hints, and they will define which links to exclude as ranking signals. Simply put, such links will not be ignored anymore, which had been the case up until now. 

The explanation as to why Google has not completely ignored these links is mentioned here:

"Links contain valuable information that can help us improve search, such as how the words within links describe the content they point at. Looking at all the links we encounter can also help us better understand unnatural linking patterns. By shifting to a hint model, we no longer lose this important information, while still allowing site owners to indicate that some links shouldn't be given the weight of a first-party endorsement."

What should digital marketers do now?

If you, as a business owner, are wondering what's to be done after Google's latest September update, then we have you covered. 

Since it is quite an early stage, we won't be able to draw any precise conclusion or provide a full-fledged strategy. Thus, let us help you understand what you need to do with some probable steps after Google's latest update. Here's what you should start with:

Start by using the attributes correctly

After this update, SEO experts can now use more than one attribute on a single link. For instance, marketers can use rel="ugc sponsored" for a sponsored link within user-generated content.

Google also states that there is no wrong attribute to use except sponsored links. For example, the effect will be reduced only if a link is marked as sponsored despite it not being a part of an ad or sponsorship. So clearly, any link that is either sponsored or is an ad needs to be either sponsored or nofollow.

Source: deanalyst
Steps to undertake after the latest Google update

Here are a few basics that you can employ in your current SEO strategy:

a. Don't toss away link attributes 

Even after this update, it is as important for you to flag ads and sponsored links in order to avoid all the possible link related penalties that Google might have in store. Although Google prefers for you to use "sponsored", you can continue to use nofollow too.

b. You don't need to change the existing attributes

After this update, you don't necessarily need to change any existing nofollow links because Google will continue to read all the nofollow attributes that are currently in place. 

Additionally, there is no need for SEO services or site owners to change the way they use the nofollow attribute to flag ads and sponsorship links. But Google does urge moving onto the sponsored attribute whenever it is appropriate. 

c. Continue observing the trend

Once you have figured out any progress with regards to this new update, the next step will be to keep an eye on the trend for the coming 4 to 5 weeks. This is mainly because new SEO actions and practices do take some time to reflect in real-time. 

d. Religiously serve the white hat SEO

No matter what the update is, continue executing optimization strategies, tactics, and techniques that focus on the human audience rather than your concerned search engine. And while doing so, fully follow the search engine's rules as best as possible.

September 2019 Google update in effect

The three major link attributes, sponsored, ugc, and nofollow, are fully in effect today. While sponsored and ugc attributes are treated by Google as hints, nofollow will remain in effect just as is until March 2020. After March 2020, nofollow too will be treated as a hint.

However, all those who are continuing to rely on the nofollow attribute should definitely move onto one of the above-mentioned new attributes.

Final words

Given all the Google Core Algorithm updates, it is safe to say that the site owner now needs to quickly adapt to the changing Google algorithms. What is effectively working today may not essentially reap the same benefits tomorrow. 

In conclusion, if you are regularly updating your SEO for better, following the white hat SEO techniques, keeping taps on the social media chattering about Google, you don't have to worry much about an update.

 And if all this really seems like a big deal, you can always hire an SEO expert or Social media marketing agency whose up-to-date knowledge and We brainvire can help your company survive Google's changing practices.