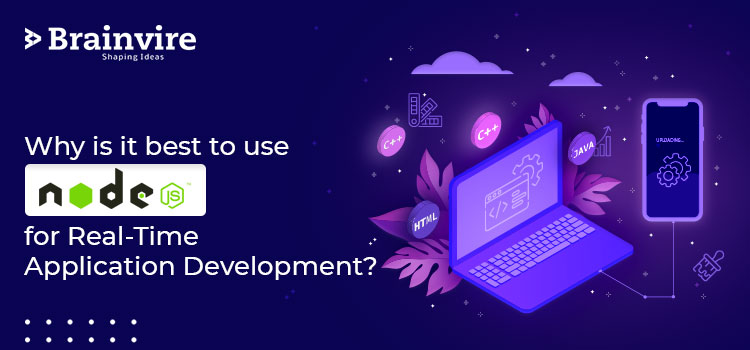 JavaScript is one of the most widely used software development technologies, as it is the most widely used programming language. Originally used as a web frontend development tool, it has now evolved into a major cross-platform mobile development tool that serves as a foundational technology for a wide range of platforms. 
The use of JavaScript for server-side programming has recently generated a lot of interest. Node js was one of the web development tools that signaled this shift.
What is Node js?
V8 JavaScript engine in Chrome was used to build Node js which is a JavaScript runtime. Node js employs a non-blocking I/O model, which makes it lightweight and efficient. It is an open-source, cross-platform JavaScript runtime environment for developing a wide range of tools and applications.
Although Node js is not a JavaScript framework, many of its core modules are written in JavaScript, and developers can create new JavaScript modules. As JavaScript was a well-known language, it was easy to make Node js available to the entire web development community.
Want to convert your idea into a successful app or website? Schedule your free call with our expert now.
Defining Real-Time Application
RTA is an application program that operates in a time frame that the user perceives to be immediate. The latency must be less than a predetermined value, which is usually measured in seconds. Real-Time computing is the use of RTAs in your applications (RTC).
Role of Node js in Real-Time Applications
Node js can help with non-blocking I/O and event-driven features in apps where speed is everything and scalability is a constant concern. Node js allows for continuous two-way communication with Social Network App, Ad Servers, and Stock Exchange Software. When node js app development firms work on your project, they adhere to best programming practices.
Significance of using Node js for Real-Time Applications
1. Faster Development
You can easily build robust and fast web applications with Node js that can handle multiple parallel connections effectively. Node js accelerates the development of real-time web applications by being highly compatible with modern JAVA frameworks.
2. Uses a Single Language
Another significant advantage of using Node js is that it only uses one language for both the backend and the frontend, JavaScript. This speeds up and simplifies the development cycle. It allows you to easily maintain web apps even when you have limited resources.
3. Sharing of Smart Code
Node js provides excellent code maintainability. It allows you to share the codes by divulging. Node js has a library of about 50,000 bundles, which reduces the amount of code you need to write. With this platform, web developers can easily refresh, reuse, and share code for end-to-end development. Furthermore, the smart sharing option ensures that data changes on the server are directly linked to the client's web page.
4. Friendliness to search engines
Businesses use SEO to rank high on search engines to thrive in today's highly competitive digital market. Because of Node js's SEO-friendliness, it is a popular choice for businesses developing real-time web applications. Node js aids in the SEO of real-time web applications by providing backend rendering. Furthermore, the simple and easy-to-use design makes Node js SEO-friendly. You can easily attract a larger audience, increase engagement, and increase the visibility of your web application by building it with Node js.
5. Reusability of Code
Another advantage of using Node js for real-time web development is code reusability. When your expert developers get stuck in the middle of developing a real-time web app, they can easily seek assistance. It enables developers to use all of the available components in the community, thereby speeding up the app development process. 
6. Economical
Businesses are concerned that web app development will necessitate a significant investment. The cost concern is particularly acute in a start-up or small business. However, by using Node js to develop your web applications, you can significantly reduce the cost. It allows developers to create web applications with rich features, high scalability, and improved performance at a low cost.
7. Tasks that require I/O
Because Node js streams are UNIX-based, all input and output activities can be easily tracked. Node js framework can easily read and decrypt any type of input and redirect it to the correct destination.
8. Data Streaming Feature
Node js supports data streaming. This means that it can divide large amounts of data into smaller, more manageable chunks. Because small data chunks consume less memory space, they help to keep the mobile device from slowing down. It also aids in reducing the overall duration of the development process.
9. Functionality based on modules
Another significant advantage of using Node js to build a real-time web application is that it is module-based. This enables expert web developers to gain the most benefit while requiring minimal coding effort. It allows developers to work on individual modules, reducing the complexity of web application development.
10. Long-Term Assistance
As technology evolves, it becomes increasingly difficult for developers to create and maintain web applications using out-of-date programming languages. To avoid such situations, developers are constantly on the lookout for technologies and programming languages that provide ongoing support. Node js is one of the best frameworks for providing long-term support and assisting in the effective maintenance of your real-time web applications.
When it comes to developing real-time chat or gaming applications, Node js provides incredible functionality. Node js employs event-based and non-blocking servers, allowing you to incorporate features such as remote collaboration and user interactions. If you believe that your application does not require any real-time characteristics or features at this time, you should reconsider including them later. Node js's quick development capabilities ensure even faster time-to-market, giving you a competitive advantage in the digital marketplace. Businesses that use Node js will be able to operate more smoothly and successfully.
As a leading provider of Node JS development services, we strive to incorporate all business goals and values into amazing solutions by leveraging our extensive industry knowledge and innovative approaches. Interested to get in touch with us? Shoot a mail or give a call to our team. 
Happy Developing!