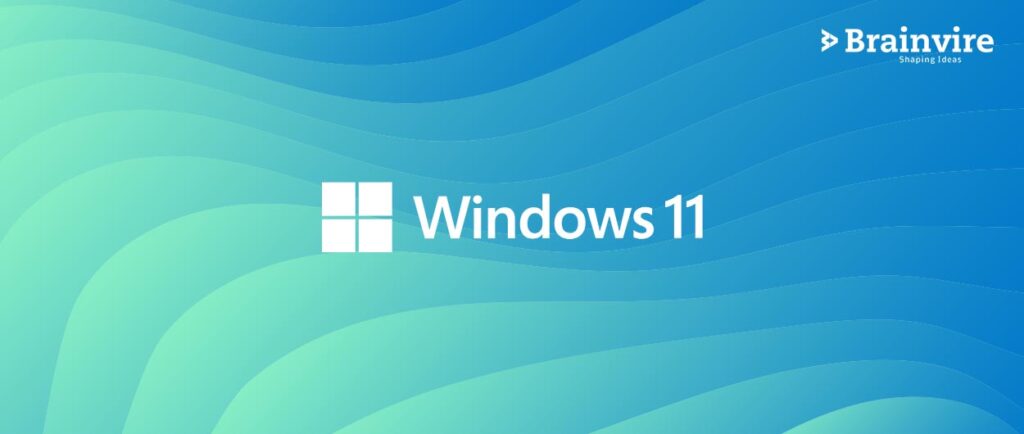 Explore Microsoft's latest version, Windows 11, which has been completely redesigned for you to be more efficient, creative, productive, and connected than ever before.
Microsoft Windows is, without a doubt, the most popular operating system. According to StatCounter, 72.51 percent of all users have been operating some of the other Windows versions in their enterprises. But what is it about Windows that draws so many people in?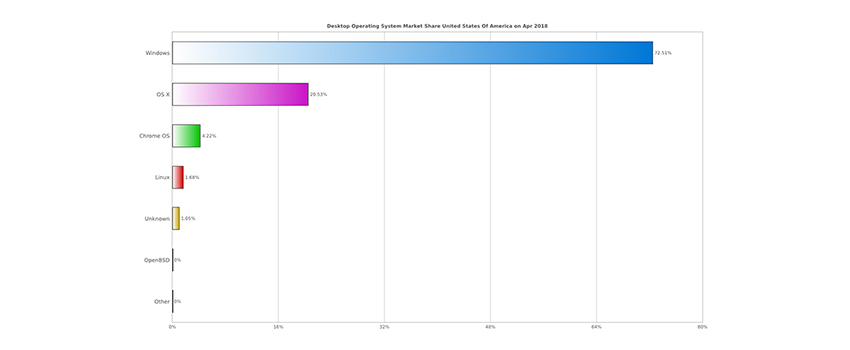 Windows popularity and familiarity compared to any other operating system make it a much better option for organizations to choose from. This option requires less training, and users gain compatibility much faster. Almost every computer user has used Windows at some point, but this is not always the case. 
Build great experiences with Windows
Brainvire specializes in developing interactive, scalable, brand-oriented, and business-ready desktop apps.
Windows is the most dominant and widely used operating system. It also improves collaboration and compatibility with other organizations. If you want your company to remain compatible with its partners and stakeholders, you should be on the same platform as well. 
And that's our primary topic of discussion – Windows latest Version " Windows 11".
Introducing Windows 11
Windows as a platform have played a significant role in global innovation. It has served as the support system of international businesses and a platform for startups to become market leaders. 
Windows transformed and stayed with the web.
And now, with the release of Microsoft's next-generation Windows. Finally, users will have access to a familiar platform where they can build, discover, perform, and, most importantly, communicate in every manner. 
This article will explain what Windows 11 could mean for your business and why you should get started right away. Let's get started.
Overview
Windows 11 has been the most significant update to the Windows operating system. It provides numerous innovations aimed at increasing end-user productivity in a new, flexible, and fluid experience. 
Furthermore, Windows 11 intends to be the most reliable, secure, connected, and performant Windows operating system in today's hybrid work environment. 
The worldwide pandemic expedited digitization in many unprecedented ways, allowing many businesses to choose Windows as their primary operating system to make the changes.
As a result, hybrid work and learning will become very promising in the long run. Your organization will undoubtedly require an operating system that allows your employees to work and gain knowledge irrespective of location.
Acknowledging the evolving complex cybersecurity environment has become simple to manage for IT teams and provide advanced security.
Key Highlights
Take a fresh start
Windows 11 is built on the same foundation as Windows 10, so any investments you've made in tools for updating and managing devices will be carried forward.

Windows 11 also maintains the application compatibility promise made with Windows 10, supplemented by App Assure programs.
Boost productivity and efficiency
With tools like Snap layouts, Desktops, and a new, more intuitive redocking experience, you can unlock all the applications you need and multitask with convenience.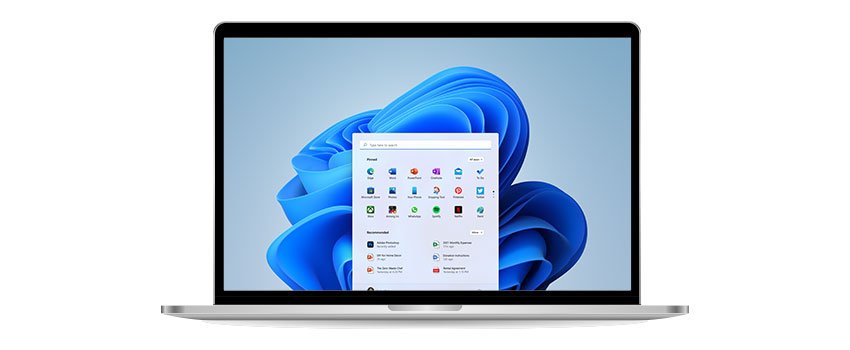 The layout for a better user experience has been simplified in order to boost productivity and encourage creativity.

Everything from the start button to the taskbar, sound system, icons, and fonts has been designed from the ground up to put you in power and make the process as calm and composed as possible.

For quick and easy access, a start button has been placed in the center of the screen.
Connect with your loved ones easily
With Microsoft Teams, you can instantly connect to the people you care about right from your desktop. Call or chat for free—regardless of the device, they're using.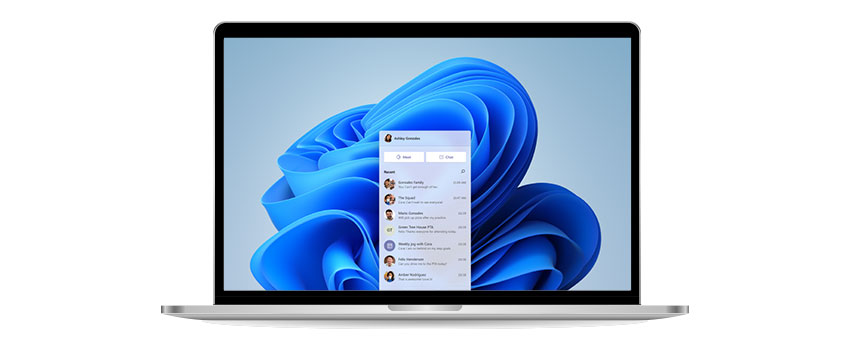 Windows 11's initiative is to bring you closer to what you love and the people you love.
Because its goal is to make meaningful online connections with people, it makes it simple for people to stay in touch regardless of their location without making the device or platform a barrier.
In Microsoft Teams, the chat section is integrated into the taskbar that enables communication with all of your contacts located on different platforms like Android, Windows, or iOS gets more accessible from any location.
Even if the second party hasn't downloaded the Teams app, you can still interact with them.
Through Teams, Windows 11 also provides a more convenient way to stay in touch with the closed ones. It has features that allow you to mute and unmute yourself in the call and share the screen for presentation directly from the taskbar.
Get the critical information faster
With Widgets, such AI-powered personalized feed and best-in-class browser performance, Windows 11 makes news and knowledge available for you.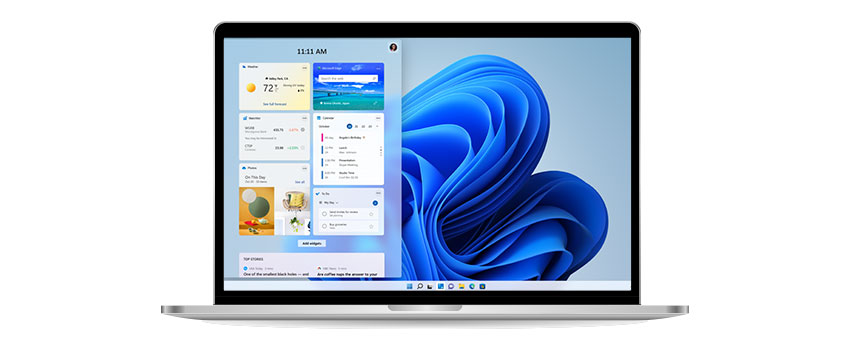 We all need a break from our hectic schedules, and Windows 11 provides us with an opportunity to stay connected with the outside world and reset our minds. But, of course, we also use our phones to check the news the weather reports and receive notifications regarding many other things.
You can open a similarly compiled outlook explicitly from your computer in Windows 11. If you access your feed, you'll notice that it moves across your screen like a sheet of glass, so it doesn't interfere with what you're doing.
This latest OS is beneficial to both consumers and creators as it aims to create a deep and energized pipeline for leading brands and local creators.
Faster, more secure, and familiar for IT
Windows 11 is planned and deployed just like Windows 10. For tech-savvy people in the IT industry, Windows 11 is consistent, compatible, and similar to Windows 10 foundation that the world is familiar with.
Windows 11 provides similar management experiences as Windows 10, such as Microsoft Endpoint Manager, cloud configuration, Windows Update for Business, and Autopilot, which will support your future environment to integrate Windows 11.
Windows 11 places a high value on application compatibility. It is designed to be secure, with new built-in security technologies that will contribute to security from the chip to the Cloud while facilitating productivity and unique experiences.
Windows 11 comes with a Zero Trust os that secures data and transmits all over devices. Furthermore, Microsoft has worked closely with our OEM and silicon partners to elevate security baselines in order to meet the potential emerging threats and the new hybrid work environment.
Your applications will work on Windows 11 thanks to App Assure, a free service that assists customers with 150 or more users in resolving any app issues that may arise. 
Get your favorite apps and entertainment with an all-new Microsoft Store 
The Microsoft Store is an all-inclusive platform for apps that provides good content to watch, play, work, and learn. It has been redesigned for faster speed and with an entirely new and user-friendly design. 
Microsoft store brings more apps and makes apps, games, entertainment channels– easier to browse. 
Microsoft Store is among the first to introduce top third-party apps such as Microsoft Teams, Disney+, Adobe Creative cloud, visual studio,  Canvas, and Zoom, all of which will provide amazing experiences to entertain, inspire, and connect you.
Microsoft Store has been tested for security, so when you download an app from the App Store, you have the assurance that it is safe.
Wrapping Up
Our PCs are much more than just app platforms and word processors in this hybrid and learning environment. It is a ticket to experience everything in the world without leaving your house. 
By connecting us with our coworkers, acquaintances, faculty, and family, they bring knowledge and tools closer to us in order to solve problems and create new possibilities. PCs link our work, learning, and personal lives, and our computing insight while working, teaching, and learning must be more personalized.
Windows 11 is a customer-centric platform that prioritizes the customer experience. It recreates Windows to provide new experiences that work and learn in the same way that you do. As a result, Windows 11 offers a more responsive, modern computing experience that does not compromise performance, security, or manageability, benefiting not only productivity but also class participation, customer satisfaction, retention, and attracting new talent.
We are excited about the new experiences Windows 11 has brought for us. Are you?