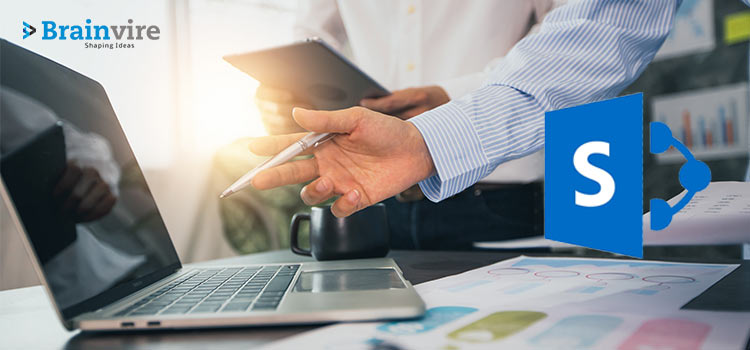 Do you still use a complex, out-of-date legacy system to organise your company files? If this is the case, your team isn't getting the most out of SharePoint and isn't reaching its full productivity potential. 

Using a shared file system accessible on your in-house server was the most tech-savvy method to document management and collaboration years ago. The procedure is now a lot easier and more efficient thanks to solutions like Microsoft SharePoint.
SharePoint is a popular Microsoft Enterprise Services, with a user base of almost 200 million users spread throughout 75,000 commercial organisations across the world.

Let's take a closer look at SharePoint.
SharePoint is a browser and Cloud-based platform for collaborating, organising projects and teams, and managing risk, making it an extremely effective corporate tool. Microsoft SharePoint's features help to increase productivity, communication, and collaboration while ensuring the protection of your company's important data.

SharePoint can be used for any project that aims to unite your team. The platform allows you to save and preserve any type of data, from project deliverables to internal interactions.
The ability to work via Cloud is one of SharePoint's most valuable features. It provides an almost limitless number of options for streamlining your workflow.
SharePoint is preferred by web app developers around the world for a variety of reasons. Here are some of SharePoint's most significant benefits.
Want to convert your idea into a successful app or website? Schedule your free call with our expert now.
Designed Specifically for your Development Needs
SharePoint includes a variety of sophisticated and unique tools for customising features to meet the needs of the development project at hand. With SharePoint, you can create a variety of custom features and offer your app access to a variety of unique tools.
SharePoint allows developers to easily integrate various functionalities into any application of their choosing. You can adjust and integrate the components to fit your needs for the development project at hand. Custom qualities connected with your company's brand can be applied across the entire user experience.
Content Delivery Optimization
Many different types of business users are working behind the scenes to optimise your company's content strategy. Your team must approve, amend, and provide feedback in a timely manner for it to be successful. You'll probably fall short if you rely on a network of heterogeneous folders to provide comprehensive content management. 
When you invest in SharePoint, you get instant answers to these and other questions. In a matter of seconds, users can generate content and submit it for approval. You'll never have to wonder if your post or article has gone through the proper review phases if you schedule it to be live on your intranet or internet sites at a specific time.

Centralised Administration
SharePoint gives you more power and a broader set of tools to manage the platform as a whole. It has a central administration panel that houses all app management features, system specific settings, backup, restore, and upgrading capabilities, setup wizards, and more.
Integration with your existing apps
SharePoint integrates seamlessly with the rest of your corporate apps. Your Microsoft Office Suite (Excel, Word, and PowerPoint), MS Exchange Server, MS Unified Communications, ERP, CRM, and many other back-office systems and prior versions will all operate seamlessly with the solution.
SharePoint Online works with all modern web browsers, not just Microsoft Edge and Internet Explorer.
Enhanced Security
Advanced security measures in SharePoint eliminates the danger of outages and data theft. New workflow upgrades and authentication advancements are among these improvements. Your data integrity stays dependable despite the fact that information access and shareability are improved. At the document or item level, you can define additional security configurations and access privileges.   
You can configure different settings for controlling shareability, storage, and auditing to help expedite compliance with your industry's regulatory requirements on data security.

Reduced costs
Your firm can save money by using SharePoint and OneDrive. The cost of a separate Cloud account and data storage plan is eliminated when you choose a whole Cloud solution. Furthermore, cleaning up and simplifying your operating systems can save you money by reducing the amount of time and money you spend repairing bugs and patching problems. SharePoint and OneDrive can help you save time, money, and stress.
Boost the productivity of your business
Data may be collected and organized in one place using a collaboration platform like Microsoft SharePoint. SharePoint's form-driven applications collect information from suppliers, communicate with customers, and interact with partners and others. Your staff can construct business intelligence portals and use dashboards, web components, and scorecards to present data.
Conclusion
SharePoint is a golden ticket to better the overall functionality of your firm. The software contains a variety of features aimed at making corporate teamwork as successful as possible, ranging from data administration to colleague searches. The cost savings you'll see in your internal teams alone will make the investment worthwhile. 
Brainvire is a SharePoint development company that focuses on developing unique SharePoint experiences for its clients. We continue our legacy of being the top Microsoft SharePoint Development company by doing a detailed analysis and then catering to the needs of industries and businesses.